Food + Drink
Bent Ladder Cider and Wine, Doylestown
Matt Vodraska makes handcrafted hard ciders using both modern apples and heirloom varieties that date back centuries. You can try them at his cidery's tasting room.
September 2019
BY Ruth Corradi Beach | Photo by Kristen Jones
September 2019
BY Ruth Corradi Beach | Photo by Kristen Jones
The expression "apples to apples" generally means two things are so similar they're easy to compare. It's a fair method of assessment in the world at large, but in the world of hard cider, this simple phrase is anything but simple. Estate cideries are different than cideries that use juice from apples grown elsewhere. And modern apples are different from heirloom varieties. When it comes to craft cideries, one quickly realizes an apples-to-apples comparison is difficult, if not impossible.

Matt Vodraska, owner and cider-maker at Bent Ladder in Doylestown, is quick to explain his place is an estate cidery and his hard ciders are made with both modern and heirloom apples — sometimes in combination and sometimes single-sourced, depending on what he's crafting. He's proud of these distinctions, and with good reason: His cider-making method — heirloom apples grown and pressed on-site — is part of a centuries-old tradition.

"Heirloom varieties are hundreds of years old," Vodraska explains. "Before the proliferation of refrigeration, apples weren't grown for fresh eating. Good-eating apples were always a bonus, but the culture of apples in America was really centered around the best varieties for hard cider."

Vodraska was among the first in Ohio to revive the practice of using heirloom apples for hard cider instead of the more familiar, and often sweeter, varieties most major-label makers of hard cider use.

"It's not the easiest thing to track," he adds, noting that estate cideries are still classified as estate wineries in Ohio. "But I believe I am the first person in Ohio since Prohibition to be making real hard cider with real [heirloom] cider apples."

Vodraska has the ability to use a variety of apples because Bent Ladder is on the same property as Rittman Orchards, which his family owns. He grows, presses and ferments the apples on-site, which is what defines a cidery as "estate." (Non-estate establishments purchase apple juice from outside growers.)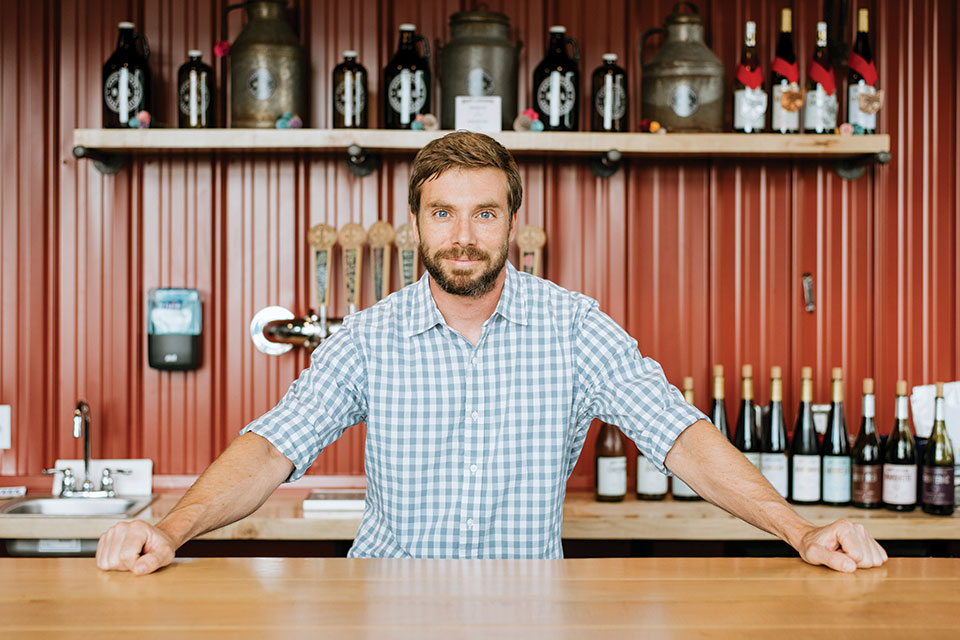 Some of the apples Vodraska grows have familiar names, like Golden Delicious and Cortland. These are the moderns, the same ones that families by the minivanful come to Rittman Orchards to pick. Others have far less familiar names: Ashmead Kernel and Tremlett's Bitter. These are the heirloom — or old world — varieties, and some of those trees are located in a section of the orchard not open to the public. (They're great for making cider but not so much for picking and eating out of hand.)

In 2005, Vodraska's family purchased the farm from its previous owners, who had an eye for development and had let the orchards go to ruin.

"We started from scratch," Vodraska says. "Only 40 to 50 Red Delicious [trees] remain."

But starting over presented his family with the opportunity to plant heirloom varieties. Then, when he designed the building that houses Bent Ladder's production facility and tasting room, Vodraska positioned it so the property's historic Red Delicious trees are visible from the tasting room's windows.

Much like planting new trees while making sure the old ones get their due, all of Bent Ladder is designed with both the past and the future in mind. Vodraska's family bought Rittman Orchards after living in Washington State, where they grew apples primarily for gift baskets — mostly Red Delicious varieties that were sold in China.

"When you love apples and growing things, just growing pretty objects isn't good for the soul," Vodraska says. "This property is near lots of people, where we could grow more than a hundred varieties of apples, and we knew we could have some fun."

The fun of selling apples directly to the public started as soon as the first trees were ready in 2007, but the cider-making took about 10 years to come to fruition. Vodraska, who was attending college in 2005, transferred from the University of Tennessee to Kent State University so he could help out with the orchard.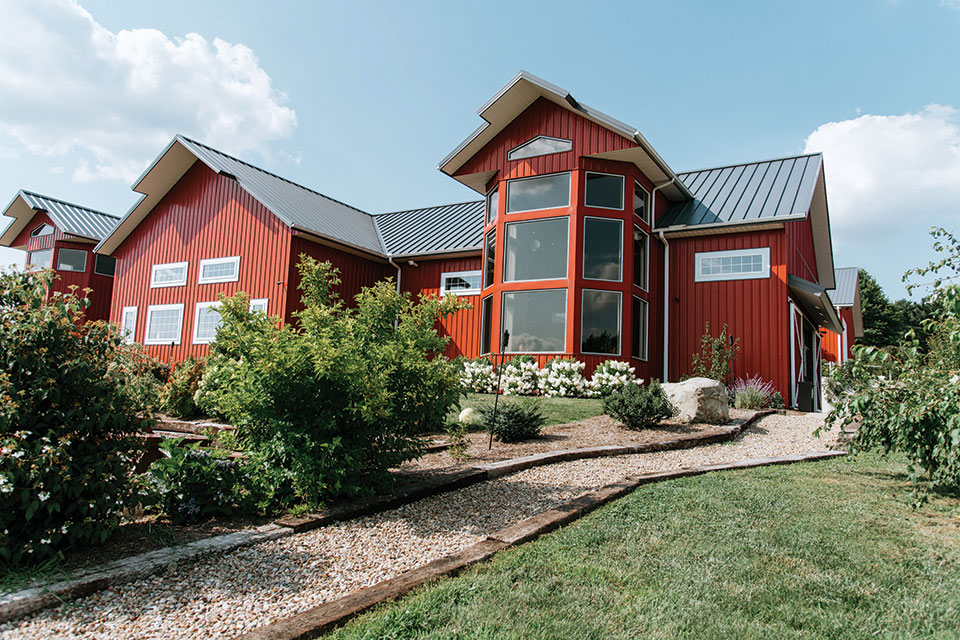 "Staying here wasn't in my original plan," he says. "But a couple years in, when it became obvious I was staying, I needed my own project. All the things that make good [apple-growing areas] make good vineyards. And that mixture of science, art — that cooperation of man and nature — that dance fascinated me."

Vodraska undertook an exhaustive study of winemaking on his own and scoured the reading lists from UC Davis in California and Cornell University in New York — two schools known for their winemaking programs. It took him a decade, and in those 10 years the hard-cider industry exploded. That's how Vodraska ended up, in 2013, with 6 acres of grapes (Bent Ladder is an estate winery, too) and a gamut-spanning orchard of apples.

His farming family (father Dale, mother Peg, brother Chris and sister-in-law Amanda) is a well-educated one, and their knowledge is put to good use at the orchard and vineyard. Dale is a National Science Fellow, and Peg is a former English teacher with a master's degree. Chris was earning a biomedical engineering doctorate from Case Western Reserve University in Cleveland before deciding to go into the family business.

"Farmers are marketers, accountants, scientists," Vodraska says. "It doesn't do our industry any good to play to stereotypes. So, I wanted to build a place that was authentic and true to us, a place that spoke to the history of farming but also the future."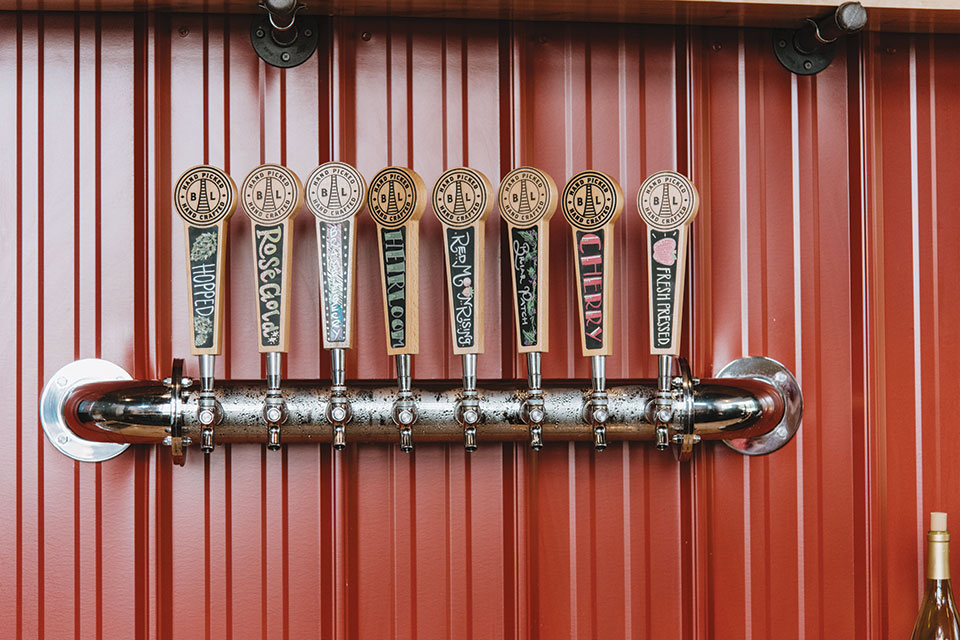 Bent Ladder's production facility and tasting room, which Matt built over the course of two years, has a postindustrial, farm-chic feel. Reclaimed wood and raw shiplap exist alongside steel beams and large expanses of metal and glass.

"When people think of farms, they don't think of the actuality, which is hot, sweaty and dirty," Vodraska says. "They think of a feeling and tractors, fields and dappled lanes. The farm aspects here are ones of comfort — to invite that feeling. And the steel and metal show that I'm not just paying lip service to the idealizing of a farm."

The name Bent Ladder itself pays homage to Midwestern grit and using the tools one has on hand to make a go of things. It's a concept well known to the Vodraska family. All their work becomes evident during a visit to the tasting room, where you can try the best-selling Cherry, a pale pink variety that shows the nuance hard cider can have.

"It doesn't have a medicinal or candy-cherry taste, and that's hard to find," Vodraska says. He's right. The apple-and-Montmorency-cherry blend is subtle and refreshing, closer to a champagne than the cherry-cola-style flavor often found in alcohol drinks that contain cherry.

The Fresh Pressed is another popular choice, "our nod to mass-produced ciders," Vodraska says. Made from mostly honey-tart GoldRush apples, it has an unmistakable apple aroma with a fruity sweetness that's familiar to visitors whose only hard-cider experience is with varieties such as Angry Orchard. "It's not subtle," he maintains, but it is fruity and big and undeniably enjoyable.

Speaking of nods to more familiar beverages, the Rosé Gold has nothing to do with the popular wine but rather its old world blend of apples, including Redfield, Kingston Black and Dabinette, which lends a subtle pink hue to this extremely drinkable cider. Vodraska writes the cider descriptions himself, and in a choice that surely makes his former English-teacher mother proud, he describes this style in part as having an "orchard floor" aroma.

Darned if it doesn't, too. Drinking one, it's easy to imagine a walk at dusk through the orchard rows as the pungent scent of fallen apples fills the air. For a moment, it transports you to that idealized farm life Vodraska had in mind when he designed the place.

13550 Mount Eaton Rd., Doylestown 44230, 330/485-1089, bentladder.com

---

Cider Stops
Here's where you can sample some other Ohio-made hard ciders.

Redhead Ciderhouse, Berlin Heights
This 5-year-old estate cidery turns Burnham Orchard apples into a variety of sweet to semisweet craft ciders and serves them at its rustic on-site tap house. Apple Pie is the most popular flavor during fall and winter, according to head cider-maker Josh Raboin. "[It tastes] just like your grandma's apple pie, with lots of cinnamon," he says. 8019 St. Rte. 113 E., Berlin Heights 44814, 419/396-5995, redheadciderhouse.com

Mad Moon Tap Room, Columbus
In 2014, Peter and Sally Carroll Moon opened Mad Moon Craft Cidery, and their creations are available throughout Columbus. Visit the taproom to try their new ciders made with Ohio-orchard-sourced apple juice, such as Swell Cold Brew Cider (crafted with local cold brew coffee) or Gunslinger (a cherry habanero cider). "It just has a nice heat to it," says Peter. 2134 Britains Ln., Columbus 43224, 614/ 354-8171, madmooncider.com

West End Cider House & Distillery, Athens
There's a corner-pub feel to this tasting room with an artsy vibe. Try the Zingiber cider, infused with fresh ginger and lemon juice. Or, opt for one of the seasonal fruited ciders built around Kelly's Dry, the farmhouse-style base cider named for co-owner, cider-maker and distiller Kelly Sauber. "It's unfiltered and fermented to dryness," says co-owner Deanna Schwartz. 234 W. Washington St., Athens 45701, 740/590-5364, westendciderhouse.com

Griffin Cider House & Gin Bar • Lakewood
Even before you hear Richard Read's accent, you know you're in an English taproom, with its dark woods and cozy atmosphere. Spring Hill Winery in Geneva makes the ciders served here, which are curated by Read, who got his cider-making start in England. Try Burly Man, a medium-dry, English farmhouse cider. "It goes through a partial wild ferment, so it's a little funky," Read says, "not cloyingly sweet but with a bit of bite to it." 12401 Madison Ave., Lakewood 44107, 216/767-5444, facebook.com/griffinciderhouse