Food + Drink
Eat Local at Orchard House
This boutique inn in Granville prides itself on creating truly memorable meals. Co-owner Dean Lowry does that by starting in his own backyard.
November 2017
BY Rich Warren | Photography by Eric Wagner, Food styling by Kathleen Day
November 2017
BY Rich Warren | Photography by Eric Wagner, Food styling by Kathleen Day
Your breakfast toast comes from Lucky Cat Bakery, just across the road. The eggs are courtesy of the free-range chickens wandering out back. Many of the herbs, fruits and vegetables that appear on your plate grew on-site, while most everything else came from farms and purveyors within a 20-mile radius. When it comes to eating local, Granville's Orchard House Bed and Breakfast takes the idea to a new level.

When Dean Lowry and Jodi Melfi purchased the 12-acre estate in 2015, they resolved to create truly memorable meals for their guests by highlighting what is fresh and available from their own backyard or what they can get nearby. Over time, the couple's suppliers have grown to include One Line Coffee in Granville, as well as Sunbeam Family Farm and Latshaw Apiaries in nearby Alexandria.

Exceptions are made for especially high-quality ingredients, such as dairy products from southern Ohio's Snowville Creamery. That's because locality isn't the only measure of whether an ingredient makes it onto the menu. Lowry, who serves as Orchard House's principal chef, carefully quizzes his potential suppliers, asking them about their farming practices and how their animals have been raised. He wants to know if produce is grown chemical free and if animals are raised humanely with access to sunlight and the outdoors.

"For me, it's important that our suppliers raise their food ethically and with attention to the environment," Lowry says. "We're looking for farmers who have a global mindset, who don't just live without regard to nature. We want to work with people who think globally and act locally."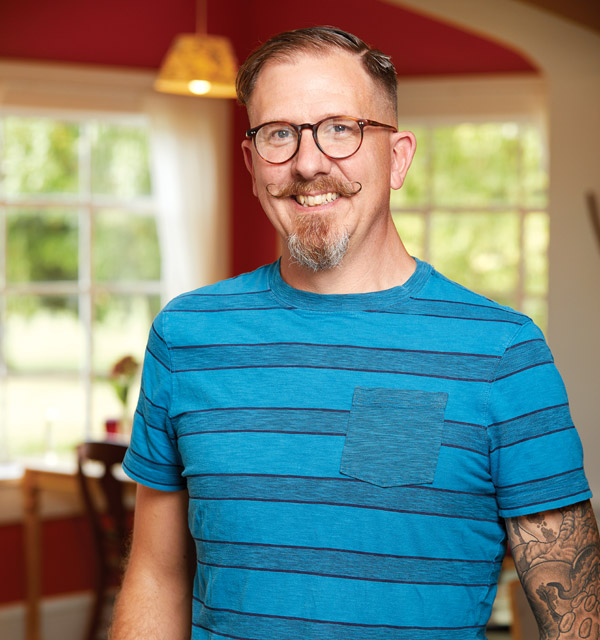 He practices what he preaches, too. His herbs and produce are all grown organically, and Lowry works hard to make sure his chickens are happy.

"I want them eating bugs, grass, maybe even an occasional apple or leftover pizza crust," he says.

Experience has taught him happy chickens will produce higher-quality, better-tasting eggs. And that's the ultimate goal: sheer flavor. Lowry's attention pays off at the breakfast table, where the meals change as the seasons turn. This time of year, autumn's bounty appears in dishes like Lowry's sweet potato hash or the B&B's famous Dutch baby, an apple pancake made in a cast-iron skillet and cooked in the oven.

French toast is another seasonal favorite, prepared in both savory and sweet varieties, using frozen cherries, peaches and apples picked out back during the summer. The cinnamon roll pancake is popular with kids, and the baked polenta with crumbled sausage and cheddar cheese is a year-round favorite.

Lowry's eclectic approach to his menu carries over to the bed-and-breakfast itself. He and Melfi decorated the 1850s brick Italianate structure with a pleasing blend of antiques from around the world and contemporary artwork — a style they call "cosmopolitan country."

"We didn't want to be your grandma's dusty quilts kind of B&B," says Lowry, a former IT technician from Detroit who met Melfi, a Granville graphic artist and designer, online. "So we worked in modern, local artwork to liven things up."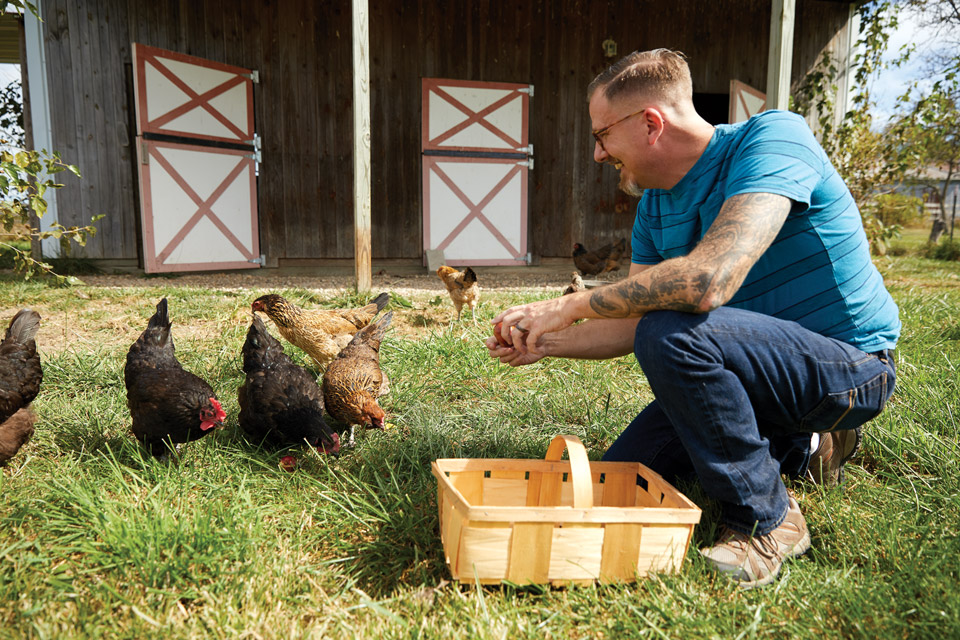 Although not formally trained as a chef, Lowry is a longtime foodie who loves devising new dishes. When he finds a recipe that intrigues him, he plays with flavors and textures until he gets it right. Finding that the poblano peppers he originally used in his sweet potato hash weren't to all his guests' liking, he substituted just a touch of powdered cayenne and smoked paprika.

For culinary inspiration, Lowry watches cooking shows such as Food Network's "Chopped," which challenges four chefs to concoct original dishes using unusual combinations of ingredients, such as asparagus hearts and gummy bears.

"I find myself watching what they make and thinking, Oh wow, without the gummy bears, I could make that," he says. And then he does.

Orchard House's guests give a hearty thumbs-up to Lowry's flavorful breakfasts. Visitors Jarret and Emily Holley of Columbus especially appreciate the locality of the food he prepares.

"I'm originally from Nevada, where it's almost impossible to find local food, so I really enjoy knowing what I'm eating comes from close by," says Jarret, with Emily adding that the couple likes to frequent restaurants in Columbus that embrace an eat-local approach. Zach and Danielle Winning of Cincinnati were visiting Orchard House this September for the third time.

"We're obsessed with Dean's food," Danielle says. "It tastes fresher, and it's fancier, although it's a simple kind of fancy. Best of all, I don't have to make it myself."

For those wishing to emulate Orchard House's culinary approach in their own kitchens, Lowry has straightforward words of advice.

"Always use the freshest, best-quality ingredients," he explains. "I stress natural over organic: food that's been grown or raised without pesticides, additives and that's been minimally processed and tampered with."

Above all, Lowry says, simple ingredients are the best. You only have to lift a forkful of one of his morning creations to know that simple translates to scrumptious.

4058 Columbus Rd., Granville 43023, 740/651-1850, orchardhousegranville.com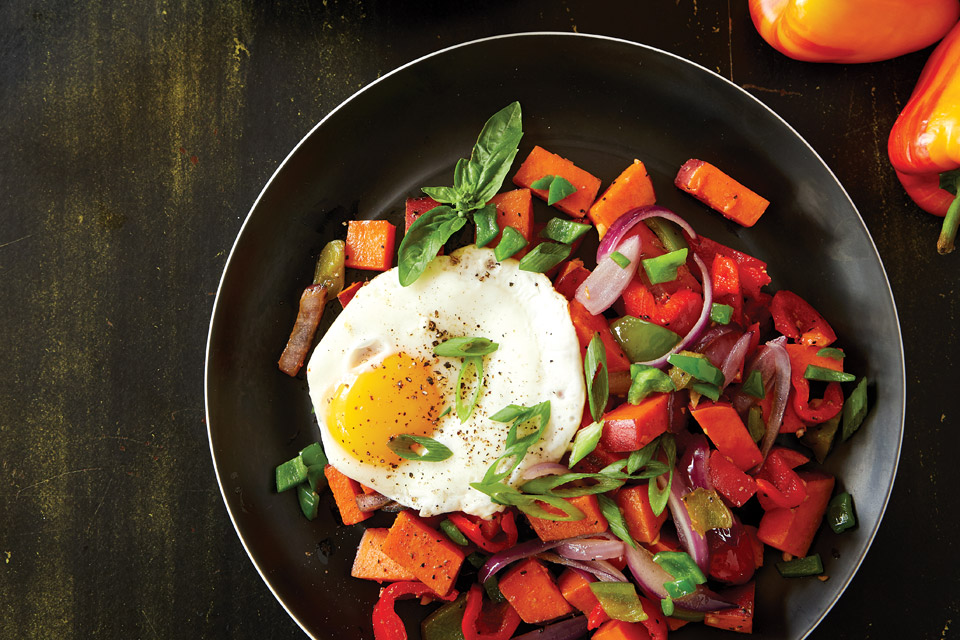 Sweet Potato Hash | Serves 4–5

INGREDIENTS
1–2 large organic sweet potatoes (about 1–1 1/2 pounds), cubed
1 red onion, diced
2 tablespoons olive oil
2 cloves garlic, minced
1 red bell pepper, diced (green works well, too)
Salt and coarse pepper to taste
1/4 teaspoon smoked paprika
1/8 teaspoon cayenne pepper

DIRECTIONS
Heat olive oil in a cast-iron skillet over medium-high heat. Add the onion and cook for about 2 minutes until it begins to soften. Add the sweet potatoes, cover and cook about 5 minutes, until the potatoes begin to soften. (Try not to stir around too much, just enough to keep them from sticking.)

Add in the red pepper and garlic. Add spices and adjust to taste. Mix to combine and try to leave in a single layer so the potatoes can begin to brown a bit. Cook for another 5 to 8 minutes, tossing once the underside begins to brown. (Chef's note: This dish is best when the potatoes are soft, but just as some of them begin to break down. It goes great with an egg and uncured ham or bacon.)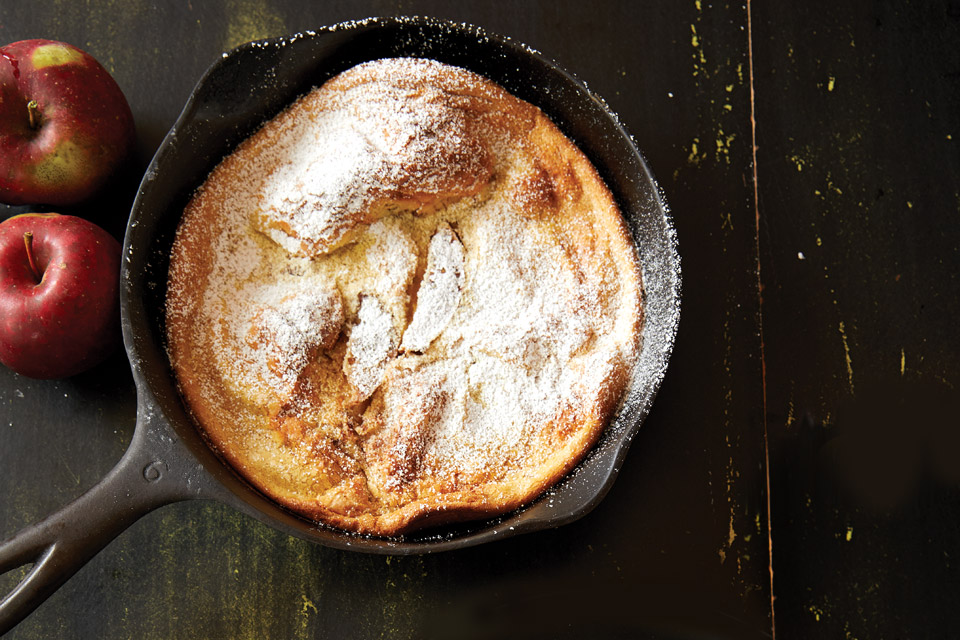 Dutch Baby Pancake | Makes 1 pancake

INGREDIENTS
3 eggs, room temperature
3/4 cup flour
3/4 cup whole milk
2 tablespoons butter
1 tablespoon sugar
Pinch salt
2 small apples (Pink Lady, Granny Smith or Gala apples are good choices)

DIRECTIONS
Preheat oven to 400 F. As the oven is heating, toss the butter in a 10-inch, cast-iron skillet and place it into the oven. Slice apples thinly as butter melts. Remove skillet and arrange apples along the bottom. Don't leave gaps. They will shrink. Return skillet to oven.

Whisk dry ingredients together, then add wet ingredients and whisk together again. Remove skillet, sprinkle cinnamon generously over apples and pour batter gently over the apples. (Start around the outer edge and then work into the middle, which seems to hold the slices in place better.) Return to the oven and bake for 20 to 25 minutes or until the pancake is puffed and golden. Cut into larger wedges and serve with a dusting of powdered sugar and maple syrup, if desired.