Food + Drink
2 Recipes That Make Garlic the Star
The Cleveland Garlic Festival returns each summer with chefs competing in a grill-off featuring the star ingredient. We have the recipes for two dishes that will shine on the judges' table.
August 2016 Issue
BY Stephanie Grauer | Photo courtesy of Cleveland Garlic Festival
August 2016 Issue
BY Stephanie Grauer | Photo courtesy of Cleveland Garlic Festival
Garlic holds a strange place in our culture, given its association with both Italian grandmothers and would-be vampire hunters. But there's more potential in the flavorful vegetable than its starring role in your nonna's spaghetti sauce, and the availability of unusual varieties such as Romanian red could tempt Dracula himself to crush some cloves.

More than 50 types of garlic grow in fields across Ohio, and the rise of farmers markets has made them accessible to at-home cooks. When Donita Anderson, executive director of Cleveland's North Union Farmers Market, began to see unexpected garlic varieties appearing on her sellers' tables, she wanted to keep the trend going. Then, she heard about the 19th-century French tradition of garlic festivals.

"I thought, There's something we can do here: support the market but also grow farms through production of garlic," she says.

For the past several years, North Union Farmers Market has hosted the Cleveland Garlic Festival. It returns to Cleveland's Shaker Square each year, with a daily parade featuring Miss Garlic, live music, chefs competing in the Top Chef Garlic Grill-Off and plenty of garlic-infused eats.

Food options range from thick-cut gourmet fries with garlic and rosemary to garlic ice cream to garlic beer. "It's a lighter pilsner," says Anderson, "but you can feel the garlic [on] your tongue."

The Cleveland Garlic Festival wants to crash your expectations about what can be done with its namesake ingredient. Ultimately, it wants to make you a fan.

"Just like what wine connoisseurs would say: It is an acquired taste, you develop a taste for it," says Judith Leisenring, co-owner of BJ Gourmet Garlic Farm in Mogadore. "Or maybe you were lucky enough to be brought up in an ethnic environment, where it's just part of your world."

For more information about upcoming dates, visit clevelandgarlicfestival.org.

***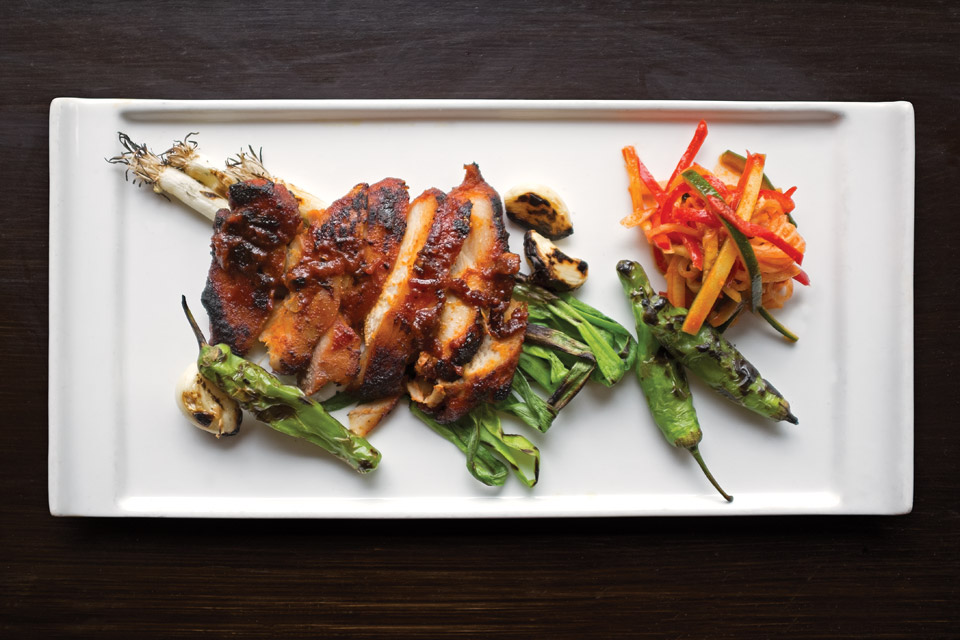 Grilled Spicy Chicken with Flash Kimchi Salad
Chef Hak Kim, SASA | Cleveland

To chef Hak Kim, garlic is a crucial ingredient in the meat preparations for his kicked-up Asian fare. The grilled spicy chicken with flash kimchi salad that he is making for this year's Cleveland Garlic Festival chef grill-off is no exception, with the garlic in the marinade contrasting the sweetness of the Asian pear.

"It's all about the balance," he says. "If you put too much garlic ... in your sauce, it overwhelms the other ingredients."

Kim began working at SASA, an Asian bistro specializing in Japanese cuisine located on Cleveland's Shaker Square, three years ago, working his way up from line cook to sous chef. After watching the Cleveland Garlic Festival's Top Chef Garlic Grill-Off competition for several years, one of Kim's colleagues suggested he give it a try. Food that Kim's mother used to make for him when he was younger inspired his grilled spicy chicken with flash kimchi salad. Although the recipe calls for a brief marinade time, he urges home chefs to let the meat soak as long as possible to fully infuse the garlic.

"It's good to marinate the chicken with the sauce overnight," says Kim. "That's the best." He also stresses the importance of correctly plating the dish by putting the kimchi salad next to the grilled chicken rather than intermixing the two.

"I usually eat spicy meat, and I wanted to have a sour salad," says Kim. "So you can bite a piece of meat and then you need a fresh bit of kimchi." 13120 Shaker Square, Cleveland 44120, 216/767-1111, sasacleveland.com

RECIPE: Grilled Spicy Chicken with Flash Kimchi Salad
Serves 4

Flash Kimchi Salad

INGREDIENTS
1/2 pound red pepper, julienned
1/2 pound daikon, julienned
1/2 pound English cucumber, julienned
1 tablespoon gochugaru
(Korean red pepper flakes)
4 tablespoons white vinegar
1 tablespoon sesame oil
Salt and pepper to taste

DIRECTIONS
Combine gochugaru, vinegar, sesame oil, salt and pepper. Mix the dressing with the daikon, red pepper and cucumber.

Spicy Grilled Chicken

INGREDIENTS
2 pounds chicken thighs
1 cup soy sauce
2 cups gochujang (Korean red pepper paste)
6 cloves garlic, minced
1/4 teaspoon ginger, minced
2 tablespoons sesame oil
1 teaspoon black pepper
1/4 cup Asian pear, grated

Grilled Spicy Chicken with Flash Kimchi Salad
Serves 4

DIRECTIONS
Combine gochugaru, vinegar, sesame oil, salt and pepper. Mix the dressing with the daikon, red pepper and cucumber.

DIRECTIONS
Prepare grill for medium-high, indirect heat. Combine gochujang, soy sauce, Asian pear, garlic, sesame oil and pepper in a bowl. Rub the chicken with the marinade mixture, and let sit in refrigerator for 20 to 30 minutes. Place the chicken on the grill, turning often until browned on all sides. Slice the chicken into 1/2-inch thick pieces.

ASSEMBLE
Divide the kimchi into four portions and place on each plate. Divide chicken into four portions and place on each plate next to the kimchi. (Chef Hak Kim also dresses up his plate with grilled scallions and shishito peppers.)

***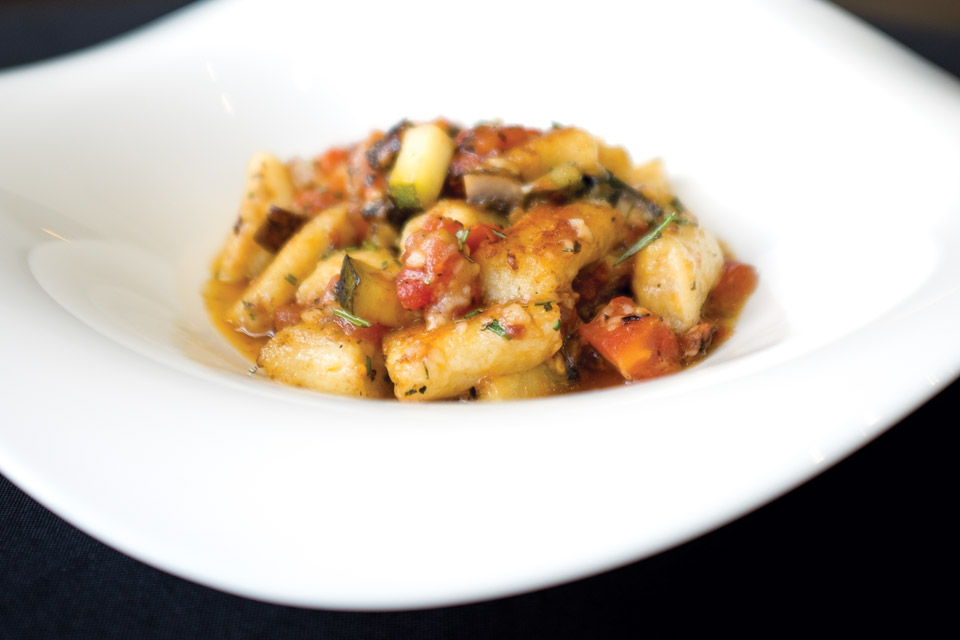 Roasted Garlic Gnocchi with Grilled Vegetables
Chef John Selick, University Hospitals | Beachwood

The word "cafeteria" may conjure grade-school memories of long lines and lunch ladies, but chef John Selick's spot at University Hospitals Ahuja Medical Center in Beachwood elevates the idea with quality, creativity and spontaneity.

"We have a perception of having really fresh, good food," says Selick. "Everybody thinks we have a restaurant … but we actually have a cafeteria."

He traded the schedule of a restaurant chef for a position cooking at University Hospitals 12 years ago. Although the cafeteria is run by Sodexo — a French food services and hospitality management company — seasonal produce abounds and Selick often strays from the corporate menu to develop his own creations.

"I went through a phase where I was just making gnocchi all the time, and the garlic festival came up," says Selick. "I said, 'Well, I'm going to make a roasted garlic gnocchi and work the roasted garlic into the dough, work it into the sauce.' "

Selick notes that perfecting the ideal gnocchi may take several rounds of practice, and he urges home chefs to treat the dough delicately.

"You want to keep it light," he adds. "When you're working with flour, like making a cake, you don't want to overwork it."

Selick says his dish showcases the different qualities cooked garlic can offer, with the ingredient appearing in both the sauce and the gnocchi.

"I'm hoping to have the nice, roasted sweetness of the garlic in the gnocchi," he says, "then the chopped garlic will sort of be sweated out in the sauce." 3999 Richmond Rd., Beachwood 44122, 216/593-5771, uhhospitals.org


RECIPE: Roasted Garlic Gnocchi with Grilled Vegetables
Serves 6

Roasted Garlic Gnocchi

INGREDIENTS
2 heads roasted garlic
2 pounds baking potatoes (3–4 medium potatoes)
1 1/2 cups all-purpose flour
2 eggs
Pinch of salt

DIRECTIONS
To roast the garlic, preheat oven to 350 F. Cut the top off the garlic heads, about 1/4 inch, exposing the garlic. Place the garlic in a pan and roast for 45–60 minutes, until the garlic is soft. When cooled, squeeze the garlic out of the skins.

To make the gnocchi, place the unpeeled potatoes in a pot of cold water that covers the potatoes by at least 2 inches and bring to a boil. Reduce the heat to a medium boil and cook until completely tender (about 30­–40 minutes).

Drain potatoes, and when cooled, slice them in half lengthwise. Scoop the potatoes from the skins and pass through a potato ricer or food mill (a potato masher will also suffice).

Make a small mound with 1 cup of flour on a flat surface, then add the potato and salt and make a well. Crack the eggs into the center of the well of the potato-flour mound, then add the roasted garlic. Mix with your hands until the dough begins to come together. Add more flour if the dough is too sticky. Continue to gently knead for about a minute, being careful not to overwork the dough.

Cut the dough into 4 equal pieces. On a lightly floured surface, roll each piece of dough into a rope 3/4-inch in diameter. Cut the ropes with a knife into 3/4-inch pieces and place on a baking sheet, making sure the pieces don't touch. Divide the gnocchi into two batches. Cook each batch separately in boiling water until they float to the top. Remove, strain and hold until ready to add to the grilled vegetables.

Grilled Vegetables

INGREDIENTS
1 portobello mushroom
1 medium-sized green zucchini, cut in half
2 tomatoes, cut into thirds
3 cloves garlic, chopped
1 teaspoon red pepper flakes
1 cup white wine
1/2 cup Parmesan cheese
1 sprig fresh rosemary, chopped
1 cup olive oil
Salt and pepper

DIRECTIONS
Place tomatoes, portobello mushroom and zucchini in a mixing bowl. Season with salt and pepper, add 1/2 cup of olive oil, and combine all ingredients.

Place the marinated vegetables on a hot grill, taking care to avoid flare-ups. Grill the vegetables until cooked through (about 7 minutes). Remove from the grill and place on a cutting board. When cool enough to handle, chop into 1/4-inch pieces.

Add 3 tablespoons of olive oil to sauce pot over medium heat, then add the chopped garlic and red pepper flakes. Cook gently until fragrant (about 1 minute). Add the grilled vegetables to the pot and cook for 1 minute, then add the white wine. Cook until the wine is reduced by half.

Add the gnocchi. Remove from heat, add remaining olive oil, chopped rosemary and Parmesan cheese, and combine, adjusting seasoning with salt and pepper to taste. Serve in individual pasta bowls garnished with additional cheese.

Garlic 101: We asked three Ohio farmers and two chefs participating in this year's festival grill-off to share their advice for buying, preparing and roasting garlic. Read the story at ohiomagazine.com/garlic.