Food + Drink
America's Largest Candy Store
If you want all the trick-or-treaters talking about your house, a trip to b.a. Sweetie Candy Co. in Cleveland is in order.
October 2016 Issue
BY Jill Sell | Photo By Ken Blaze
October 2016 Issue
BY Jill Sell | Photo By Ken Blaze
North America's largest candy store would seem the sort of place where a mother can teach her children about the realities of budgeting. Blow the entire allowance on blue raspberry rock candy or save a couple dollars for Reese's mini cups?
But by the time you wheel into aisle two of b.a. Sweetie Candy Co.'s 40,000-square-foot retail warehouse complex in Cleveland, the budget is history, and it's not just the kids who have a tough time showing restraint.
Featuring more than $3 million worth of inventory, b.a. Sweetie bills itself as the largest candy store on the continent. With more than 800 bins of bulk candy, 300 types of soda pop in glass bottles, dozens of Jelly Belly jelly bean varieties and retro candies you never thought you'd see in stores again, b.a. Sweetie is a dentist's nightmare (or dream, depending on how one looks at it).
Pez collectors go wild over the sea of dispensers in stock, including a line featuring U.S. presidents. Those with higher-end chocolate tastes will swoon over the variety of Godiva and Ghirardelli chocolates. And, of course, this time of year, there are plenty of Halloween candies, even pumpkin spice-flavored Peeps.
In the center of the towering shelves stands owner Thomas Scheiman. A Cleveland native, Scheiman stocked candy in his grandfather's Italian food store during his summers as a youth. Later, he participated in a high school work-study program at Ace Tobacco and Candy Co. in Solon, beginning as a floor sweeper and leaving the company as general manager. Scheiman bought a small wholesale company, Bag-A-Sweet Candy Co., in 1982, eventually changing the operation's name to b.a. Sweetie Candy Co.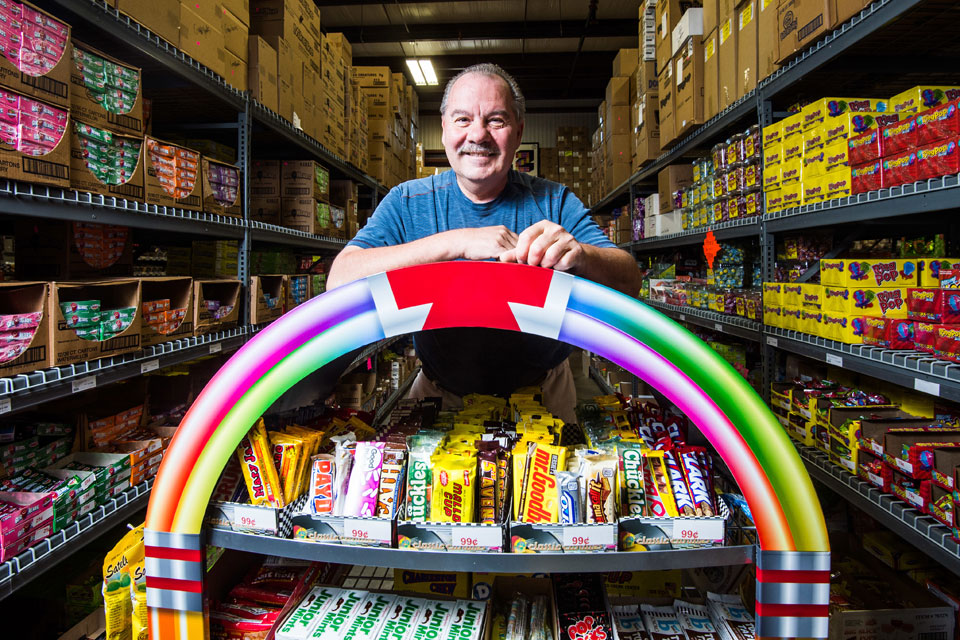 "It was a scary move," says Scheiman, who started with just four employees and now employs 58. "I had a really good job and all the perks. But at one time I opened 11 candy stores over 10 years — primarily in shopping malls — when I was really aggressive. I borrowed money from the bank. Now I know better. When I bought this 5-acre property in 2012, I had no debt. It took me eight years of saving. But if I can't pay for it, I don't do it. And our last five years have been phenomenal."
Scheiman moved his original operation from nearby Brooklyn, Ohio, to a $3.5 million complex he opened in 2015. The retail-and-warehouse space is a bare-bones interior filled with the sort of industrial shelving found at big-box home improvement stores. But the stacks of vibrant candy boxes transform the space into a kaleidoscope of hues. There's also a 30-foot-long display of clear bins filled with jelly beans, as well as oversize lollipop statues, M&M characters the size of toddlers and a beautifully restored 1932 Ford truck that once delivered candy.
The adjoining Sweeties Soda Shoppe opened earlier this year with a delightful farm-like feel that includes sliding barn doors, chicken-coop lighting and tractor seats on milk-can stools. There's also Sweeties Golfland, which includes two 18-hole mini golf courses, a 5,000-gallon koi pond and a large gazebo that seats 40. Scheiman loves visiting with families — often second- and third-generation customers who visit to grab an ice cream cone, play a round of mini golf and, of course, scour the store aisles for their favorite treats.
Inside his office, which is filled with toy truck models with candy logos on their sides, Scheiman is all business. The retail part of his company is a success. So is his online store, which operates under the name Groovy Candies. But it's the wholesale distribution division that pays the bills.
"We are unique in that we do all three," explains Scheiman, as he passes by an enormous bin of bagged jelly beans in the warehouse that will soon be on their way to a large grocery store chain. "There's probably $15,000 worth of candy right here."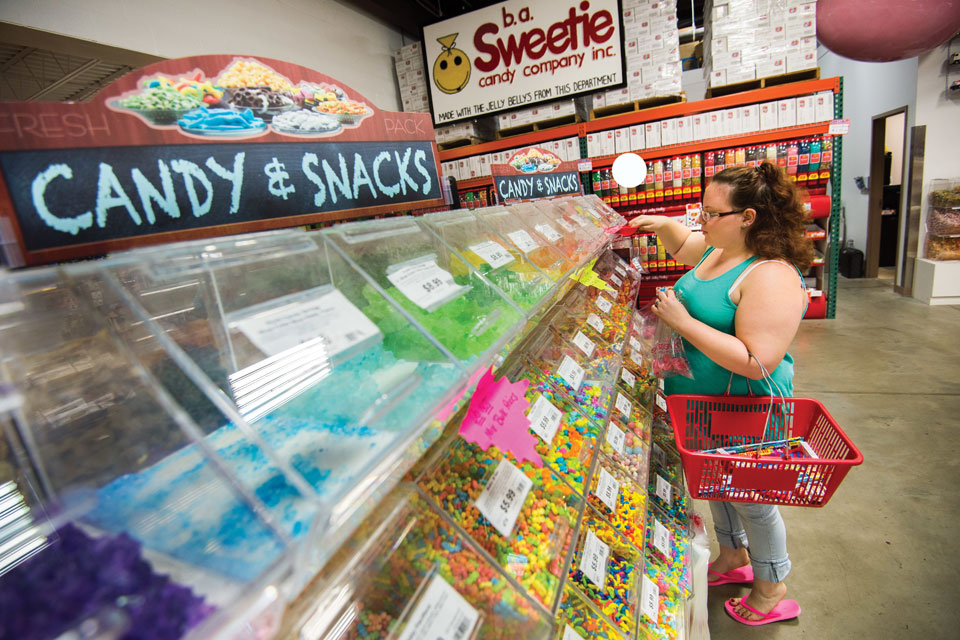 Although Halloween, Easter and the Christmas holiday season are when the majority of us think about candy the most, it is a year-round enterprise for people like Sheiman. But the changing face of American culture has reshaped the business over the years, especially the fact that in high school lunch rooms — once a place where a range of sweets were sold — candy has largely been banished by districts across the nation.
"It was a surprise that all candy has been taken out of schools except what is sold for extra-curricular activities," Scheiman says. "That hurt our volume."
But you can't keep a candy man down for long, and Scheiman's enthusiasm is clear as he walks the retail floor — "it's always a party," he says — which is packed with so many sweets you wonder how he can work around the stuff all day without trying one of everything. Turns out he does a little indulging himself, just not too much.
"Candy is meant to be a treat," Scheiman says, admitting that he enjoys a couple spoonfuls of chocolate raisins every few days. "Everything in moderation."
6770 Brookpark Rd., Cleveland 44129, 216/739-2244; Visit sweetiescandy.com for more information.