Food + Drink
3 Ohio Bed-and-Breakfast Pancake Recipes
We asked a trio of Ohio bed-and-breakfasts to share a recipe for one of their made-from-scratch creations.
March 2014 Issue
BY Jill Sell | Photo by Beth Segal
March 2014 Issue
BY Jill Sell | Photo by Beth Segal
Some people think a pancake's mission in life is to lie there quietly and wait until someone smothers it with maple syrup. We say those people have probably only eaten flapjacks made with unexciting boxed mixes. Or they've been subjected to poor cooking techniques that leave the final result charred on the outside and mushy in the center. (The secret is to wait until the griddle is really hot before pouring the batter.) We asked innkeepers and chefs at three Ohio bed-and-breakfasts known for delicious pancakes to share a recipe and advice for making the morning favorite.

The Barn Inn's ... Oatmeal Pancakes

Located in the middle of Ohio's Amish country, The Barn Inn's guests usually stay multiple days, so they can see and do everything they'd like to during their visit. Loretta Coblentz, who owns the inn with her husband, Paul, varies the breakfast menu so patrons rarely have duplicate meals. But there is one morning dish she's always ready to make.

"My Oatmeal Pancake entree is one I keep on hand at all times," says Coblentz, who found a similar recipe in a magazine and adapted her version over several years. "We always have fresh fruit, good coffee and locally made sausage, as well as other wonderful breakfast entrees. But the recipe for the Oatmeal Pancakes is one that the guests request."

The pancake batter freezes well, which is an advantage for both a B&B owner and busy families who want to enjoy pancakes at home. Coblentz makes the batter at least once a week and stores it in plastic tubs. One quart serves seven people, and the batch makes three, 4-inch pancakes per person.

Coblentz is known for her creative oatmeal dishes, adding that she likes that the ingredient is so versatile while also being a healthy choice. She says her signature dish can even stand alone.

"They are so good on their own," Coblentz says, noting that she always serves them with maple syrup and fruit sauce. "But they go with anything, so it's whatever you want. My staff snacks on leftovers like cookies."

The Barn Inn, 6838 County Rd. 203, Millersburg 44654, 330/674-7600, thebarninn.com

Oatmeal Pancakes
Courtesy of The Barn Inn, Yields 7 servings


INGREDIENTS
4 cups oats (regular or quick)
1 cup flour
2 teaspoons baking powder
2 teaspoons baking soda
1 teaspoon cinnamon
1/2 teaspoon salt
1/2 cup melted butter
4 eggs
4 cups buttermilk
1 cup milk
1/3 cup sugar
milk for thinning batter


DIRECTIONS
Mix together oats and dry ingredients in a large bowl. In a separate microwave-safe bowl, heat 1 cup milk, then add the melted butter, making sure to blend; then add the buttermilk and eggs. Add wet mixture to dry ingredients and combine thoroughly. Refrigerate at least eight hours, so that the oatmeal can absorb the liquids. After several hours in the refrigerator, the batter will become thick, so add more milk until desired pouring consistency is obtained. Pancakes can be served with fruit sauce, buttermilk sauce or maple syrup. (Note: For more whole grain, use half whole wheat flour and half regular flour. However, pancakes will scorch very quickly.)


***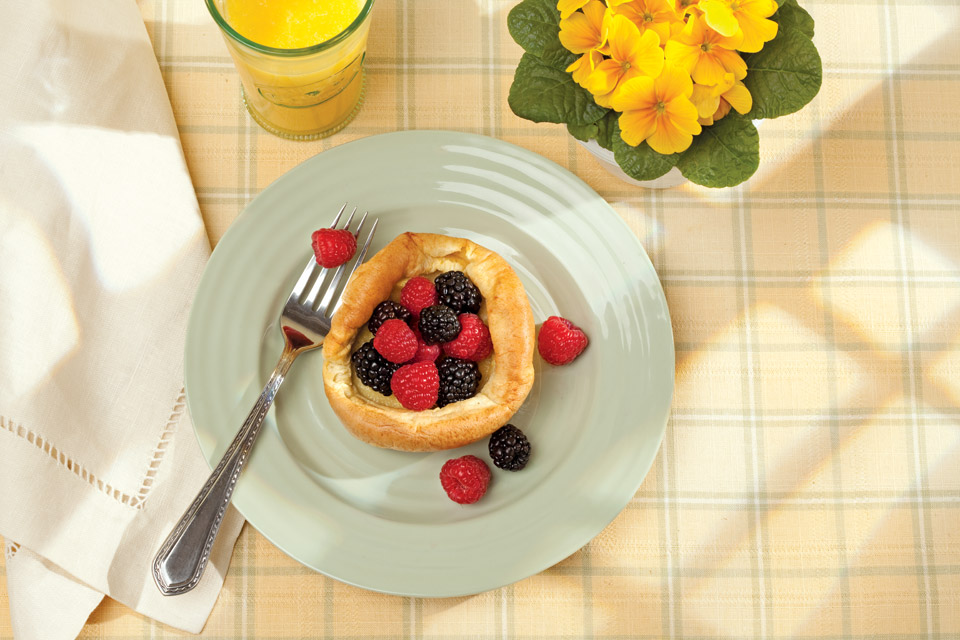 Harkins House Inn's ...
Dutch Babies


Food historians say Dutch Babies, also called Dutch Baby Pancakes, were created in the first half of the 1900s at Manca's Café in Seattle. But the pancake became nationally known following a 1960 article in the western lifestyle magazine Sunset.
Many recipes for Dutch Babies say to make the pancakes in a hot skillet. But Stacey Lucas, owner of Harkins House Inn in Caldwell, pops hers in the oven.
"When you put the pancake batter into the oven, it rises. And when you take them out, it shrinks down a bit and the pancake looks like a little bowl," explains Lucas, who celebrated 20 years as a B&B owner last month.
The pancake's shape makes it convenient for filling with maple syrup, fresh fruit, bananas, scrambled eggs, sauteed apples, nuts, chocolate chips or a Harkins House Inn specialty: homemade strawberry sauce with a dollop of whip cream.
Lucas' inn was originally built as a home for one of the founders of the First National Bank. A 1990s restoration of the 1905 Princess Anne Colonial was made possible after the home's original floor plans were found hidden in a closet.
Dutch Babies are a feel-good, nostalgic type of breakfast that fit Noble County's quaint, country atmosphere — a place Lucas calls "Ohio's Mayberry."
"I don't make Dutch Babies a lot," she says. "They are usually for special occasions or important meetings. But every once in awhile … [someone] requests it. One lady last fall called me and said she wanted to stay at the inn, but only if we still had the Dutch Babies. Luckily, she liked them."

Harkins House Inn, 715 West St., Caldwell 43724, 740/732-7347,
bbonline.com
Dutch Babies

Courtesy of Harkins House Inn, Yields 1 pancake

INGREDIENTS
1 tablespoon butter
1/4 cup all purpose-flour
1 egg
1/2 teaspoon vanilla
1/4 cup milk
DIRECTIONS
Preheat oven to 425 degrees. Mix all ingredients well, preferably with a mixer. Put one tablespoon of butter into a 6- to 8-inch ovenproof dish. (Note: Innkeeper Stacey Lucas uses a
7 1/2-inch cast iron skillet.) Heat in oven until butter is melted. Pour the mixture into the preheated dish and bake for 10 to 12 minutes until the pancake is golden brown on the edges and very puffy. Once out of the oven, the pancake will sink and curl on the edges. Fill with toppings of your choice.
***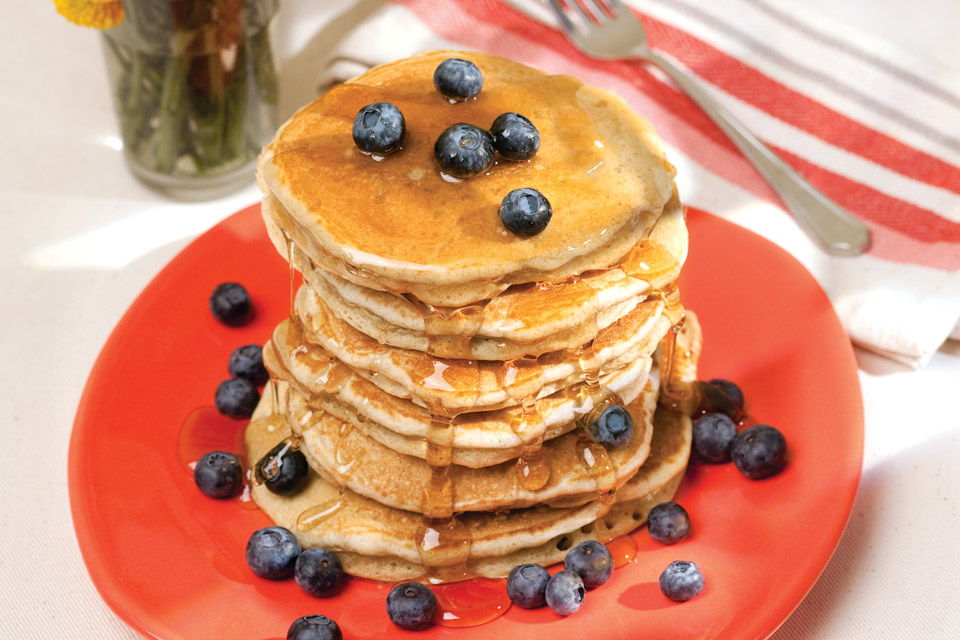 Murphin Ridge Inn's
Foggy Bottom Pancakes
Murphin Ridge Inn's famous pancake was created by the B&B's first chef, who worked on crafting the signature menu item until she felt it was exactly right.
"The morning that she felt she had it was one of those great foggy mornings we have around here in spring and summer," says Joshua Catone, Murphin Ridge Inn's current chef. "Fog fills in all the gaps and usually covers the fields and gathers around everything. So she called the dish Foggy Bottom Pancakes."
Catone says the use of cornmeal in the recipe makes the pancakes "nuttier and more interesting than regular pancakes made from white flour." Although the ingredient can often change a recipe's texture, he says Foggy Bottom Pancakes deliver a rich cornmeal flavor while remaining a "traditional, very fluffy pancake."
The B&B serves its Foggy Bottom Pancakes with warmed Ohio maple syrup, berry sauces, and its famous five-spice applesauce. It also sells its pancake mix, which can be ordered by calling or emailing.
"We serve Foggy Bottom Pancakes at least once a weekend," Catone says. "But we also honor requests. There are some weeks we serve them three or four times a week so everyone who wants them gets them."

Murphin Ridge Inn, 750 Murphin Ridge Rd., West Union 45693, 937/544-2263, murphinridgeinn.com
Foggy Bottom Pancakes
Courtesy of Murphin Ridge Inn, Yields 6 servings
INGREDIENTS
2 cups white flour
1/3 cup whole wheat flour
1/3 cup cornmeal
1/3 cup rolled oats
1 teaspoon baking powder
1 teaspoon baking soda
1 teaspoon salt
2 teaspoons sugar
2 eggs
2 cups buttermilk
1/3 cup canola oil
milk to thin if necessary
DIRECTIONS
Mix the dry ingredients and wet ingredients in separate bowls, and then combine. Batter should be thick and creamy. Pour 1/4 cup of batter on hot, greased griddle for each pancake. Cook pancakes until golden brown.