Food + Drink
Jonas Laughlin Shares Baking Tips and Recipes
When a cold ended Jonas Laughlin's opera career, he found solace in baking. At his Columbus patisserie, he creates odes to European and Southern pastries.
November 2016 Issue
BY Beth Stallings | Photos by Eric Wagner
November 2016 Issue
BY Beth Stallings | Photos by Eric Wagner
*Note: Laughlin's Bakery closed in 2019. See below for baking tips and great recipes.

Debbie Neimeth couldn't believe it. The pain au chocolat was buttery and perfectly crisp. Its flaky layers shattered like thin-spun sugar with every bite. After spending a year in Paris, the owner of Columbus' Happy Go Lucky home shops could easily discern a good croissant from a bad one. But a great croissant — one like this, one that would pass as authentic in any patisserie in France — was a rarity, especially in Columbus.

"I was so impressed," recalls Neimeth, who knew immediately she had to seek out the baker behind the pastry. "I really wanted to meet him."

Jonas Laughlin had spent four days creating the pain au chocolat, which consisted of 729 paper-thin layers of pastry. He'd taught himself the technique in the snug, single-oven kitchen of his apartment in Columbus' Italian Village. While that might sound tedious to some, for Laughlin, the kind of guy who thrives on methodology, it was exhilarating. Pastry had given him solace when his on-the-rise opera career was unexpectedly cut short. Creating the same recipe over and over again, until he knew it inside and out, was something he could control.

"It was a surrogate for not having a voice," Laughlin says. "I could please people, hone a craft and practice something that worked. Baking is the perfect proxy for performing."
That pain au chocolat, it turns out, was one of the most important pastries of Laughlin's life. Within two years of making it, he had opened his own shop in Columbus' Short North neighborhood at the encouragement of Neimeth. Today, Laughlin's Bakery is an around-the-corner patisserie where the focused and friendly 34-year-old blends European tradition with small nods to his Southern upbringing.
This is not where Laughlin thought he'd end up. As a kid, all he wanted to do was play the piano. At daycare, he'd push his way to the front of singing class, transfixed by the instructor's hands gliding along the keys. He started lessons at 10 and later played as an accompanying pianist for singers in college.
"I was listening to these people's voices and thought, I can sing. I can sing as well as these people," he says. "And so I started taking voice lessons."
He enrolled in the master's program at Boston Conservatory in 2004. With a rare countertenor voice, Laughlin quickly landed work, singing arias from the 1650s through early 1800s.
But at the start of his second year, in 2005, he caught the cold from hell, and the nagging ailment rattled his voice for seven months.
"It was emotionally painful," Laughlin says. "I still knew how to sing. I just couldn't do it. I felt like I had been buried alive. I was trapped by this body that would not work."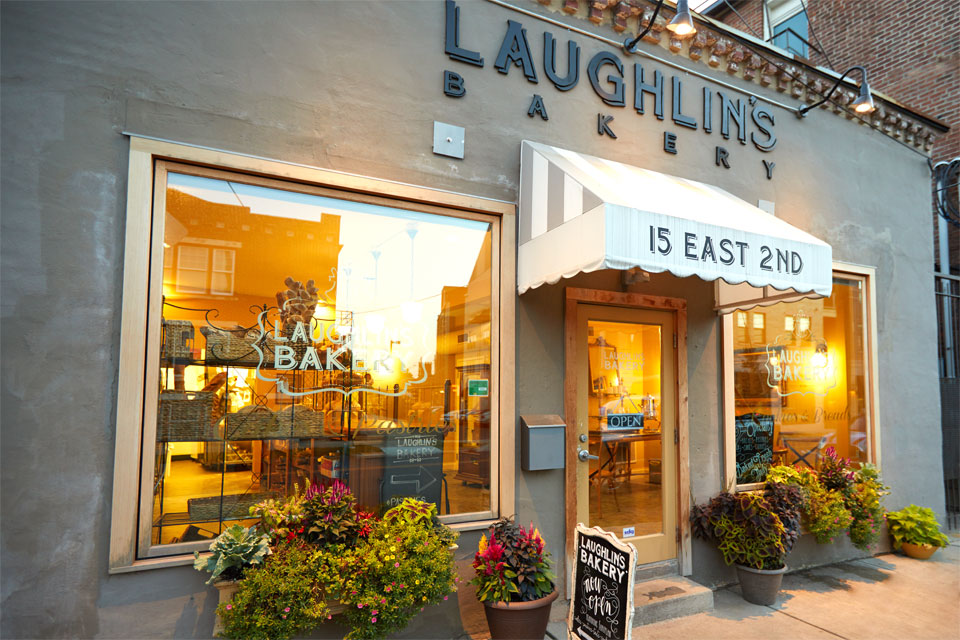 When the cold subsided that spring, Laughlin's voice did not return. It took two years to get a diagnosis — the cold had paralyzed one of his vocal cords — and another two years and multiple surgeries to know his fate. The damage was irreparable. Laughlin would never sing professionally again.

He fell into depression, but Laughlin kept music at the center of his life as much as he could, enrolling in the doctoral program at The Ohio State University School of Music in 2011.
To this day, Laughlin isn't exactly sure why he decided to host a bake sale during his summer break and while his partner was out of town.
"I thought this will be a great way to expend some energy and not miss him too much," Laughlin says.
He pulled an all-nighter to bake goods that included croissants, Southern-style pound cake and French cookies, and he displayed them on a table at the annual Short North Yard Sale. He was a ball of nerves underpinned with excitement. What if it rained? What if no one showed up? Within an hour, his table was empty.
"It was like a performance, this sort of opening event," he says. "You have to do all the prep work, and then when it's time, it has to be perfect, and people have to love it and enjoy it."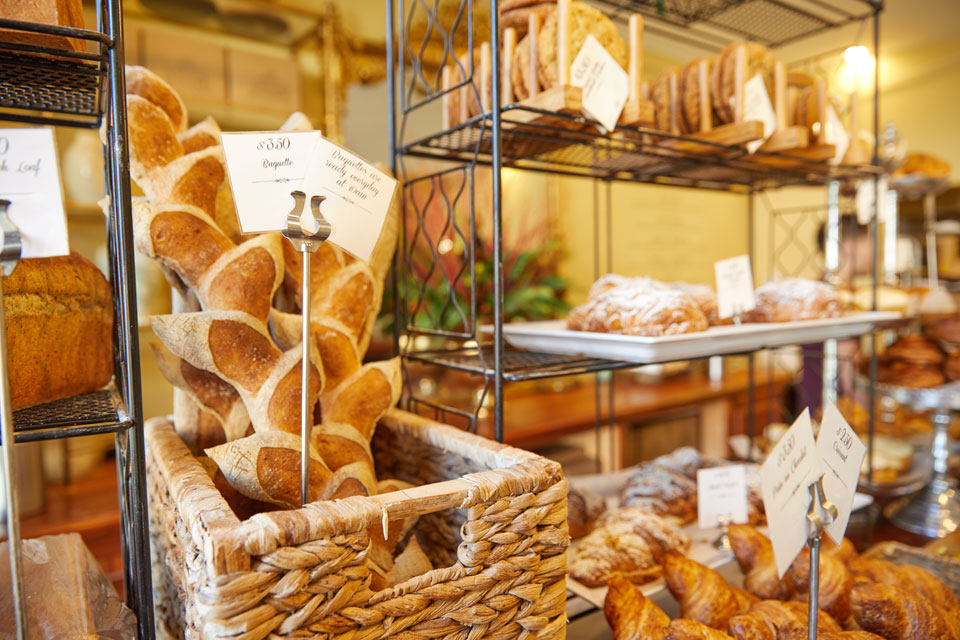 Laughlin still gets that same flutter of emotions every morning at the Short North bakery he opened in December 2014, a little more than two years after that first bake sale. It's a convivial place, where guests are greeted with hearty hellos, are encouraged to sample and may even get a complimentary lemony madeleine thrown into their pastry box, just because.
The shop's counter display is filled with ornate silver platters and tiered trays, every square inch crowded with baguettes, mini chocolate babka, cheese Danish, orange-molasses cookies, florentines and carrot almond torte.
It's an organized chaos that sparks looks of wonderment on customers' faces as they point to what they want, noses practically on glass. Every adult is suddenly 10 again.
The offerings are an amalgam of European culture and Southern baking, a product of Laughlin making what he knew. A North Carolina native, his mother and grandmother taught him the value of crafting everything from scratch with real ingredients. The pound cake is his mother's recipe. His layer cakes are a nod to his grandmother, who loved coconut and red velvet cakes.
Laughlin settled on European pastries after living in Germany in his early 20s. "I saw the commitment that culture has to craft. Not just baking, but everything," he says. "I set a high bar for myself when I started to bake, because I had tasted delicious things in Italy, France, England, Germany."
He calls mastering French apple tarts, Old World shortbread, almond croissants and Christmas cakes and cookies at the holidays the opera of baking. We can all sing a Christmas carol, Laughlin says, but it's something else to sing an aria.
"I wanted to bake the aria," he says, "and that's what I started working on."
That's what he's created inside his tiny shop with a striped awning and picture windows, where his attention to the tiniest of details — from the 1820s gilded gold mirror from London behind the counter to the slightest caramelization on the top of every pear tartlet — means the only challenge for guests is deciding what to order.

***

How To: Bake Better
"Balancing the art with the science — that's what makes baking hard," says Jonas Laughlin, owner of Laughlin's Bakery in Columbus. Working for years out of his tiny home kitchen, he shares five things he wishes he would have known as a home baker.
Weigh Your Ingredients: Yes, it's annoying at first. "But it's so important," Laughlin says. "Flours and sugars absorb humidity and they can take up more volume at times. If you can get it down to using weight only, the chances are way better that you will turn out a consistent product." He recommends a 5-pound-capacity scale.
Read Recipes: "Very often, people will glance at a recipe and realize halfway through that their butter's not to temperature," he says. "It's important to read the recipe and follow the recipe the first time."
Repeat Recipes: "I wish someone had told me to perfect something before moving on to something else," he says. Maybe that cookie recipe worked, but you really don't know it inside and out until you've made it many times. "Then the artistic elements can filter in. Then you can manipulate it however you want."
Be Loyal: Don't just grab whatever butter is on sale. Find a brand you like and stick with it. "Use the same kind of butter, and the moisture content will always be the same," he says. "So you know how your butter will act, your flour will act, your eggs will be this way. And that way you remove another variable from the process."
Don't Cut Corners: To get the chocolate to behave in the frosting for Laughlin's signature chocolate cake, it must be the same quantity and temperature as the butter — as the recipe warned. "Early on, I didn't want to stand there and chop a pound and a half of chocolate, and I didn't want to have to wait for the butter to come to room temperature," he says. "So for the first year that I made this recipe, I couldn't figure out why the frosting was always different. It's because I was cutting corners."

***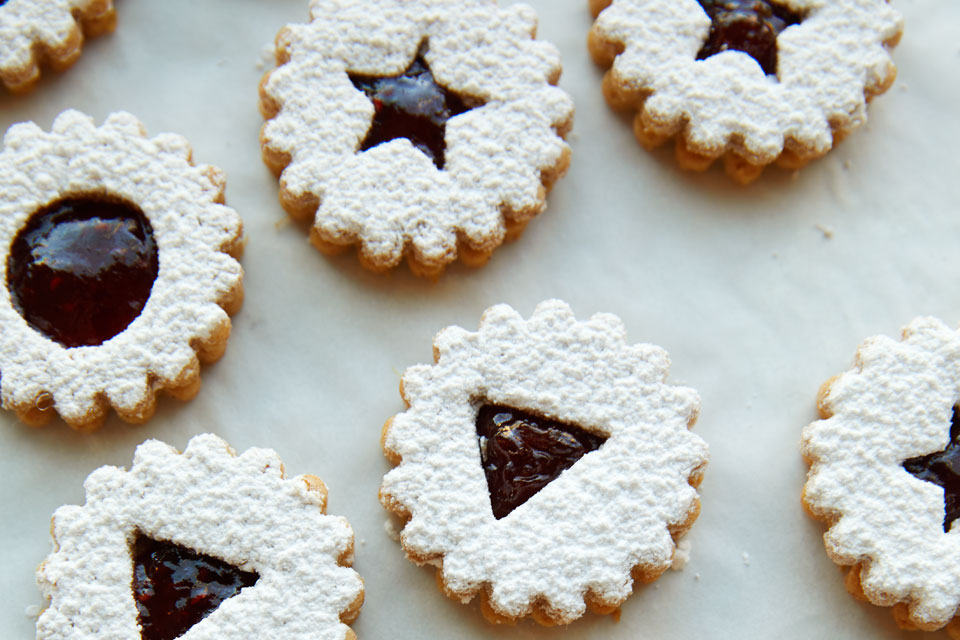 Linzer Cookies
Courtesy of Laughlin's Bakery | Makes 40 cookies
SUPPLIES
A prefabricated Linzer cookie cutter with a removable middle cutter is recommended for this recipe.
INGREDIENTS
Cookies
255 grams all-purpose flour
60 grams dried breadcrumbs
170 grams almonds, ground
130 grams sugar
3 grams salt
3 grams cinnamon
.4 grams nutmeg, freshly ground
.4 grams allspice
8 grams lemon zest, finely chopped
226 grams butter, very soft (approximately 70 F)
50 grams eggs
200 grams powdered sugar
Filling
185 grams raspberry preserves
92 grams strawberry preserves
5 grams lemon juice
DIRECTIONS
Add flour, breadcrumbs, ground almonds, sugar, spices, salt and lemon zest to the bowl of an electric mixer fitted with the paddle attachment. Mix on low to combine.

Add soft butter and continue mixing on low until combined. Add egg and continue mixing on low until the egg is incorporated and just until a cohesive dough forms.

Transfer dough to a piece of parchment paper and knead quickly into a ball. Divide in half and roll each of the two dough pieces between 2 parchment sheets until the dough is in a slab 3/8-inch thick.

Refrigerate the two dough slabs on a baking sheet until firm. (Requires at least 1 hour before baking, but prepare a day before for best results.) Line baking sheets with parchment paper and preheat oven to 350 F.

From the first dough slab, cut out cookie bottoms with a fluted round cutter, 1 3/4 to 2 inches in diameter.
From the second dough slab, cut out cookie tops with a fluted round cutter the same size with an excavated center.
Bake for 9 minutes (two pans at a time, rotating pans top to bottom and front to back halfway through the baking).

While tops are still warm, dust generously with powdered sugar. Allow bottoms to cool.

While cookies are cooling, mix filling ingredients in a medium bowl. Spoon or pipe a generous dollop of filling onto the cooled cookie bottoms. Carefully add the tops to form a sandwich cookie. Cover and allow to sit a day before serving.
Baker's Notes: With their wintry spices and deep red centers, these cookies are perfect for the holidays. Their name refers to the Austrian city in which they originated in the 17th century. "The dough is very fragile when even slightly warm," Jonas Laughlin explains, "so I keep it cold at all times after I've rolled it out. If the cookies start to break, just briefly pop the dough back in the fridge to firm it up."

***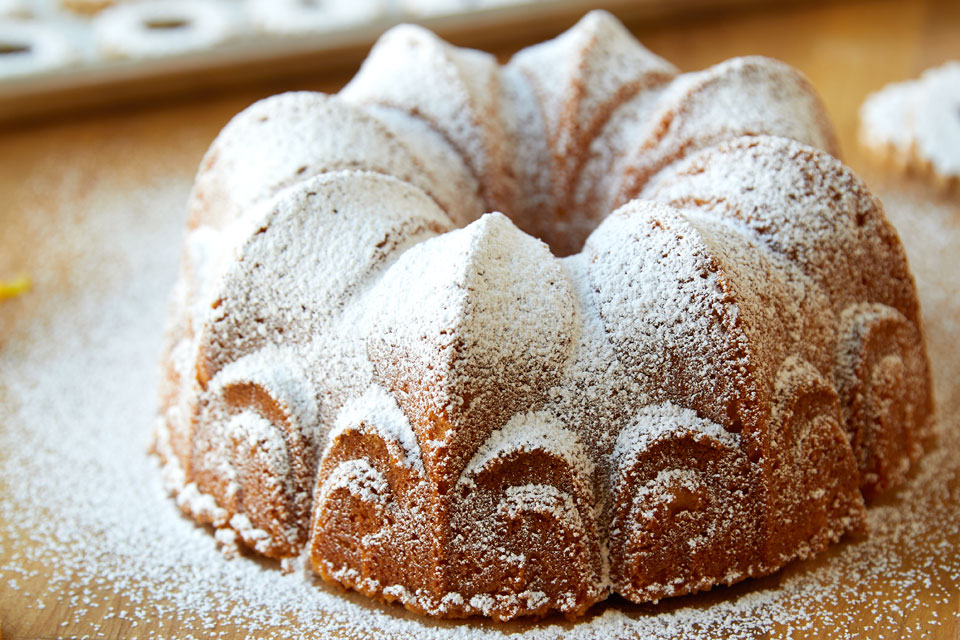 Orange Blossom & Almond Pound Cake
Courtesy of Laughlin's Bakery
SUPPLIES
Cooking spray with flour
Light-colored, 8-cup-capacity Bundt cake pan
INGREDIENTS
251 grams butter, room temperature
167 grams cream cheese, room temperature
444 grams sugar
1 gram salt
222 grams eggs, room temperature and lightly beaten
4 grams orange flower water
4 grams almond extract
210 grams cake flour, sifted
50 grams sifted almond flour or finely ground toasted almonds
6 grams orange zest, finely chopped
Powdered sugar (optional)
DIRECTIONS
Preheat oven to 315 F and spray Bundt pan with cooking spray that contains flour. In the bowl of an electric mixer fitted with the paddle attachment, cream the butter and cream cheese with the sugar and salt on medium speed for 2 minutes. The mixture should look light and fluffy.
With the mixer still on medium speed, begin adding the eggs gradually in four or five parts, waiting 30 seconds between each addition and scraping the bowl with a spatula just before the final addition. (The batter will appear to curdle. Don't panic, it's fine.)
Add in the almond extract and orange flower water and beat just until incorporated. Stop the mixer and scrape the bowl once more.
Turn the mixer on low speed and slowly (but continuously) add in the flour and ground almonds (or almond flour). This should only take about 15 seconds. Once the last streak of flour disappears, stop the mixer and finish thoroughly mixing the batter by hand. Stir in orange zest.
Transfer the batter to the Bundt pan and smooth the top with a spatula. Drop the pan 20 times on the tabletop to get out air pockets.
Bake for approximately 65 to 75 minutes, checking the cake for doneness only after the 60-minute mark. (If you open the oven door prior to that, the cake will likely fall.) The cake is done when a small knife or toothpick comes out clean when inserted into the cake's thickest central point.
Once done, allow the cake to sit in its pan for 10 minutes, and then turn it out carefully onto a wire cooling rack. Allow to cool completely before cutting and serving. Finish with powdered sugar if desired.
Baker's Notes: If Jonas Laughlin is in North Carolina on his birthday, his mother always makes him her pound cake, which is the basis for the versions he sells, including this orange-blossom-and-almond variety. To make her original recipe, replace the orange flower water with 4 grams of vanilla extract, replace the 50 grams of almond flour with an extra 50 grams of cake flour and leave out the orange zest.