Food + Drink
Amish Country Sweets: 7 Great Stops
A trip through the countryside provides an opportunity to sample a variety of treats that embrace tradition and creativity.
April 2019
BY Sally Kershner | End of the Commons General Store Fry Pie Photo by Laura Watilo Blake
April 2019
BY Sally Kershner | End of the Commons General Store Fry Pie Photo by Laura Watilo Blake
End of the Commons General Store, Mesopotamia
Since opening in 1840, End of the Commons General Store has provided bulk foods and handmade sweets in Trumbull County's Amish community of Mesopotamia. Visit the old-fashioned, family-owned general store, which now covers 10,000 square feet, and you'll find shelves stocked with penny candy and antiques displays that offer a rush of nostalgia. Owner Peter Schaden grew up working in the store with his 11 siblings after his parents bought the place in 1982. "A lot of love goes into our baking," Schaden says. "People love our sweets because we offer traditional Amish desserts amongst the Amish community." Customers can choose from a selection of cinnamon rolls, whoopie pies, cookies, maple rolls and the store's famous Amish fry pies — all of it fresh and made by hand. 8719 St. Rte. 534, Mesopotamia 44439, 440/693-4295, endofthecommons.com
Try This: Fry Pies — The apple fry pie is the best-selling flavor and the store sells several thousand glazed fry pies each week.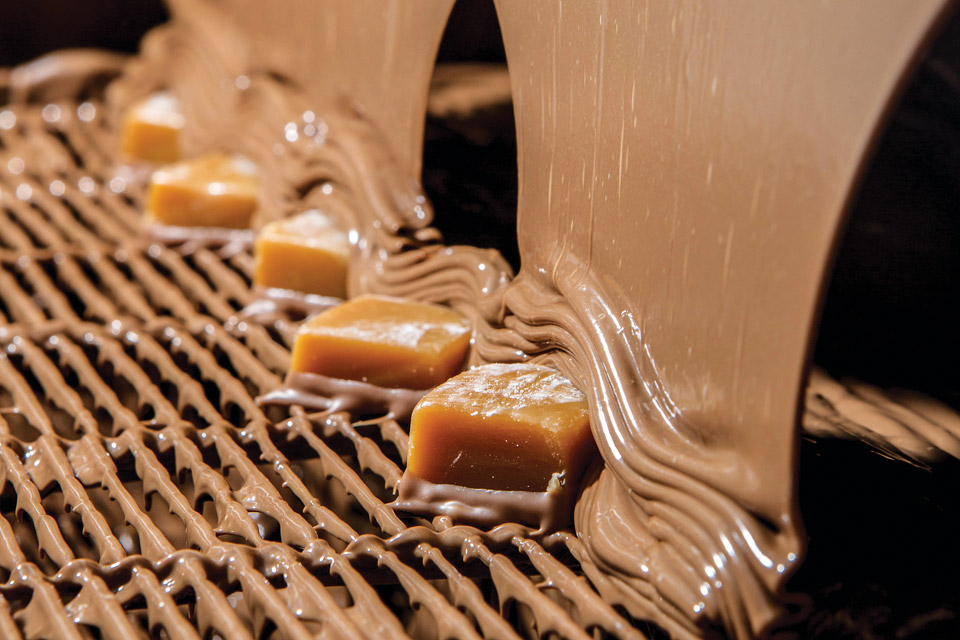 Coblentz Chocolate Co., Walnut Creek
What began as a collaboration between brothers Jason and Mark Coblentz in the fall of 1987 has since blossomed into Coblentz Chocolate Co. Offering more than 100 varieties of chocolates, the Holmes County business sells a spectrum of sweet treats at its Walnut Creek shop that are made using recipes that date back to the company's earliest days. "People can really learn a lot [here]," says owner Jason Coblentz. "We have a unique store that is inviting and friendly … when you step inside you immediately smell the aroma of chocolate." Once visitors cross the white wraparound porch and through the front door, they can watch the candy-making process take place in a viewing gallery as workers create chocolates ranging from bark to chocolate-covered pretzels to peanut butter cups. 4917 Walnut St., Walnut Creek 44687, 800/338-9341, coblentzchocolates.com
Try This: Chocolate-Covered Caramels — This Coblentz Chocolate Co. best-seller is known for its soft, chewy texture and is topped with sea salt.

White House Chocolates, Middlefield
Ken and Debbie Butler's vision for a family business that involved their growing children and their passion for candy inspired the creation of White House Chocolates in 1997. Today, the family-owned candy shop draws customers from across Geauga County and beyond with its sweets selection. Housed in a turn-of-the-century home, the shop provides customers a cozy and inviting space to peruse the glass cases full of candy, chocolates, custard, fudge, seasonal treats and chocolate-dipped fruit. "Everything is made fresh," says Debbie, who adds that the shop only uses the highest-quality ingredients. "We have a great crew that is always excited to come to work, and you can see that our customers are appreciative of our chocolate." 14609 Kinsman Rd., Middlefield 44062, 440/834-3133, whitehousechocolates.com
Try This: Turtles — These chocolate-covered classics are a best-seller, with a choice of milk or dark chocolate covering a molded caramel-and-pecan filling.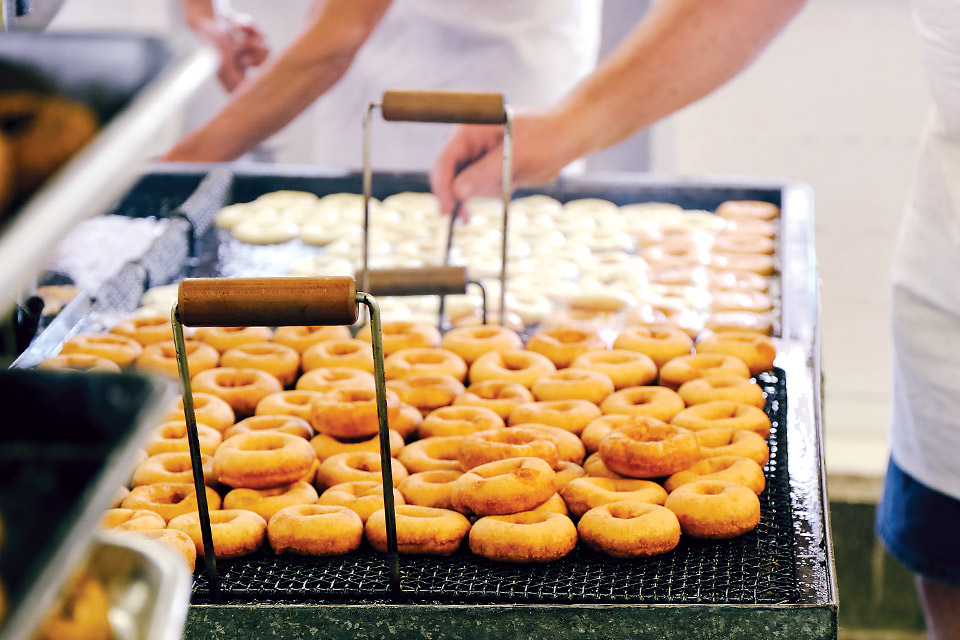 Lerch's Donuts, Wooster
Founder John Lerch opened his bakery in 1933 but gained popularity when making and selling his doughnuts at the Wayne County Fair a year later. Eventually, he transformed the business into a mobile bakery that's still a beloved treat at the Wayne County Fair and a dessert phenomenon in Wooster. The original cake-doughnut flavors — sugared and cinnamon — have never changed and remain true to Lerch's original recipe. Doughnuts can be purchased via the concession wagon between the months of April and November, and the simple creations have gained a strong following from new customers as well as those who remember them from their youth. Current owner Joe Snyder says he appreciates when customers who now live in places like Texas and California still stop by to purchase doughnuts when they're in town. "They come to relive the nostalgia of their childhood eating them at the fair," he says. 330/465-8033, lerchsdonuts.com
Try This: Sugared Doughnut — A mix of granulated and powdered sugar tops these melt-in-your-mouth cake doughnuts.

Kauffman's Country Bakery, Millersburg
Since 1992, this family-owned business has perfected the craft of Amish baking, using traditional recipes to create a variety of delicious breads, cookies, pies, doughnuts, cakes and pastries. "We are one of the largest bakeries in the area, but there are only a few bakeries like us," says co-owner Richard Kauffman. He explains that the Holmes County business has become well known for making everything from scratch using recipes his grandmother gave him. Starting at 4 a.m. each morning, Amish workers create every treat the bakery offers, guaranteeing a glass case filled with fresh creations by the time the shop opens its doors at 7 a.m. 4357 U.S. Rte. 62, Millersburg 44654, 330/893-2129, kauffmanscountrybakery.com
Try This: Maple Cream Sticks — This traditional pastry has become a popular choice at Kauffman's Country Bakery thanks to its rich filling and delicate exterior.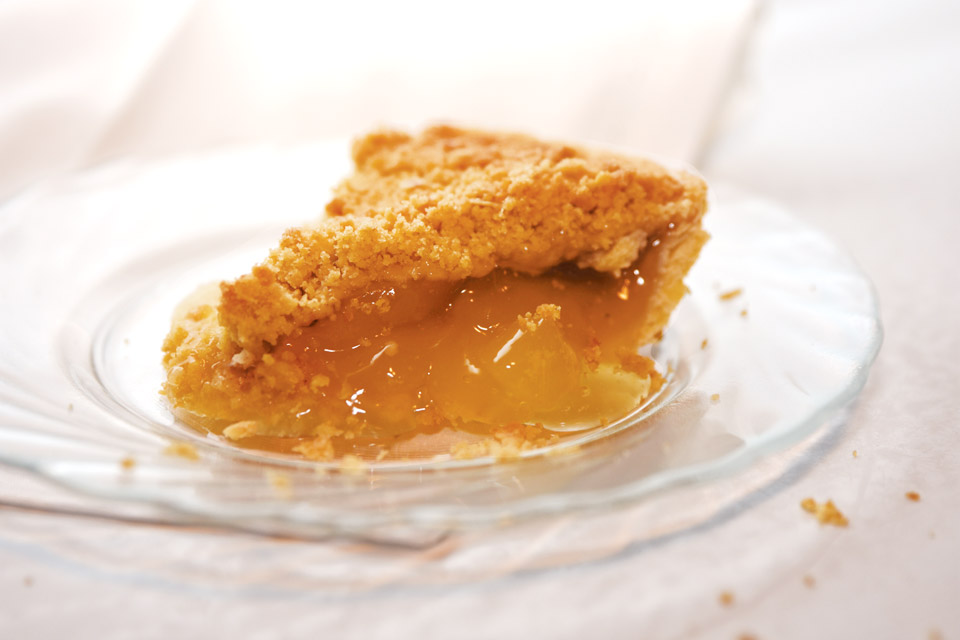 Der Bake Oven, Berlin
Even though this bakery and cafe is tucked among the hills of Holmes County, the rustic decor and white upholstered chairs are just a couple of the reasons why owner Ruth Mast says her shop is on par with its trendy, metropolitan counterparts. "It's a top-of-the-line experience with amazing flavors," she explains. "It's not a typical coffee shop or bakery." Purchasing all the ingredients she uses locally, Mast is committed to tradition, and Der Bake Oven has been in the same location for 32 years. The store's selection, which spans glazed doughnuts, cream sticks, apple fritters, cinnamon rolls and pecan sticky buns, is made from scratch each morning. 4766 St. Rte. 39, Berlin 44610, 330/893-3365, derbakeoven.com
Try This: Dutch Apple Pie — This classic pie has a hand-rolled crust that Mast says no one else in Amish Country can make quite like she does.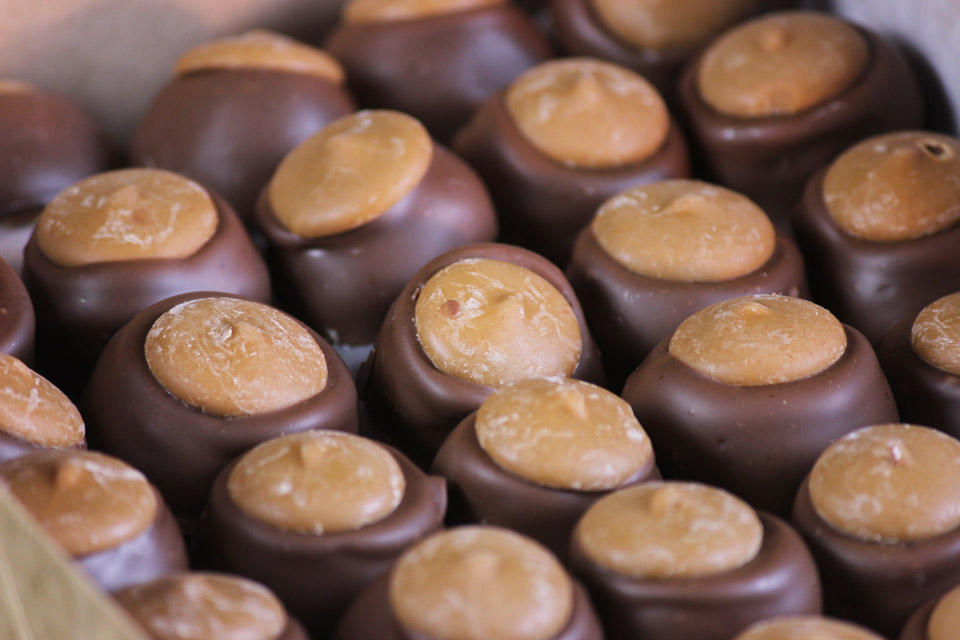 The Buckeye Chocolate Co., Middlefield
This second-generation family business makes great gourmet chocolates, including the shop's namesake chocolate-and-peanut-butter creation. But co-owner and head chocolatier Craig Hart also crafts salty-sweet mashups like milk-chocolate-covered potato chips and classic treats such as creamy truffles and old-fashioned toffee. "We thought, Who doesn't like chocolate and peanut butter in Ohio?" co-owner Eric Hart says of the shop's signature creations, which are made using Wilbur brand chocolates after testing many different varieties. "It was only natural we concoct our own chocolate buckeyes." The store also sells cinnamon-roasted nuts, almonds and cashews, and the Middlefield-based business has expanded to include cafes in the Geauga County communities of Chardon and Bainbridge that serve coffee roasted on-site and a made-from-scratch lunch menu. 15010 Berkshire Industrial Park, Middlefield 44062, 440/273-8180, buckeyechocolate.com
Try This: Buckeyes — They're known for their wonderfully creamy centers and are available in dark and milk chocolate varieties.