Travel
| Amish Country
Boyd & Wurthmann Restaurant, Berlin
Originally founded as a small grocery in the late 1930s, this restaurant is known for its hearty fare and selection of incredible pies.
September 2017
BY Nathan Havenner | Photo by Cody York
September 2017
BY Nathan Havenner | Photo by Cody York
It would be easy to miss Boyd & Wurthmann Restaurant amid the bustle of Berlin's East Main Street. But look for the arrow-shaped sign with white lights, and you'll find the small family restaurant where guests are greeted by an assortment of cast iron skillets, muffin tins and antique flour sifters displayed on the wall.
That's the first sign you're in store for a tasty, homestyle meal. The second is the refrigerator filled with house-made pies located directly behind the vintage lunch counter with chrome stools.
"It is simple. In a way, it is nostalgic," says restaurant manager Benson Beachy. "A lot of people comment that it is like taking a step back into the past."
The business began in 1938 as a grocery store before Dale Boyd and Herman Wurthmann purchased it and decided to add a lunch counter in the 1940s.
"They started off with trail bologna and Swiss [cheese] sandwiches and a few other items," Beachy says. "It grew and grew in popularity, so they started the restaurant. The green counter that we have out there is the original countertop."
Word of the quality food being served at Boyd & Wurthmann spread quickly, and soon the partners decided to forgo the grocery business altogether in favor of focusing on the restaurant.
Today, the cozy place is a whirlwind of activity. Food orders appear through a small window connecting the kitchen to the dining room, as servers move throughout the space taking orders from the steady stream of customers. Diners are treated to a basket of homemade bread with some of the meals on the menu, and they'll notice an unusual condiment on each table: peanut butter spread.
"You will find it at any meal, in any home, on any table," Beachy says of the Amish Country staple. "It is something that has been around here for years, and that is why we have it in the restaurants."
Although known for hearty fare such as fried chicken, noodles over mashed potatoes and country-fried steak, Boyd & Wurthmann also generates buzz for its large selection of made-from-scratch pies. Depending on the season, Beachy says the restaurant offers up to 20 different pies daily, with peanut butter cream and Dutch apple pie serving as favorites among the year-round varieties.
The restaurant's pie pedigree dates back to its earliest days. Wurthmann's wife, Bryl, baked the pies fresh each morning — a tradition she carried on for more than 30 years. Beachy, whose father-in-law purchased the place in 2004, says many of the pies served at the restaurant today are created from the same recipes she used.
"Bryl Wurthmann made a lot of pies," he adds. "[She] made them all from scratch and we continue with that."
Over the years, larger Amish restaurants have sprung up throughout Holmes County and the surrounding area, but Boyd & Wurthmann still routinely has a line out the door during its busiest times. Beachy says the restaurant has been able to stay competitive due to a combination of great food, an inviting atmosphere and friendly service. Thanks to the dedicated staff — some with more than 30 years experience — customers feel at home from their first visit.
"People want to come to Holmes County to experience what it is like to live in this area and be a part of the community," Beachy says. "They are treated with respect and kindness … there is a certain atmosphere in this area that I think people long for." Call or visit website for hours; 4819 E. Main St., Berlin 44610, 330/893-3287, boydandwurthmann.com


Order This
Naomi Raber, a server with more than 10 years experience at Boyd & Wurthmann, shares a few customer favorites.

Prime Rib Dinner: It's not standard Amish Country fare, but Raber says customers love this entree offered only on Fridays and Saturdays after 4 p.m. "We dip it in a sauce and we grill it on the charbroiler," she adds.

Pork Chop Dinner: This entree comes with either one or two chops and a choice of two sides. "We charbroil [the chops]," Raber explains. "They are not marinated or anything."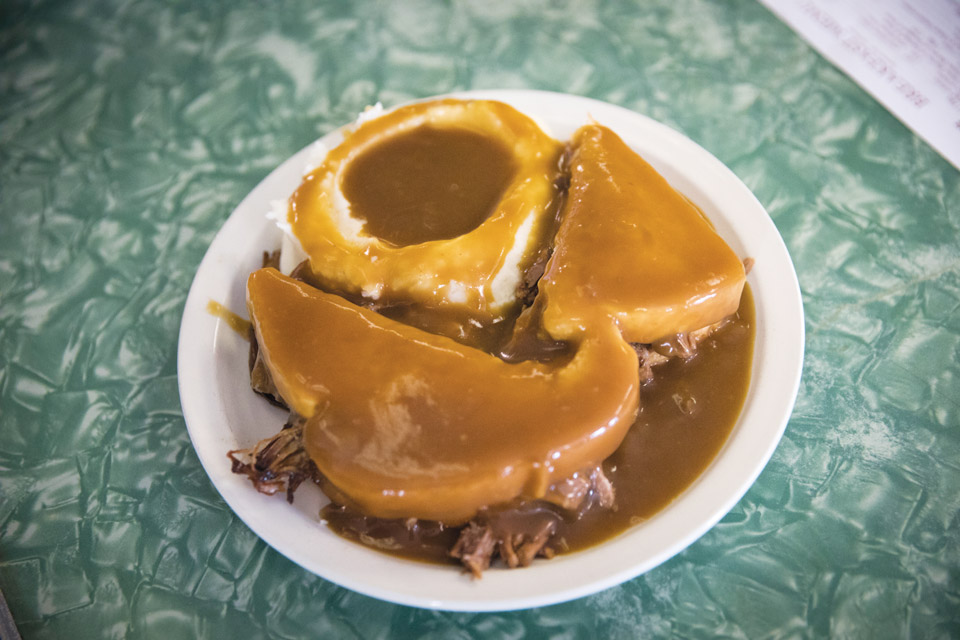 Hot Roast Beef Sandwich with Mashed Potatoes and Gravy: "A lot of people like it because everything is homemade," Raber says of the dish that is known to some as a Manhattan. "We bake our roast beef for a couple of hours and pick it apart."