Food + Drink
6 Herbal Cocktail Recipes to Make this Summer
Gahanna's Herbal Cocktail Trail features drinks that play on the city's gardening heritage. Visit to sample the creative concoctions yourself, then try mixing these ones up for friends.
May 2023
BY Gracie Wilson | Photography by Karin McKenna
May 2023
BY Gracie Wilson | Photography by Karin McKenna
Nothing says summer quite like sipping a cold and flavorful drink with a side of sunshine, and the city of Gahanna's Herbal Cocktail Trail offers fresh reasons to visit this season. Since 2017, select restaurants in Gahanna, located about a 15-minute drive northeast of Columbus, have featured drinks that reflect the city's identity as the Herb Capital of Ohio. (Around the turn of the 20th century, residents here were known for growing a wealth of herbs, and state leaders made the Herb Capital of Ohio designation official in 1972.) Eight restaurants — five of which are in the downtown area known as Creekside Gahanna — are serving up new cocktails this season that play on the city's ties to herbs. Follow the trail to sample them or try mixing up these six concoctions at home this summer.

Rosemary Conquistador Margarita | Local Cantina
A spin on the restaurant's always-available Conquistador Margarita, this specialty version made with rosemary simple syrup offers an earthy mix of tequila, lime, agave and Gran Gala liqueur garnished with a rosemary sprig. "Rosemary and the fresh lime complement each other really well," says Sara Mesaros, server and bartender at Local Cantina. "With the fresh citrus, you get a little bit of tartness." Every day is a fiesta at the Gahanna location of this Ohio-based restaurant chain that serves Mexican fare. Repurposed doors painted in vibrant colors, a wood-topped bar and unique lighting crafted from woven yarn and colorful glass make for an inviting space to hang out. Enjoy the Rosemary Conquistador Margarita with a couple of the nearly dozen street taco options on the menu, including shrimp, fish, beef, chicken and vegetarian offerings. 101 Mill St. #100, Gahanna 43230, 614/337-1977, localcantina.com

INGREDIENTS
1 1/2 ounces reposado or anejo tequila
1 ounce fresh lime juice
1/2 ounce Gran Gala liqueur
1/2 ounce agave nectar
Splash of rosemary simple syrup

DIRECTIONS
Add all ingredients to a shaker over ice and mix. Strain contents over craft ice cube (large ice sphere that melts slower and prevents the drink from getting watery) in a rocks glass and garnish with a sprig of rosemary.

How to Make: Rosemary Simple Syrup: Bring 16 ounces of water to boil in a medium saucepan. Add 1 cup sugar and reduce to simmer. Five minutes into simmering, add 6 sprigs of fresh rosemary and simmer five more minutes, until sugar is dissolved. Remove from heat and cover, allowing to cool naturally. Strain into container. Keeps up to four weeks refrigerated.

---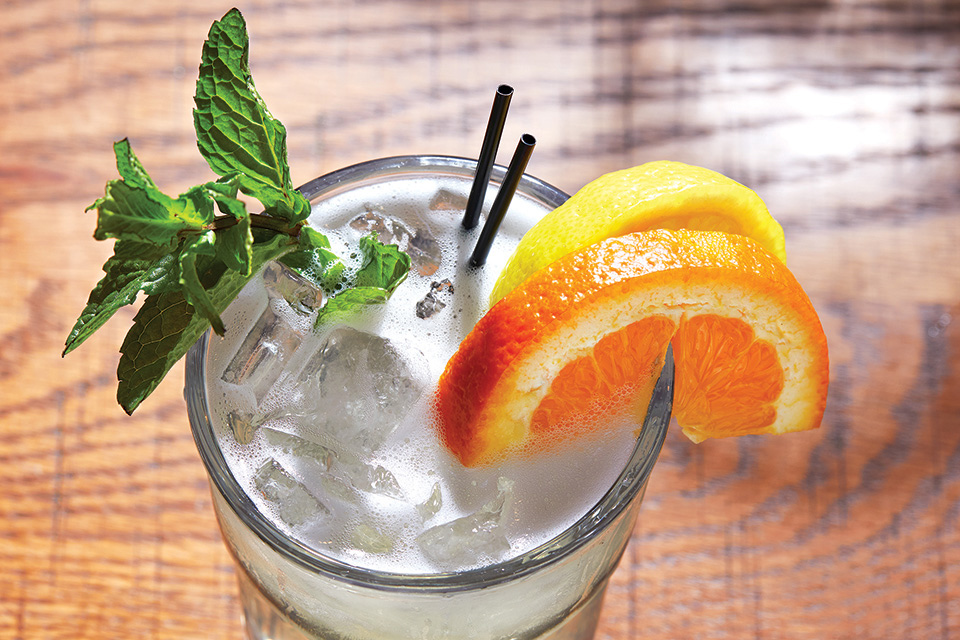 Iced Citrusade | Signature's Millstone Tavern
The Iced Citrusade at Signature's Millstone Tavern is the perfect refresher for a hot day, with its fruity vodkas and dash of peach schnapps culminating in a drink that goes down easy and will have you thinking about seconds. The mint-sprig garnish screams summer, while the light, lemon flavor recalls neighborhood lemonade stands. "It's a very mild citrus," says Shawn Connolly, general manager at Signature's Millstone Tavern. "We have two different types of vodka in it, [Absolut Mandarin and Citron]. It gives a nice flavor profile on the back end with the mint. It's very refreshing to drink all summer long." Open since 1991, Signature's Millstone Tavern is a Gahanna dining staple, with its classic sports-bar interior complete with red vinyl booths and buckets of beer to go around. There are two outdoor patios for summer patrons to enjoy. 94 Mill St., Gahanna 43230, 614/532-0344, facebook.com/signaturestavern
INGREDIENTS
1/2 ounce Absolut Citron vodka
1/2 ounce Absolut Mandarin vodka
Dash of peach schnapps
Splash of lemonade
Splash of lemon juice
Splash of Sprite
Lemon slice, orange slice and mint sprig for garnish

DIRECTIONS
Pour all ingredients over ice in a shaker, combine and pour over ice in a highball glass and top with mint sprig. Garnish glass with fruit slices.

---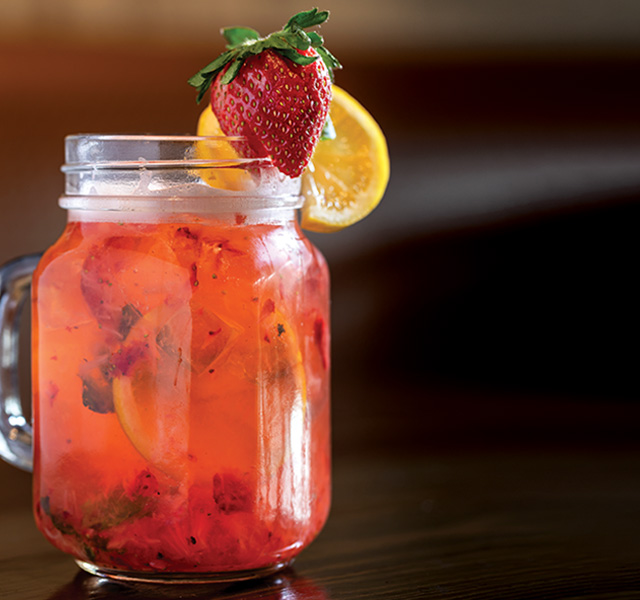 Strawberry Basil Lemonade | Barrel & Boar
The mashup of strawberry and lemon is a summer classic, but Barrel & Boar puts its own spin on the duo. The barbecue joint's Strawberry Basil Lemonade presents the fresh lemonade and muddled strawberries as an undertone that lets the savory nature of the basil and gin come through, and it arrives at your table in a mason jar. "Everyone loves strawberry lemonade," says Brandon Ferguson, general manager at Barrel & Boar. "The basil goes really well with the gin, because the gin has kind of a floral flavor to it." Those looking for a summer barbecue will find it as this trendy spot — one of a small central-Ohio chain of restaurants — that serves up savory dishes such as barbecue mac and cheese, ribs and meatloaf. As evening falls, grab a seat outside by the fireplace and enjoy the views of the creek flowing by. 121 Mill St., Gahanna 43230, 614/471-8844, barrelboar.com
INGREDIENTS
2 ounces Watershed Four Peel Gin
4 ounces lemonade
3 fresh strawberries
3 basil leaves
2 lemon wheels

DIRECTIONS
Add two whole strawberries, one lemon wheel and 3 basil leaves to a shaker and gently muddle. Add gin and ice and shake vigorously. Pour all contents into a mason jar or Collins glass and top off with lemonade. Garnish with a lemon wheel and a half strawberry.

---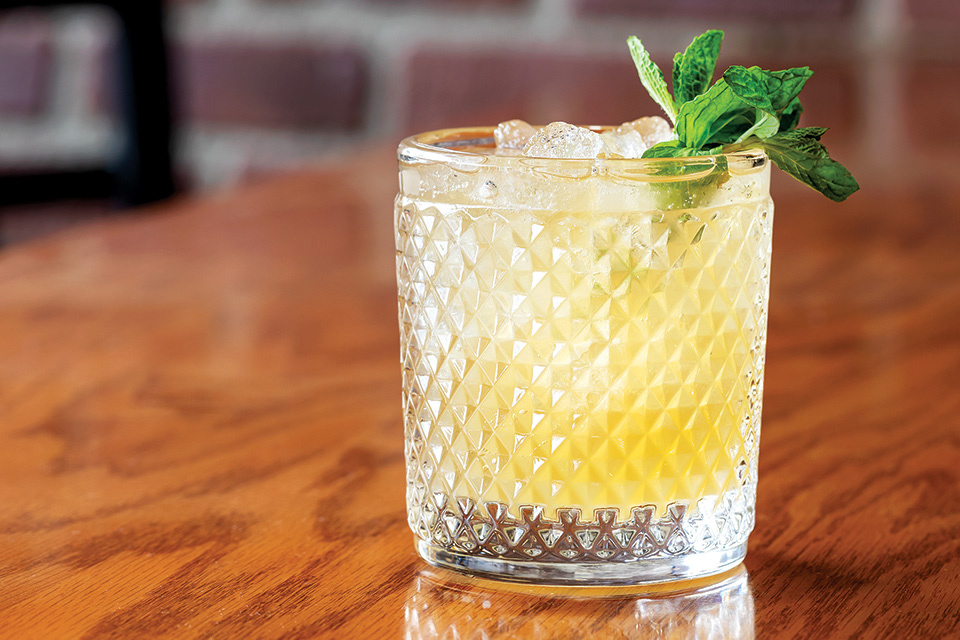 Just Peachy | Marlow's Cheesesteaks
This refreshing sweet peach tea created by Marlow's Cheesesteaks co-owner Shanika Sheppard tastes like country summers. Perfect for sipping on the restaurant's patio, the Just Peachy cocktail packs a honey wallop from its combo of locally made Simple Times Mixers' Honey Peach Tea and Jack Daniel's Tennessee Honey whiskey. It's mixed with ginger beer and topped off with a mint-sprig garnish. "Peaches are good for spring and summer, and we wanted to collaborate with a local Columbus vendor, so we're using Simple Times," says Sheppard. She opened the restaurant with her husband, Jomar, in 2022 to showcase the city of Philadelphia's mighty cheesesteak. Customize your own 10-inch sandwich with heaps of steak or chicken as well as cheese, onions, sweet peppers and more, or try it Marlow's Way: steak, provolone, Cheez Wiz, onions, mushrooms, hot cherry peppers, mayonnaise, and spicy mustard. 93 N. High St., Gahanna 43230, 614/532-5182, marlowscheesesteaks.com
INGREDIENTS
2 ounces Jack Daniel's Tennessee Honey whiskey
2 ounces Simple Times Mixers' Honey Peach Tea
Splash of ginger beer
2 mint sprigs for garnish

DIRECTIONS
Add Jack Daniel's and Simple Times to shaker with ice and combine. Pour into a rocks glass over ice and top with ginger beer and garnish with mint sprigs.
---

Marvin Gardens | Nostalgia Brewing Co.
Childhood memories meet grownup drinks inside this brick-front brewery that opened in 2019. Alongside the in-house craft brews, which are listed on the wall by way of a draft menu constructed out of Legos, patrons can sip this spot's Herbal Cocktail Trail creation: Marvin Gardens. The Monopoly-themed, elderflower-flavored cocktail can be enjoyed this summer while playing the classic property-trading board game on one of the brewery's enclosed patio picnic tables. The Monin elderflower syrup delivers a consistent herbal flavor without having to worry about keeping fresh herbs in stock, and peach bitters give the citrus and gin concoction a more complex flavor. "We go through the different options we have as far as types of herbs and try to use something we haven't in a while," says Shawn White, owner of Nostalgia Brewing Co. "We really liked the [drink] name in terms of the connection with the Herbal Cocktail Trail." 81 Mill St., Gahanna 43230, 614/934-7039, nostalgiabrewing.com
INGREDIENTS
1 1/2 ounces Watershed Distillery Four Peel Gin
1/2 ounce Monin elderflower syrup
1/2 ounce lemon juice
Splash of ginger ale
Splash of peach bitters
Lemon slice and orange slice for garnish

DIRECTIONS
Combine gin, elderflower syrup, peach bitters and lemon juice in a shaker with ice. Shake and strain into a Collins glass with ice. Top with a splash of ginger ale. Garnish with lemon slice and orange slice.

---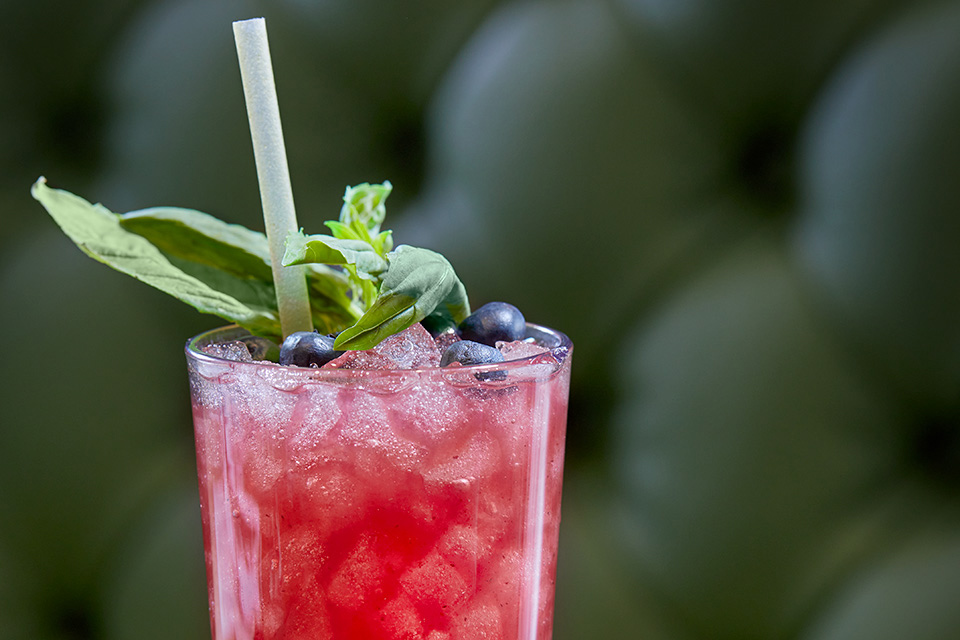 Blueberry Basil Cocktail | High Bank Gahanna
The big white barn on state Route 62 fits right into the white-fenced, country feel of this portion of Gahanna that runs along the southwest side of New Albany. Columbus-based High Bank Distillery opened its second location in May 2022 by converting a former furniture store into a cozy space with high ceilings, sage-green booths and a wall overflowing with greenery. Outside, the spacious patio glows with strings of Edison lights and is often packed once summertime hits its stride. A star of last year's patio season returns in the form of the Blueberry Basil Cocktail, a favorite that features High Bank Distillery's own vodka and house-made blueberry basil syrup. "The basil gives it that little bit of earthiness, and it's a great patio drink," says bar manager Kelsey Fent. 1397 E. Johnstown Rd., Gahanna 43230, 614/656-7343, highbankco.com/gahanna

INGREDIENTS
1 1/2 ounces High Bank Vodka
3/4 ounce blueberry basil syrup
3/4 ounce fresh lemon juice
Soda water
3 to 4 blueberries for garnish
2 to 3 basil leaves for garnish

DIRECTIONS
In order, combine lemon juice, syrup and vodka in a shaker and add ice. Shake for 10 seconds before straining into a Collins glass. Add crushed ice to the glass and top with soda water. Garnish with 3 to 4 blueberries and 2 to 3 basil leaves

How to Make Blueberry Basil Syrup: Add 1 cup of frozen blueberries, 1 cup of granulated sugar, 2 1/2 cups of water and eight basil leaves to a pot and heat until warm (around 167 F). Once warm, remove from heat and add to blender. Blend until smooth. Strain using a fine mesh strainer. Place leftovers in a container and store in the refrigerator for up to 7 days.

Also on the Trail
Check out these offerings at the two other locations that are part of Gahanna's Herbal Cocktail Trail this season. For more information, check out visitgahanna.com.

Lavender Blueberry Lemonade 101 Beer Kitchen: Wheatley Vodka infused with fresh lemon, lavender, vanilla bean and blueberry come together in a sweet, refreshing summer treat. 101beerkitchen.com/gahanna-ohio

Roselle | Edison Brewing Co.: The Roselle combines tequila and raspberry/hibiscus simple syrup into a spritz with floral notes and a vibrant color. drinkedison.com