Food + Drink
4 Fresh & Simple Sandwich Recipes
Josh Thurston, sous chef at Kindred Spirits at the Inn & Spa at Cedar Falls, and Josh Sheets, owner of Ol' Dirty Sheets Hot Sauce, share fresh ideas from their own kitchens.
May 2020
BY Ruth Corradi Beach | Photos by Megann Galehouse, styling by Betty Karlslake
May 2020
BY Ruth Corradi Beach | Photos by Megann Galehouse, styling by Betty Karlslake
Curried Chickpea Salad Sandwiches

Chickpeas have a wonderful texture — less crunchy than a nut, more toothsome than a black bean — and this sandwich spread makes the most of them. "With the mashed chickpeas and the onion and celery, the texture has some bite to it," says Josh Sheets, owner of Ol' Dirty Sheets Hot Sauce in Wooster. The lemon and ginger give the mixture a bright, fresh flavor, and the curry adds another dynamic. "It's got some spice to it, but it's not spicy," Sheets adds. "It's more aromatic and vibrant. The curry has a nice note to it." Top the sandwich with some fresh greens or sliced cucumbers for extra crunch. Sheets also suggests adding a topping that turns things up a notch: "Add something pickled in there to give it a zing, like pickled red onions or a bit of hot sauce." Avocado adds a nice counterpoint as well. This salad is perfect with a hearty whole grain or sprouted grain bread, Sheets says. "Something that won't get squishy."

Curried Chickpea Salad Sandwiches | Makes 4 to 6 sandwiches
Courtesy of Josh Sheets, Ol' Dirty Sheets Hot Sauce

INGREDIENTS
3 cups cooked chickpeas (approximately 2 cans)
1/2 cup diced red onion
1/2 cup diced celery
1/4 cup fresh parsley, chopped
1 clove garlic, minced
1-inch piece of fresh ginger, grated
1 tablespoon lemon juice
1/4 to 1/2 cup vegan mayonnaise (store bought or your favorite homemade recipe)
2 teaspoons curry powder
1/2 teaspoon salt, to taste
Whole grain bread
Sliced cucumbers, fresh greens, sliced tomatoes or toppings of your choice
Hot sauce (optional)

DIRECTIONS
Mash chickpeas by hand or pulse in a food processor until coarse, but not crumbly. Add the red onion, celery and parsley. Mix well. In a separate bowl, mix the garlic, ginger, lemon, mayo and spices together until combined. Add to the chickpea mixture and stir together. Refrigerate to allow the flavors to marry for 30 minutes. Take a 1/3 cup scoop of the mixture and place on whole grain bread with fresh toppings of your choice.

Topping ideas: Fresh greens (arugula or spinach), fresh cucumbers, pickled red onions, hot sauce, avocado

Chef's Note: We sometimes toast our bread first, but we always add hot sauce!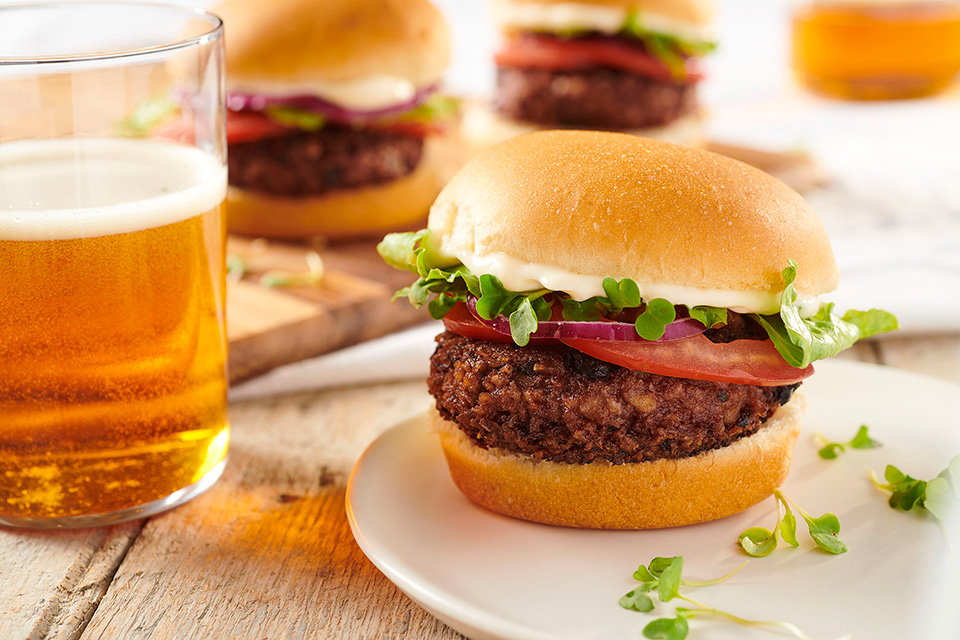 Black Bean Sliders
Sliders invite creativity and experimentation as you choose what to top them with. Go with homemade black bean patties, and you've got a vegetarian-friendly dish as well. "Think of these as condiment sandwiches and find anything and everything in the fridge to top them off," Sheets explains. "Start with toppings, like ketchup, mayo, Dijon, lettuce and tomato, and then experiment with avocado, sauerkraut, kimchi, hot sauce, pickles and hummus." These black bean sliders work with flavors ranging from smoky to sweet, because they already possess elements of each flavor. "These have a little bit of an earthy, sweet smokiness," Sheets explains. "The oats add sweetness. The walnuts give it the earthy tone." These small-but-mighty patties can take the heat, too. "The outside gets a little crispy, while the inside stays nice and moist. It doesn't squish out or crumble like a lot of veggie burgers do."

Black Bean Sliders | Makes 16 to 18 sliders
Courtesy of Josh Sheets, Ol' Dirty Sheets Hot Sauce

INGREDIENTS
1 teaspoon cumin
1 teaspoon thyme
1/8 teaspoon chipotle pepper
3 cups water/liquid from beans
3 tablespoons nutritional yeast (optional)
1 cup diced onion
3 cloves garlic, minced
1/4 gluten-free soy sauce/tamari
1 teaspoon salt
3/4 cup ground walnuts
3 cups rolled oats, coarsely ground
2 cups black beans, mashed
Slider buns

DIRECTIONS
Preheat oven to 375 F. Place ingredients from cumin through salt in large saucepan. Bring to boil and let simmer for 5 minutes. In the meantime, use food processor to grind the oats and walnuts separately. Add ground walnuts and oats to liquid mixture. Stir together. Add mashed black beans and mix. Allow mixture to thicken and cool enough to handle. Shape into patties using a 1/3 cup measure. Place on nonstick cookie sheet and bake for 10 minutes. Flip patties and bake for another 8 to 10 minutes, until brown on both sides and no longer soft in the middle.

Topping ideas: Ketchup, mayonnaise, Dijon mustard, lettuce, tomato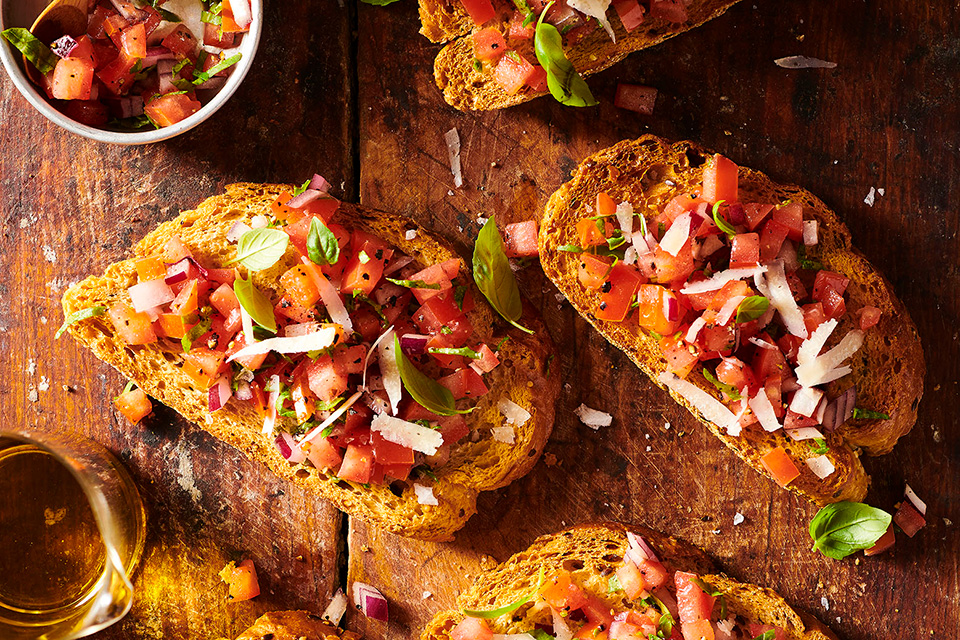 Roma Tomato & Basil Bruschetta
Bruschetta is technically a sandwich and these mini, crunchy, open-faced starters are perfect for summer. Plus, they can be served as a customizable, build-your-own dish. "It's something different," explains Josh Thurston, sous chef at Kindred Spirits at the Inn & Spa at Cedar Falls in Logan. "You can assemble the topping mixture in one container and crostini in another, and then spoon on as much as you want." He recommends serving crispy crostini with a few different bowls of toppings. Hummus, olive tapenade and an assortment of deli turkey, avocado and sliced red onion are a few of his suggestions, as well as this classic tomato-and-basil topping. "[It's] a refreshing reminder of summer [that] makes you feel like you're eating something healthy." The common denominator in all, of course, is the crostini. Slice your baguette super-thin if you're looking for a cracker-like crunch, or slightly thicker for a crisp-on-the-outside, chewy-on-the-inside bite that brings forth the flavor of the bread.


Roma Tomato & Basil Bruschetta | Makes 20 to 25
Courtesy of Josh Thurston, Kindred Spirits, Logan

Crisp Breads for Bruschetta

INGREDIENTS
1 baguette
1/4 cup extra virgin olive oil
1 stick butter, melted
Salt

DIRECTIONS
Preheat oven to 350 F. Cut bread into 1/4-inch slices. Combine extra virgin olive oil and butter, making just enough to coat the bread. Brush both sides of the bread. Salt very lightly. Place bread on cookie sheet and place in oven until just toasted and slightly golden. When cooled, top with tomato basil mixture.

Roma Tomato and Basil Topping

INGREDIENTS
5 Roma tomatoes
2 tablespoons kosher salt
12 fresh basil leaves
2 tablespoons diced red onion
1 teaspoon minced fresh garlic
2 teaspoons extra virgin olive oil
2 tablespoons shaved Parmigiano-Reggiano cheese
Black pepper

DIRECTIONS
Dice the Roma tomatoes and place them in a wire mesh sieve. Add the kosher salt and toss together. Let them drain in the sieve over the sink for at least 15 to 20 minutes. Stack the basil leaves and roll them together lengthwise, as if you were rolling a cigarette. Slice the rolled leaves into the thinnest strips you can with a very sharp knife. After the tomatoes have drained for the appropriate time, very briefly rinse them under running water to remove excess salt and let them drain again for a few minutes. Put the tomatoes in a bowl, add the remaining ingredients, and toss together. Adjust the salt if necessary and serve.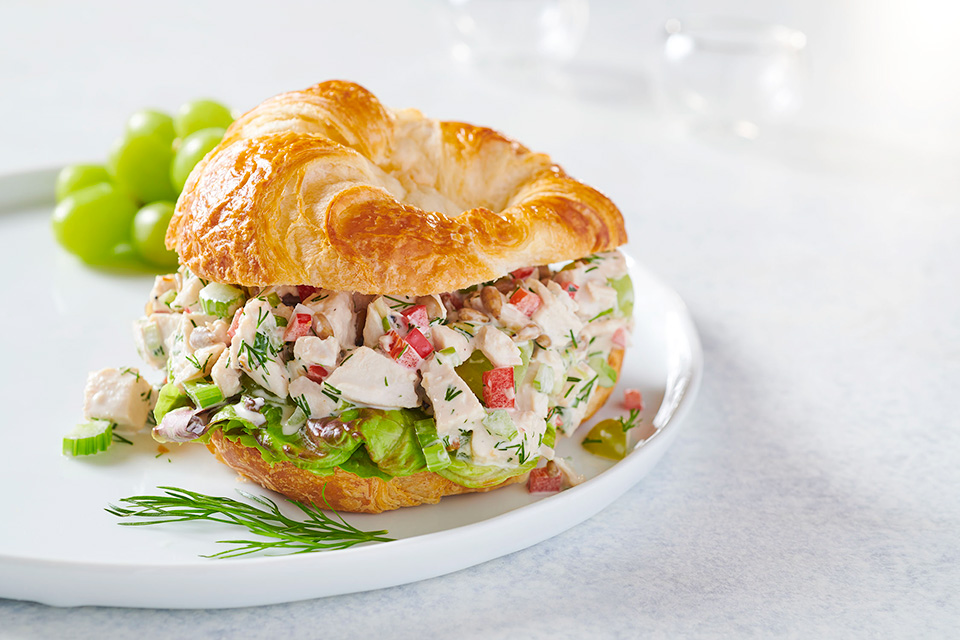 Confetti Chicken Salad Sandwiches
The "confetti" in this chicken salad recipe is a reference to all the pops of color that brighten up this summer-season staple. It's also what sets this sandwich apart from the classic chicken/mayo/celery mix. "All the extras, like the green onion and red pepper, add eye appeal as well as extra nutrients and crunch," explains Thurston. The grapes serve as little bombs of sweetness that ratchet up the zest from the dill weed. Thurston notes that this chicken salad works well on a number of different breads — from whole grain to a buttery croissant to even a tortilla. "It's really good as a roll-up," he says. "Growing up as a kid, chicken salad was one thing my parents would always pack, so when I think of picnics, I think of this. It's one of the perfect picnic foods." Add a few leaves of lettuce on top for some crunch.

Confetti Chicken Salad Sandwiches | Makes 5 to 7 sandwiches
Courtesy of Josh Thurston, Kindred Spirits, Logan

INGREDIENTS
2 1/2 cups diced chicken
1/4 cup chopped green onion
6 tablespoons chopped celery
1/2 small red pepper, diced
2 1/4 teaspoons dill weed
3/4 cup mayonnaise
1 1/2 teaspoons salt
1 teaspoon pepper
Scant 1/4 cup sunflower seeds
3/4 cup grapes, halved

DIRECTIONS
Combine all ingredients in a large bowl and mix thoroughly. Assemble putting 1/2 cup of the chicken salad on each sandwich. Works well on a croissant, whole-grain bread or a flour tortilla.

Suggested topping: Leaf lettuce