Food + Drink
3 Recipes to Spice Up Your Summer
We asked three Ohio chefs to share recipes that get adventurous with seasonings.
May 2019
BY Ruth Corradi Beach | Photos by Megann Galehouse, Styling by Claire Vredevoogd
May 2019
BY Ruth Corradi Beach | Photos by Megann Galehouse, Styling by Claire Vredevoogd
When it comes to summer, there's a big difference between heat and spice. Summer heat conjures stillness and sweat, maybe some discomfort. But summer spice? That's all about adventure. It's the same with food. Spicy food is a culinary exploration, a way to experience familiar dishes punched up a notch. We asked three Ohio chefs to start with fairly demure recipes and add their own unique spice to turn them into a summer adventure.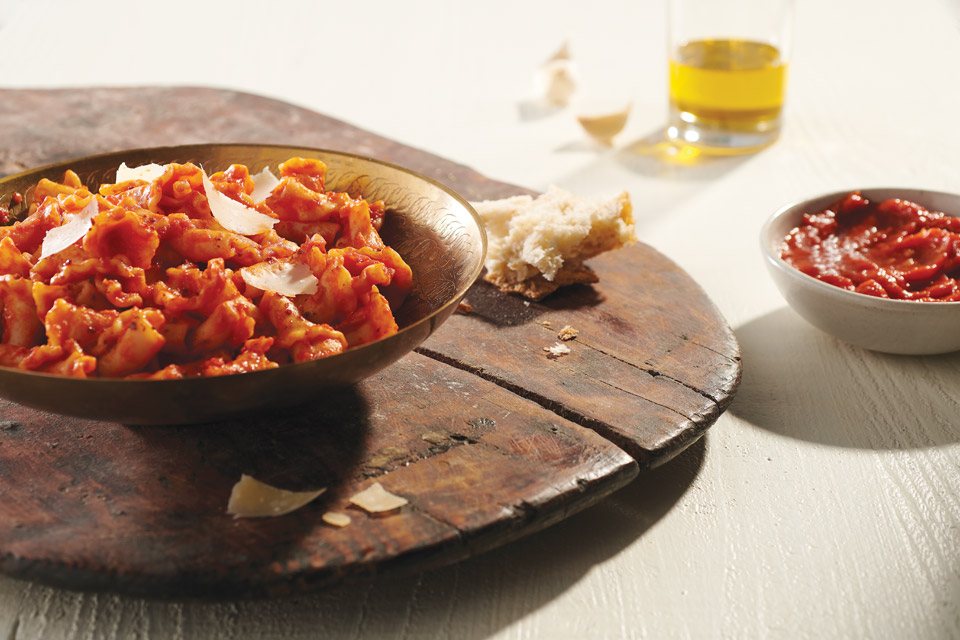 Arrabiata ("Angry") Sauce
Chef Emily Johnson

You know how easy it is to open a jar of spaghetti sauce? Making your own is nearly just as simple, says chef Emily Johnson, whose version of arrabiata sauce dances the line between angry and spicy. The secret is in the chili flakes.

"Red pepper flakes are readily available here and the kind people are more likely to have on hand. They're good, but they don't have quite the same flavor," says Johnson, chef and owner of Tavolino in Athens. At her restaurant, she favors Aleppo chili flakes.

"They provide a nice amount of heat. You feel it more in the back of your throat than the front of your mouth," Johnson says. Not only does the heat combine with the rich acidity of the tomatoes to make the fruits even more flavorful, it also adds a nice citrus flavor.

"[It's] not something you'd necessarily identify," she adds, "but it punches it up."

The tomatoes and chili flakes are the stars of this sauce, and the rest of the ingredients mainly serve to underscore those two flavors. That's where the simplicity comes into play.

"The fewer ingredients, the better," Johnson says. "You're tasting what's in there rather than covering it up with things that don't need to be there," like sugar, which jarred sauces are full of and which tends to mask the tomatoes' natural flavor. If you're concerned this sauce might get too hot, that's what the butter is for.

"I don't add butter to regular sauce, but in arrabiata the amount of butter is tiny and at the very end. It smooths out the heat," Johnson explains. "The butter [also] smooths out the acid of the sauce, making it less abrasive on your tongue." 9 N. Shafer St., Athens 45701, 614/753-6161, facebook.com/tavolinoathens


Recipe: Arrabiata ("Angry") Sauce | Serves 4-6

INGREDIENTS
1/2 cup olive oil
1/2 cup tomato paste
2 cups finely chopped ripe tomatoes (can substitute 2 cups crushed San Marzano tomatoes)
3 teaspoons Aleppo chili flakes
3 cloves garlic, finely minced
1 tablespoon butter
Freshly ground black pepper
Salt to taste

DIRECTIONS
Heat oil in large saucepan. Add garlic and Aleppo pepper flakes. Saute about 1 minute. Add tomato paste and stir until incorporated with the oil. Add tomatoes and reduce heat. Simmer for about 30 minutes, stirring occasionally. Add butter, salt and black pepper to taste. Remove from heat and stir until butter is completely melted. Serve tossed with your favorite shaped pasta, such as penne or campanelle or as a pizza sauce on your favorite flatbread.

---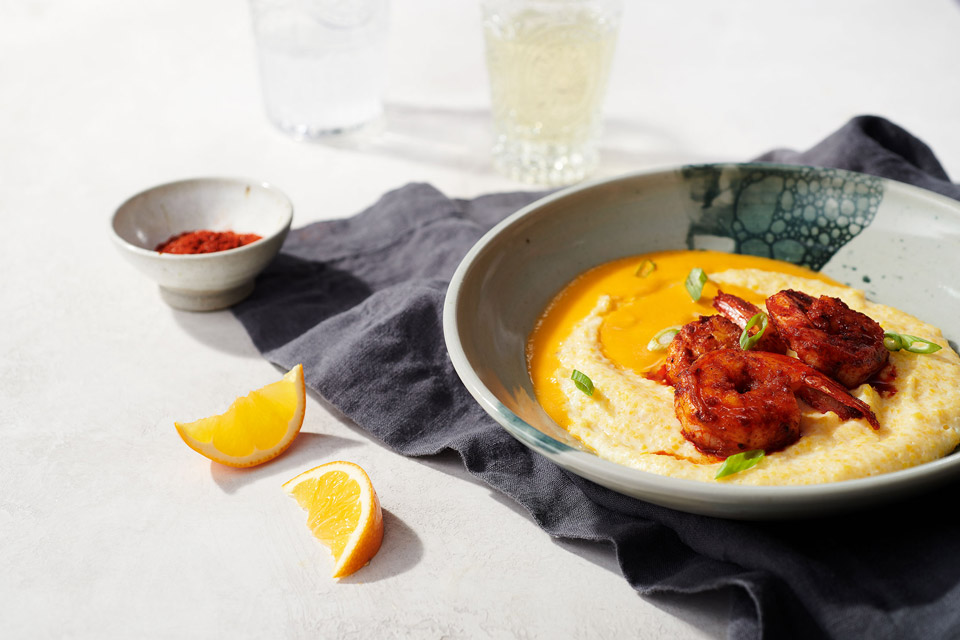 Shrimp and Grits
Chef Jose Salazar

Jose Salazar, executive chef and proprietor (with wife Ann) of both Salazar Restaurant & Bar and Mita's Restaurant & Bar in Cincinnati, starts here with classic shrimp and grits and turns up the flavors.

"The cumin, fennel and black pepper, those to me are very earthy flavors," says Salazar. "The black pepper brings a little bit of heat, but you're getting the heat primarily from the cayenne and smoked paprika. But overall they're muted spices — flavors that work well together to balance the smoothness of the grits."

As for the shrimp, Salazar goes with a spice that enhances the bright sweetness inherent to the crustaceans, allowing them to step into the culinary spotlight.

"Coriander is the spice that ties all the elements of the dish together," he says. "If it wasn't there, you might miss it more than anything else. It adds a little floral along with citrus notes that play well with the shrimp. And when you add a sprinkle of lemon, you'll pull out the coriander's citrus notes even more."

Mita's emphasizes the tastes of Spain and Latin America. With spices being central to the restaurant's ethos, Salazar treats them as a focus. He recommends using whole spices for this recipe, which are generally available at dedicated spices stores.

"We always buy our spices whole and blend them fresh," he says. "We keep a coffee grinder that we use specifically for spices."

Salazar advises home cooks who go this route to lightly toast the whole fennel, coriander and black pepper in a dry skillet over medium-low heat for a minute or so until they're nice and fragrant.

"Then grind them fresh and use them right away," he says. "That's if you want maximum flavor." Salazar Restaurant & Bar: 1401 Republic St., Cincinnati 45202, 513/621-7000, salazarcincinnati.com; Mita's Restaurant & Bar: 501 Race St., Cincinnati 45202, 513/421-6482, mitas.co


Recipe: Shrimp and Grits | Serves 6 appetizer-size portions

INGREDIENTS
1 pound medium-size shrimp, shelled and deveined (save shells to make shrimp stock)
1/2 cup large-diced carrots
1/2 cup large-diced onions
1/2 cup large-diced celery
1 large tomato, diced
2 cloves garlic, rough chopped
3/4 cup heavy cream
2 ounces whole butter
1 bay leaf
1/4 cup vegetable oil, divided
1/4 cup small-sliced scallions for garnish
1 lemon cut into wedges for garnish
Salt to taste

For the Spice Mix
1/2 teaspoon ground cumin
3/4 teaspoon ground coriander
1/2 teaspoon ground black pepper
1/2 teaspoon ground fennel seed
1/4 teaspoon ground cayenne
2 tablespoons ground smoked paprika
1/2 teaspoon salt

For the Grits
1 cup milk
1 cup water
1 cup organic grits
2 tablespoons whole butter
Salt to taste

DIRECTIONS
To make shrimp stock: Peel shrimp and place shells in 1 1/2 quarts of water on stovetop to simmer for 30 minutes. Pour stock through a mesh strainer to remove shells and set aside.

Place 2 tablespoons vegetable oil in medium stockpot over medium heat and sweat the diced vegetables and tomatoes until slightly softened. Add 1 quart shrimp stock, bay leaf and heavy cream and cook for 30 minutes at a low simmer. Remove the bay leaf and puree the rest in a blender with the 2 ounces of butter until smooth. Keep warm over very low heat.

While the shrimp sauce is cooking, make the grits. Place the milk, water and a pinch of salt in a stockpot and bring to a simmer. Add the grits in a low, steady stream, bring back up to a simmer and cook over low heat, stirring occasionally. Once the grits are fully cooked, add the 2 tablespoons of butter and adjust with salt to taste.

To cook the shrimp: Add the remaining vegetable oil to a large saute skillet over high heat, add the shrimp and cook for a minute or two on each side. Once the shrimp is almost fully cooked, add the spice mix to taste and cook for another 1 minute.

To serve, place the grits in the center of a bowl. Spoon the shrimp sauce around the grits, top grits with the shrimp. Garnish with scallions and serve with lemon wedges.

---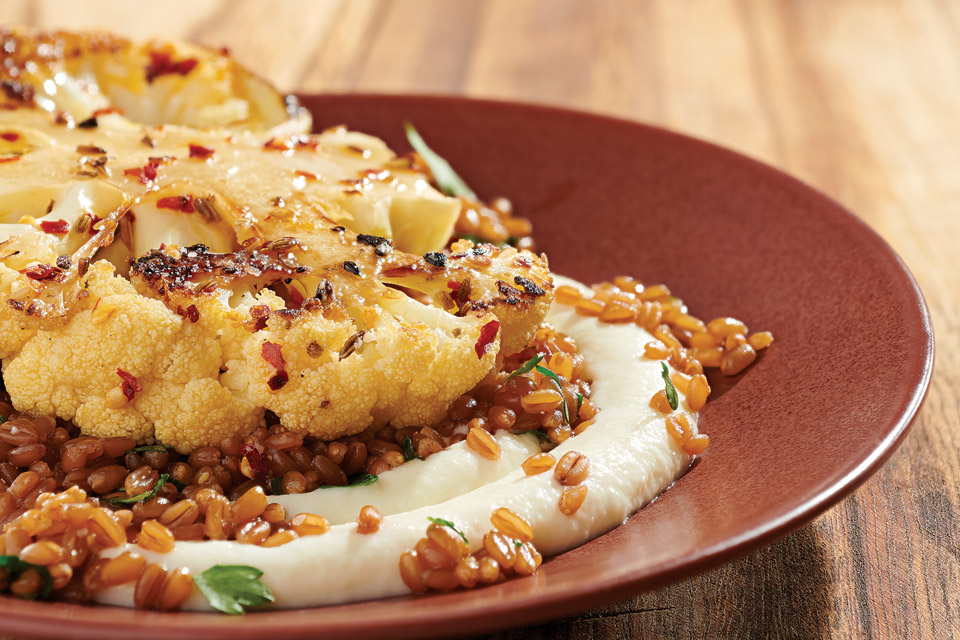 Spiced Cauliflower Steak
Chef Chris Nixon

Cauliflower is an awfully adaptive vegetable, being pressed into service lately to replace everything from chicken wings to rice. That's because this cruciferous treat has a muted, creamy flavor that tends to take on whatever's around it. Chris Nixon, chef and owner (with wife Madeline) of Element 112 in Sylvania, marinates cauliflower to create a base to showcase several different flavor profiles.

"Marinating the cauliflower overnight helps it absorb the flavor," he explains. "Salt helps remove the water content and absorb what you put on it, while the tiny bit of sugar acts as a curing base and encourages the cauliflower to release its liquid, a trick I stole from classic fermentation. You won't notice any sweetness; the sugar just helps the cauliflower absorb the marinade."

The flavors the cauliflower steaks absorb are a study in contrast and balance, beginning with the heat of red chili flakes.

"Chili flakes, which are basically very hot, are one of those harsher ingredients. If you don't have a cream base or something to cool it off, it couldn't work. So the cream that's added later smooths it out and refines the flavor."

Nixon's restaurant features an eclectic, modern menu that focuses on combining elements, like the flavors he describes in this dish: "Fennel bulb has a really anise flavor. It's an earthy flavor that tends to be secondary and subtle. The cream hits you first, and the fennel finishes it. It's two-tone. I like to create a flavor curve [to dishes]. Otherwise it's kind of boring.

"Overall, the pepper heats up your taste buds and gets them going, and the cream is so flavored like cauliflower that it doesn't add new flavor, but instead it adds fat content so you get a better mouth feel. Then the spelt balances out and finishes all the textures." 5735 N. Main St., Sylvania 43560, 419/517-1104, element112restaurant.com


Spice Cauliflower Steak | Serves 4

INGREDIENTS
2 heads cauliflower, green stems removed, split in half and sliced to make 2 steaks each (see chef's note below)
1/8 teaspoon sugar
2 tablespoons olive oil
1 tablespoon salt
1 tablespoon fennel seed
1 teaspoon red chili flakes
1 cup heavy cream
4 tablespoons butter, divided
Spelt, cooked according to package directions (enough for 4 servings)
Chef's Note: Dividing the two heads of cauliflower will cause lots of little pieces of cauliflower to break off. Set them aside. They will be used to create the puree. Take an extra piece or two off if you need more.

DIRECTIONS
Toss the first six ingredients, including cauliflower, in a bowl and let sit at least 30 minutes to overnight. Preheat an oven to 350 F and place the cauliflower, cut-side down, on a baking sheet. Bake until a paring knife easily pierces the stem of the cauliflower and pulls out with no resistance. Let the steaks rest 5 minutes.

While the steaks are cooking, put all the pieces of cauliflower that fell off the large pieces into a saucepan and just barely cover them with heavy cream. You should still see cauliflower poking out above the surface of the liquid (around 1 cup). Add 1 tablespoon butter. Cook over low heat until cauliflower falls apart. Season with salt and blend in a blender on high speed for 2 minutes. Reserve until steaks are done.

Cook spelt in water (according to package directions) and set on a plate with paper towel to dry, reserving the cooking water. In a saute pan, reduce 1 cup of the cooking water with 3 tablespoons butter until thickened. Return spelt to pan and toss until coated. Plate puree in the center of the plate and cover with a serving of spelt. Top with a cauliflower steak.