Food + Drink
3 Pumpkin Dessert Recipes
Try one of the three delicious creations that will be sure to please your family and friends this fall.
Sept./Oct. 2021
BY Ohio Magazine Staff | Photo by Rachael Jirousek
Sept./Oct. 2021
BY Ohio Magazine Staff | Photo by Rachael Jirousek
If you're looking for a winning pumpkin recipe this season, you've come to the right place. From an Ohio State Fair award winner to a Canfield Fair champ to a dessert straight from a Circleville Pumpkin Festival cookbook, this sweet trio will have your family and friends asking for seconds!

The Best Pumpkin Coffee Cake | Makes 12 to 16 servings
Recipe courtesy of Ashlea DeChant, Hilliard | First Place, Quick Breads, 2018 Ohio State Fair

INGREDIENTS
2 1/4 cups all-purpose flour
1 1/4 teaspoons baking powder
1 teaspoon baking soda
1/2 teaspoon salt
2 1/2 teaspoons pumpkin pie spice
1/2 cup brown sugar
1 cup granulated sugar
2 teaspoons pure vanilla extract
1 cup pumpkin puree
2 large eggs
1/2 cup vegetable oil
3/4 cup buttermilk
Crumb Topping:
1/3 cup packed brown sugar
1/3 cup granulated sugar
1 teaspoon ground cinnamon
1/2 teaspoon salt
3/4 cup graham cracker crumbs
3/4 cup all-purpose flour
1/2 cup plus 2 tablespoons unsalted butter, melted

DIRECTIONS
Crumb Topping: In a medium mixing bowl, whisk together both sugars, cinnamon, salt, flour and graham cracker crumbs. Add cooled melted butter and stir with fork until coarse crumbs, set aside. Cake: Preheat oven to 350 F. Grease and flour 13-by-9-inch baking pan, set aside. In large mixing bowl, whisk together dry ingredients: flour, baking powder, baking soda, salt, pumpkin spice, brown sugar, granulated sugar. In another bowl, whisk together vanilla extract, pumpkin puree, eggs, vegetable oil and buttermilk. Add wet ingredients to dry ingredients and whisk until smooth (about 1 minute). Pour batter into pan, and tap against counter to release air bubbles. Sprinkle crumb topping over batter and spread evenly. Bake for 32 to 35 minutes or until a toothpick inserted into center comes out clean. Cool to room temperature and slice.
---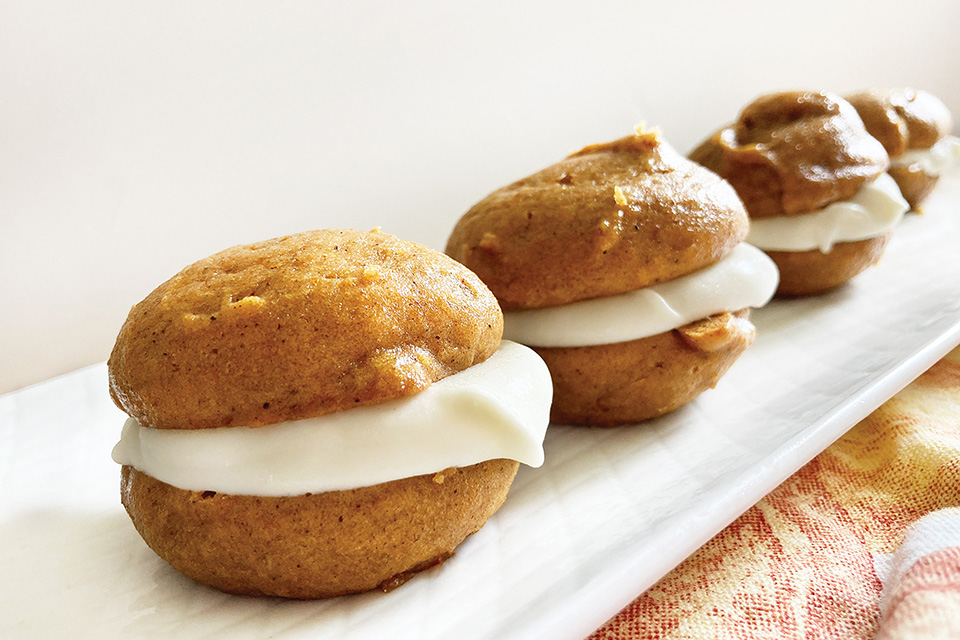 Pumpkin Whoopie Pies | Makes 24 servings
Recipe by Mona Lee Trego, courtesy of Circleville Pumpkin Show

INGREDIENTS
2 cups brown sugar
1 cup vegetable oil
1 1/2 cups canned pumpkin
2 eggs
3 cups flour
1 teaspoon salt
1 teaspoon baking powder
1 teaspoon baking soda
1 teaspoon milk
1 1/2 tablespoons cinnamon
1/2 tablespoon ground cloves

Filling
1/2 cup butter, softened
8 ounces cream cheese, softened
2 cups powdered sugar
7 ounces marshmallow cream
1 teaspoon vanilla

DIRECTIONS
Filling: Beat butter and cream cheese until smooth. Add remaining ingredients. Cookies: Preheat oven to 350 F. Cream sugar and oil, add pumpkin and eggs. Add flour, salt, baking powder, soda, vanilla and spices. Mix well. Drop by heaping teaspoon on greased cookie sheet. Bake for 10 to 12 minutes. Let cool. Make sandwiches from two cookies by spreading with filling.

---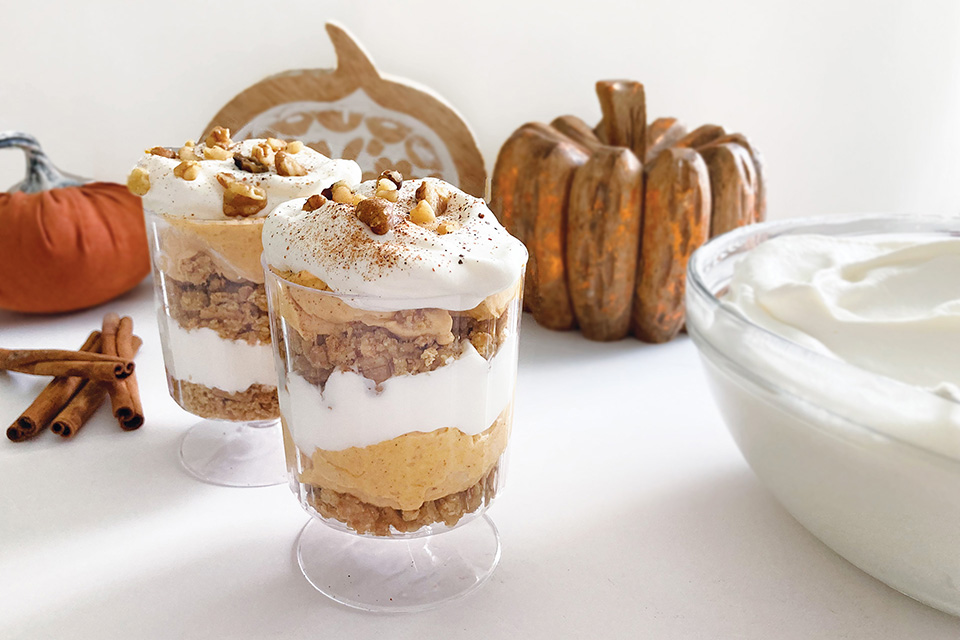 Creamy Pumpkin Trifle Dessert | Makes 12 to 16 individual trifles
Recipe courtesy of Angela Brose, 2002 Special Pumpkin Contest, Canfield Fair

INGREDIENTS
1 1/2 cups graham cracker crumbs
2/3 cup chopped walnuts
1 stick butter, melted
1/4 cup sugar
8 ounces cream cheese
2 cups cold milk
2 packages vanilla flavor instant pudding mix
1 can (16 ounces) pumpkin
2 teaspoons pumpkin pie spice
2 pints heavy whipping cream
1/2 container Cool Whip
Ground nutmeg

DIRECTIONS
Mix graham cracker crumbs, 1/3 cup walnuts, butter and sugar in 13-by-9-inch pan. Press firmly into pan and refrigerate until ready to fill. Beat cream cheese on low until smooth. Gradually add 1/2 cup milk. Add remaining milk, pudding mixes, pumpkin and spice. Beat on low for 2 minutes. Stir in Cool Whip. Pour over crust. Refrigerate for 2 hours or until set. Whip 2 pints of real whipping cream (add sugar to taste) until peaks form. Dollop or spread onto dessert. Scoop into single-serving cups in layers. Sprinkle with remaining walnuts and nutmeg.