Food + Drink
3 Creative Winter Squash Recipes
Branch out from traditional preparations thanks to these Ohio chefs' surprising and delicious creations.
October 2017
BY Frances Killea | Photo by Casey Rearick, styling by Christine Rice
October 2017
BY Frances Killea | Photo by Casey Rearick, styling by Christine Rice
Twice-Baked Acorn Squash
Inn & Spa at Cedar Falls, Logan

The beauty of the Hocking Hills draws travelers to southeastern Ohio year-round, and Kindred Spirits at the Inn & Spa at Cedar Falls in Logan knows how to feed its trail-weary guests. Executive chef Abby Cole and her kitchen prepare a small, seasonally inspired menu that updates old favorites with unusual ingredients. (Think lavender-laced gnocchi and black truffle macaroni and cheese.)
During the fall, Cole highlights late harvest gems like acorn squash, cooking them down into familiar soups or roasting them to toss with pasta. But every now and then, she opts for a more unconventional preparation.
"I roast them and then peel the insides out, stuff it back in its shell with whatever I put in it, and then it's basically a twice- baked squash," Cole explains. "My favorite one is kind of sweet and savory. I drizzle it with olive oil and honey. I add some nutmeg, some cinnamon, some cayenne and then some salt and pepper, and roast it."
After Cole scoops out the insides of the squash, she stirs in onion, garlic, bacon and arugula and sometimes adds a grain, like quinoa. Halfway through the second bake, she pulls out the squash and adds some Parmesan cheese to melt on top.
A graduate of the culinary program at Hocking College, Cole didn't fall in love with preparing food until her teen years, and it wasn't until she was in culinary school that she had even cut up a winter squash.
"I just remember thinking, how do I do this?" she recalls. "That was my very first experience with squash, and now it's probably one of my favorite fall ingredients." 21190 St. Rte. 374, Logan 43138, 740/569-5015, innatcedarfalls.com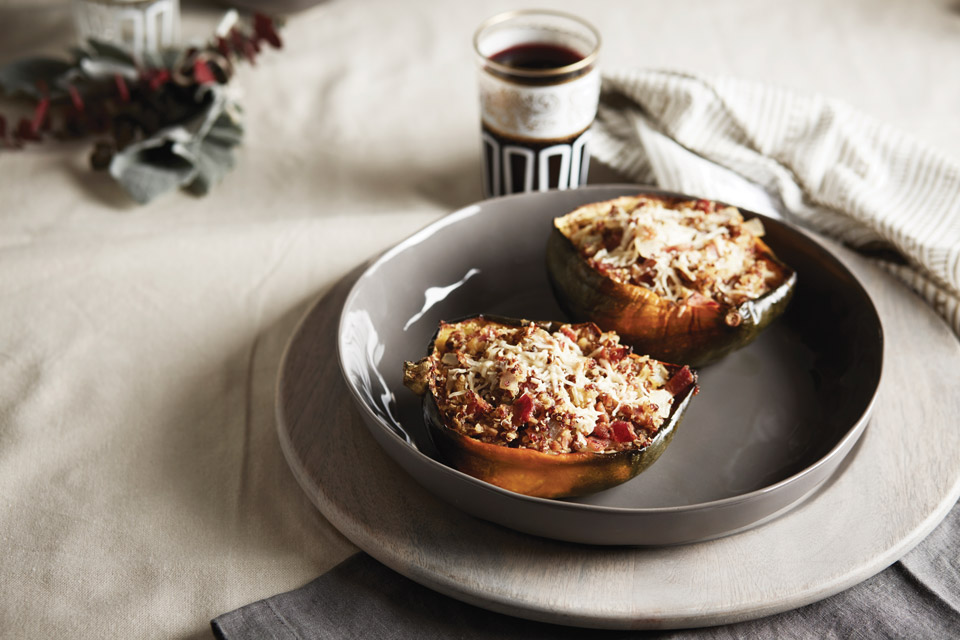 Twice-Baked Acorn Squash
Courtesy of Inn & Spa at Cedar Falls | Serves 2

INGREDIENTS
1 acorn squash
6 pieces crisp bacon
3 cups arugula
1 1/2 cups quinoa (optional), precooked
1 medium onion, diced small
3 to 4 cloves garlic, minced
2 tablespoons cinnamon
1 tablespoon nutmeg
2 teaspoons cayenne pepper
Salt and pepper to taste
2 tablespoons honey
2 tablespoons extra virgin olive oil
1/2 cup Parmesan cheese, grated
DIRECTIONS
Preheat oven to 350 F. Cut squash in half and remove seeds. Place in baking dish. Drizzle the olive oil and honey over the squash and gently rub in. Then, sprinkle cinnamon, nutmeg and cayenne pepper on top. Bake about an hour or until the meat of the squash is tender. Let cool slightly when done.
While the squash is baking, saute the onion and garlic until translucent. When finished, place in bowl and set aside. Scoop the meat of the squash out of the shell, carefully as to not tear the outside.
Combine the meat with the onion mixture, bacon, arugula and quinoa (if desired). Season with salt and pepper to taste. Mix thoroughly.
Stuff mixture back into the shells. Bake for another 15 to 20 minutes. Halfway through, sprinkle with Parmesan cheese and finish cooking. Let cool slightly. Serve.

***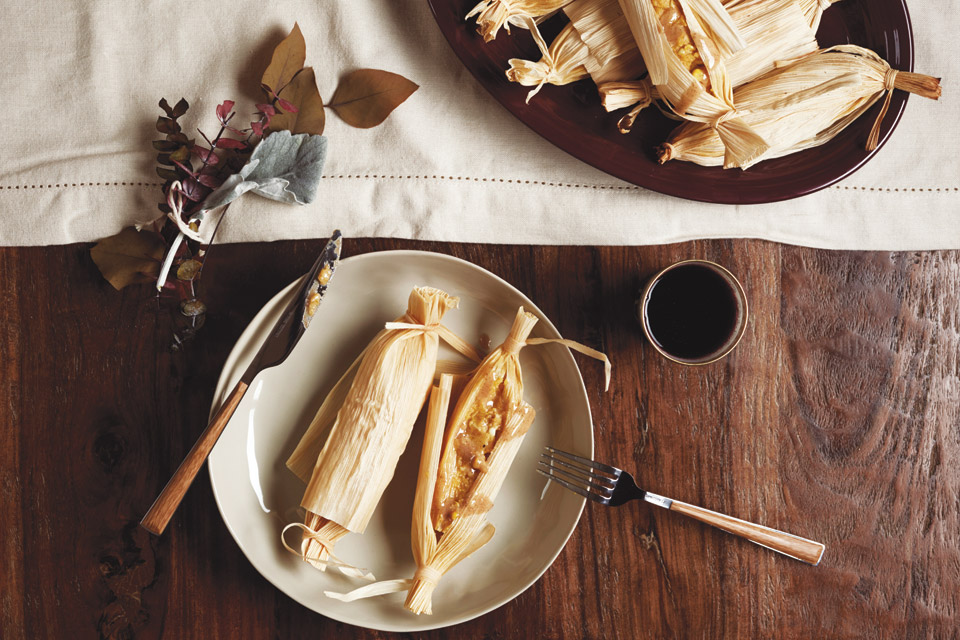 Butternut Squash Tamales
Granville Inn, Granville

It's been nearly a decade since Chad Lavely took the helm at the Granville Inn, but his passion for cooking goes well beyond the property's two indoor dining spaces. From his first pairing of tomatoes with basil as a kid to training in some of Columbus' best restaurants, Lavely, who has been cooking professionally for more than 20 years, has always had a knack for food.
At the inn, Lavely creates separate menus for the tavern and dining room, which gives him the chance to try out new ideas. And while he's the first to assert that there's nothing like a good butternut squash soup, he's also eager to challenge conventional preparations.
"We'll incorporate it into a risotto … just to add depth, another layer of flavor," he says. "We'll do a squash corn hash, maybe we'll kick it up with some jalapeno. And then, we do a butternut squash tamale."
For his twist on the traditional cornhusk-wrapped dish, Lavely cooks the squash down and mixes it with masa harina (a very finely ground corn flour), spicing the mixture with brown sugar and cinnamon.
"Then, when we crack the tamale open, we take a little bit of butter that's been browned with some minced pecan," he says. "Instead of putting a hot sauce or mole [sauce] on the tamale, we spoon that butter over the steamed tamale."
In the past, Lavely has served the side with roasted chicken, which he says allows the home cook to cut a few corners. "Tamales aren't terribly hard to make, but they're not easy," he admits. "You could spend your afternoon making some tamales, and then you go to the store and you buy one of their preroasted chickens." 314 N. Broadway, Granville 43023, 740/587-3333, granvilleinn.com


Butternut Squash Tamales
Courtesy of Granville Inn | Makes 20 tamales

INGREDIENTS
50 dried cornhusks
1 butternut squash
1 1/2 cups fresh or frozen corn kernels (fresh preferable)
2 cups chicken stock or water
6 tablespoons unsalted butter
6 tablespoons vegetable shortening
1 1/2 cups masa harina
1 tablespoon honey
3 tablespoons maple syrup
Salt and freshly ground pepper
1 teaspoon ground cinnamon
1/2 teaspoon ground cloves
1 teaspoon ground allspice
Pecan butter (recipe follows)

DIRECTIONS
Before forming the tamales, clean the cornhusks under running water. Soak them in warm water for 2 hours or until softened.

Preheat oven to 375 F. Split butternut squash in half lengthwise, remove seeds and roast for about 1 hour or until soft. Scoop the flesh from the peel, mash, let cool and set aside.

Combine dry ingredients in a mixing bowl and add the butter and shortening in small pieces while still cold. Add the squash, honey and maple syrup and mix until there are no visible lumps of fat. Stir in the corn kernels.

Mix in the stock or water in 4 parts. (The masa mixture will be looser than you think it should be, but it will thicken as it sits and firm up when the tamales are steamed.)

Remove the cornhusks from the water and set aside the 40 best husks. Drain and pat dry. Tear the remaining husks into 1-inch-wide strips to be used for tying. Lay 2 husks flat with the tapered ends facing out and the broad bases overlapping by about 3 inches.

Place about 1/3 cup of the masa mixture in the center of each. Bring the long sides up over the mixture, slightly overlapping, and pat down to close. (Masa may drip out a little at the seam.) Tie each end of the bundle with a strip of cornhusk, pushing the filling toward the middle as you tie. Trim the ends to about half an inch beyond the tie.

Arrange the tamales in a single layer on a steaming rack, cover tightly with foil and steam over boiling water for 45 minutes. To serve: Cut a slit on top of each tamale and push both ends of the tamale toward the middle to expose the masa. Top each with 1 tablespoon of pecan butter.

Pecan Butter

INGREDIENTS
1 stick unsalted butter, softened
1/4 cup toasted pecans, finely chopped
3 tablespoons maple syrup
Pinch of cinnamon
Salt and freshly ground pepper

DIRECTIONS
Combine all ingredients. Scrape into a small bowl and refrigerate.

***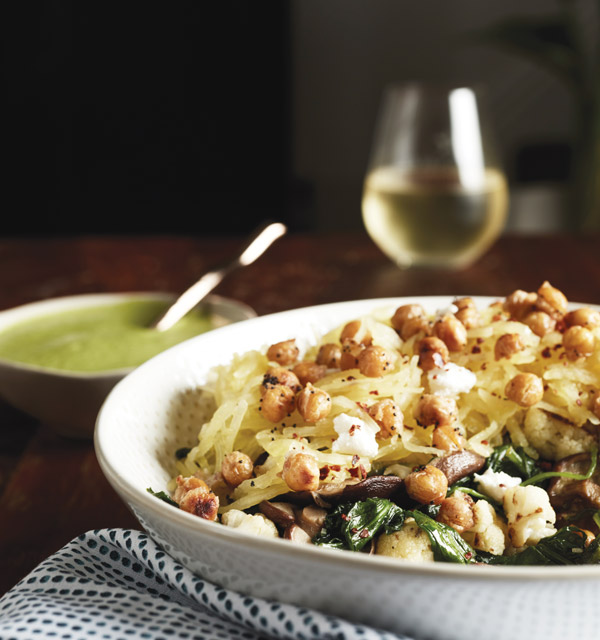 Spaghetti Squash with Arugula
Crumb & Spigot, Chagrin Falls

Dining means special occasion to some and weeknight relief to others. Karen Gorman, chef and co-owner of Crumb & Spigot in Chagrin Falls, caters to both crowds with her menu.

"We wanted it to be a neighborhood place, where you could come just to have a sandwich or pizza with your kids," she explains, "and then you could come back on the weekend and have a piece of fish or a steak and a bottle of wine."

The restaurant whips up sloppy Joes and pulled-pork sandwiches, wood-fired pizzas and mac and cheese, but it delivers inventive, thoughtful entrees as well, particularly ones that make use of Ohio's bounty of fall produce.

"I like vegetables," says Gorman, "so I am always looking for that option on a menu that's not just Brussels sprouts in the winter, green beans in the summer."

Crumb & Spigot dishes out hearty vegetarian entrees with creative twists: falafel made with green peas and baked, roasted portobello mushrooms reimagined as a Philly cheesesteak sandwich, and, since its first appearance on the menu two years ago, spaghetti squash.

Gorman and her team find interesting ways to dress up the dish. Currently, the entree comes paired with roasted mushrooms and cauliflower, sauteed spinach and an arugula cream sauce, finished with oven-roasted chickpeas for some crunch.

"We make our own everything-spice mix — it has onion, garlic, sesame seeds, poppy seeds — and we toss [the chickpeas] in that," she explains. "They have to go in the oven until they're crispy."

Gorman is the first to admit there's a lot to her spaghetti squash dish, but she guarantees a satisfying meal. "There are a lot of pieces-parts," she says. "If somebody wants to do it, they will be rewarded." 16783 Chillicothe Rd., Chagrin Falls 44023, 440/384-3035, crumbandspigot.com


Spaghetti Squash with Arugula
Courtesy of Crumb & Spigot | Serves 4

INGREDIENTS
1 4-pound spaghetti squash
1/2 head cauliflower (or about10 ounces), cored then sliced into half-inch pieces
12 ounces fresh spinach
10 ounces fresh shiitake or cremini mushrooms
Arugula sauce (recipe follows)
1/2 cup crumbled goat cheese
1 teaspoon Aleppo pepper
Extra virgin olive oil
Salt and freshly ground pepper
Crispy chickpeas (recipe follows)

For the Mushrooms: Preheat oven to 450 F. Clean and stem the mushrooms, cut into halves or quarters if really large, otherwise leave whole. Toss mushrooms with olive oil, salt and pepper and roast in oven for about 10 minutes. Set aside.

For the Squash: Preheat oven to 350 F. Split the squash lengthwise and scrape out the seeds. Roast in oven for about 30 minutes. Using a fork, shred the squash strings from the skin. Use a spoon to get out the last bits of squash. (This can be done ahead of time and the squash reheated at the time of serving.) Drizzle with olive oil, salt and pepper.

To Assemble:
Heat a saute pan over medium-high heat with olive oil. Add in cauliflower and let cook until browned on one side. Give the cauliflower a toss and season with salt and pepper. Let cook on the other side for a couple minutes, then add in the roasted mushrooms and spinach. Cook until spinach is just wilted and mushrooms are warmed through. Taste spinach for seasoning. Place about 1/3 cup of arugula sauce in the bottom of a bowl, top with cauliflower and spinach/mushroom saute, then place hot spaghetti squash strings on top with a drizzle of extra virgin olive oil, goat cheese, a sprinkle of Aleppo pepper and crispy chickpeas.


Arugula Sauce | Makes about 2 cups

INGREDIENTS
1/4 cup raw or roasted cashews, soaked for 2 to 3 hours and drained
1/4 cup smoked almonds, soaked for 2 to 3 hours and drained
3/4 to 1 cup mushroom or vegetable stock
2 teaspoons minced garlic
2 teaspoons fresh lemon zest
1/4 cup fresh lemon juice
2 teaspoon tamari
1 1/2 cups arugula, packed
3/4 cup spinach, packed
Salt and pepper

DIRECTIONS
Puree nuts and half of the stock until very creamy in blender. Add in the rest of the ingredients and the remaining stock and puree until smooth. Season with salt and pepper.


Crispy Chickpeas

INGREDIENTS
1 can garbanzo beans, drained and dried off
Olive oil
Salt and pepper
Everything seasoning: equal parts sesame seed, granulated garlic, granulated onion and poppy seeds. (Crumb and Spigot grinds the mix into a powder because it adheres better in the oven.)

DIRECTIONS
Preheat oven to 350 F. Coat the chickpeas in olive oil, salt, pepper and mix. Lay out on a sheet tray and roast in oven for 12 minutes, give a toss and roast another 12 minutes. Then toss and roast 12 minutes more. They will be brown and will crisp as they cool.