Food + Drink
12 Farm-Fresh Breakfast Spots
We visited Ohio restaurants that serve made-from-scratch breakfasts using as many local ingredients as possible. Here's where to dig in and what to order when you do.
November 2018
BY Nicholas Adkins, Lyric Aquino, Jessica Baltzersen, Sara Bir, Rachel Cagle, Nick Dekker, Leo DeLuca, Taylor Johnston, Frances Killea and Kelly Powell | Photo by Eric Wagner
November 2018
BY Nicholas Adkins, Lyric Aquino, Jessica Baltzersen, Sara Bir, Rachel Cagle, Nick Dekker, Leo DeLuca, Taylor Johnston, Frances Killea and Kelly Powell | Photo by Eric Wagner
House Hash
Harvest Moon Craft Kitchen, Canal Winchester
Laughter and chatter fill the air at Harvest Moon Craft Kitchen, the perfect backdrop for the restaurant's menu of made-from-scratch breakfast options, served until 11 a.m. daily. The House Hash, featuring diced sweet potatoes, Brussels sprouts, bell peppers, apples and onions is topped with havarti cheese and two eggs cooked any style. It's the perfect choice to get your brain working, and one that illustrates the restaurant's approach of using local purveyors. The dish is full of local ingredients, including the eggs delivered from Sauder's Eggs in Winesburg and cheese from Geauga County's Middlefield Original Cheese Co-Op. "Eighty percent of our menu comes from my wife," says owner Nathan Doerfler. "She has an incredible knack for creating menu items." Another morning standout is the Heavenly Hotcakes, which arrive in threes, dusted with powdered sugar and served with lavender-infused maple syrup and a side of turkey bacon. (Diners can swap their turkey bacon for pork bacon, pork sausage or chorizo for a small additional fee.) The hotcakes' maple syrup comes from Canal Winchester's Williams Maple Products. Other local purveyors that show up on the menu include Froggy's Sweets & More in Pickerington, Honey Run Farm in Williamsport and Rost Coffee in Chillicothe. "We're passionate about good food and are conscious of ingredients and sourcing," says Doerfler. "It's also important to us to use locally sourced products because it supports the local economy and the growth of Ohio." 7 N. High St., Canal Winchester 43110, 614/834-8100, hmcraftkitchen.com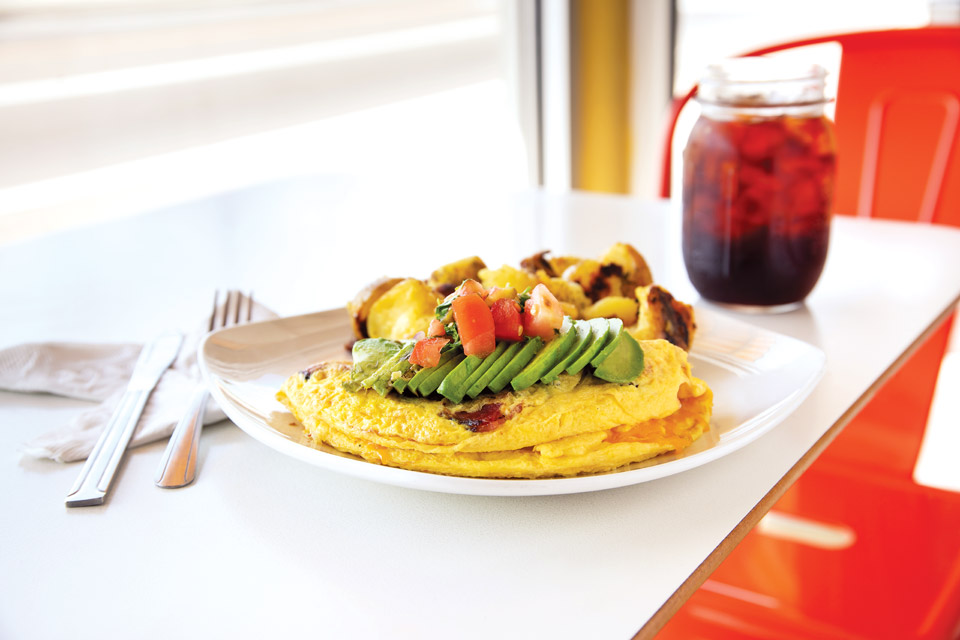 Tomato, Bacon, Avocado Omelet
Butter Cafe, Dayton
Since Butter Cafe opened in June 2010, the casual dining spot has painstakingly curated its menu, offering one-of-a-kind options and colorful spins on old standbys. "It's comfort food with the finest ingredients," says co-owner Amy Beaver. "We have a lot of vegan and gluten-free items, and we try to get creative with breakfast." One of the minds behind Butter Cafe's breakfast is chef Kendall Reeves, who augments the restaurant's standard offerings with revolving monthly specials. But the eatery's regular menu is certainly far from ordinary. It features jelly doughnut pancakes, a steak scramble and French toast kabobs, tracing its singular flavors to Ohio-sourced ingredients, like those in the Tomato, Bacon, Avocado Omelet. "The meat is locally sourced from Landes Fresh Meats, the eggs are cage free," says Beaver. "We use locally sourced tomatoes and avocados, and Amish cheddar from Bunker Hill south of Cleveland." The classic omelet is then topped with house-made salsa and served with potatoes or salad greens, turning seemingly commonplace ingredients into an extraordinary creation. Housed near the University of Dayton, Butter Cafe's dining environment mirrors its menu. "It almost feels as if you're eating at a family member's house because it was someone's house at one point," Beaver explains. "This lady came in over the summer, and she said she lived here when she was a little girl. She remembered the pocket doors, a table is where her bedroom once was, and she told me where the Christmas tree sat." 1106 Brown St., Dayton 45409, 937/985-9917, buttercafedayton.com

Biscuits & Gravy
Skillet, Columbus
The one-room Skillet is a family affair. In the kitchen you'll find the Caskeys: parents Kevin and Angie and son Patrick. The menu here changes daily (it's published on the restaurant's website each morning), but you'll always find a heavy focus on local ingredients: lamb from Bluescreek Farm in Plain City, eggs from Copia Farm in Johnstown and dairy items from Snowville Creamery in Pomeroy. "As our menu is ever-changing, we try to maintain a few staple items that we prepare variations of, such as the griddled biscuits and gravy," says Patrick Caskey. The dish takes many forms: be it smothered in peppered-goat-sausage gravy, smoked-chicken-and-Andouille-sausage gravy or even roasted-sweet-potato-and-mushroom gravy. "The most popular versions of this dish starts with a split-and-grilled cat's head biscuit that we top with scrambled eggs and smother in our house-made lamb chorizo gravy," Caskey adds. 410 E. Whittier St., Columbus 43206, 614/443-2266, skilletruf.com

Taste Makers
Miller Livestock Co.'s approach to raising animals pays off with flavorful, better-quality meats.

Aaron Miller has spent a lifetime raising livestock. During that time, he's worked to embrace regenerative farming practices while raising healthy cattle, pigs, lambs, turkeys and chickens. Miller Livestock Co. in Kinsman is not only his job; it's his philosophy in motion.

"We've been in the grass-fed and grass-finished business since 1999," Miller says. "The driving force behind grass-finished beef is the fact that it's so much healthier for you. It's higher in Omega 3 … higher in vitamin E."

That's not Miller's only motivation behind raising grass-fed animals. "We really believe that we're in the taste business," he explains. "The taste and the health benefits are both in the fat."

Diners in search of a bite can find Miller's products at farm-to-table restaurants like Crosswinds Grille in Geneva-on-the-Lake or Fire Food & Drink in Cleveland, but one of his favorite ways to enjoy the meats he raises is at home.

"My favorite meal is leg of lamb," he says. "My wife has this pan with this rack in it. … She puts potatoes and turnips and onions and carrots underneath this rack, and then puts the leg of lamb on top of that and puts that in the oven for about 90 minutes. All those drippings really make a wonderful meal." 9590 Kinsman Pymatuning Rd., Kinsman 44428, 330/876-5655, millergrassfed.com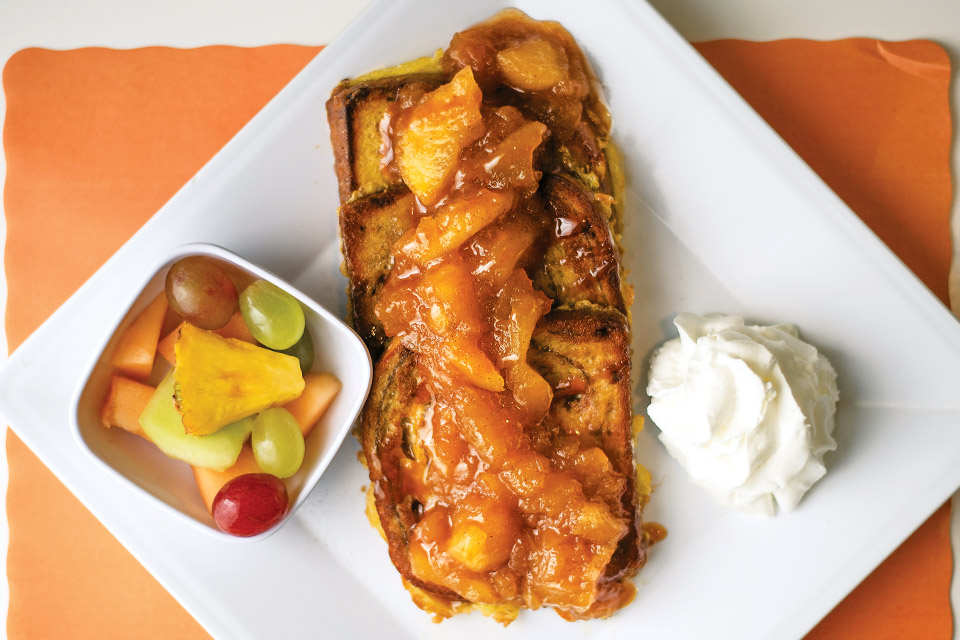 Apple French Toast
Twisted Citrus, North Canton
French toast is a breakfast staple, but Twisted Citrus' Apple French Toast turns the classic dish into something extraordinary: three pieces of cinnamon French toast covered with baked apples, a caramel drizzle and cinnamon sugar dust. "It is just a great combination of fall flavors," says Kim Shapiro, who co-owns Twisted Citrus with her husband, Scott. The couple locally sources much of their fruit between spring and fall at Stark County's Bieler's Market and Hartville Market, and gets their breakfast meats from Canal Fulton Provisions, located about 20 miles away. Reinventing classic dishes is what Twisted Citrus is all about: Omelets that feature unexpected ingredients such as creole sauce and specialties such as chorizo gravy and corn cakes. "You will see dishes you recognize," Shapiro says, "but with different combinations and flavors you wouldn't normally see." 1649 N. Main St., North Canton 44720, 330/305-9680, thetwistedcitrus.com

Breakfast Tacos
The Village Bakery & Cafe, Athens
Like many restaurants in the college town of Athens, the menu here is inspired by local farmers and purveyors who call southeast Ohio home. Take the Village Bakery & Cafe's Breakfast Tacos for example: The corn tortilla comes from the local Shagbark Seed & Mill, while the eggs come from grass-fed, free-range chickens at High Bottom Farm a little more than 10 miles down the road in Guysville. The cheese was made at Laurel Valley Creamery in Gallipolis, and the organic, leafy greens were grown at Green Edge Gardens in Amesville. Owners Christine Hughes and Bob O'Neil have a mission behind the casual approach at their eatery. "It's not a full, sit-down restaurant experience," O'Neil says. "We are trying to make the most of investing our money in buying local food." Since 2002, Hughes and O'Neil have been providing light, healthy and local eats from a menu that spans baked goods, breakfast dishes and lunch offerings. Menu items are shaped by the connections Hughes and O'Neil have made with local farmers and purveyors who embrace sustainability. "If we see that they are using [these] practices the best that they can, then we are going to go with them," O'Neil adds. Sustainability doesn't just stop at the menu, either. The cafe embraces renewable energy wherever it can. "We do solar power, wind power and we use local woods for our wood-fired oven instead of gas," O'Neil says. 268 E. State St., Athens 45701, 740/594-7311, dellazona.com. As of November 2021, The Village Bakery & Cafe is no longer serving breakfast tacos, but they are still serving breakfast.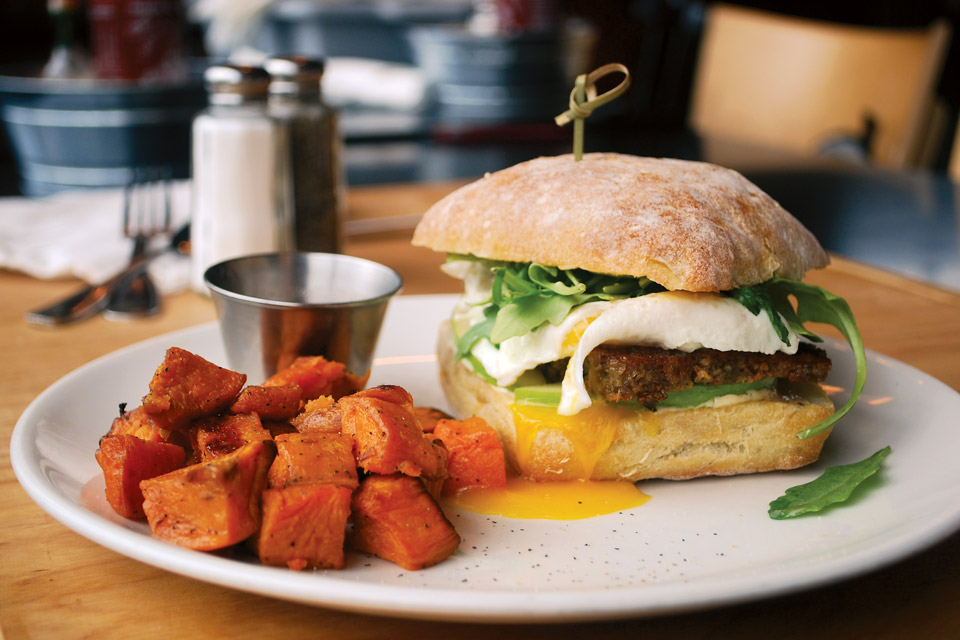 Queen City Bee
Sleepy Bee Cafe, Cincinnati
Tucked beneath the towering buildings of downtown Cincinnati, Sleepy Bee Cafe serves as a hive of breakfast activity. The eatery's Queen City Bee sandwich crowns the menu and has remained a favorite since the place opened in 2013. Its appeal comes from its varying textures: savory goetta sourced from Eckerlin Meats at Findlay Market and free-range eggs from Zimmerman Farm in Shelby alongside crisp arugula and tart apple on chewy ciabatta bread. The restaurant's secret nectar sauce ties the sandwich together with a touch of smokiness and a hint of honey. Sleepy Bee also uses Pomeroy's Snowville Creamery and Cleveland's Origin for its milk needs and buys its buckwheat from Athens' Shagbark Seed & Mill. "It can be hard to make good choices about food and about the environment," says executive chef Frances Kroner, "but we are hoping to show people that those choices are a little more available and attainable." 8 E. Fourth St., Cincinnati 45202, 513/381-2339, sleepybeecafe.com

Short Rib Scramble
The Whitney House, Worthington
The Whitney House is named after Worthington's Whitney Avenue, where owner Ian Brown grew up. That same sense of home — a welcoming place to be comforted by hearty cuisine — infuses the entire restaurant. Menus for brunch, lunch and dinner are approachable but sophisticated and draw on Ohio ingredients whenever possible. Several brunch dishes, for example, feature Ohio-made bacon or sausage. Then, there's chef Chris Caslow's Short Rib Scramble, which features eggs from Ohio's Amish Country, as well as potatoes, zucchini, mushrooms and microgreens from Vigeo Gardens in Akron — all tied together with a spicy romesco sauce. "We came up with the dish primarily as an outlet for [short rib] left over from our Saturday-night special," says Caslow, who now offers the dish on both his brunch and lunch menus. "We ran it as a brunch special for a couple weeks and it eventually caught on." 666 High St., Worthington 43085, 614/396-7846, thewhitneyhouserestaurant.com. As of November 2021, The Whitney House is no longer serving the Short Rib Scramble, but they are still serving breakfast.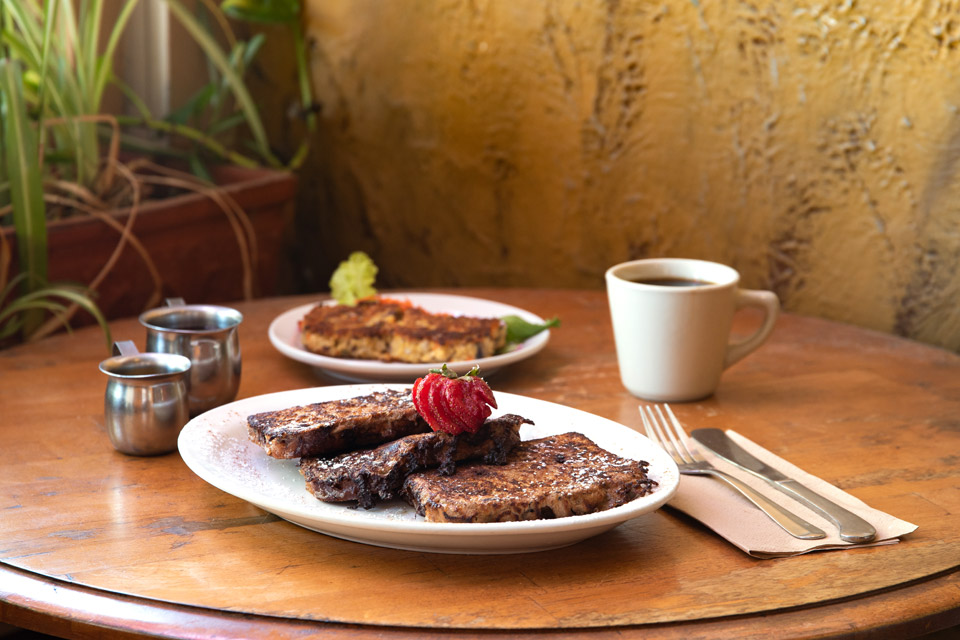 Chocolate Bread French Toast
Sunrise Cafe, Yellow Springs
The name Sunrise Cafe evokes images of morning skies and breakfast time. And while this eclectic eatery serves until the evening hours, the dishes most synonymous with their moniker are some of the most interesting, including its Chocolate Bread French Toast. "The recipe was brought to us by a guy named Mike Applin, a regular who came in every day," explains owner Brian Rainey. "He brought the recipe back from one of his favorite places in the Bahamas. We make our own chocolate bread in house, slice it per order and dip it in our French toast batter." Made using organic flour and Sunspire Dark Chocolate Sundrops, the chocolate bread is dipped in batter consisting of organic eggs from Dale Filbrun Farms in West Alexandria, cream from Snowville Creamery in Pomeroy, pure vanilla extract, cinnamon and a splash of brandy. The dish is served with Minerva Dairy butter and maple syrup from Yellow Springs' own Flying Mouse Farm. 259 Xenia Ave., Yellow Springs 45387, 937/767-7211, sunrisecafe.net

The Haystack
The Home Restaurant, Archbold
For a true down-home breakfast, it helps to start at a place that's been serving them for more than a century. Archbold's The Home Restaurant offers morning favorites made with fresh ingredients from purveyors located in the surrounding countryside. One of the most popular a.m. options is The Haystack: home fries with homemade sausage gravy, shredded cheese and an egg on top. "It's so popular, because it tastes like something grandma would make," says Kristin Engler, owner and chef at The Home Restaurant. The eggs come from Moser's Egg Farm about 50 miles south, dairy products are sourced from Sellers Dairy in Montpelier roughly 20 miles west, and the meat is purchased from Archbold's own Brookview Farm Meats & BBQ. "We're getting local, good quality ingredients," says Engler. "We know where they came from." The Home Restaurant even joins forces with Brookview Farm Meats & BBQ, with the store selling some of the restaurant's salads and enlisting the help of Engler's crew for some of its catering jobs. "We help local businesses, and they help us," she adds. Supportiveness and close-knit relationships are part of what happens at this small-town spot every day. The home-like atmosphere and familiarity provides a sense of comfort that keeps the regulars coming back. "Our employees have been here forever," Engler says. "We know people when they walk in. You feel like you're walking into your family's house." 218 N. Defiance St., Archbold 43502, 419/445-6411, thehomerest.com

Great Milk
Snowville Creamery sources milk from grass-fed cows and flash pasteurizes its products for truer flavor.

The tiny town of Pomeroy may seem an out-of-the-way place for a dairy operation, but Victoria Taylor has dedicated more than a decade to filling Ohio refrigerators with wholesome, healthy products.

"We wanted to reward and acknowledge the farmers that were doing a great job in terms of the soil health, the cow health, which of course leads to human health," says Taylor, lead operations manager and co-owner of Snowville Creamery.

Each of the Ohio dairies the creamery works with follows specific practices, from feeding their herds mostly grass to avoiding artificial growth hormones and GMO feed.

"When cows have been eating mainly grass, the milk they produce is higher in conjugated linoleic acid and Omega 3 fatty acids, which is better for our health," Taylor says.

Human health and environmental benefits aside (grazing helps build soil by leaving grass roots to break down in the ground), the bottom line often comes to taste, which is why Snowville Creamery only lightly pasteurizes its products.

"We call it flash pasteurization. It's just held a few seconds at 165 degrees," Taylor explains.

"When you just flash pasteurize it, it doesn't change the flavor. We get a nice, fresh flavor." 32623 St. Rte. 143, Pomeroy 45769, 740/698-2340, snowvillecreamery.com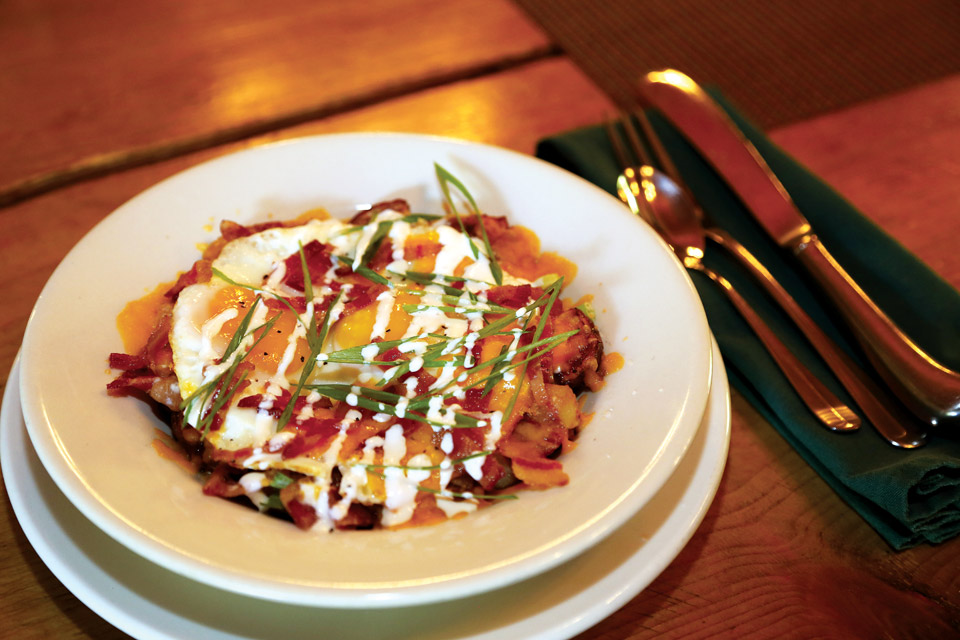 The Cure
Kindred Spirits, Logan
Those who stay at the Inn & Spa at Cedar Falls in the Hocking Hills get a complimentary breakfast at Kindred Spirits. But travelers passing through can dine at the inn's restaurant as well, choosing from house-made granola, fresh-cut fruit and savory dishes that include a creation known as The Cure. "It's a little bit of everything you like in a combination that works really well together," says executive chef Matt Rapposelli. The dish features a bed of hand-cut, redskin-potato home fries, two eggs and either turkey sausage, applewood smoked bacon or classic pork breakfast sausage. It's finished with cheddar cheese, crème fraiche and green onions. "We're in a great area for local produce," Rapposelli says. "During certain times of the year, we have consistent access to local eggs from Larry Kidd in Amanda, Ohio. We also [buy] local bacon from Bay Food Market in Lancaster. We get a lot of our meats from them." 21190 St. Rte. 374, Logan 43138, 740/385-7489, innatcedarfalls.com. As of November 2021, it is unclear whether Kindred Spirits is still offering The Cure as they update their menu on a seasonal basis, but they are still serving breakfast.

Corned Beef Hash
Busy Bee Restaurant, Marietta
A Marietta institution since 1944, The Busy Bee Restaurant got a breath of fresh air in 2016, when Larry Sloter bought the landmark business, brightened the interior and revamped the menu. Most importantly, he committed to sourcing "as local as we can, as often as we can." To taste the difference, order the Bee's Corned Beef Hash. You'll get generous chunks of house-cured brisket and golden, crispy home fries. Sloter starts with beef butchered 2 miles up the road, brines it at least a week, then slow-roasts it. The meaty-tender result stars in the Bee's Reubens, too. Expect a crowd of early risers, but at 10:45 on a Wednesday the dining room still buzzes with guests. Servers are quick to refill mugs with Broasters Coffee, roasted in Marietta by a father-son team. Sloter acknowledges making items from scratch is more work, but it's worth it. "When it's fresh," he says, "it's just better." 226 Gilman Ave., Marietta 45750, 740/373-3755, busybeerestaurant.com

Sunny Side
Primaterra feeds its chickens locally milled grains, leading to sturdier eggs on your breakfast plate.

A degree in German might not seem like fertile ground for a career in agriculture, but when Henry Jochem graduated from Denison University in 2012, he took to the fields anyway. Six years later, he's at the helm of Primaterra, a 12-acre farm in New Lexington that provides a mix of vegetables, eggs and even quail for local restaurants and enthusiastic home cooks alike.

"I've had an egg share since I started," says Jochem, who provides food for about 20 members of his CSA in addition to selling at booths at the Athens farmers markets and growing his wholesale business.

"People really want to hear that an egg has been laid within the last few days," Jochem says. "They're interested in my feed source. I do get locally milled feed for all my birds."

It's not just support of the area economy that Jochem values about growing (and buying) local. It's the quality of what his farm produces.

"It's been a long time since I ate a factory-farmed egg," he says. "They're not very sturdy. We [pasture-raised egg farmers] get yolks that just stand up pretty tall in the pan, and then the yolk color … you can definitely see the difference." 6475 Township Rd. 154, New Lexington 43764, 614/915-4145, primaterrafarm.com

Note: The original version of this article included Urban Farmer, which has since closed.

Grilled Flatiron Steak & Eggs
Urban Farmer, Cleveland
One doesn't expect to find true farm-to-table fare at a high-end city hotel. But that's the hook of Urban Farmer, located in The Westin Cleveland Downtown. The restaurant's Grilled Flatiron Steak & Eggs dresses up the breakfast classic with a 6-ounce flank steak and two eggs any style. The beef comes from New Creations Farm, located 33 miles away in Chardon, and the eggs are sourced from a variety of small Ohio farms. The dish also features house-made sausage gravy and shredded potato galette. "It's very simple. It's a quick meal," says executive chef Vishwatej Nath. "It's a hefty meal — on that same leg — when you add all those things together." This is the Urban Farmer ethos: respecting new food traditions and local sourcing. The company also has sister steakhouses in Denver, Philadelphia and Portland, Oregon. The Cleveland location has large wooden tables, a farmhouse feel and butchers its meats in house to make use of all parts of the animal. Other popular breakfast dishes include brioche French toast, the farmer omelet and a protein bowl. Those curious where the ingredients for each dish come from need look no further than the list of purveyors featured on Urban Farmer's menu. "The mindset is changing because of social media and also Generation Z. They definitely want to know where their food is sourced from," Nath says. "It's our responsibility … to educate our guests on what's out there, what we have and where they can source it from." urbanfarmercleveland.com