Arts
Treasure Hunt
Doug McLarty's scanography featuring found objects from nature goes on display at the Ohio Governor's Residence.
January 2015 Issue
BY Linda Feagler | Artwork courtesy of Doug McClarty
January 2015 Issue
BY Linda Feagler | Artwork courtesy of Doug McClarty
As dawn fills the sky above Florida's Gulf Coast, Doug McLarty slips out the side door of his vacation condo and heads for the beach. Knapsack in hand, the Xenia resident combs the Atlantic shoreline, searching for any eclectic finds nature may have deposited there overnight.

"My wife won't come with me anymore because I take too long," McLarty says with a chuckle. "But sometimes I'll pass by something and then think, 'Jeez, why didn't I stop? That looked so strange.' So, of course, I just have to go back, look at it again and take it with me."

No matter where the 70-year-old travels — from the sands of Naples, Florida, to Utah's Deer Valley to the forests of Acadia National Park in Maine — McLarty is always keeping an eye out for the ideal sand dollar, river stone, dried leaf, feather, flower or weed that can serve as a brilliant centerpiece for one of his scanographic photos.

Upon returning home, McLarty will craft designs from the objects he's collected on his sojourn. After painstakingly composing an image on the top of a flatbed scanner (a machine that resembles an office copier without a cover) the artist will press the "start" button and wait for the result. The picture that emerges will be rich in dimension, filled with interplays of light and shadow and complemented by intense bursts of color.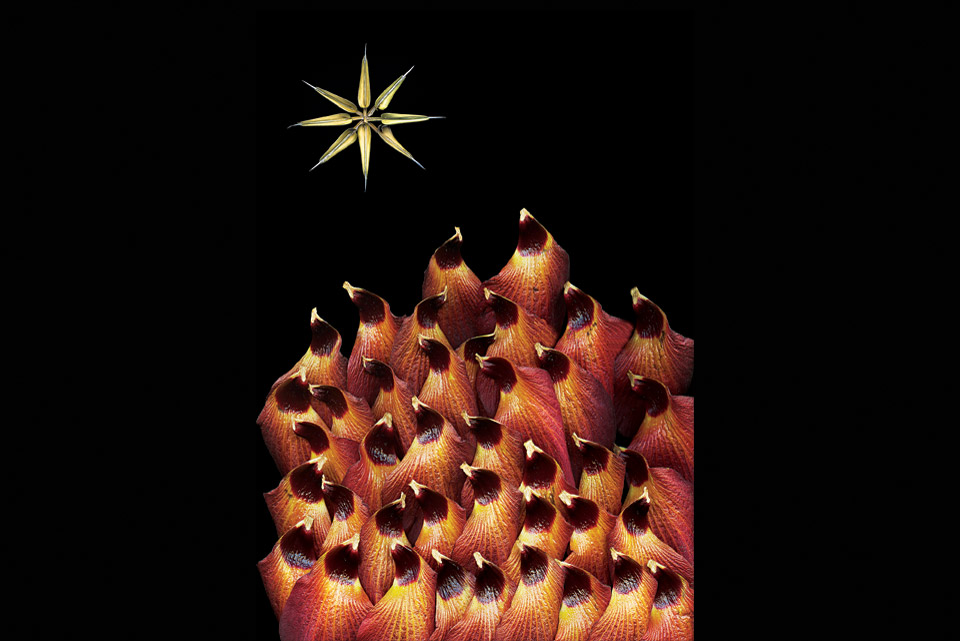 "I would say that approaching each scanography design I do creates a moment best described by a James Taylor lyric: I'm 'wild with expectation on the edge of the unknown,' " he says.

McLarty's photos have been exhibited at the Canton and Zanesville art museums. When the Las Vegas MGM Grand was being renovated, the resort's design consultant purchased a half dozen of the photographer's botanical prints — which were then duplicated 1,400 times — to decorate guest suites.

But the artist describes the recent phone call he received from the Ohio Arts Council as a special thrill: First lady Karen Kasich had selected six of his photos to be displayed at the historic Governor's Residence in Bexley. Kasich, an Upper Arlington native and staunch arts advocate, partnered with the Ohio Arts Council to launch "Spotlight: Featured Artists at the Ohio Governor's Residence" two years ago. The program is designed to showcase the talents of those living and working here. McLarty is the sixth to be recognized.

"I admire the fact that artists are risk-takers," Kasich says. "I can't imagine what it's like to create a picture and put it out there, knowing people will critique — and sometimes criticize — it. Clearly, it takes a lot to do that because artists are, in essence, putting their heart on that paper or canvas. I want to support them in any way I can."

Working in conjunction with the Ohio Arts Council to choose artists for the program, Kasich explains that she is always on the lookout for unusual pieces she can bring to the fore. McLarty's talents, the first lady adds, are like none she's ever seen.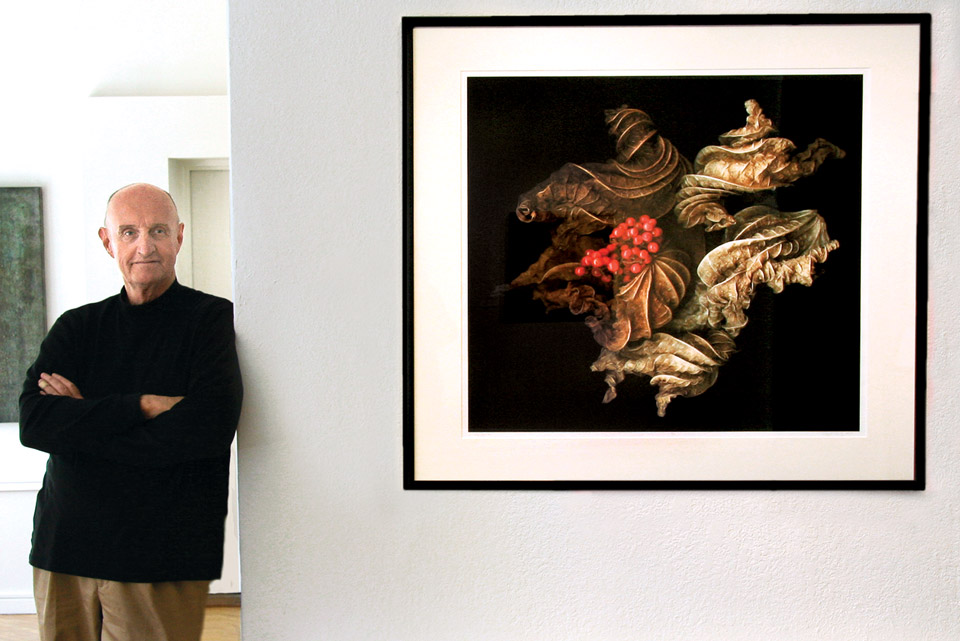 "Doug's work is so different from anything else that has been submitted, and that uniqueness is captivating," Kasich says. "I had never heard of the medium Doug is using. I'm still not sure how it works, but I sure like the results."

Every three months, an artist is given the opportunity to present a solo exhibition at the Governor's Residence. To be considered, applicants must work in painting, drawing, photography or mixed media. McLarty's works will be on display from Jan. 9 through March 7.

A retired Air Force colonel and communications consultant, McLarty picked up his first 35mm camera at age 22. It became his constant companion on trips abroad, and the landscapes and portraits he captured on film serve as a colorful travelogue.
But 10 years ago, the photographer decided to shift his focus.

"I'd been taking pictures for 50 years, and had spent many fulfilling hours processing black and white and color film in my darkroom," he says. "But one day as I was taking a landscape in Park City, Utah, it occurred to me that I was tired. These kinds of photographs just didn't move my needle anymore."

When several colleagues suggested McLarty try his hand at scanography, he eagerly decided to give it a shot. But, the photographer admits, the methodology is truly a game of chance.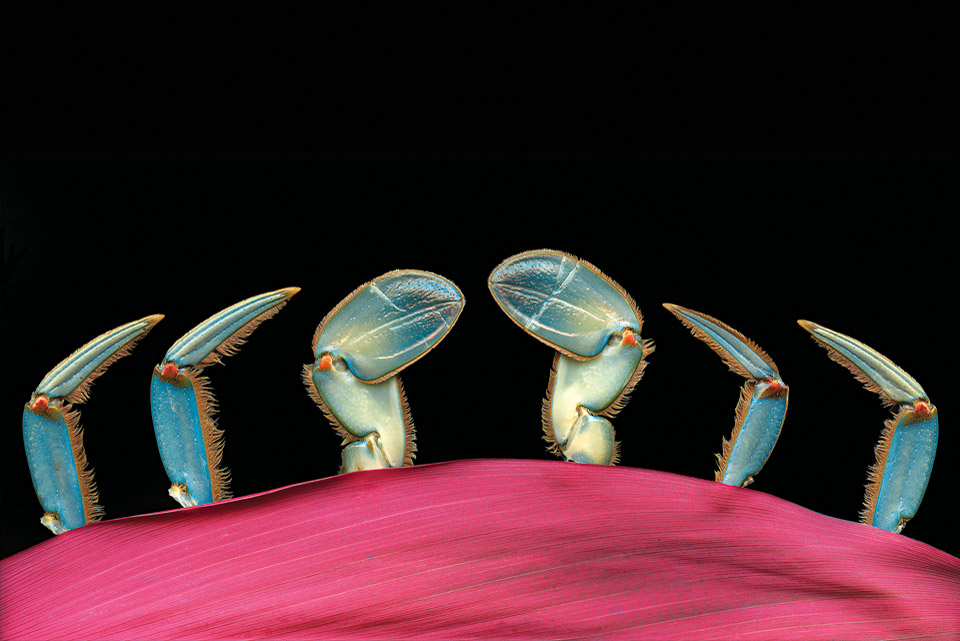 "There are a few inherent advantages and an equal number of maddening limitations to be worked through," he says. "Essentially, I am doing everything upside down and backward. I can't see what the image I'm creating looks like until the process is over. There's a lot of guesswork and a lot of experimentation. I've been fortunate to have a good number of lucky accidents."

For the upcoming "Spotlight" exhibition, McLarty will present "Nature by Design," a series of six photos which transforms the simple into the sublime.

The photographer created "Vortex d'Hibiscus," which he describes as a "final salute to the season," by assembling hibiscus petals into a whirl of crimson.

When he spotted the carcass of a blue crab on a Naples beach, the artist marveled at how much the shell resembled a beak. To form "Toucan Island," he used the crustacean's legs to create a sextet of the tropical birds. "Rest assured, no blue crabs were harmed for this image," McLarty affirms.

Meant to evoke feelings of wanderlust, "Voyage" is made from peacock blue bird-of-paradise tongues positioned to form an eight-pointed compass that hovers over a luminous sand dollar, representing a nautical navigational symbol. "Above all others, this image represents the simplicity that I'm always looking for," McLarty explains. "Sailors have come up to me and explained how much it means to them. It's really gratifying how a picture like that will grab some people."

Curious penguins created from seaside mahoe flowers follow a bird-of-paradise star as they seek "The Way Home." "The mahoe is a vine that can grow 40 feet high and choke the vegetation near it," says McLarty, marveling at how something so beautiful can be destructive.

For "Interchange," the artist wrapped yellow ribbon around thistle he found growing 200 yards from his house along Factory Road to create a whimsical nod to an Ohio interstate.

"Nature offers all the classic and timeless elements of a good picture: color, texture, familiar subject matter, strong design opportunities," McLarty reflects. "What I try to do is present those elements in an elegant, understated way that people will remember long after they view my image."

Ohio Governor's Residence ando Heritage Garden
358 N. Parkview Ave., Bexley 43209
governorsresidence.ohio.gov
Admission: Free
Tours: Visit website for times and more information.