Arts
The Butler Institute of American Art
In 1919, Joseph G. Butler Jr. opened a Youngstown museum dedicated to American artists. Its collection now numbers in the thousands.
January 2019
BY Vince Guerrieri | Photo by Kristen Jones
January 2019
BY Vince Guerrieri | Photo by Kristen Jones
Joseph G. Butler Jr. saw "Snap the Whip" for the first time while visiting the 1876 Centennial Exhibition in Philadelphia. Winslow Homer, regarded as one of the greatest American artists of the 19th century, had painted it four years earlier. The 22-by-36-inch work depicting a group of children playing a game in an open field in front of a weathered red schoolhouse commanded a $1,000 price tag, yet Butler found the sum too steep.

As the years and decades progressed, the Youngstown industrialist grew increasingly determined to purchase the painting, which by then had taken on added poignancy for him. The Mahoning Valley had been good to Butler. Born just across the state line in Lawrence County, Pennsylvania, Butler's family moved to Niles when he was a boy. One of his childhood friends was future president William McKinley, who also grew up in Niles.

Although born of modest means, Butler ultimately became one of the wealthiest residents in Youngstown, making his fortune in the iron and limestone industries, and when they each provided vital to the burgeoning steel industry in the late 19th century, he provided the seed money for Youngstown Sheet and Tube. In its heyday, it employed thousands throughout the Youngstown area.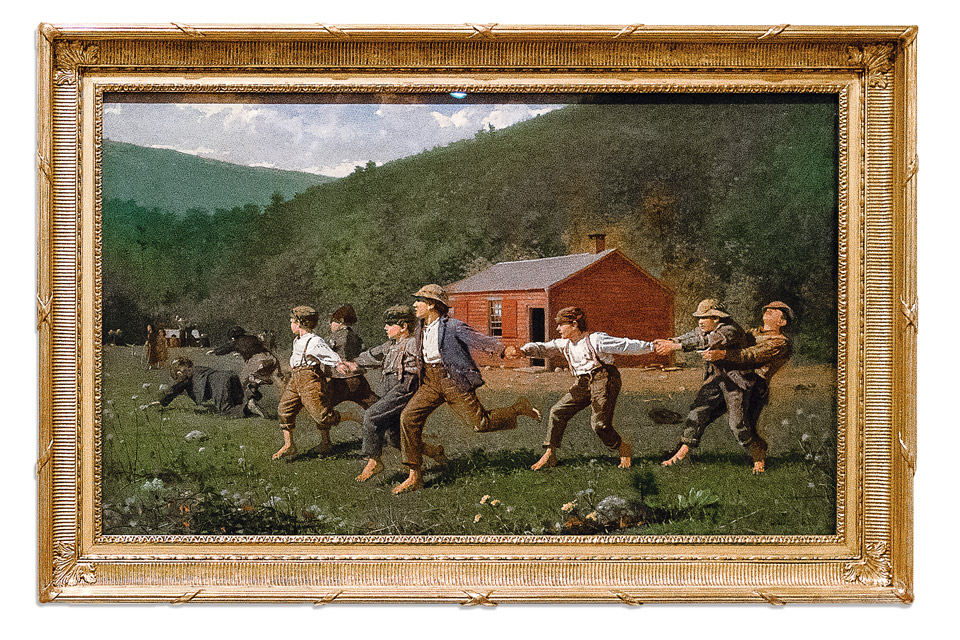 But the businessman never forgot his childhood in Niles and his friend William McKinley. Following McKinley's assassination at Buffalo's Pan-American Exposition in 1901, Butler spearheaded efforts to build a monument to him in Niles, which was dedicated in 1917. (Butler also penned a biography of his childhood friend — one of seven the businessman wrote.)

"William McKinley and Mr. Butler played the game together growing up in Niles," Zona explains of the Homer painting. "When McKinley was assassinated, Butler took it hard and was able to find this painting as a remembrance for his dear friend."
At the time Butler purchased the piece in 1917, the painting's selling price had risen to $5,000, but the businessman was willing and able to pay it. Today, "Snap the Whip" is The Butler Institute of American Art's most treasured piece.

"He was maybe the first very serious collector of American art," Zona says. "When his colleagues were going to Europe and buying Monet and Renoir, he was buying American works."

***

Butler opened his art museum across the street from his Wick Avenue home in 1919. The event attracted luminaries from across the country, including financier J.P. Morgan, Hollywood power couple Douglas Fairbanks and Mary Pickford and President Woodrow Wilson.

The institution initially held just 34 works, including Homer's "Snap the Whip," as well as "Tragedy at Sea" by George Inness and several works by J. Francis Murphy. Words inscribed above the museum's front door explained the museum had been built "pro bono publico," or for the public good.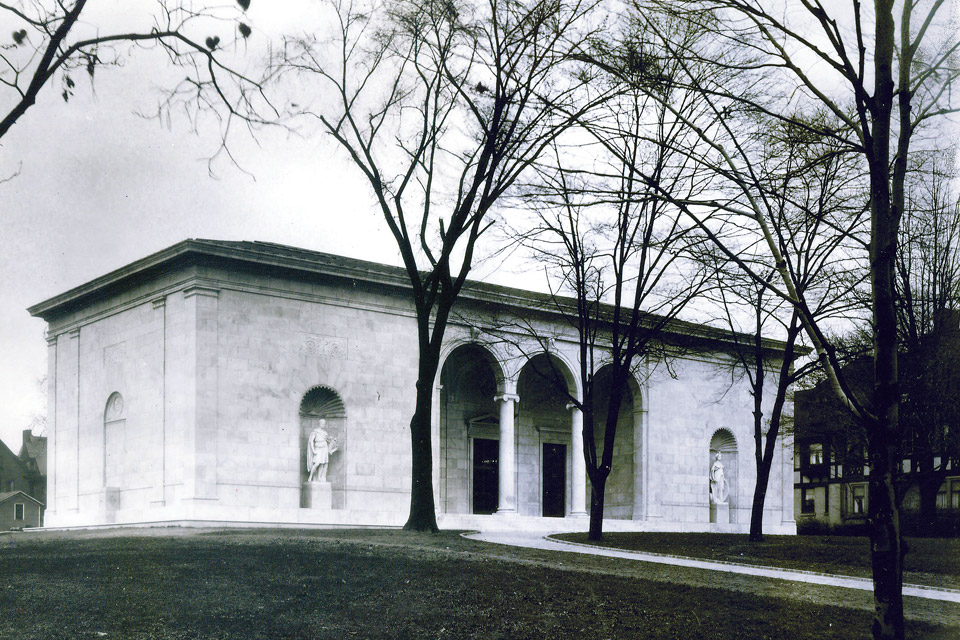 Today, the museum's more than 22,000 works include a series of locket portraits of American presidents painted on ivory and commissioned by noted and notorious businessman and financier Diamond Jim Brady and works by American impressionists such as Robert Vonnoh's "In Flanders Field," which was part of the museum's original collection. There are also pieces by social realists such as Jack Levine, Ben Shahn and Edward Hopper, as well as pop artists Roy Lichtenstein and Andy Warhol.

The works depict scenes from everyday life to famous events such as the wedding of George Washington and Martha Custis, the Little Steel Strike in Youngstown and the Oakland Athletics' triumph over the Los Angeles Dodgers in the 1974 World Series.

Zona points to "Lincoln the Railsplitter," a Norman Rockwell piece the museum acquired in 2007 — its first by the artist, who has benefitted from a reconsideration of his work. Rockwell had previously been considered more of an illustrator than a serious artist. In fact, the painting of Lincoln at The Butler Institute of American Art was created in 1965 for a bank's advertising campaign.

"There was a Guggenheim show [in 2001] that drew so much attention to Norman Rockwell as a fine artist that it changed everything," Zona explains.

The museum also displays works by artists who are most famous for other pursuits. It has exhibited works by former Cleveland Indians shortstop Omar Vizquel, Rock & Roll Hall of Fame inductee John Mellencamp and film and television actress Kim Novak.

"The celebrity element brings the crowds," Zona adds. "But if the art is serious, I'm all for it."

***

When Zona, who had been an art professor at Youngstown State University and an assistant at the museum, became The Butler Institute of American Art's director in 1981, his first priority was the museum itself. The Beaux-Arts building designed by New York City's McKim, Mead and White had seen additions in the 1930s and 1960s, but the building wasn't in the shape it needed to be to show and store historic works of art.

"There was no air-conditioning in the building," Zona recalls. "There was no humidification or dehumidification system. There was very little in the way of restrooms, there was no big meeting space, there was no loading dock. The walls were wood slats — tongue in groove — with about 50 layers of Kem-Tone paint and fluorescent lights."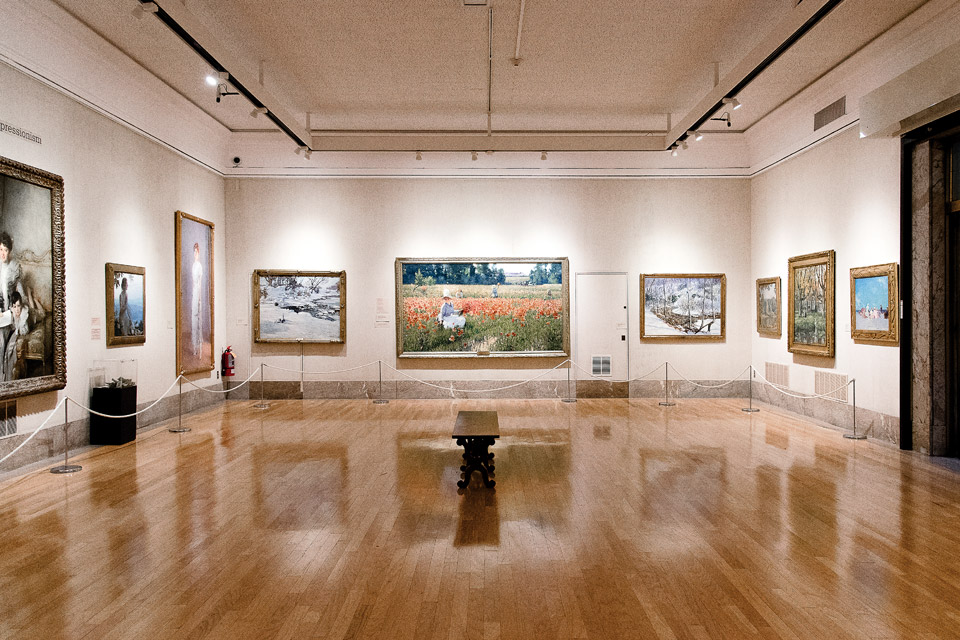 Almost immediately, the museum underwent a $4.25 million capital campaign for improvements and renovations that were completed in 1987. Upgrades included air-conditioning, new floors and new lighting as well as a new sports art gallery and the enclosure of the museum's courtyard, offering display and event space. Plans for the museum's centennial year call for the restoration of several paintings, including a portrait of Butler himself and Albert Bierstadt's 1869 painting "The Oregon Trail."

The museum purchased the adjoining First Christian Church in 2005. In addition to using the property as storage, it is currently home to folk art displays, including carousel horses and duck decoys.

"The pieces people expect to see are on display, but we try to keep it fresh," Zona explains. "We try to make sure you'll see something different every time you visit."

The museum's namesake died in 1927, just eight years after his institution opened to the public. Today, Wick Avenue, formerly the city's millionaires' row, is full of buildings that are part of the campus of Youngstown State University. But Butler's legacy continues to live on, since he also raised funds for the Reuben McMillan Public Library and what is now St. Elizabeth's Hospital.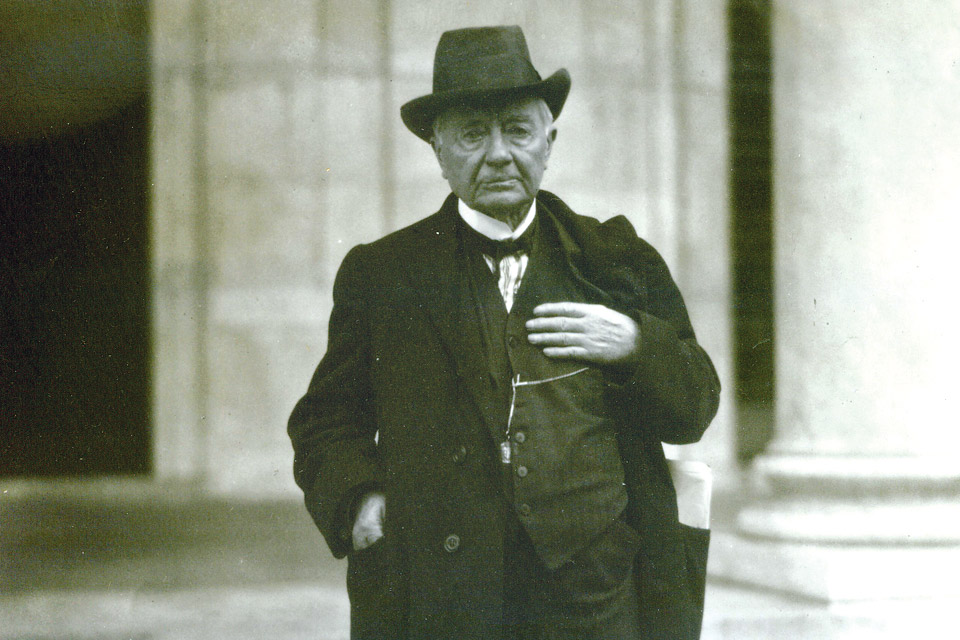 "Out of humble beginnings, he grew to immense wealth and used his wealth for the public good," says Rick Shale, a professor emeritus at Youngstown State University who's working on a biography of Butler. "A lot of people made a lot of money, but not everyone was as civic-minded."

Along with the monument to his friend and future President William McKinley, The Butler Institute of American Art stands as one of Butler's most vivid and visible contributions — a free museum where one can see works by some of our nation's most recognized artists.

"People who come here are just shocked to see a collection that is so extensive," Zona says. "To walk through the galleries is to walk through American history."

For address, hours, exhibitions and programming related to the museum's centennial, visit butlerart.com.