Arts
Spring Arts Preview 2019
We highlight 14 exhibitions, shows and festivals that offer a look at all the season has to offer.
April 2019
BY Hailee Carlin, Linda Feagler and Kourtney Husnick | Dayton Contemporary Dance Company Photo by Robert Robbins
April 2019
BY Hailee Carlin, Linda Feagler and Kourtney Husnick | Dayton Contemporary Dance Company Photo by Robert Robbins
Carnival of the Animals
May 12: Cleveland
The Cleveland Orchestra brings a menagerie of zoological wonders to life when it presents "Carnival of the Animals," Camille Saint-Saëns' whimsical and charming tribute to the wild kingdom. Part of the orchestra's Family Concert series, each of the suite's 14 movements introduces listeners to different animals and the ways they sound and move. Music by Rossini, Anderson and Gershwin rounds out the rest of the program. clevelandorchestra.com

Les Misérables
April 9–14: Toledo
Set against the backdrop of 19th-century France, this Tony Award-winning musical based on Victor Hugo's novel tells a poignant story of broken dreams, unrequited love, sacrifice, redemption — and survival of the human spirit. Penned by Alain Boublil and Claude-Michel Schönberg, the score includes "I Dreamed a Dream," "On My Own" and "Bring Him Home." The production features scenery inspired by Hugo's paintings. stranahantheater.com

Cincinnati Fringe Festival
May 31–June 15: Cincinnati
Heralded as an avenue for artists to present original works free from censorship or restraint, the festival features more than 200 live performances by more than 40 local, national and international groups and artists in venues throughout Cincinnati's Over-the-Rhine neighborhood. In addition to professional theatrical productions, the event features shows written and performed by high school students and visual displays ranging from street murals to gallery shows. cincyfringe.com

---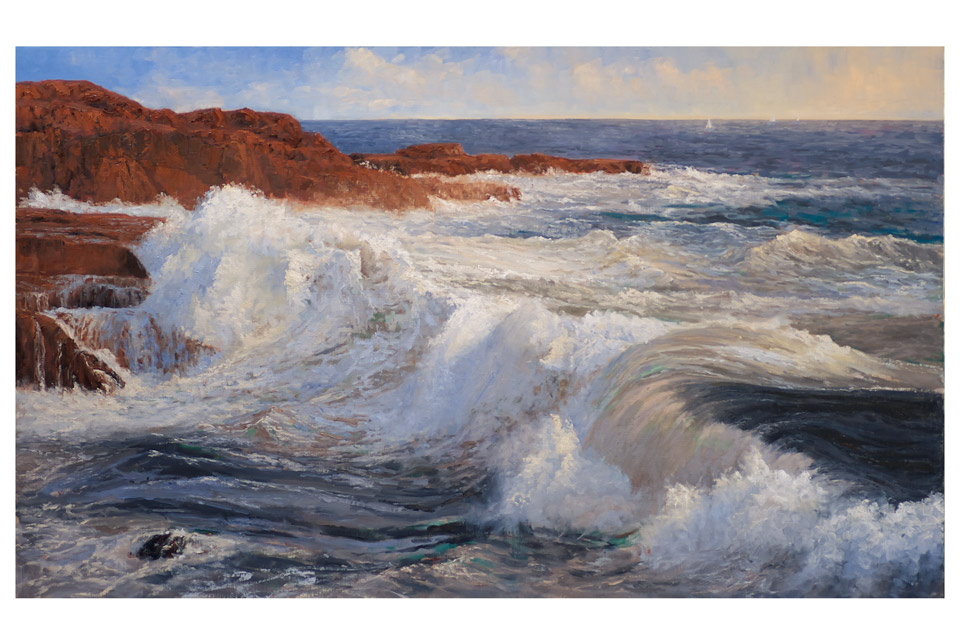 Art of the International Parks
April 12–May 25: Cincinnati, eiselefineart.com

Oil painter Robert Hagberg began honing his talent for spotting the art in nature when he was 12. That year, he and his family packed an Apache tent trailer and made a trip out West.

"I fell in love with the Rocky Mountains," the artist says. "They are so grand, so majestic and so powerful. That feeling evolved into a passion for eventually capturing them on canvas."

Hagberg, who grew up in Lakewood, is one of 30 artists featured in "Art of the International Parks" at Cincinnati's Eisele Gallery. The exhibit features canyons, mountain ranges, coastlines and oceans around the world. The trio of paintings Hagberg is exhibiting — replicating scenes from Acadia National Park in Maine, Mount Cook in New Zealand and Rocky Mountain National Park in Colorado — illustrates the natural play of light and shadow he strives to create.

"Morning light is crisp and bright, evening light is golden," he explains. "I love the contrast they both create. It's so breathtakingly beautiful."
Now living in Minnesota, Hagberg credits his dad, an avid photographer, as his inspiration for picking up a paintbrush.

"His images were beautiful, but I would always think, That's an impactful photograph, but think how impactful it would be if it was painted," the artist recalls.

Hagberg has visited dozens of national parks, but Acadia remains a favorite.

"The juxtaposition of the rocky coastline with the ocean, the water's fluid motion against the solidity of walls of rock, is mesmerizing," he says.

Each painting can take anywhere from two to 24 hours to complete. Hagberg visits a site, photographs it, creates a small oil study for reference, then returns to his studio and gets to work.

"When you find something that you can do, that you can get lost in," he says, "you want to keep doing it."
---

Chicago The Musical
April 23: Portsmouth
It's the Roaring Twenties, and Roxie Hart, housewife and nightclub dancer, has been accused of murdering a suitor, which leads to a barrage of sensational headlines across the Windy City. The longest-running American musical and six-time Tony Award winner features lavish dance numbers by Bob Fosse and razzle-dazzle songs by John Kander and Fred Ebb, including "All that Jazz" and "Mr. Cellophane." vrcfa.com

Columbus Arts Festival
June 7–9: Columbus
Our capital city's downtown riverfront sets the stage for this 58th annual fest, which hosts hundreds of juried artists from across the country displaying and selling works ranging from clothing, pottery and jewelry to paintings and photographs. Five stages feature live performances from local and regional musicians, as well as poetry and storytelling, while food trucks and local restaurants offer signature dishes. columbusartsfestival.org

Brian Bress: Pictures Become You
Through April 14: Akron
Brian Bress' talents combine character development, costume design and video. The Akron Art Museum is showcasing the Los Angeles-based artist's cast of playful, quirky characters, ranging from figures with geometrically shaped heads to cartoon chefs rendering synchronized marker drawings on glass. Each speaks to the artist's mission of "imagining a world where the most unlikely of things come to life." akronartmuseum.org

---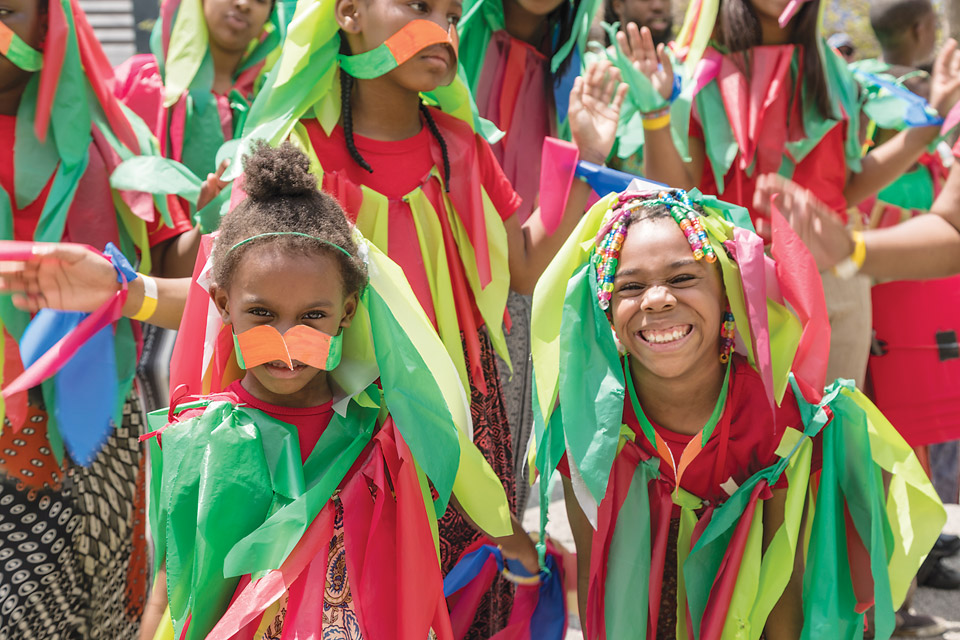 Parade the Circle
June 8: University Circle, Cleveland, clevelandart.org

As she's been doing each spring since 1990, Robin VanLear, director of community arts at the Cleveland Museum of Art, is deep in the throes of making preparations for Parade the Circle, Cleveland's festive ode to summer.

Always held the second Saturday in June, the fete features costumed stilt walkers, giant puppets, handmade masks and musical performers representing genres ranging from jazz and blues to klezmer and calypso. Restaurateurs are on hand with their signature fare, and University Circle institutions, including the Cleveland Museum of Art, the Cleveland Museum of Natural History, Western Reserve Historical Society and Cleveland Botanical Garden, present arts and crafts activities.

The theme of this year's 30th annual parade, Mythology of Illusion, was sparked as VanLear and her team began planning the 2019 event the day after last year's parade. (Previous themes include 1998's Jumble Moves, which celebrated the sights and sounds of the city, and 2002's Salmagundi, which honored the mixture of colorful floats for which the event is known.)

"One of the tricks for me is to come up with something that can be interpreted in multiple ways," VanLear says. "The word mythology derives from the Greek words mythos and logy, meaning 'a true narrative or a story of the people.' The word illusion comes from Latin and Old French and means 'to play with.' So, now we are playing with the stories of the people. A city or region like Cleveland has its own mythology, and the artists participating in the parade also have tales to share."

In addition to attending the parade, the public is encouraged to join in the preparation for it. Beginning five weeks before the event takes place, some 50 artists conduct workshops to help participants create their own costumes, masks and puppets for the parade.

"I love discovering how amazingly creative people are," VanLear says. "Parade the Circle is all about inventing new ways to appreciate art. It's low-tech, effective and beautiful. In many ways, it's like watching a movie going on around you."
---

Quilt National '19
May 24–Sept. 2: Athens
What a trio of fiber artists started in the late 1970s to showcase contemporary innovative quilts has bloomed into an international juried exhibition. Held every other year, the show includes more than 80 quilts composed of at least two distinct layers, one of which must be pieced, appliqued, whole cloth or stitch/fused to a foundation. At the conclusion of the exhibit, they will begin a two-year tour to galleries and museums throughout the country. dairybarn.org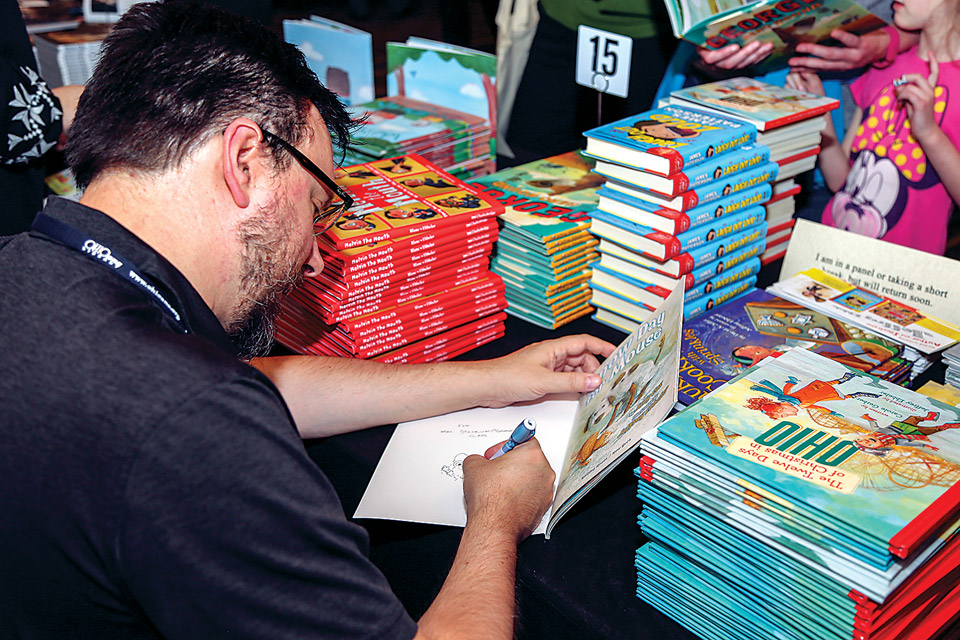 Ohioana Book Festival
April 27: Columbus
Book lovers from across the state will gather at the main branch of the Columbus Metropolitan Library for the 13th annual festival dedicated to connecting readers and writers. In addition to meet-and-greets with 153 Ohio authors and illustrators representing a variety of genres, the fest will feature panel discussions, literary activities for children and teens and food-truck fare from noted central Ohio restaurants. ohioana.org

Tank and the Bangas
April 12: Nelsonville
A crowd favorite at last year's Nelsonville Music Festival, New Orleans-based quintet Tank and the Bangas bring their inimitable style of sizzling soul, clever hip-hop, deep groove R&B and understated jazz to the Stuart's Opera House stage. The evening is emceed by Bob Boilen, host of National Public Radio's "All Songs Considered" and "Tiny Desk Concerts." stuartsoperahouse.org

Art Walk
April 27: Bowling Green
More than 30 artists will display and sell their work in mediums ranging from jewelry and watercolor to ceramics and pottery at the 27th annual Art Walk in downtown Bowling Green. The event also features a quilt exhibit, and local groups will perform folk, blues and jazz tunes throughout the afternoon. downtownbgohio.org

Dayton Contemporary Dance Company Golden Anniversary Gala Concert
May 4: Dayton
Founded in 1968 to create performance opportunities for dancers of color, this troupe remains committed to the development of artists on the global stage. To celebrate its milestone anniversary, the company will partner with the Dayton Philharmonic Orchestra to present new works, as well as revive DCDC's signature piece, "Children of the Passage." Set to the rhythms inherent in jazz, the work explores the concept of reconnecting with one's ancestors. dcdc.org

---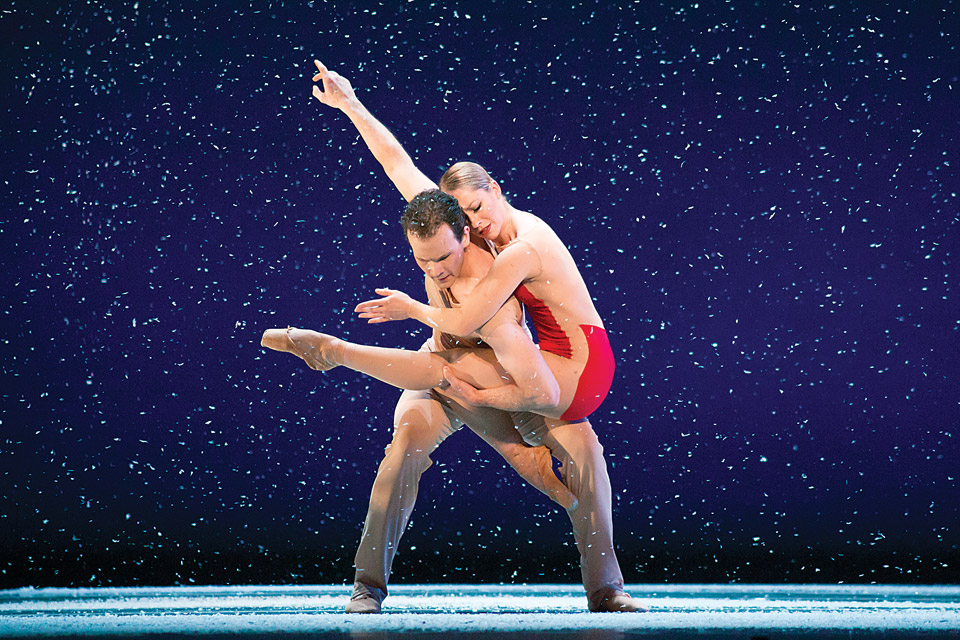 By Liang: A Collection of 3 Short Ballets
May 24–June 2: Columbus, balletmet.org
When he's choreographing a new work, Edwaard Liang, artistic director of BalletMet in Columbus, doesn't worry about finding his muse. Liang, a former member of New York City Ballet who starred on Broadway in the musical "Fosse," believes inspiration is everywhere.

"One of the beautiful things about choreographers and art is that you have these 'aha' moments," he says. "There isn't just one thing that leads to them, it's pretty much a little bit of everything in life. ... For me, music always takes precedence."
To accompany the trio of abstract ballets he's presenting this spring — "Symphonic Dances," "Beautiful Child" and "Wunderland" — Liang selected scores conveying distinctly different moods.

Symphonic Dances: Liang credits Russian composer Sergei Rachmaninoff with being a master of sweeping orchestral music. "[It's] music in full color, filled with deep purples, dark reds and blues," the choreographer says about this piece he crafted for the San Francisco Ballet seven years ago. "Dancers will sweep across the stage in this romantic ballet wearing incredible costumes that almost remind me of beautifully iridescent goldfish."

Beautiful Child: Titled after a song written by Rufus Wainwright, Liang created this dance for Tulsa Ballet a decade ago. He is revising it to focus more on the idea of young love and is adding songs by other composers. "The music tells the story of humanity," Liang says. "I was inspired by the lyrics, but I was also taken by the arrangement and how Rufus embeds iconic pieces of classical orchestration in it."

Wunderland: The idea for this work, which the Washington Ballet debuted in 2009, was sparked while Liang was living in Novosibirsk, Russia. The choreographer was fascinated by the large snow globe replicating the Siberian city in the lobby of his apartment building. "I wanted to produce that kind of feeling on stage — right down to the snowfall. ... The score by minimalist Philip Glass features a meditative beat that's wonderful to dance to."