Arts
The Paintings of Columbus Still-Life Artist Carol Stewart
Columbus still-life artist Carol Stewart's compositions radiate an energy that sets her colorful and vibrant works apart from others in the genre.
August 2018
BY Sally Kershner | 'Marigold' artwork courtesy of Carol Stewart
August 2018
BY Sally Kershner | 'Marigold' artwork courtesy of Carol Stewart
Morning sun pours through the windows of Carol Stewart's studio, bringing to life the zinnias and sunflowers the Columbus-based artist plucked from her garden. After meticulously arranging them on a blue and white polka-dotted tablecloth, it's time to get to work. She moves her brush across the canvas, capturing the color she glimpses from the corner of her eye. Stewart knows the painting will wind up looking far different than she initially expects, but the artist embraces the surprise.

"I'll be setting up the still life and looking at it in my studio and then the sun starts to come in and the whole thing just lights up, and that is what really sparks my drive and energy to paint," Stewart explains.

The Ontario, Canada, native began painting in the eighth grade and credits her art teachers as early influences. But it wasn't until she attended Queen's University in Kingston, Ontario, that Stewart found her inspiration. She took to heart the observational style found in post-impressionists such as Pierre Bonnard, Édouard Vuillard, Henri Matisse and Maurice Denis. Although her favorite artists represent a classic still-life aesthetic with their traditional compositions, Stewart quickly dispels the idea that her works follow that lead.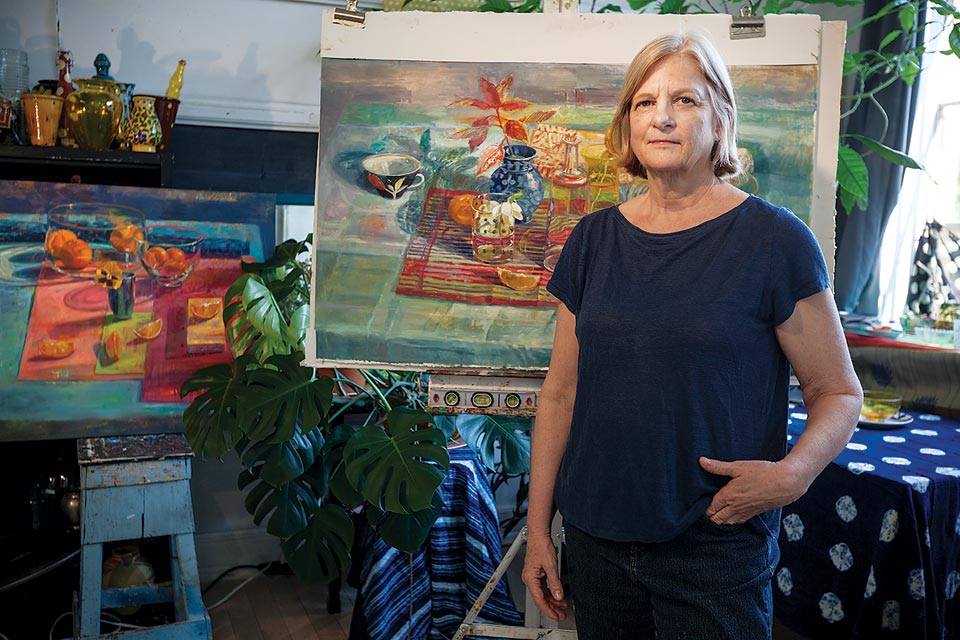 "I think what I'm doing is kind of unique in the still life genre — [my compositions] are very set up, yet I strive for them not to have a feeling of being really composed," she says, adding that because she injects movement her images "don't feel still."
The intense natural light that beams into her south-facing, Milo-Grogan neighborhood studio, Stewart explains, adds more drama and movement to her compositions as opposed to the diffused north light still life painters usually work with to create a sense of serenity. The layers of movement in Stewart's work are also linked to her nontraditional take on backgrounds normally seen in the genre: The artist stays away from soft, muted tones in favor of a palette that adds vibrancy and texture to her work.
Stewart moved to Bexley from St. Louis six years ago after her husband Paul Goodfellow accepted a position as a researcher and professor at The James — The Ohio State University Comprehensive Cancer Center. Instead of choosing the solitary ambience she worked in before, the artist opted to lease space in Milo Arts, a former schoolhouse built in 1894 by J.M. Freese, the architect who designed Franklin Park Conservatory. She and 29 other artists share the cavernous space.
The Ohio Arts Council chose Stewart to create the paintings
given to recipients of the 2018 Ohio Governor's Awards for the Arts in Ohio, an annual event presented by the Ohio Arts Council and Ohio Citizens for the Arts Foundation. The honor celebrates artists, patrons and businesses that support the arts.
"Carol's work is so unique and there are stories behind her work," says Donna Collins, executive director of the Ohio Arts Council. "She may use a painting of a renowned artist to inspire the background for the florals that she does. There's always something personal in it."
For the award recipients, Stewart painted nine 8-by-8-foot still lifes featuring a palette of deep reds, pinks and oranges to create images of vases filled with clementines, pansies, marigolds and zinnias.
Stewart's completed works rely on whatever she thinks of before the next stroke, but the artist adds that the story she strives to tell has been the same for almost 40 years.
"I make joyful paintings, I make happy paintings," she says. "There's so much awful stuff happening in the world, I feel like I'm expressing joy, beauty, color and interest and making objects that are really nice to live with."
For more information about her work and upcoming exhibitions, visit cmstewart.com.