Arts
The Idyllic Art of Ohio Painter Anthony Kleem
Ohio artist Anthony Kleem's depictions of small-town America adorn calendars, jigsaw puzzles, posters and more at retailers across the nation.
December 2016 Issue
BY Linda Feagler | Artwork courtesy of Anthony Kleem
December 2016 Issue
BY Linda Feagler | Artwork courtesy of Anthony Kleem
Anthony Kleem paints blissfully idyllic scenes packed with tiny details and delights. In one work, carolers sing on a snowy village square beside a glowing Christmas tree as horse-drawn sleighs pass by. In another, a jubilant summer fireworks display bursts over a town united in celebration, complete with sparkler-waving townspeople and a band performing in the gazebo.

"People ask me all the time, 'Hey, where is that place?' " Kleem says. "And my answer is, 'Well, there is no place like that. It's just in my head.' "

The artist's Americana paintings have garnered a legion of admirers. More than 300 of his works depicting slices of life in the late 18th and early 19th centuries adorn calendars, jigsaw puzzles, posters, stationery and needlepoint kits at retailers ranging from Wal-Mart to Pat Catan's.

Kleem's original acrylic paintings fetch between $2,000 and $3,500 — no small feat considering the artist picked up a paintbrush in earnest only 15 years ago. "It just shows what each of us is capable of if we put our mind to it," he says.

Although the northeast Ohio native enjoyed art classes while a student at Berea High School, Kleem chose to focus on his passion for the past. He earned a master's degree in education from the University of Akron and became a world-history teacher at North Royalton High School, where he's been for 24 years. Kleem's favorite topics: Trojans, Romans and mythology.

"My love of art over the years was primarily limited to discussing classic architecture with my students and creating class projects that involved building Greek catapults and holding launching contests," he says with a laugh.

But that changed in 2001, when Kleem's wife, Mary, brought home a calendar filled with scenes created by Vermont folk artist Warren Kimble.

"There wasn't a defining moment when I said it was time to seriously try my hand at painting," says the 51-year-old Kleem. "I just looked at that calendar and thought, I can probably paint like that."

He bought a $25 art set and got to work. Kleem describes his early efforts as simplistic: a pig and a fence, a house and a fence. But after his 10-year-old son (now a senior majoring in history at Baldwin Wallace University) cast a critical eye on his father's landscapes, the artist decided to broaden his perspective.

"After studying a couple of my paintings for a few minutes, [he] said, 'You know, if you added more detail and depth, they would look better,' " Kleem recalls. "Out of the mouths of babes. I took his advice. Clearly, I'm glad I did."

On the recommendation of friends, Kleem displayed 15 of his paintings at an art fair in Berea in early 2002. By the end of the day, each had been snapped up for $50 each. Other shows in New York and Connecticut followed.

"And by 2004, it exploded," Kleem says, still marveling at how well his work is received. Two of the artist's paintings are currently being showcased in Columbus: "Pepsi Truck" and "Quilts for Sale" hang in the governor's office through June as part of the Ohio Governor's Office and Residence Loan Program developed by the Ohio Arts Council and the Office of Gov. John Kasich to spotlight the work of Ohio artists.
"Although there's a real appetite for Anthony's artistic style, people also are drawn to his guy-next-door reputation," says Tim Good, Kleem's licensing agent and the owner of The Good Gallery in Kent, Connecticut. "They love the fact that he's a teacher and a family man with five kids."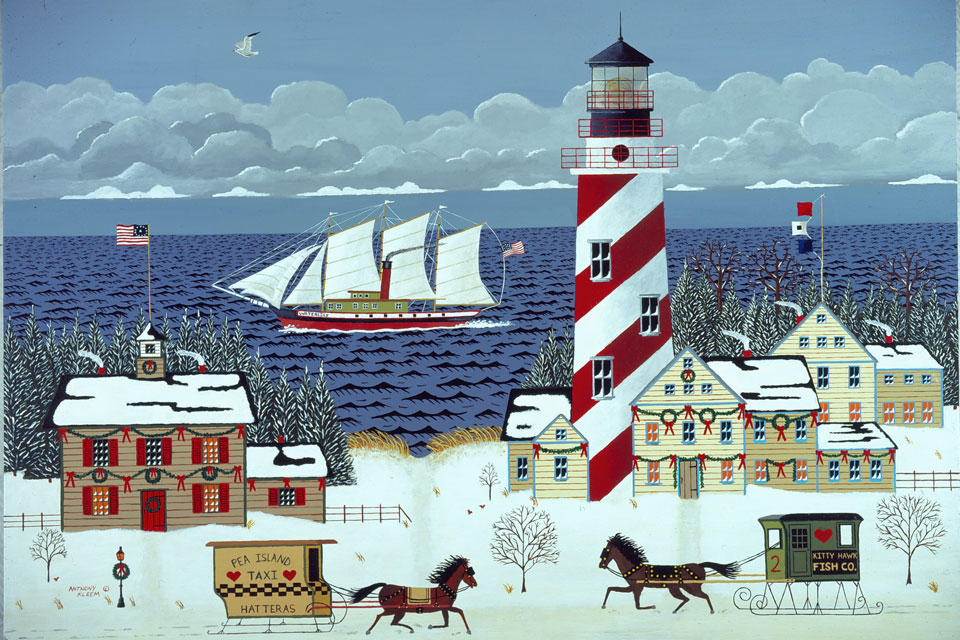 Kleem's reverence for family and faith fills each of his paintings. Likenesses of his wife and their children, Anthony, Christian, Mariah and Jacob, fill the air with music in "Tannenbaum Carolers," which the artist completed in 2006.

"I was thinking of a beautiful night with a full moon when I began this painting," he recalls. "And, since four of my five kids were in band in elementary school, middle school or high school, I incorporated them into the theme."

Adding to the Yuletide ambiance are horse-drawn sleighs bearing the monikers Smith Bakery (his mother's maiden name) and Mayme's Candies (in honor of his great-grandmother's nickname).

"Fireworks Over Coe Lake" and "Winter Fest" are love letters to Berea, where the Kleems have lived for 20 years in the 1851 Greek revival home they never stop restoring. Focal points in the paintings, which the artist finished last year, include the Berea gazebo, as well as landmark buildings that still dot the town square. Some bear the placards of businesses that once occupied them. Others feature names of relatives, neighbors or fans who ask to be included.

"People I've never met write me to say, 'I did one of your jigsaw puzzles with my grandmother. Can you include her name in a future puzzle?' I always respond to say that, yes, I will use the name in the future," he says. "It's a great feeling."

To Kleem, the reason why his puzzles are bestsellers isn't hard to decipher.

"They're very popular because they're not a toy that involves electronics," he says. "They are toys that involve the family. Grandmothers and grandchildren and moms and dads can sit down and take time away from the crazy world we live in and do something together that doesn't flash or buzz."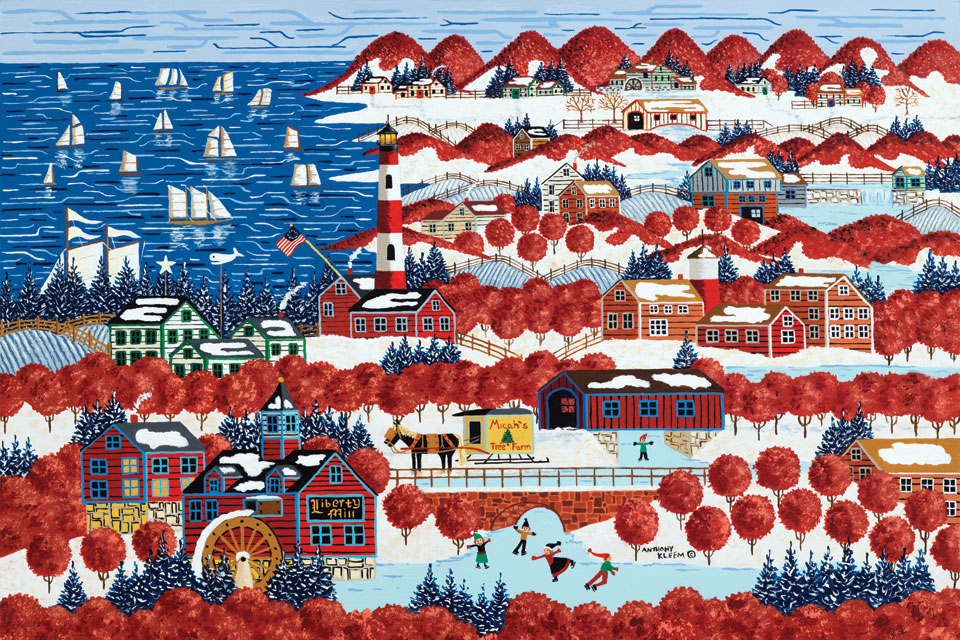 Ensconced in his home studio with the family's Maine coon cat "Boo" Radley (named after a character in the Harper Lee novel To Kill a Mockingbird) by his side, Kleem begins each painting by making a rough sketch in pen and ink.

On average, the artist estimates, it takes around 120 hours to complete each image. Mary adds the crowning touch by crafting the title.

Some ideas ("General Store" "Apple Cove," "Yankee Seed Co.") arrive seemingly out of nowhere as Kleem gazes at the grove of maple, oak and pine trees bordering his backyard. Others are sparked by trips he and the family have taken.

"Christmas in the Carolinas," finished in 2005, was based on a holiday sojourn to North Carolina. The Pea Island Taxi is a nod to the national wildlife refuge located in the Outer Banks, and the Kitty Hawk Fish Co. is named after the place where the Wright brothers conducted their experiments with aviation.

Kleem admits he used a bit of artistic license in the painting, opting to paint Bodie Island lighthouse a candy-cane-striped red and white in keeping with the season.

"My work isn't meant to glorify a simpler time, because the good old days weren't always good," Kleem says. "But there is something to be said for looking out for one another and being neighborly. That never gets old."
For more information, visit anthonykleem.com.