Arts
Points of Light
British artist Bruce Munro brings illuminated installations and gallery pieces to Columbus.
January 2014 Issue
BY Linda Feagler | Photo by Lesley Blake
January 2014 Issue
BY Linda Feagler | Photo by Lesley Blake
Bruce Munro bathes the world in fiber-optic iridescence. His glowing, rainbow-colored orbs appear to take on a life of their own, as do the shimmering spheres and sparkling spirals that dazzle everything surrounding them.

The British artist, whose work has been exhibited around the world — from London's Victoria & Albert Museum to New York's Guggenheim Museum — has brought his brilliance to Franklin Park Conservatory and Botanical Gardens in Columbus. "Light," Munro's collection of 10 installations and four gallery pieces, is on display through Feb. 8.

"His work is mesmerizing," says Bruce Harkey, Franklin Park Conservatory's executive director. "It doesn't matter what age you are, when you see a beautiful light display, you're captivated.

"Light is an essential element of the natural world," he adds. "We need it to survive, and so do plants. What better place to celebrate the artist's work than in a garden?"

The 54-year-old Munro admits to having spent much of his youth daydreaming through class in his native London. In fact, he was more interested in recording his thoughts on stories by favorite authors. The words still serve as Munro's muse. An exquisite example: "Water-Towers," inspired by Lyall Watson's novel, Gifts of Unknown Things — a magical tale about an island in Indonesia. The piece, which debuted in 2010, is showcased in Franklin Park's Bonsai Courtyard. It's comprised of a dozen six-and-a-half-foot-tall pillars made of 3,042 one-liter recyclable plastic bottles. Each water-filled structure is connected to a projector and sound system. As the music changes, so do the lights and colors.

"I first read [Watson's book] when I was 19 or 20," Munro says. "He described a theory [of how] the Earth has a natural pulse in the upper atmosphere. That concept piqued my interest and stayed with me until my 40s.

"It just goes to show," he adds, "that it might take a lifetime for an idea to germinate into a piece of work."

Surprisingly, light was not Munro's initial medium of choice. Enthralled by the talents of Henri Matisse, Edward Hopper and Georgia O'Keeffe, he gravitated toward painting while studying and earning a bachelor's degree in fine art at Bristol Polytechnic. Seeking a change of scenery after graduating in 1982, the artist relocated to Australia.

"England was in the doldrums at that time, and there weren't many opportunities for me there," Munro recalls. "Australia is so sunny and bright and fun. When I got there, I immediately felt at home."

The move would ultimately change his life. While strolling a downtown Sydney street in 1985, Munro happened upon a shop that sold fluorescent tubes.

"I'd never seen anything like them," he recalls. "The tubes glowed after being exposed to ultraviolet rays. I knew I could make sculptures."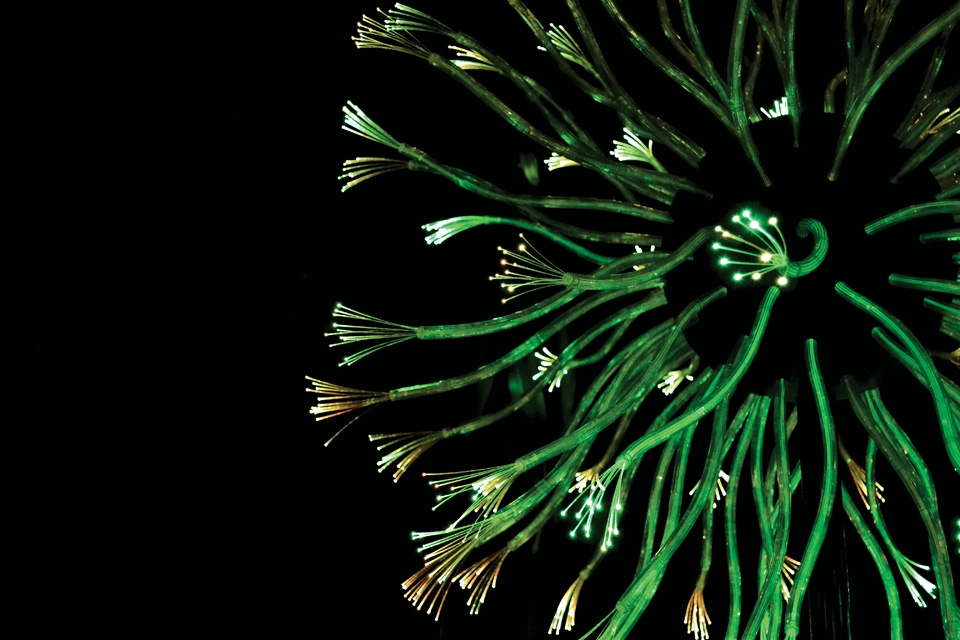 Through the decades, Munro's ardor for light has remained steadfast. In fact, he explains that its simplicity and honesty never fail to fascinate him.

"It's so ephemeral," he says. "I like the idea that you can turn a switch on, and light is there, and then turn it off, and it's gone. Thoughts about what to do with it never cease."
Needless to say, the artist found the conservatory's exotic naturescapes to be an inspirational complement to his concepts.
"Franklin Park offered a great opportunity for me to develop my work," the artist says, recalling his first visit to the conservatory in 2012. "It's a lot like Dr. Who's Tardis [time-traveling] machine. It looks like a small space on the outside, but when you go in, you can really get lost in it. That's what appealed to me."
"Giant Snowballs," currently gracing the conservatory's Grand Atrium, was conceived after Munro saw a display of translucent Christmas ornaments in a store window while stuck in a traffic jam in 2007. Each suspended globe contains a cluster of 127 glass spheres emitting constantly changing hues.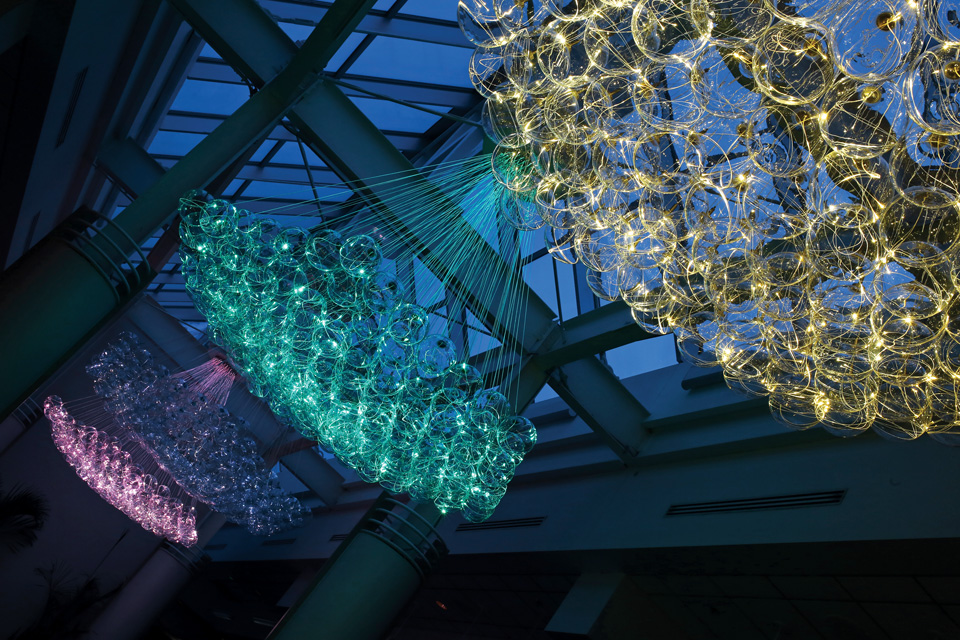 "I wondered how the bulbs would look when attached to fiber-optic cable and [gathered] together," he says, recalling his early experiments with the material. "The reaction was very positive."

Munro devised "Light Shower," installed in the Himalayan Mountain Biome, after watching rivulets of water stream down a window in Scotland six years ago. The artist used more than 1,000 strands of optical fiber to replicate raindrops in suspended animation.

But the exhibition's showpiece is "Field of Light," holding court in the outdoor Sculpture Garden. Within the planting beds, 2,750 lighted glass globes rise from the ground on fiber-optic stems and pulsate gently with colored light. Mirrored panes add to the ambiance.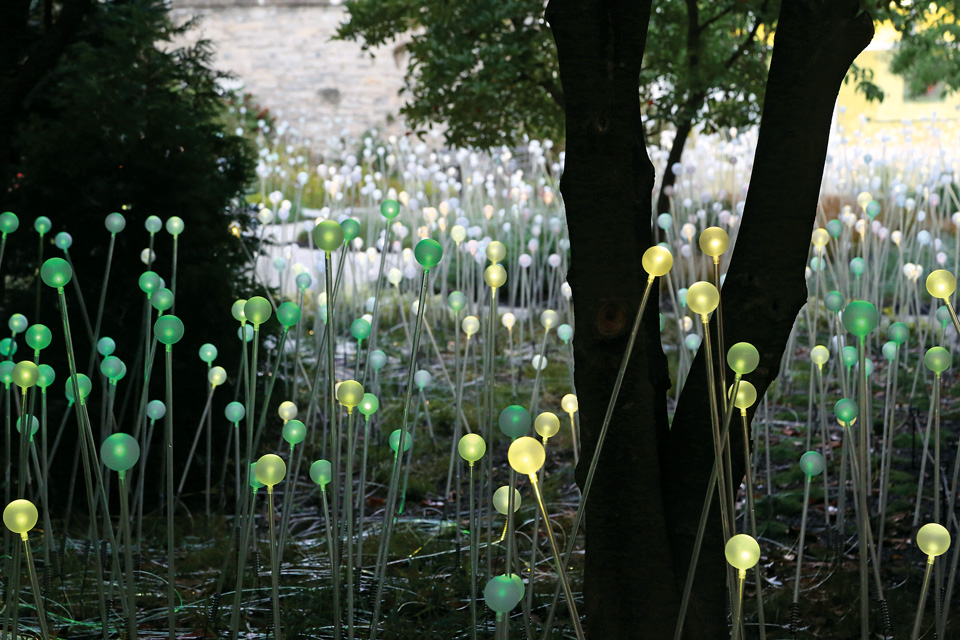 "Art is often exclusive, meaning those who see it have to know a lot about it to appreciate it," the artist reflects. "I want my work to be inclusive. It comes from very simple thoughts and feelings.

"I just hope that after a few hours of looking around the conservatory at my installations, you might go home with a good feeling and a smile on your face."

WHEN YOU GO
Franklin Park Conservatory and Botanical Gardens
1777 E. Broad St., Columbus 43203
614/715-8000, fpconservatory.org
Hours: The conservatory is open during the evenings on select days of the week. Call or check the website for dates and times.
Admission: $15 adults, $12 students and seniors, $6 ages 3–17