Arts
Pattern Recognition
Kent textile artist Janice Lessman-Moss mixes tradition with technology to create her intricate and beautiful designs.
February 2018
BY Jill Sell | Photo by Ken Blaze
February 2018
BY Jill Sell | Photo by Ken Blaze
With several swift computer keystrokes, Janice Lessman-Moss makes the electronic loom in her home studio spring to life. As it does, the machine emits a subtle gasp, and the vacuum system makes the overhead ductwork shudder as if shaking free of sleep.

"When we first talked about getting the Jacquard [loom], my husband was a little concerned about the noise it might make," says Lessman-Moss, head of textiles at Kent State University's Center for the Visual Arts. "He has a home studio, too, and we didn't want the loom to be an issue."

The artist's studio and gallery is in the Kent home she shares with Al Moss, her husband of 40 years and pedal steel guitarist for Hillbilly Idol, a popular northeast Ohio band that draws inspiration from country, bluegrass and other styles of American roots music.

The gentle sounds the loom emits as it seamlessly moves back and forth have proved to be no distraction. In fact, when she's at a loss for what to call a piece, the artist says she often turns to her husband's original song titles and lyrics for inspiration.

What was once the couple's garage is now an airy space featuring glass block windows and skylights that illuminate Lessman-Moss' vibrant woven artworks hanging on white walls. The artist also maintains a dye lab in her laundry room, where she mixes the precise colors she envisions for each piece she creates.

Although observers may identify a particular weaving as simply blue or yellow, a closer look reveals the intersecting color combinations, ranging from the palest of yellows to the deepest of blues, that create a kaleidoscope of ridges, valleys and shadows amid the joined threads and yarns.

The artist credits her inspiration as coming from the world around her, particularly things she sees during the simple physical act of walking from one place to another. Lessman-Moss enjoys strolling to her classroom at nearby Kent State University in most every kind of weather.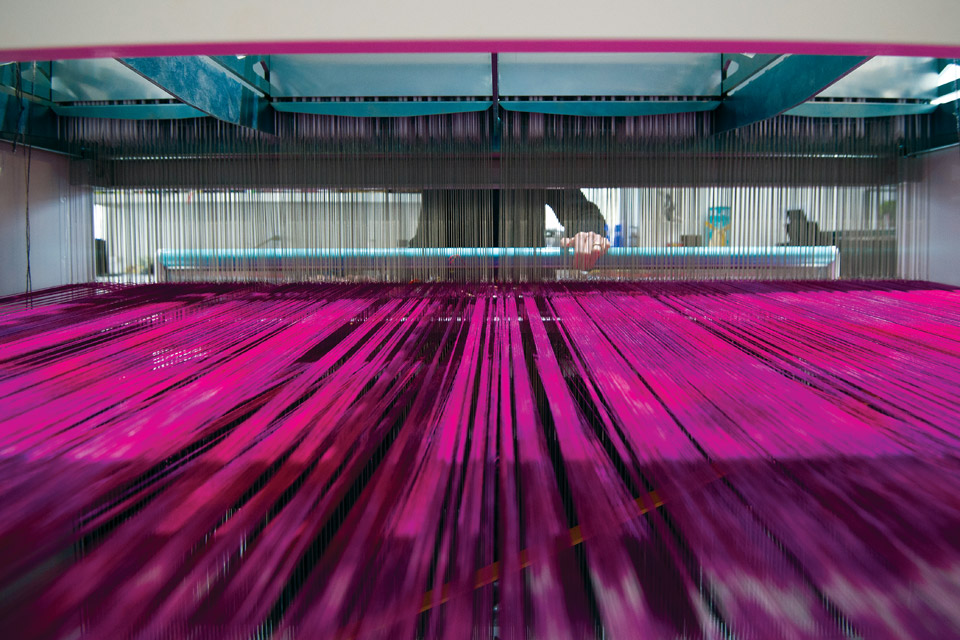 "When you walk instead of drive a car, you see subtle details that you can capture in a print or drawing that will later become part of a weaving," she says. "You just have to let your mind go and see things up close. When you walk, there is a sense of purpose."

In mid-December, the artist was preparing work for "Rhythms and Rotations," a solo exhibition featuring her newer pieces alongside seminal works from the past at Cleveland's Praxis Fiber Workshop Feb. 2 through March 31.

Lessman-Moss describes herself as an abstract artist because many of her patterns and designs are based on circles and squares. She fashions most of her wall hangings from traditional fabrics such as linen, cotton and silk, and occasionally she incorporates unusual elements such as plastic bags and discs punched from yogurt containers into her pieces.

"Textile artists have always been resourceful," she says. "We use what we have on hand."

***

Born and raised in Pittsburgh, Lessman-Moss never thought of pursuing a career in textiles as a young adult, instead opting to study interior design. But a fortuitous art gallery job at Pittsburgh's Kingpitcher Gallery for Contemporary Art would change the trajectory of her life.

"I was exposed to real art and real artists. I began to understand the concept of making meaningful things," recalls Lessman-Moss, who began her teaching career at Kent State University in 1981 after receiving a Master of Fine Arts degree from the University of Michigan and a Bachelor of Fine Arts degree from Tyler School of Art at Temple University in Philadelphia.

Over the last three decades, she's built Kent State's textiles program one thread at a time. And although a semester's class enrollment is usually 15 students, the program's impressive reputation is spreading throughout the university. Students are starting to understand that the study of textiles is an ideal complement to such majors as fashion merchandising and design, art education, architecture — and even archaeology.

"Janice is one of the most brilliant and thoughtful teachers I know," says artist Rebecca Cross, a former student of Moss' who is now an adjunct professor in Kent State University's School of Art. "She's tough on students, but totally kind. Janice also has an amazing work ethic. She takes ideas and creates these fantastic, lyrical and beautiful weavings that are so complex they are mind blowing."

The artist composes her abstract designs on a computer, which the Jacquard loom then "reads." The actual weaving process requires her to tap the loom's foot pedal and quickly slide a wooden tool called a ski shuttle under the threads to make one cloth.

Although the paper test prints created by the computer are lovely enough to hang as artwork, Lessman-Moss looks almost horrified at the suggestion.

"It's the weaving process that counts," she says. "It adds texture and depth."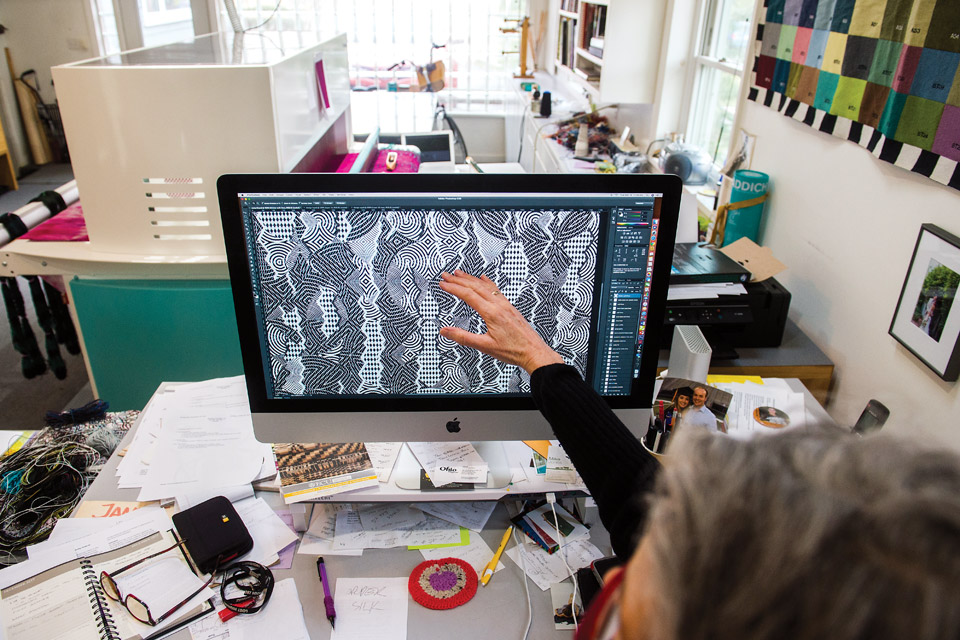 Her digital technique has earned the admiration of those both scientifically and artistically inclined. Accolades from the Ohio Arts Council include a 2017 Individual Excellence Award of $5,000 and a 2016 Governor's Award for the Arts.

"Janice is a treasure to Ohio and the world," says Ohio Arts Council executive director Donna S. Collins. "I often imagine her works as poems that weave beauty, nature and meaning into a work of art that captivates the heart and mind. And as an educator, Janice brings a global view of visual arts to her students. Imagine being a student in her classroom. Your life will never be the same."

Lessman-Moss greatly admires the traditional ways of weaving associated with conventional looms. But it's her use of technical innovations and digital weaving that makes both Kent State University's textiles program and her artwork stand out.

"I have a distinct way of embracing technology in weaving," says Lessman-Moss, who convinced Kent State to purchase its own $60,000 Jacquard loom in 2001. "Some schools buy looms and use them for transferring photos of dogs or people onto textiles. And that's amazing, and we do that, too ... But I am more interested in computer weaving as a binary language process between the computer and the loom. I am more fascinated with what comes from the computer than what you put into the computer."

For more information, visit janicelessman-moss.com.

Feb. 2–March 31: Rhythms and Rotations
Praxis Fiber Workshop Gallery,
15300 Waterloo Rd., Cleveland 44110
216/644-8661, praxisfiberworkshop.com
Opening reception Feb. 2, 6–9 p.m.
Hours: Wed. and Sun. noon–4 p.m. or by appointment
Admission: Free