Arts
'Lilly Martin Spencer' at Decorative Arts Center of Ohio
The Ohio artist supported her husband and 13 children by capturing everyday scenes that spoke to 19th-century, middle-class society.
February 2019
BY Linda Feagler | Artwork courtesy of Ohio History Connection
February 2019
BY Linda Feagler | Artwork courtesy of Ohio History Connection
Although she was born 197 years ago, Lilly Martin Spencer was the very model of a 21st-century businesswoman. In a role reversal that was the antithesis of her era, the Ohio portrait artist served as the family breadwinner while her husband, Benjamin Rush Spencer, gave up his career as a tailor to stay home and tend to their 13 children.
"It's ironic that Lilly became famous for her portraits of domestic bliss filled with cherubic children and attentive mothers," Ohio History Connection curator Becky Odom says. "But by all indications, she was OK with not fitting the stereotypes she painted."
Through April 28, the Decorative Arts Center of Ohio in Lancaster celebrates Spencer's extensive range of subject matter with "Lilly's World: Decorative Arts and the Art of Lilly Martin Spencer, 1840–1900." In addition to original paintings, prints and drawings, the exhibition — organized by the Ohio History Connection — features more than 300 ornamental objects mirroring the items Spencer reproduced in her paintings.
"Because the exhibition is at the Decorative Arts Center, we wanted to include things that would serve as a window into the decorative art that was popular in Lilly's lifetime," the curator says. "Her genre paintings, which captured slices of everyday life back then, are incredibly detailed. We've designed sets that re-create several of Lilly's paintings and invite visitors to step into the scenes as though they are part of her artistry."
***
Born in Exeter, England, Lilly Martin and her French parents, Gilles Marie Martin and Angélique Perrine LePetit Martin, immigrated to America in 1830 when the future artist was 8. They settled in New York City for three years before deciding to head west.
"The family left New York because they feared the cholera epidemic that was spreading throughout the city," Odom says. "As the story goes, they stopped in Marietta to rest during their journey and loved it so much they decided to stay."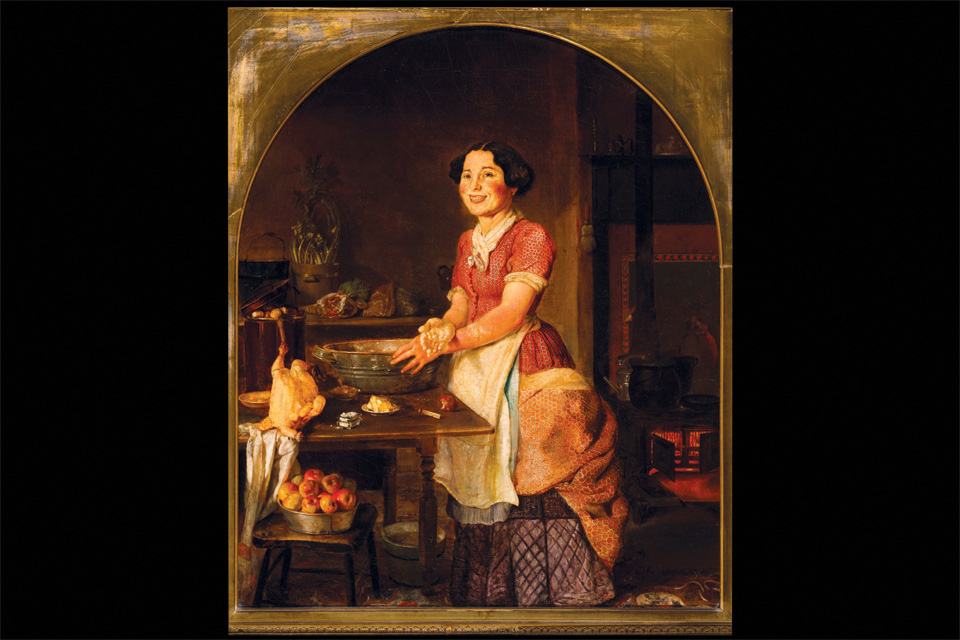 The little girl showed an aptitude for drawing by age 10 and was encouraged by her parents to hone that skill by sketching likenesses of people she knew on the walls of the family home. Her work caught the eye of celebrated landscape painter Charles Sullivan, who arranged for an exhibit of her oil paintings at his Marietta home when she was 19.
In Lilly Martin Spencer: The Joys of Sentiment, the catalog that accompanied a 1973 exhibition at the Smithsonian American Art Museum, authors Robin Bolton-Smith and William H. Truettner write that the show attracted the attention of Cincinnati Chronicle editor Edward D. Mansfield. He described the domestic scenes and portraiture displayed as "the most astonishing instance of precocity and triumph over difficulty in the arts." The accolades with which her work was received convinced the teen it was time to move to Cincinnati for further study.
"Much of Lilly's independence was fostered by her parents, who'd been very well educated in Europe and were very active in abolitionism and suffrage," Odom says. "They probably thought it was perfectly acceptable for a young girl to want to have a career as an artist."
In "Self-Portrait," which the artist painted around 1842, she demonstrates her flair for portraiture, keen sensitivity to color and an intimacy of gaze that was unusual for the time.
"We know this was done early in Lilly's career because the finite detail she was known for appears not to be developed yet," Odom says. "But the painting is an exquisite example of the realistic color palette she was famous for."
***
Three years after arriving in the Queen City, the artist met her future husband, and the couple married in 1844. Spencer spent the next decade producing her most celebrated works, including the genre paintings she is most closely associated with. Odom explains that genre themes depicting ordinary people engaged in common aspects of everyday life appear in nearly all cultures. But, she adds, they gained fame in America in the mid-1800s as publishing firms sought images that could be reproduced at a variety of prices.
"Lilly's pictures of ordinary occurrences really appealed to the middle class because they liked recognizing their lives in the art on the wall," the curator says.
"Old Man with Two Children," which Odom cites as one of her favorites, was completed in 1845. It portrays an elderly man holding a toy dog between a small girl leaning against his right knee and a young child on his lap. According to historical records, the principal subject is thought to be Adm. Abraham Whipple, an American Revolutionary War commander who'd lived much of his life in Marietta.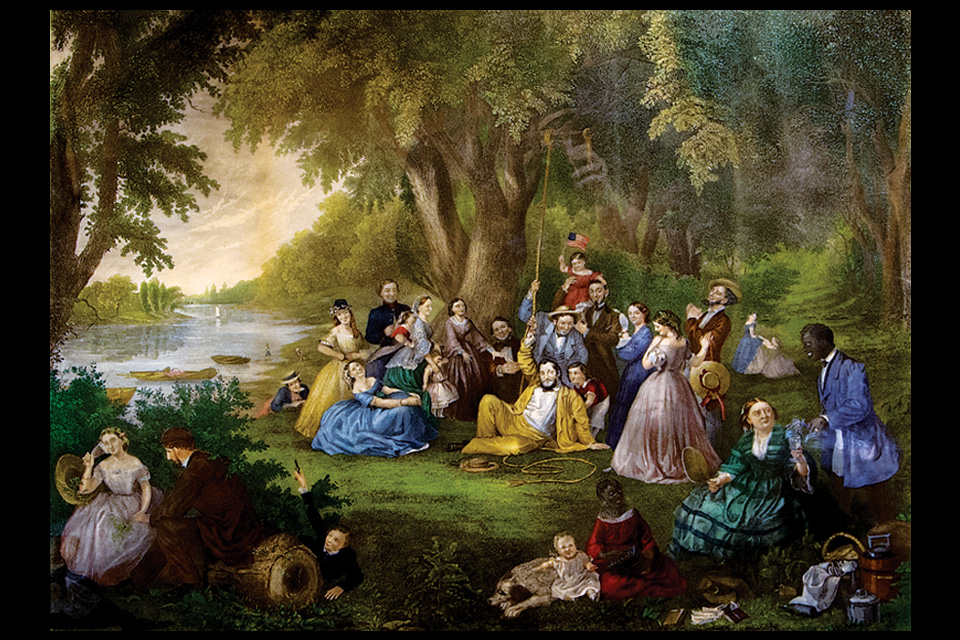 "This painting is really all about family," the curator says. "You have these two children and a man who is presumably their grandfather. They very clearly care for each other and are having a wonderful time together. Spencer is presenting her idea of what a family should be."
But despite appearing playful at first glance, many of Spencer's works are instilled with a sense of social consciousness. Odom cites 1854's "Shake Hands?" as a well-timed example.
"This painting is interesting because it depicts the kitchen, which is a private space you normally don't bring visitors into, and a servant offering you her dough-covered hand to shake," Odom says. "Some viewers, especially in the upper classes, would have thought this was a terrible mistake. But in the middle class, where increasing emphasis was being placed on the development of social equality, the idea that the cook would do so because she believes she is an equal to the visitor was really appealing."
The 1866 rendering by engravers Samuel Hollyer and John Rogers of Spencer's 1864 oil "The Picnic or The Fourth of July" depicts a jubilant outing with attention focused on a young man, thought to be Spencer's husband, who has tumbled from a tree swing. The scene exudes the feeling many American families felt while reuniting following the Civil War.
"Lilly's images spoke to viewers when she painted them, and continue to speak to viewers 150 years later," Odom says. "In Lilly's day, people were usually painted in their finest clothes, holding a leather-bound book in an armchair. But she had the foresight to include baskets and crocks and hats people would have used every single day. Like Lilly's canvases, each has a story to tell."
Decorative Arts Center of Ohio
145 E. Main St., Lancaster 43130, 740/681-1423, decartsohio.org
Hours: Tues.–Fri. 10 a.m.–4 p.m., Sat.–Sun. 1–4 p.m.
Admission: Free