Arts
Find Over Matter
Collectors Mike Schario and Jesse Brown track down cherished mementos that their clients never expected to see again.
January 2016 Issue
BY Andrew Poulsen | Photo by Casey Rearick
January 2016 Issue
BY Andrew Poulsen | Photo by Casey Rearick
Mike Schario and Jesse Brown aren't pickers, flippers or hunters. Instead, they refer to themselves as professional finders, and the Canton natives have spent the past six years earning a living by reuniting people with their beloved-but-long-gone possessions through painstaking research and serious sleuthing.

"Once you've worn out all your angles, that's where we step in," explains Schario. "Our job is to make people happy. We're not just collectors."

In November, Schario and Brown took the first step in helping make "finders" the next household term for antique enthusiasts with the premiere of their Discovery Family channel series, "Lost & Found with Mike & Jesse."

Rather than digging through garages and estate sales hoping to turn finds into big money, Schario and Brown help people across the country reconnect with mementos from their past.

During the show's inaugural season (at press time, the final episode was scheduled to air Dec. 30), Schario and Brown reunited an 89-year-old decorated World War II veteran with a Japanese peace flag signed by members of his infantry division and aided a Filipino immigrant in finding his godmother's antique Coca-Cola wall clock.

Each is a journey of tedious and taxing library research, talks with antiques curators, phone calls, museum visits and mixing with locals to gather leads.

"A lot of the time, most of the items aren't far at all from where they originated," says Brown. "So, it's like detective work for Mike and I. We get comfortable with the people and town's culture."
Before the pair was scouring the country for lost keepsakes, Schario and Brown both had an insatiable passion for collecting. Self-proclaimed junk magnets, the men can trace the hobby back to childhood, when Schario worked with his uncle in the lost-and-found department at Cleveland's Municipal Stadium and Brown would dig up his grandmother's backyard looking for treasure. However, it wasn't until the two worked together for a specialty-foods distributor in Canton that they considered turning their hobby into a full-time business.
Five years after they first met, Schario and Brown decided to be their own bosses and began tracking down prized personal items such as cars and motorcycles for clients who had sold them years earlier to save money for homes, children and other priorities. The men quickly learned that such a service was in high demand.
Although many of their early finds were discovered nearby, Schario remembers getting a call from the wife of a Cleveland attorney who was on the hunt for her husband's beloved 1963 Corvette, which he bought before his military service in Vietnam. After extensive title and registration research throughout North America, the car was found in a museum in Australia.
"They still roll up to our shop every summer in that car like a couple of teenage kids," Schario says. "They're now living the dream, and we made that happen."
Schario and Brown also share a passion for acquiring pop culture antiques and memorabilia from their childhood. In 2012, they opened Finders Keepers in downtown Sugarcreek. The store is as much a museum as it is a collectors' shop. Schario says Dan Aykroyd, Joe Namath and other celebrities have stopped in to check out the place for themselves.
"When you go to most antique stores, everything is 100 years old … which really doesn't mean much to us," says Schario. "So, we started finding stuff that was more relatable."
The inventory of "weirdtiques" (a term Schario and Brown coined) at Finders Keepers ranges from toys, games and promotional items from movies and television shows to pieces of American history that could be in the Smithsonian.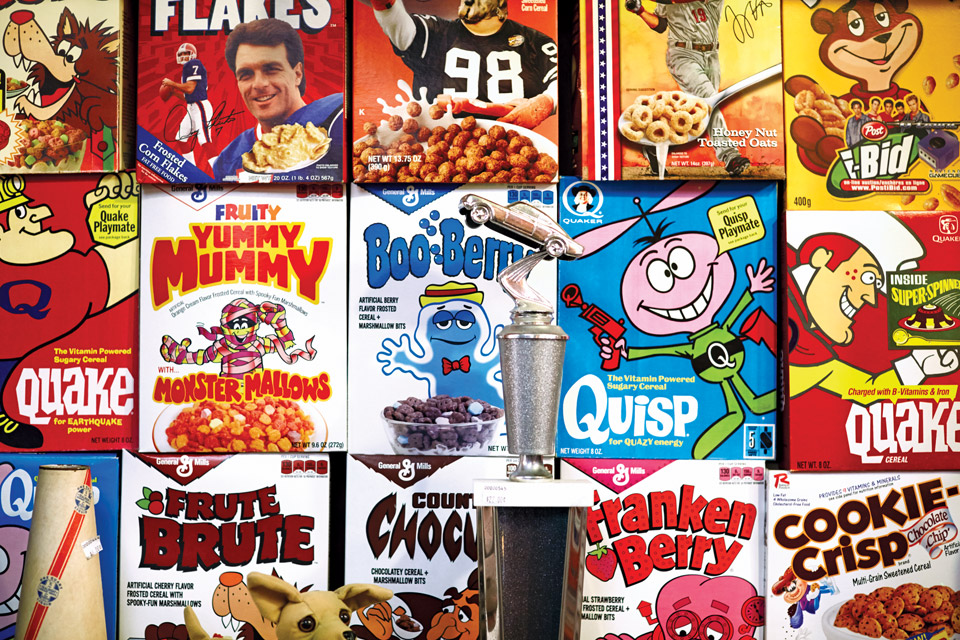 An authentic NASA astronaut helmet signed by John Glenn, a piece of the railing from the Beatles' historic Shea Stadium concert and the iconic trailer park sign from the movie "8 Mile" are just a few of the treasures hidden among the trove of nostalgia.
Although some of the rare finds are not for sale, patrons can take home a piece of the past in the form of retro posters, trading cards, dolls and video games. The store is also stocked with a selection of hard-to-find candies and sodas, as well as throwback gag gifts and novelties.
Rather than compete with the congestion and bustle of bigger cities, such as Akron or Canton, Schario and Brown chose Sugarcreek — a small town in Ohio's Amish country that's not exactly synonymous with Farrah Fawcett posters and vintage G.I. Joes — in order to capitalize on the tourist destination's foot traffic.
"If you're coming all the way to Sugarcreek, you're coming to shop, look around and take in what's going on," says Brown.
Some Finders Keepers customers may recognize Schario from the reality TV show appearances he has made in recent years. In 2010, Schario first appeared on "American Restoration" to have the show's star, Rick Dale, restore the astronaut helmet that he bought at a Dayton flea market. Originally purchased for $100, the helmet has since been valued at an estimated $75,000.
The two men are now friends, and a number of Dale's restorations are on display at Finders Keepers, including a vintage ice cream cart and a 1953 Bantam lawn tractor. Schario also appeared on the History Channel's, "Pawn Stars," haggling with store owner Rick Harrison over an antique Ronco Pocket Fisherman he brought to the shop in 2014.
"Lost & Found with Mike & Jesse" provides the same thrill that made "American Pickers" and "Pawn Stars" smash hits, but Schario and Brown insist that their series has a much more altruistic intention that makes it stand out from its collector contemporaries.
Instead of a show where the hosts drive around in hopes of earning bragging rights within hobby circles, "Lost & Found" turns its attention toward people hoping to honor and thank friends, mentors and loved ones in their community who have done extraordinary, selfless acts by reuniting them with cherished mementos.
"The way it breaks down, our business isn't just being some guy behind a counter," says Schario. "It's about trying to surprise someone and make them happy, and once we figure that out, it's like a drug for us."

Finders Keepers is located at 100 E. Main St., Sugarcreek 44681, 330/243-4247. Hours vary and should be confirmed prior to travel. For more information about "Lost & Found with Mike & Jesse," visit discoveryfamilychannel.com.