Arts
Creative Forces
We talk to four Ohio artists about their background, influences and passion for creating.
June 2015 Issue
BY Linda Feagler | All artwork courtesy of artists
June 2015 Issue
BY Linda Feagler | All artwork courtesy of artists

BRITT HALLOWELL
Age:
29 |
Lives in:
Mount Sterling |
Medium:
Painting |
brittsfineart.com
The Art:
Through a mix of paints, plasters, oils and charcoal, Britt Hallowell creates "organic works that reflect nature in a figurative manner." In addition to being showcased at art shows throughout the country, Hallowell's work is sold in retail stores, including HomeGoods, T.J. Maxx and Sears.
Mom Knows Best:
Ever since she was a toddler, Hallowell has been obsessed with art. "When I was 6, I lied about something. My mom decided to punish me. She asked what my favorite thing was, and I said drawing. She knew that was true, so she asked what my second favorite thing was. I said playing outside, and she told me I was grounded. But she warned that the next time I lied, she would take away my art supplies. I did not lie again."
Beloved Muse:
"My grandmother, a tole painter and watercolorist, gave me a set of brushes I treasure."
Why She Never Uses Them:
"I couldn't figure out what one brush did versus another versus another. Since I use plaster, I needed something that would make the medium [more pliable]. So I use rags, squeegees, my husband's car-washing tools — anything I can get my hands on."
A Hard Lesson:
"Every piece of art I create represents a part of me. Sometimes I forget that art is business, and not everyone can be accepted into a show. So, there are the occasional days when I tell myself, 'You have today to wallow. Tomorrow you have to get back up and go about it.'... I do this for me. If one person doesn't appreciate my work, that doesn't mean another won't."
"Huh?" Moment:
"A photographer told me my art was easy because I could create something out of my head whereas he has to look for subjects."
Happiness Project:
"Most people spend their days behind a desk, then in their car, then stuck indoors making food or doing chores. I find joy in being able to bring a bit of the outdoors inside to make life a little brighter."
***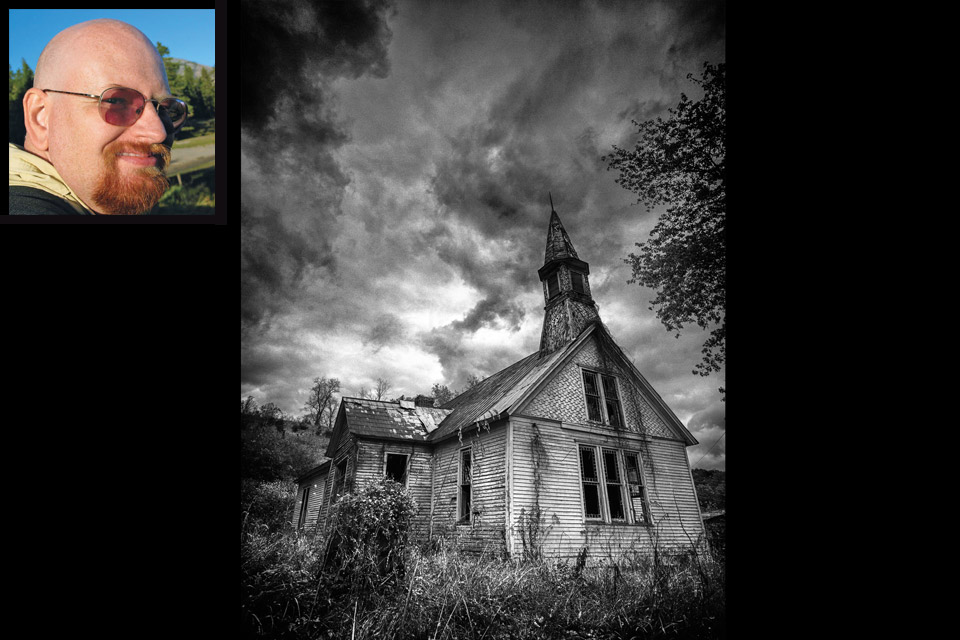 ROBERT COOMER
Age:
44 |
Lives in:
Batavia |
Medium:
Photography |
robertcoomer.com

The Art:
Whether in color or black and white, Robert Coomer captures nature both above and below ground. When not caving, he spends his free time searching for old barns and covered bridges in southwest Ohio. Recently, Coomer began printing his photos of abandoned buildings on distressed steel, which, he says "gives them a third-dimensional quality that tells a story of time and makes the emotional connection that the subject has had a very hard life."
Child's Play:
His art education began as a toddler. "I drew my toys instead of playing with them."
Early Work:
While in college at the University of Cincinnati's College of Design, Architecture, Art and Planning, he created what he calls "photo-realistic, air-brushed renderings" with pigment inks.
It Finally Clicked:
"When I was a kid, photography meant you'd take pictures, send them out and get prints back. I'd look at the results and think, That's not what I meant. But when I got to college and had access to a darkroom, I finally had the chance to make my own choices. It's been full steam ahead ever since."
Nature Nurtures:
Coomer spends weekends cruising the back roads of Adams and Brown counties in southwest Ohio, searching for idyllic scenes to shoot. "The play of light, the open skies, the clouds, the way the sun dances across the ground. The challenge is to predict and capture those moments worth keeping," he says.
Why He Likes Photographing Structures Past Their Prime:
"I grew up on a farm in Mount Orab, Ohio. Ten years ago, I went back to shoot an old barn I played in as a kid and sadly discovered it was gone. That gave me a real sense of the fact that all this history around us is disappearing and needs to be remembered."
Nicest Thing Anyone Ever Said:
"A customer told me he could see the art in my soul. That's a pretty powerful statement."
***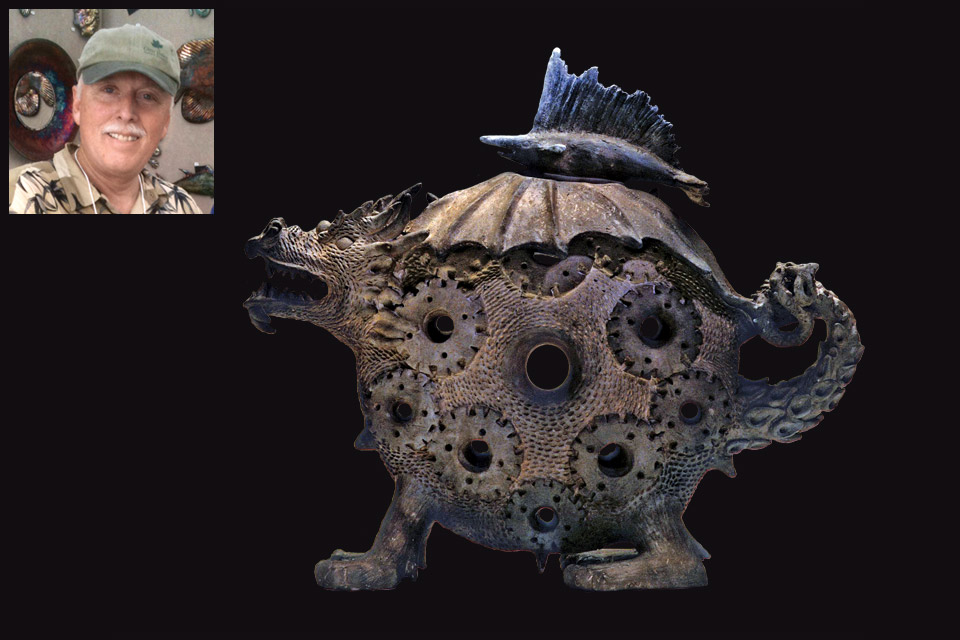 JAMES KLINGER
Age:
61 |
Lives in:
Yellow Springs |
Medium:
Ceramics |
klingerart.com
The Art:
James Klinger whiled away the summers of his youth fossil hunting along Clifton George in Yellow Springs. The hobby sparked his admiration for "the mineral world," which led to his passion for ceramics. "I'm dealing with minerals that are ground up and fired in a kiln, which is a re-creation of the earth's volcanic processes," he says. Klinger specializes in raku, a pottery technique that originated in 16th-century Japan.
One Step at a Time:
"In high school, I decided to make a clay model of my foot. ... The final result was a size 9W paperweight."
Turning Point:
In the 1990s, Klinger was introduced to the writings of American mythologist Joseph Campbell. "I began studying with a shaman and learned about spirit guides that took the form of animals in ancient cultures. I make them part of many of my raku pieces."
Symbolic Gestures:
" 'King Kong' taught people to see gorillas as monsters. But in mythology, they are seen as gentle giants exhibiting nobility and strength." He features them in his work, along with butterflies (symbolizing transformation), elephants (movers of obstacles) and dragons (energy). "[I also] use umbrellas, which represent an emotional shield that serves as protection from showers or tears."
***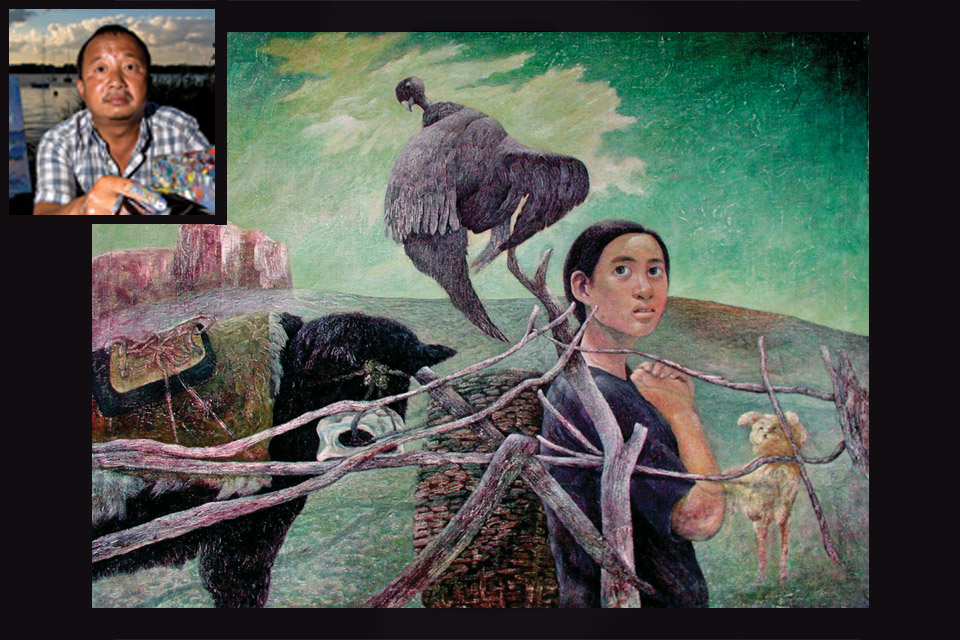 LEO HONG MAO
Age:
48 |
Lives in:
Dublin |
Medium:
Painting |
artisthongmao.webs.com
The Art:
Born in the town of Chengdu, the capital of the Sichuan province in southwest China, Leo Hong Mao began studying painting at age 6. He came to Ohio in 1999 for a solo exhibition at Wright State University and "found home." Mao says he strives to infuse each of his works with "laughter, love, spirit and life itself. My heart becomes part of my art."
His Artistic Hero:
Born during China's Cultural Revolution when artistic freedom of expression was forbidden, Mao took solace in American realist painter Andrew Wyeth's works. "Gray, earthy tones are dominant colors in his paintings, and the people portrayed in them have eyes filled with sadness. That was the mood of the Chinese people when I was a youngster."
What Inspires Him:
"My heart. I reveal my thoughts and feelings through painting. I work every minute of every day to make that happen."
Favorite Place to Paint:
Yellow Springs is Mao's favorite Ohio town, both he says for its unspoiled beauty and the kindness of its residents. "The blue sky, the green trees, the beautiful flowers, the birds and the friendly, smiling faces serve as the inspiration for many of my impressionist paintings."
On the Road:
"I love traveling to places that have not been spoiled by humans. Some of my most memorable trips include the Great Smoky Mountains National Park and Sam Houston National Forest in Texas."
Heart to Heart:
"I believe nature has its own soul. The greatest challenge is putting my own soul into a conversation with it."
Van Gogh or Monet?
Both. "I strive to combine each of their styles in my work because my own life is not as hard as Van Gogh's was and not as happy as Monet's was."

What He Hopes His Work Means to Those Who See It:
"I want people to feel that the life force behind it is so strong they can walk into the canvas to feel the beauty, soul and power of nature."