Arts
Bonjour Bijou
An exhibition of 75 gems on loan from the Petit Palais in Paris opens this month at the Taft Museum of Art.
February 2017 Issue
BY Linda Feagler | Photo courtesy of Le Petit Palais
February 2017 Issue
BY Linda Feagler | Photo courtesy of Le Petit Palais
Set against a backdrop of black velvet, the tourmaline, quartz and silver brooch is as much of an attention-getter now as it was when worn by a Parisian aristocrat during the reign of Louis XV more than two centuries ago.

The pin is one of 75 gems by Cartier, Lalique, Van Cleef & Arpels and other artisans being showcased at the Taft Museum of Art Feb. 11 through May 14 in "Bijoux Parisiens: French Jewelry From the Petit Palais, Paris." On loan from the celebrated museum in France, the exhibition spans the 17th through mid-20th centuries and traces the evolution of jewelry from lavish Baroque adornment to modern art deco design. Drawings and prints hanging throughout the gallery complement the dazzling artifacts and offer lively history lessons about their significance to French history and culture.
"For centuries, pieces of jewelry were thought of only as items of personal adornment and symbols of power," says Lynne Ambrosini, the Taft Museum of Art's director of collections and exhibitions and curator of European art. "But finally, in the late 19th century, society's perception began to shift, and people also began to see jewelry as the art form it is. If you study the pieces in this exhibit, you'll discover many of them are actually miniature sculptures that profoundly connect to the social and political developments of the era they belong to."
Although jewelry in some form dates to the dawn of time, French king Louis XIV is credited with ushering in the era of unprecedented glamour that would echo for centuries. During his reign, which lasted from 1643 to 1715, the monarch employed artisans whose talents would set the standard around the world.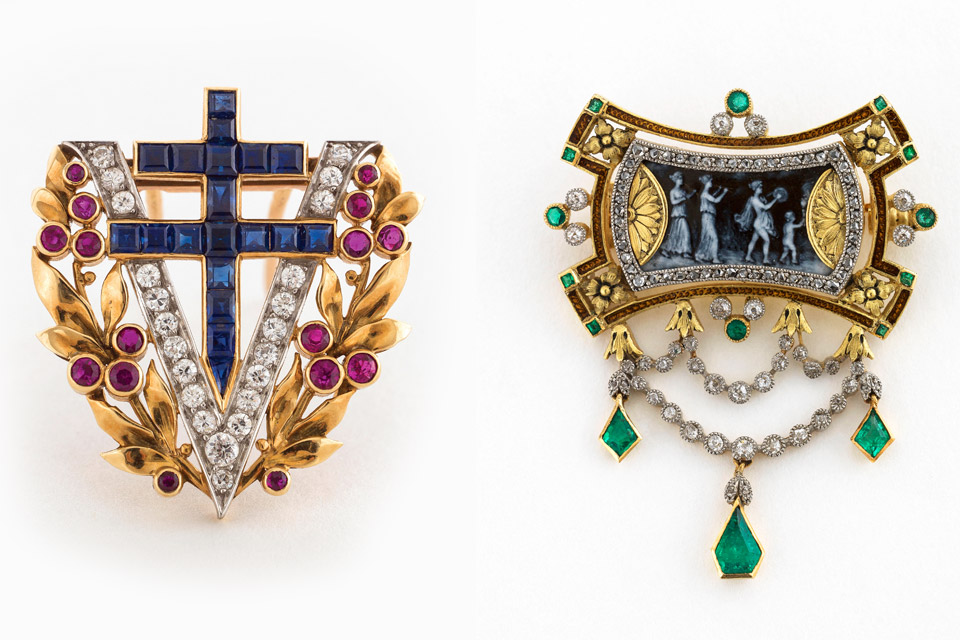 "The masters who transformed precious and semiprecious metals and stones into jewelry during this time possessed multiple skills," Ambrosini says. "There were no specialists back then, so these artists needed to be experts in all facets of production."
She adds that the tourmaline "Devant de Corsage" (which means 'bodice ornament') brooch, created in 1760 by an unknown artist, is an example of the painstaking talent the period demanded: The intricate pin features asymmetrical scrolls flanking a center crystal and interspersed with minuscule flowers which clearly took countless hours to complete.
"The shining whiteness of the quartz and tourmaline is very typical of the times," Ambrosini says. "When historians talk about 'the glittering courts' of Louis XIV and XV, they mean it literally. Jewels like this brooch were worn by men and women as pins and necklaces."
***

By the early 1800s, a new style was emerging in France under emperor Napoleon Bonaparte that mirrored the simplicity that defined the ancient civilizations the ruler revered. Jewelers took their cues from Napoleon's fascination with the history of the Greek and Roman empires, and cameos — two- and three-dimensional compositions complemented by decorative curves, Greek friezes and palm leaves — were emblazoned on necklaces, earrings and bracelets.
The circa-1800 neoclassical necklace featured in the exhibition, also crafted by an unknown artist, features a cameo portrait — thought to be either Athena, the Greek goddess of reason, intellectual activity, art and literature; or Minerva, the Roman goddess of wisdom — placed between a pair of enameled swans. True to the fashion of the day, the medallion is strung on a multitude of small links punctuated with turquoise beads.
"Like the image on the cameo, the swans are also associated with mythology," Ambrosini says. "The Greek god Zeus changed himself into a swan to seduce the princess Leda. Since Napoleon was all about symbolism, this necklace represents his affinity for great gods and goddesses."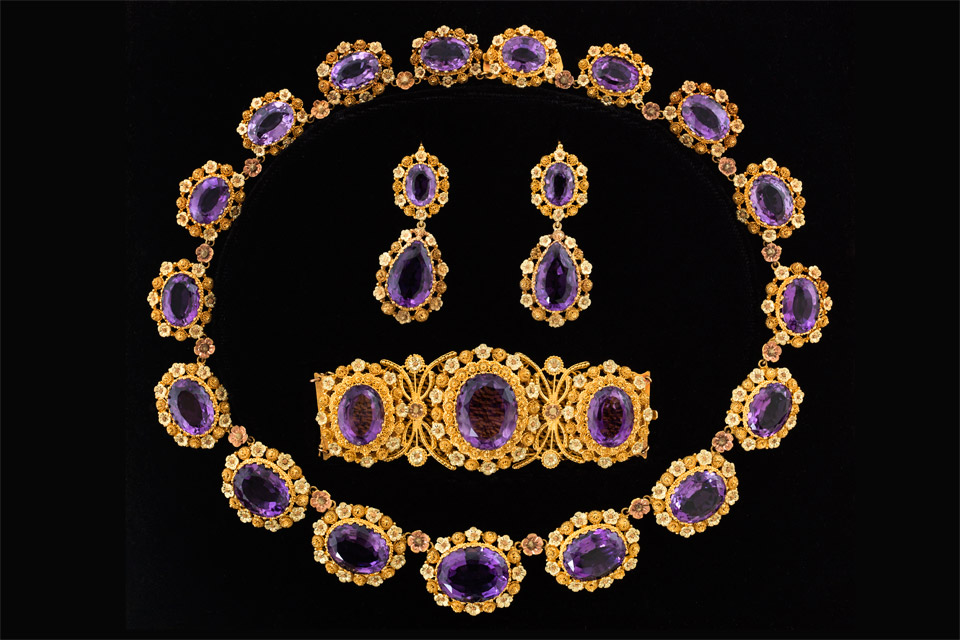 When Napoleon's reign ended in 1815, the French monarchy was restored, but with far less pomp. The aristocracy, which had fled during the emperor's rule, was in shaky financial straits. Estates had been confiscated or sold, and many of France's noble families were forced to part with their ancestral jewelry in order to survive. The amethyst-and-gold parure (which means 'set') of necklace, bracelet and earrings by an unknown artist featured in the exhibition is an example of pieces that were created to allude to the glory of days gone yet economically make the most of the materials at hand. Large pieces of jewelry continued to be fashionable, but they featured semiprecious stones such as amethysts, topazes and aquamarines.
"You'll see that the gold in these pieces has milled edges which have been pounded very thin, then molded to give the illusion that there is more metal here than there actually is," Ambrosini says. "Since semiprecious stones did not cost nearly as much as diamonds did, they were used to add new aesthetics of sparkle and color."
But precious stones did rise to prominence again during the art deco period, a movement in decorative arts and architecture that originated in the 1920s and developed into a major style a decade later.
"Victory Brooch," crafted by Van Cleef & Arpels in 1945, represents the elegance the period was known for. Measuring little more then an inch in diameter and height and made with rubies, diamonds and sapphires in honor of the French flag, it commemorates the end of World War II and the sacrifices French Resistance fighters made to liberate their mother country.
Design elements include the Cross of Lorraine, the sign of resistance to Germany; a V for victory; and images of the laurel wreaths the ancient Greeks and Romans awarded to honor great accomplishments. The brooch was commissioned by French Resistance fighter Joseph Becker as a gift to his wife, who was also a member of the Resistance. President Dwight Eisenhower would later credit Becker with saving numerous lives of American pilots during the war.

"Once they see these pieces," says Ambrosini, "people who think of jewelry as just a string of beads are in for a new awakening."

Taft Museum of Art
316 Pike St., Cincinnati 45202
513/241-0343, taftmuseum.org
Hours: Wed.–Fri. 11 a.m.– 4 p.m., Sat.–Sun. 11 a.m.– 5 p.m.
Admission: Adults $14, seniors and students $12, children 5 and under free. Sundays only $4