Arts
Beach Glass Art
Decades of wind, waves and sand go into Lorie and Troy Dalrymple's line of jewelry.
June 2016 Issue
BY Jill Sell | Photos by Jason Miller
June 2016 Issue
BY Jill Sell | Photos by Jason Miller
A gray sky melts into an even grayer Lake Erie as the ribbons of rain in the distance move slowly but menacingly closer. Lorie Dalrymple, wearing a cheery red jacket that is the only bright color in sight, seems oblivious to the occasional flashes of lightning that are still miles away. She walks the stretch of Conneaut Township Park shoreline with her head down and eyes fixed on the wet sand, her black boots leaving a trail of deep imprints along the way.

A beach glass collector since she was a little girl, Dalrymple scans the ground for the tiny rounded and triangular shards that have been tumbled smooth by waves, rocks and sand for two decades or more. Many of her finds are pitted, which gives them a frosted, almost gumdrop-like appearance.

"This is my favorite beach," says Dalrymple, who lives in Ashtabula with her husband and business partner, Troy. "I grew up a short distance from here. I spent my summers here when I was young with my Uncle Bob. He was really an inspiration … He loved music and art, and I looked for all kinds of beautiful things here, including rocks, shells and beach glass."

Dalrymple likes this Ashtabula County beach not only for those memories, but also because spots along the shore are covered in small pebbles — an indication that Lake Erie likes to deposit its treasures here. Plus, beach glass can't get trapped in crevices and cracks here as it would along rockier shorelines.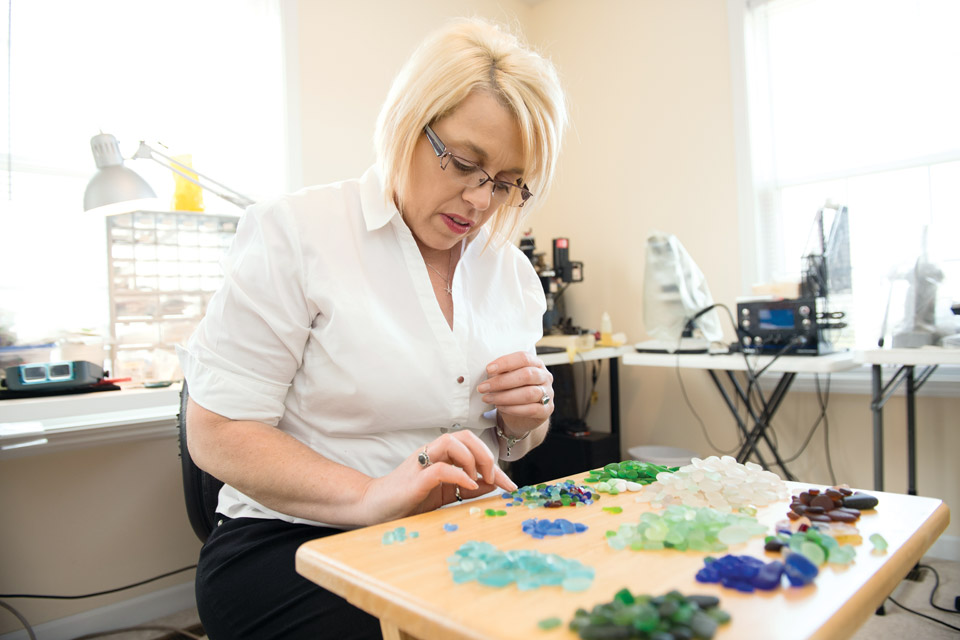 "Troy and I sometimes collect together. He walks along the water's edge and I am next to him, a little farther in," Dalrymple says. "That way we can cover more area. It's better to get to the beach early because you want to get there before other collectors."

Like many beachcombers, Dalrymple once owned boxes, jars and drawers filled with her collections, but she didn't do anything with them except admire their beauty. Then, around 1998, a friend gave her a gift from a sea glass jewelry store in Pennsylvania, and Dalrymple thought to herself, I must do this.

She was living in Columbus at the time, and although that might seem an odd place to start a business dependent on crashing waves, Dalrymple made it work. She took a metalsmithing class at the Columbus Cultural Arts Center and befriended a lapidarist who shared a few tricks of working with gemstones and glass. Her jewelry-making sister-in-law taught her some basics as well, while family and friends living near Lake Erie sent her more beach glass for her first creations.

"But I missed the beach and Lake Erie," says Dalrymple, who moved back to Ashtabula County with Troy in 2006.

The couple operated the now-closed Beaches Beach Glass Jewelry Studio and Gallery in Ashtabula for several years. These days, Dalrymple's sterling silver rings, necklaces and bracelets are sold under the name Beaches Jewelry at several year-round locations as well as seasonal sites, including Heartmade Boutique at Ashtabula Harbor, The Lodge at Geneva-on-the-Lake, and the Covered Bridge Shoppe in Harpersfield.


She will also feature her work at this month's Ashtabula Harbor Beach Glass Festival. Founded by the Dalrymples, the event is in its eighth year. The festival is set for June 25 and 26 in Ashtabula and will feature entertainment, demonstrations and about 70 vendors, with beach glass artists getting priority.

"Troy and I knew there was a national sea glass festival, so why not a beach glass festival?" asks Dalrymple. Sea glass, she explains, is buffeted by waves and saltwater in an ocean, while beach glass is borne of freshwater sources. Part of the appeal of both varieties, Dalrymple says, is that anyone can find it and it evokes a sense of wonder.

"What was this piece of glass part of originally?" she asks, while stepping over driftwood that has washed up on the beach. "Did someone just throw a bottle into the lake? People used to dump stuff all the time."

But there is no more time for Dalrymple's imagination to take over. As the waves get rougher and rain begins to fall harder, she gives up her hunt for the day and returns to her home studio. There she spills a small plastic bag filled with beach glass across a table and points out the colors: teal, green, white, black, brown, blue and a dark red shard that resembles a broken scallop shell.

The colors of beach glass vary depending on where they are found, but generally the most common are white, brown and green. The most rare, according to Dalrymple, are orange, red and bright yellow.

"You can identify older beach glass because it is generally thicker than more modern glass," she says.

The beach glass found today originated as bottles for milk, beer, medicine, perfume, inkwells, lantern glass, ship and automotive parts, windows and just about anything made from glass that ended up as waste in bodies of water. Some glass comes from objects washed away by floods or rivers into lakes.

"It's getting harder to find beach glass because more people are collecting it," says Dalrymple. "But there will always be some."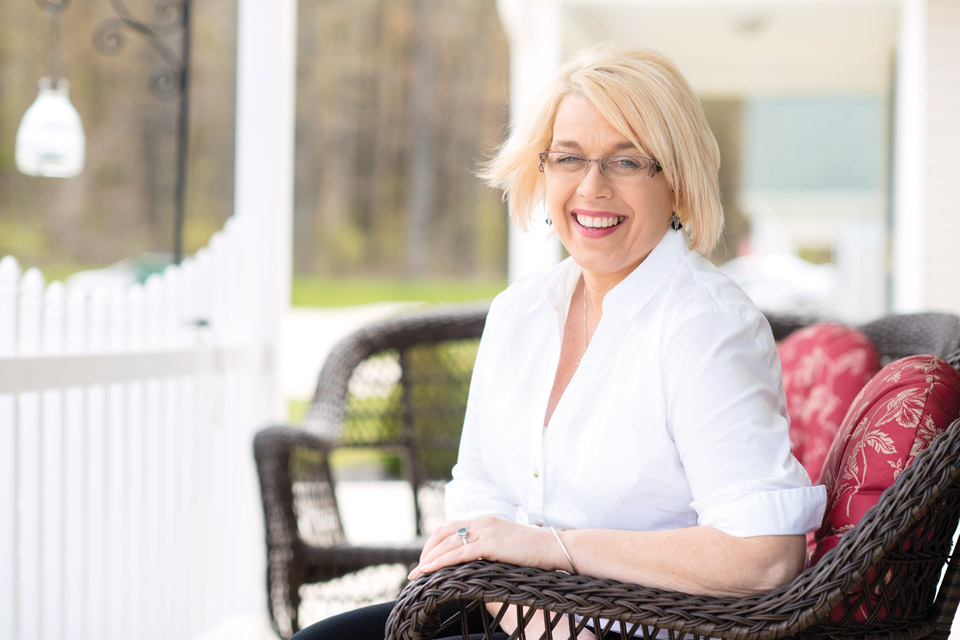 She also is concerned that artificial beach glass tumbled by machine is being sold as genuine. "If the pieces look perfect and there are a lot of rare colors, it's a good chance it's not real," she says.

Dalrymple's studio contains a drill press to create holes for stringing the glass pieces, a jeweler's worktable and bins of different shapes and colors of glass. Troy is the tech whiz, translating the couple's jewelry designs to a computer to form templates and cutting sterling silver for pendants or bangles: think sailboats, seashells, snowflakes and turtles.

"Troy and I both have had dreams in which we get ideas for jewelry designs," says Dalrymple. "But I also get inspiration from the glass itself. Sometimes you just look at a piece and know what it should become. I love the beach: the sand, the waves, the wind. Beach glass lets you take a little bit of that with you."

The Ashtabula Harbor Beach Glass Festival is June 25 and 26 from 10 a.m. to 5 p.m. on Bridge Street in Ashtabula. For more information about the event, visit facebook.com/beachglassfestival.