Travel
| Long Weekends
West Virginia's Civil War Trails
Ohio's neighbor is the only U.S. state born of the Civil War. From preserved battlefields to a nearly 170-year-old covered bridge, these four stops offer both history and natural beauty.
Sept./Oct. 2020
BY Nathan Havenner | Photo by J. Jericho
Sept./Oct. 2020
BY Nathan Havenner | Photo by J. Jericho
Droop Mountain Battlefield State Park

Nestled in the rolling hills of southern Pocahontas County, Droop Mountain Battlefield State Park preserves the site of the last significant Civil War battle fought in West Virginia. Mike Smith, retired park superintendent, says the November 1863 battle lasted about eight hours and resulted in a victory for the Union Army. Combined casualties numbered around 400 killed or wounded.

"It was small by Civil War standards but one of the bigger ones in West Virginia and the last significant one," he says.

One highlight of the 287-acre park is a wooden observation tower, a replica of the one the Civilian Conservation Corps built during the Great Depression.

"The tower is located where the Confederate artillery was during the battle," Smith says. "It is a beautiful view looking over the Allegheny Mountains to the north and east. It is a lovely scenic spot."

Visitors to this day-use-only park can also check out the on-site museum housed in a 1936 log cabin. The museum provides information on the battle and features original artifacts, including artillery shells, rifles and swords. The park is also known for its variety of trees and beginner-friendly hiking trails totaling just over 3 miles. In addition to its place in American Civil War history, Droop Mountain Battlefield State Park is also significant because it is the first West Virginia State Park. It was dedicated in 1928.

"It was started by mostly veterans of the battle in their older days," Smith says. "They didn't want what had happened to them there to be forgotten." 683 Droop Park Rd., Hillsboro, West Virginia 24946, 304/653-4087, wvstateparks.com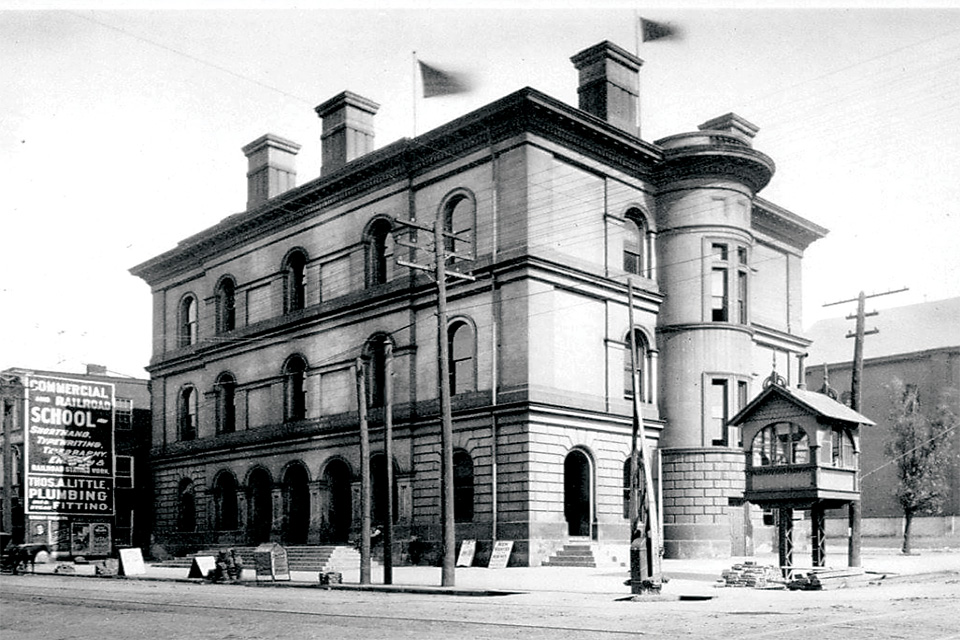 West Virginia Independence Hall
When the counties of western Virginia decided to split from the Confederate-controlled state of Virginia, the move began in this former federal building in Wheeling that is now known as West Virginia Independence Hall.
"There is no other building and no other city in the state that can say they are the birthplace of West Virginia," says Debbie Jones, West Virginia Independence Hall site manager. "This is where we separated from Virginia and became the 35th state."

Operated by the West Virginia Department of Arts, Culture and History, the Renaissance Revival structure was built in 1859 and has served as a U.S. Post Office, Federal Court and Wheeling Custom House over the years. Restoration work began during the 1960s and the building opened to the public as a museum in 1981. Its courtroom features Corinthian columns and its ceiling has what appears to be ornate plasterwork but is actually a painted-on optical illusion known as trompe-l'oeil.

"Downstairs on the second floor, we have 14 original Civil War battle flags, one of the larger collections that we know exists today," Jones says.

The collection is made up of 13 Union flags and one captured Confederate flag, which are displayed in temperature-controlled cases.

Other artifacts include a life mask of Abraham Lincoln's face made shortly before his death and a newspaper dating from the day after his April 14, 1864, assassination. Visitors can also view a copy of the West Virginia Declaration of Independence, signed by 56 delegates in 1861, the same number of signers of the United States Declaration of Independence in 1776. 1528 Market St., Wheeling, West Virginia 26003, 304/238-1300, wvculture.org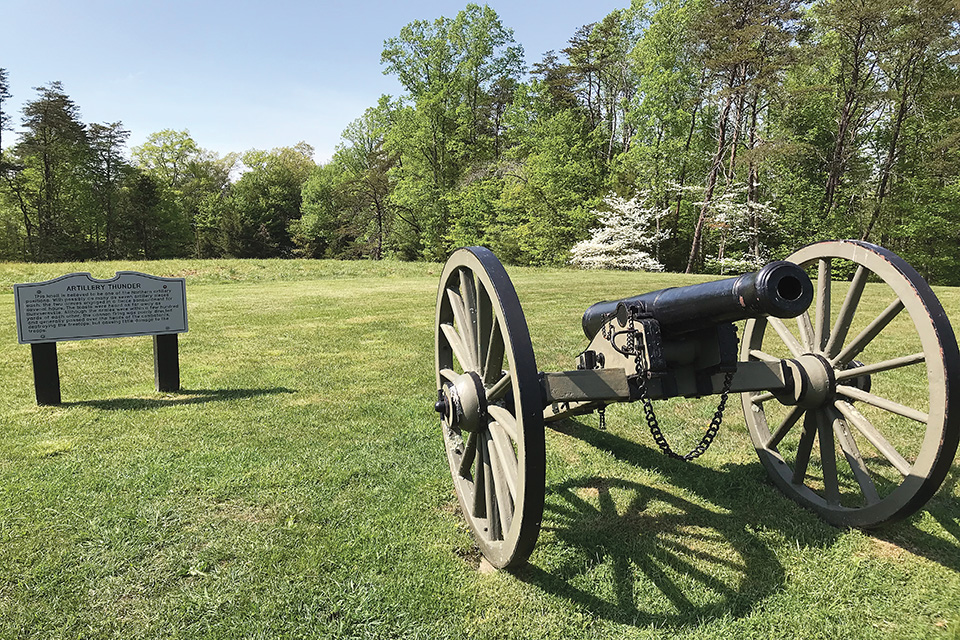 Carnifex Ferry Battlefield State Park

Covering 156 acres and situated along the Gauley River Canyon in Nicholas County, this early West Virginia State Park is a perfect stop for those looking for some outdoor adventure along with a dose of Civil War knowledge.

"You have a little slice of history through the battlefield, but there are 156 acres to explore," says Civil War Trails executive director Drew Gruber.

Fought in September 1861, the Battle of Carnifex Ferry saw an estimated 5,000 Union soldiers defeat roughly 2,000 Confederate soldiers, driving them from the Kanawha Valley of what was then still part of Virginia. The land that played host to the battle was designated a West Virginia State Park in 1935, with opportunities for hiking, camping and whitewater rafting.

Gruber says that, in some cases, there are limited historical texts detailing what happened at many of these lesser-known sites.

"We have a few interesting stories in West Virginia where the information available was very anecdotal," says Gruber. "It comes from oral tradition and oral history."

He adds that locations like Carnifex Ferry Battlefield State Park offer visitors a local experience with a variety of entertainment options located nearby, be it outdoor adventures, a winery and distillery or local crafts and antiques stores.

"Especially in West Virginia, Civil War Trails is going to direct you to a lot of these lesser-known sites, or the sites that have sort of been marginalized," Gruber says, "the ones that folks may not even read about in the history books." 1194 Carnifex Ferry Crossing, Summersville, West Virginia 26651, 304/872-0825, wvstateparks.com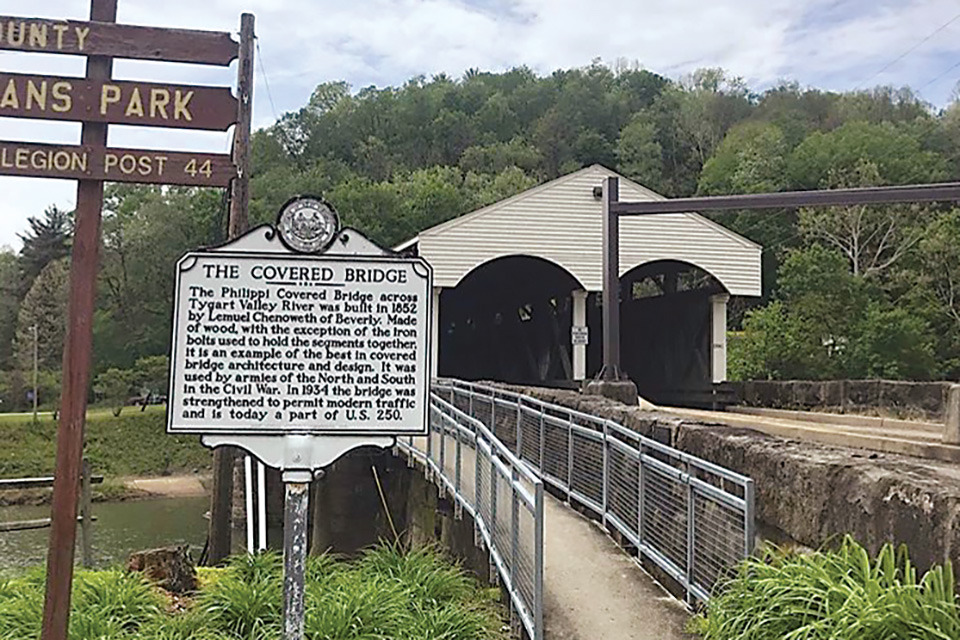 Philippi Covered Bridge

Despite more than 150 years of regular use, multiple floods and even a fire, the Philippi Covered Bridge continues to span the Tygart River, just as it did in 1861 when both Union and Confederate troops used it before and after the Battle of Philippi.

As tensions began to rise in May 1861, following Virginia's succession, Confederate sympathizers damaged the critically important railroad at the nearby city of Grafton, causing Union Gen. George B. McClellan to invade the Confederate-controlled state. In all, the Battle of Philippi involved 3,000 Union soldiers and 800 Confederate soldiers and resulted in a combined three casualties.

"The bottom line is, after this very first skirmish, the Confederates weren't prepared to fight, no one was prepared to fight," says local historian Lar Byrne, "so they skedaddled and the railroad in Grafton was secured."

Today, visitors can drive through the restored bridge, which is open to traffic, and see the original timbers from its 1852 construction.

Visitors to the bridge can also enjoy the Barbour County Historical Museum located just a few yards away and housed in a former Baltimore & Ohio Railroad Depot. Artifacts range from the Civil War to local history but also include two human mummies created in the area during the late 1800s.
Byrne says visiting West Virginia's Civil War sites is a great way to learn about the early battles of the war, which were not nearly as complex or as large as later ones.

"It is a very good [place] if you want to learn about the beginnings of the war," he says. 13 Museum St., Philippi, West Virginia 26416