Travel
| Long Weekends
Michigan Lighthouses
Michigan is home to 129 lighthouses — more than any other state — offering visitors a look at Great Lakes history.
October 2016 Issue
BY Amy S. Eckert | Photo by MI DNR/David Kenyon
October 2016 Issue
BY Amy S. Eckert | Photo by MI DNR/David Kenyon
Tawas Point Lighthouse | East Tawas
Since 1876, the Tawas Point lighthouse has lit up the Lake Huron shore. If only Lake Huron would stay put. The second of two beacons, the current Tawas Point light replaced a predecessor that ended up far from the water as Tawas Point grew.
"We expect the Coast Guard to decommission this lighthouse, too," says Sandra Clark, director of the Michigan History Center. "When this light was built Lake Huron splashed up against its cribbing. But Tawas Point is a sandbar, and it continues to grow."
Even after the Coast Guard extinguishes Tawas Point's light, visitors will likely be drawn to the graceful white tower. A museum re-creates the keeper's quarters from 1890 to 1910 and details the hardships faced by the keepers who once handled this difficult and vital job along the Great Lakes. The building's second floor is modernized to house volunteer keepers. Visit website for hours (open through Oct. 9); admission $5; 686 Tawas Beach Rd., East Tawas, Michigan 48730, 989/362-5658, michigan.gov/tawaslighthouse

***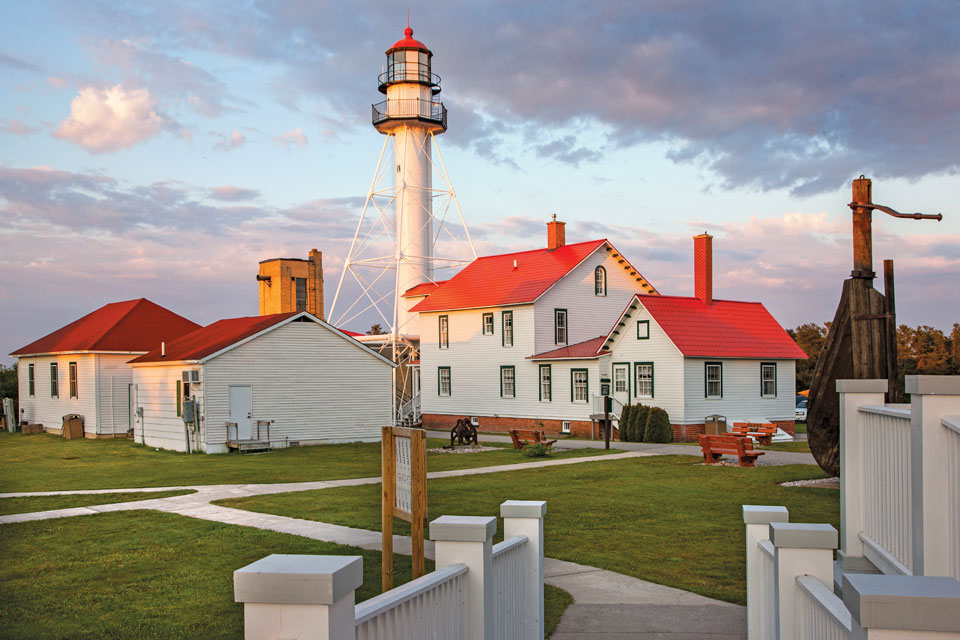 Whitefish Point Light Station | Paradise

Set on Lake Superior, along a stretch that sometimes goes by the ominous name Shipwreck Coast (some 200 wrecks lie offshore) Whitefish Point's 80-foot lighthouse stands amid a collection of brilliant red-and-white rescue station buildings.

Most of Whitefish Point dates from 1861. A newer building, the 1923 crew's quarters, ranks as a notable exception, having been converted into a small hotel. Dispersed through the older buildings are displays of the Great Lakes Shipwreck Museum including that of America's most famous modern wreck: the Edmund Fitzgerald.
"The station's role as the one nearest the Edmund Fitzgerald when it went down — and the fact that it wasn't operating the night of that storm — makes this lighthouse an intriguing one," says Bruce Lynn, executive director of the Shipwreck Museum.
The Fitzgerald is just one of several wrecks recounted, with stories of each vessel's demise, and ship artifacts and rescue equipment from the period on display. Visit website for hours (open through Oct. 31); adults $13, children 17 & under $9 (family rates available); 18335 N. Whitefish Point Rd., Paradise, Michigan 49768, 888/492-3747, shipwreckmuseum.com

***

Forty Mile Point Lighthouse | Rogers City
The square, white lighthouse at Forty Mile Point has guided mariners through northwest Lake Huron since its construction in 1896. A spiral staircase leads up the 62-foot tower, but according to Barb Stone, founding member of the Forty Mile Point Lighthouse Society, the attraction's most significant feature lies half-buried in the sand 200 yards from the lighthouse: a shipwreck dating from October 1905.
"She was called the Joseph S. Fay," says Stone, "and most of the ship lies beneath 17 feet of water. But a large chunk still lies on the beach."
En route to Ohio and loaded with iron ore, the Fay ran into rough weather that caused the break up of the ship and the death of one crewmember. Divers occasionally explore the ship's remains, but a 150-foot wooden section remains clearly visible after a century on the Lake Huron shore. Visit website for hours (open through Oct. 9); free admission; 7323 U.S. Hwy. 23 N., Rogers City, Michigan 49779, 989/734-4907, 40milepointlighthouse.org

***

Mission Point Lighthouse | Traverse City

During the fall, scenic M-37 rises over hills brilliant with color and past vineyards heavy with wine grapes. Once the state route nears the end of Old Mission Peninsula, travelers discover a lighthouse they often didn't know existed.

"People come for the shallow-water beach or the hiking trails at the end of the road and suddenly, there it is: Mission Point," says lighthouse manager Ginger Schultz.
Built in 1870, the lighthouse casts a beacon farther than its 45-foot height would suggest, perched as it is atop a sand dune. A small museum recounts the light's history, including that of its rare female keeper, Sarah Lane. Visit website for hours (open through Oct. 31); free admission to first floor, to climb to the top adults $4, children 6–12 $2, children under 6 free; 20500 Center Rd., Traverse City, Michigan 49686, 231/223-7324, missionpointlighthouse.com

***

Old Mackinac Point lighthouse | Mackinaw City

The Straits of Mackinac ranks as one of Michigan's most beloved destinations. But in the 19th century, the narrow stretch of water was one of its most treacherous. The Old Mackinac Point light, the "Castle of the Straits," began illuminating the dangerous shipping lane in 1892.
"Maybe it's because the light was in a public park," museum historian Craig Wilson says of the building's Norman Revival design. "Whatever the reason, the building's architecture is quite unusual."
The Mackinac Bridge and its superior navigational aids rendered Old Mackinac Point obsolete in 1957, but this lighthouse is still very popular. Visit website for hours (open through Oct. 9); adults $7.50, children 5–12 $4.50; 526 N. Huron Ave., Mackinaw City, Michigan 49701, 231/436-4100, mackinacparks.com

***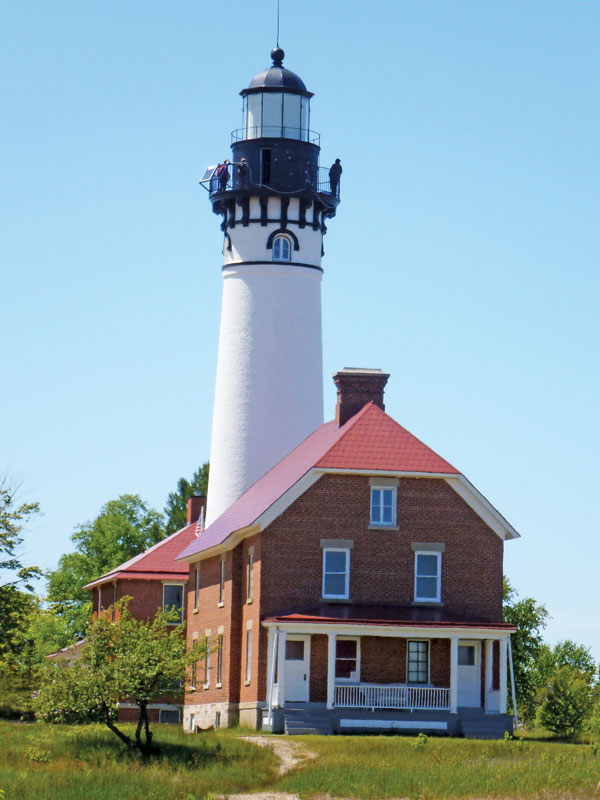 Au Sable Light Station | Pictured Rocks National Lakeshore

Getting to the Pictured Rocks National Lakeshore's Au Sable lighthouse takes a little effort. It's a 1.5-mile walk each way along a gravel footpath.

"But it's a beautiful walk," says Susan Reece, chief of interpretation and education at Pictured Rocks National Lakeshore, as she describes the trail that skirts the Lake Superior shoreline. And if the scenic views aren't enough, there are the remains of shipwrecks jutting up above the water's surface.
"Visibility changes year to year," says Reece, "but you can always see some portion of a wreck."
The 87-foot Au Sable light has been active since 1874, although a smaller light on the tower's catwalk has since replaced its original Fresnel lens. The former keeper's house today features a small museum, while a second 1909 building re-creates keepers' living conditions from the early 20th century. Upstairs, renovated accommodations house volunteer lighthouse keepers. Visit website for hours (open through Oct. 15); tour fee $3 for ages 6 & older (exact change is required); E. 18850 County Rd. H58, Grand Marais, Michigan 49839, 906/387-3700, nps.gov/piro

***

Big Sable Point Lighthouse | Ludington
In 1858, President James Buchanan selected Big Sable Point as the site of a new lighthouse because the small horn of land posed hazards for ships sailing to and from Chicago. The Civil War stalled progress on the light until 1867, but the beacon remained active until 2002.
"The Big Sable Lighthouse was actually built of Milwaukee Cream City brick," says Jim Gallie, manager at Ludington State Park. "But that brick is soft and the tower began deteriorating right away."
The brick's golden color also complicated matters, camouflaging the tower with the nearby sand dunes.
"Finally in 1905, the light was covered with a protective steel cladding, then painted with its distinctive black and white stripes," adds Gallie.
Big Sable Point sits 1.8 miles from the park entrance on the Lake Michigan shore. With rare exception, entry is only by foot. Visit website for hours (open through October); $5 to climb the tower, children 11 & under $2; 8800 West M-116 (GPS directions), Ludington, Michigan 49431, 231/845-7417, visitludington.com

***

William Livingstone Memorial Light | Detroit
The nation's only art deco lighthouse — and its only marble one — sits within Michigan's largest city and is dedicated to an influential Detroit banker and newspaperman. William Livingstone garnered praise for his role in spearheading navigational improvements as president of the Great Lakes Carrier Association.
To honor his achievements, the 58-foot William Livingstone Memorial Light was erected on Belle Isle in 1930. It was designed by art deco architect Albert Kahn and crafted by sculptor Gaza Moroti.
"The Livingstone light is made of white Georgia marble, with a bronze lantern room and a 3-foot, 40-pound brass light handcrafted in Paris," says Jacob Brown, unit supervisor at Belle Isle Park. "The lighthouse became one of the most iconic symbols of Belle Isle."
Visitors can't climb the Livingstone light, but a 1-mile walking trail runs alongside the island's lagoon with views of Windsor and the mouth of Lake St. Clair. Located at the eastern tip of Belle Island, Detroit, Michigan 48201, 313/852-4075

----
WHEN YOU GO: Lighthouses located within Michigan State Parks require an additional fee to enter the park grounds. For non-Michigan residents, there is a $9 daily pass per vehicle, or visitors may opt for the $31 annual pass. Parks in this section requiring that fee include Grand Traverse, Tawas Point, Big Sable and William Livingstone. For more information, visit michigan.gov/dnr.