Travel
| Long Weekends
Michigan Autumn Escapes
From fresh ciders and apple-cinnamon doughnuts to pumpkin picking and hayrides, here are six road-trip destinations that'll help you make the most of the season.
October 2019
BY Kelsey Husnick | Crane Orchards photo by T. Crane Photography
October 2019
BY Kelsey Husnick | Crane Orchards photo by T. Crane Photography
Crane Orchards, Fennville

Everything is to be tasted at Crane Orchards. With so many apple varieties to choose from, co-owner Rob Crane says guests should sample their apples before heading off into the U-pick orchard to harvest their own.

"You do taste testing, and then we're teaching people what they want," he says. "We get a chance to actually educate them and answer questions."

With 22 varieties spanning 40 acres of apple trees, the tasting certainly comes in handy. Streets signs pointing out varietal names also help guide apple pickers through the orchard.

"Everything's by the pound," he says. "So, you can put one apple in a bag, or you can take a wagon."

Pumpkins of all colors, shapes and sizes are also available in the fall. A hop-on, hop-off hayride on weekends helps guests get around the 180-acre property, which also contains Crane's Pie Pantry, Restaurant & Winery and a 21-acre corn maze with three areas visitors can work through. Crane says trivia guidebooks help maze-goers navigate crossroads.

"You answer the question and you decide, it is A, B or C, whether you will go left or right," he explains, noting it would take about an hour and a half to make your way through all three parts of the maze. Open daily 10 a.m.–6 p.m.; 6054 124th Ave., Fennville, Michigan 49408, 269/561-8651, craneorchards.com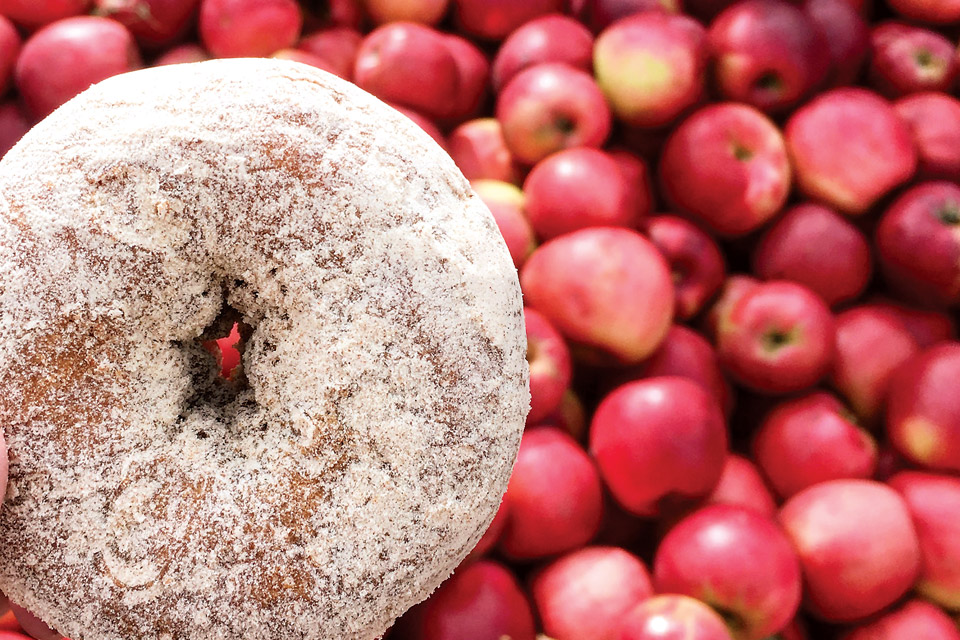 Uncle John's Cider Mill, St. John's

October is the best time to pick up what Mike Beck, co-owner of Uncle John's Cider Mill, calls the "standard Michigan profile" of apples. It's when Honey Crisp, Macintosh, Cortland, Northern Spy, Jonathan, Ida Red and Golden Delicious apples are all on shelves.

Five generations of Becks have run the farm, which added apple cider and doughnuts in 1970. It's become a Michigan family favorite not only for its fruit, cider, and bakery selections, but also for fall fun. Beck says new attractions are added to the farm every year and now include a corn maze, hayrides and an inflatable jumping pillow. But it's not just the kids who have fun to look forward to.

"Over the last 20 years or so, we've been developing hard cider and apple spirits," says Beck. "We're one of the few places that you can sample for free, and you can see where it's made and get educated on the product. And while we do distribute some products beyond our farm gate, there are a whole bunch of offerings that you can only get here."

Favorites like Uncle John's standard apple and apple blueberry ciders are in stores, but the apple vodka, brandy and some specialty fruit wines and meads can only be found at the cider mill. Open daily 9 a.m.–6 p.m. (Sept. & Oct. 9 a.m.–8 p.m.); 8614 N. U.S. 127, St. Johns, Michigan 48879, 989/224-3686, ujcidermill.com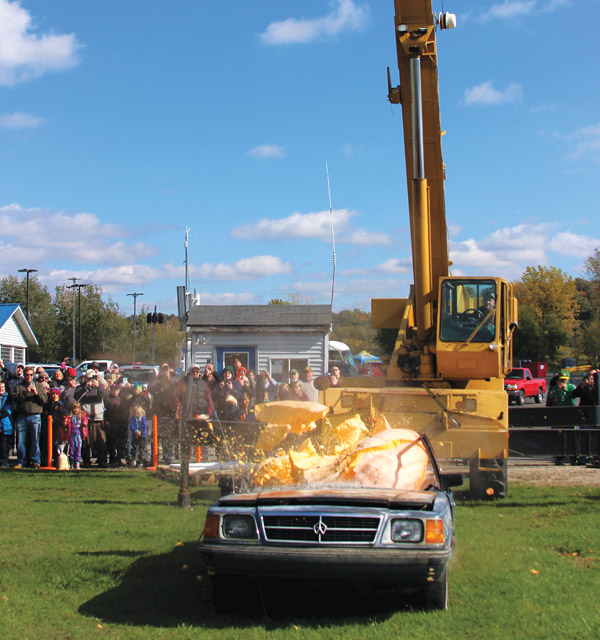 Benzie County Fall Festivals, Beulah and Frankfort

There's always something to do on autumn weekends in Benzie County. What started as one annual festival 15 years ago has transformed into fall celebrations held throughout the month of October, says Joanne Bartley, who helps organize the events as executive director of the Frankfort Elberta Area Chamber of Commerce.

"The first year was fine, but every year since, it just grows and grows and grows. People absolutely love it," she says.

The towns of Beulah and Frankfort trade off hosting Fall Festivals, with Beulah and neighboring Benzonia doing so on Oct. 5. Events at Beulah Village Park include a car-and-motorcycle show, petting zoo and pumpkin-decorating station. The following weekend, on Oct. 12, Frankfort is abuzz with festival happenings, starting with a pancake breakfast and then a parade.

Of the highlights in Frankfort, Bartley says crowds love to see the annual pumpkin drop, in which organizers hoist up a giant, 700- or 800-pound pumpkin and drop it onto a junked car. "It blows my mind, all these people are in awe of this big pumpkin that's just dropped from the sky," Bartley says.

Local pumpkin carver Ed Moody will also be downtown working on one of his gigantic pumpkin artworks, and live music will round out the evening. Locations, dates and times vary. Go to visitbenzie.com for a complete schedule of events happening throughout the county during the month of October.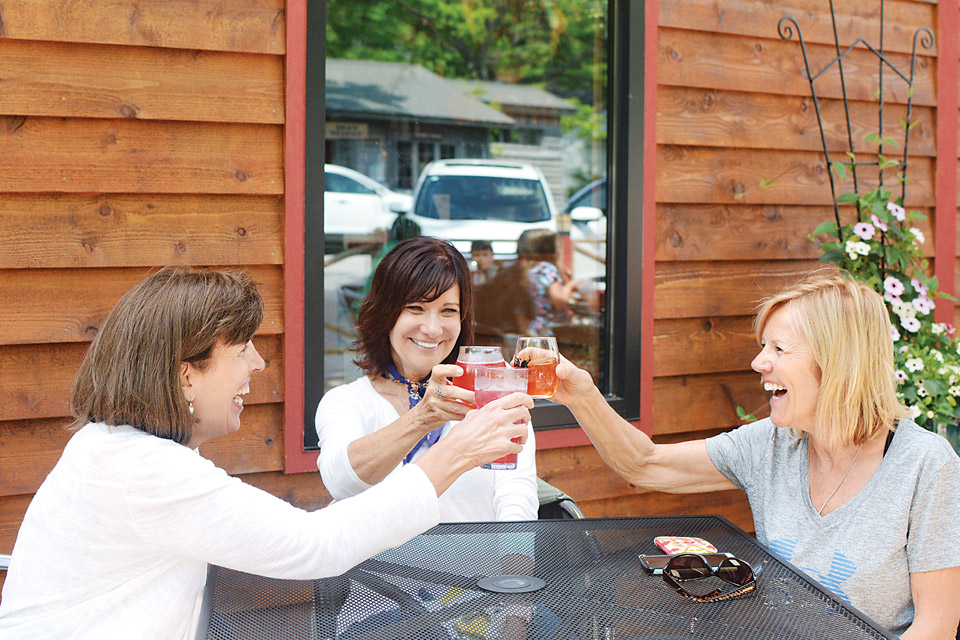 Cherry Republic, Glen Arbor

Northern Michigan boasts the perfect growing season and temperatures for an abundant cherry crop. For all things cherry-inspired, enthusiasts can revel in Cherry Republic, a specialty store that pays homage to the fruit. What started as a T-shirt business run out of a car in 1989 has grown to include six locations and more than 200 cherry-based products.

"We make cherry salsa, we make cherry wine — it runs the gamut," says Kathy Baarstad, general manager of the Glen Arbor location. "It's pretty incredible for a fruit to be that versatile."

Cherry Republics can be found throughout the state, but the charming campus in Glen Arbor, the flagship location, is home not only to the impressive timber-frame store, but also a winery and restaurant. Visitors can stroll through the cherry trees, sample a variety of cherry wines, beers or sodas, relax with a game of cornhole or Jenga, and then enjoy house-made cherry ice cream or a bacon-and-cherry-marmalade burger at the Cherry Public House.

Baarstad says you'll leave Cherry Republic with more than your fill of its namesake fruit. "Every customer that walks through the door ... is offered a free gift box. It comes with a piece of Northern Michigan in it," she says. "We put in a piece of birch bark, a pine cone and a cedar sprig." Open daily 9 a.m.–9 p.m.; 6026 S. Lake St., Glen Arbor, Michigan 49636, 231/226-3014, cherryrepublic.com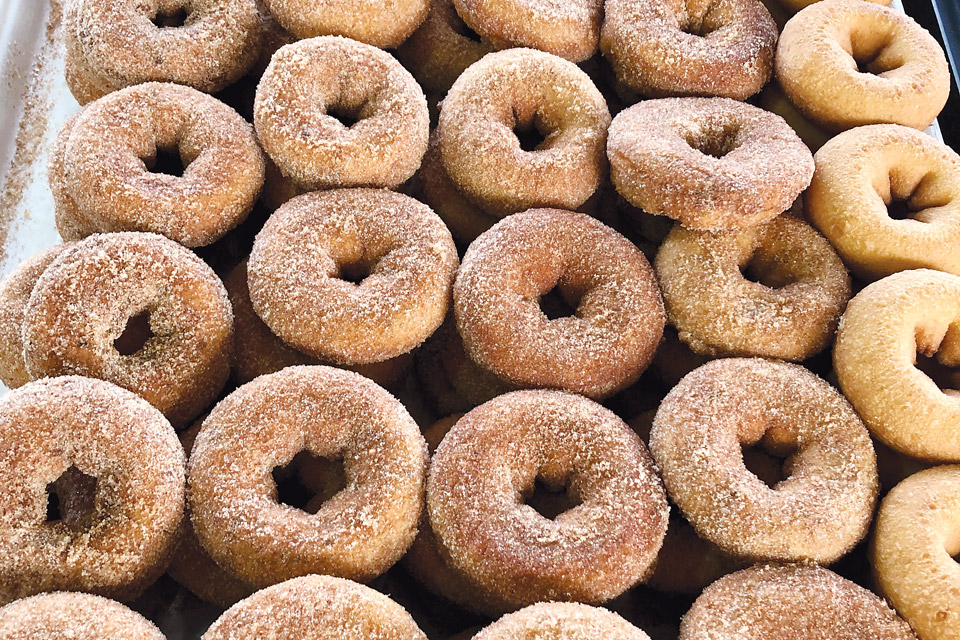 VerHage's Fruit Farms & Cider Mill, Kalamazoo

Cider season runs from September until Christmas at VerHage's Fruit Farms & Cider Mill, and what's better to pair with homemade apple cider than an apple-cinnamon doughnut?

"We've got a 40-foot doughnut counter that sets us apart from anybody else because we just have so many different flavors," says Kelly VerHage, who co-owns the business with her brother. "Apple cinnamon is done 14 different ways."

The counter is filled daily with fresh doughnuts, made from recipes old and new. VerHage's mother and grandmother developed some of the flavors, but now her daughter, Megan, has become the mastermind in the bakery. In addition to doughnuts, VerHage says she specializes in coffeecakes and family-style cinnamon rolls, and she can prepare an apple pie as many different ways as the doughnuts — from apple rhubarb to caramel apple nut to iced apple streusel.

Those wanting to try their hand at creating sweet concoctions can visit the caramel apple buffet in the candy shop, says VerHage, where fresh-dipped apples can be rolled in an array of sweet or salty treats. On weekends throughout the fall, families can explore the farm on a hayride, and kids can enjoy pony rides or learn to drive a tractor.

"They get a certificate that says they've been to tractor school," she says. Open daily 9 a.m.–6 p.m.; 8619 W. ML Ave., Kalamazoo, Michigan 49009, 269/375-0153, verhagesfruitfarmandcidermill.com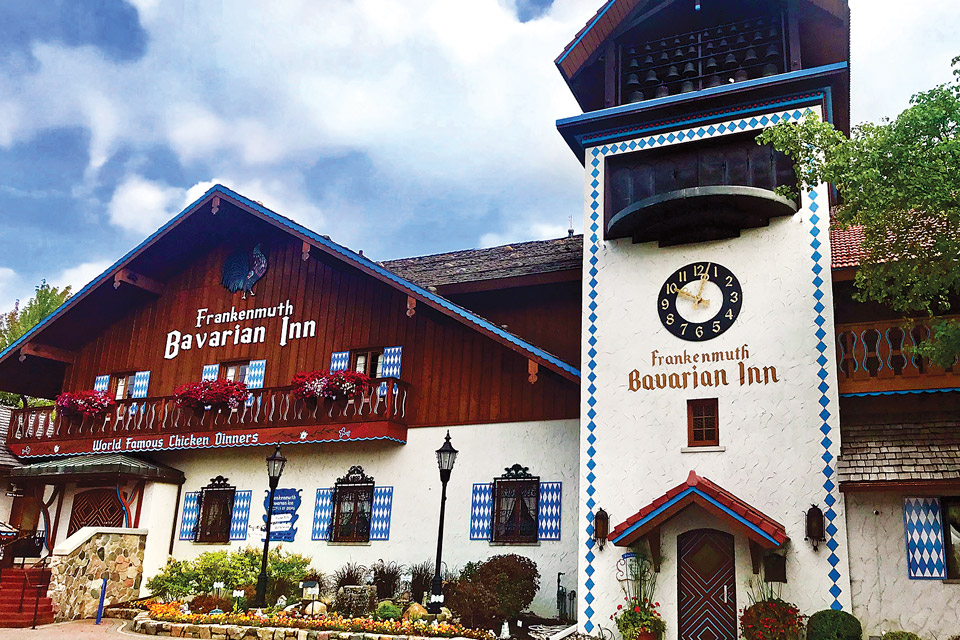 Pretzel Rolling at the Bavarian Inn, Frankenmuth

Pretzels are one of the world's oldest salty snacks, dating back to the sixth century. Legend has it that a monk, who also worked as a baker, gave pretziolas — which translates to "little rewards" — to children when they remembered their prayers. David Cothern, pretzel master at the Bavarian Inn Restaurant, teaches this story to novice pretzel-makers as they learn to roll their own little rewards.

In addition to the history lesson, you'll learn how to form the dough (made from yeast, flour and German dark beer) and twist it into the proper shape. Then the pretzel is dipped in a traditional water-bath solution before it's cooked, which gives it a golden brown color.

After baking for about 20 minutes, Cothern says, "it's right out of the oven to their mouth. We give away a Bavarian Inn-style mustard that goes with it that's very good. Personally, I won't eat a pretzel without it."

Other possible pretzel pairings include nacho cheese, cream cheese, honey mustard or marinara, he says. But of course: "Our best German tradition with the pretzels is drinking a beer with it."

After the class, browse the Frankenmuth River Shops and the quaint beer halls and restaurants near the Bavarian Inn for the full German-town experience. Classes offered daily at 2:30 p.m., $6.49 per person, two-hour advance reservations required; 713 S. Main St., Frankenmuth, Michigan 48734, 989/652-9985, bavarianinn.com