Travel
| Long Weekends
Biking, Hiking and Climbing in West Virginia
Head to the Mountain State this spring for outdoor adventure. These locations offer great places to hike, bike and climb, no matter what your skill level.
March/April 2022
BY Macy Kile | Photo courtesy of ACE Adventure Resort
March/April 2022
BY Macy Kile | Photo courtesy of ACE Adventure Resort
HIKING

Harpers Ferry National Historical Park

Harpers Ferry is a popular destination for history buffs and hikers alike. The park has 22 miles of trails that satisfy all skill levels and stretch beyond West Virginia to touch parts of Virginia and Maryland.

The Maryland Heights Trail offers the option of a 4.5-mile or 6.5-mile hike. (The 4.5-mile round trip offers the quickest route to the Maryland Heights Overlook, but you can add another 2 miles with the Stone Fort Loop Trail.) The trail is moderate to strenuous (based on the route you choose) and overlooks the town of Harpers Ferry, offering spectacular views of the quaint rural landscape as well as the Shenandoah and Potomac rivers, which meet alongside the Blue Ridge Mountains.

History is ingrained in the Harpers Ferry area. The Murphy-Chambers Farm Trail (1 to 3 miles round trip based on the route you take) travels through sprawling fields and shaded ravines, passing by Civil War cannons and earthworks from the Battle of Harpers Ferry.

"Harpers Ferry isn't just any one thing," says Leah Taber, public affairs specialist for Harpers Ferry National Park. "We are a place that saw a range of historical events and we are located where a lot of geological features come together, which makes this area especially unique." 171 Shoreline Dr., Harpers Ferry, West Virginia 25425, 304/535-6029, nps.gov/hafe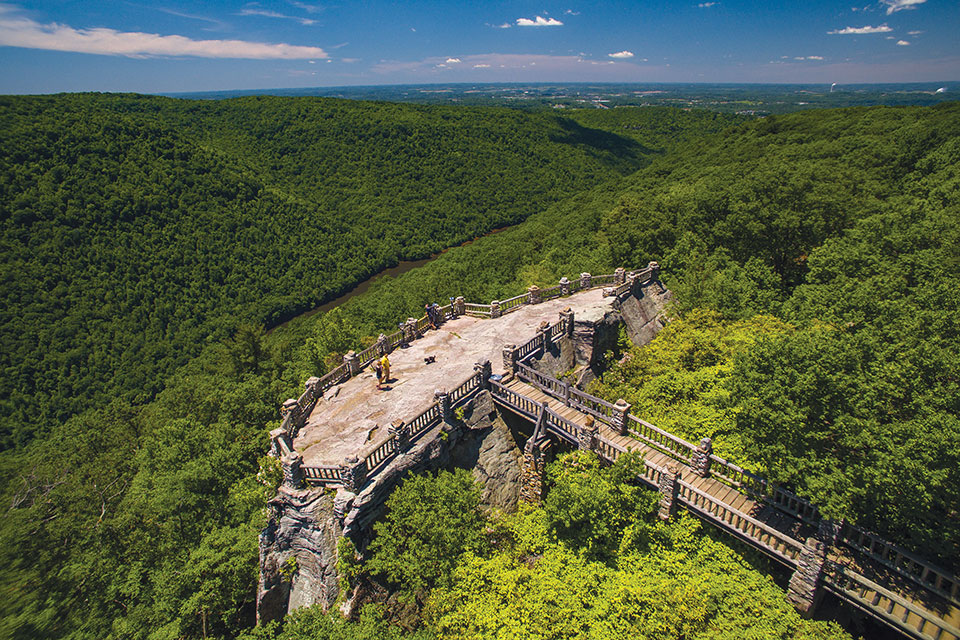 Coopers Rock State Forest

Coopers Rock State Forest, located about 12 miles from Morgantown, offers a great day-hiking destination for adventurers of all ages and skills levels. With more than 20 hiking trails that cover a total of more than 50 miles, the Coopers Rock and Ravens Rock areas of the state offer a natural getaway not far from West Virginia University. The Overlook Trail is by far the easiest trek. A few hundred feet in, hikers find the iconic Coopers Rock Overlook that offers an incredible view of the rolling hills of Cheat Canyon and the shimmering Cheat River below. Those who wish to spend a little more time in the forest should seek out the Rhododendron Trail. About a mile long, it offers a quiet escape from the busyness of Coopers Rock State Forest's famous overlook

"It's a little off the beaten path," says Coopers Rock State Forest office manager Jonas M. McClenahan. "You won't see as many people, and it takes you through some really cool rhododendron spots. Especially in early July to mid-July since that is when the rhododendron is in full bloom." 61 County Line Dr., Bruceton Mills, West Virginia 26525, 304/594-1561, wvstateparks.com

BIKING

Wheeling Heritage Trail

The city of Wheeling has made a point of converting old railroad beds for modern recreational use. Formally a route traveled by the B&O Railroad, Wheeling's Heritage Trail spans 16.5 miles and is paved for easier riding.

Much of the trail features views of the city while also offering access to the Ohio River. Many of the views show reminders of the industrial boom that shaped the city and provide a historical background for the leisurely ride. Along the way, signs point out key moments in Wheeling's history. Although the trail is a favorite of travelers, it's also widely used by locals looking for an easy getaway into nature from the city.

"Plenty of people use the rail trail. It's a big asset to the community," says Andrew Hollis, owner of Wheelcraft Bicycles in Wheeling. "It's all asphalt, which is pretty unique. You can rollerblade, walk or bike on it." To learn more about the Wheeling Heritage Trail, visit wheelingwv.gov.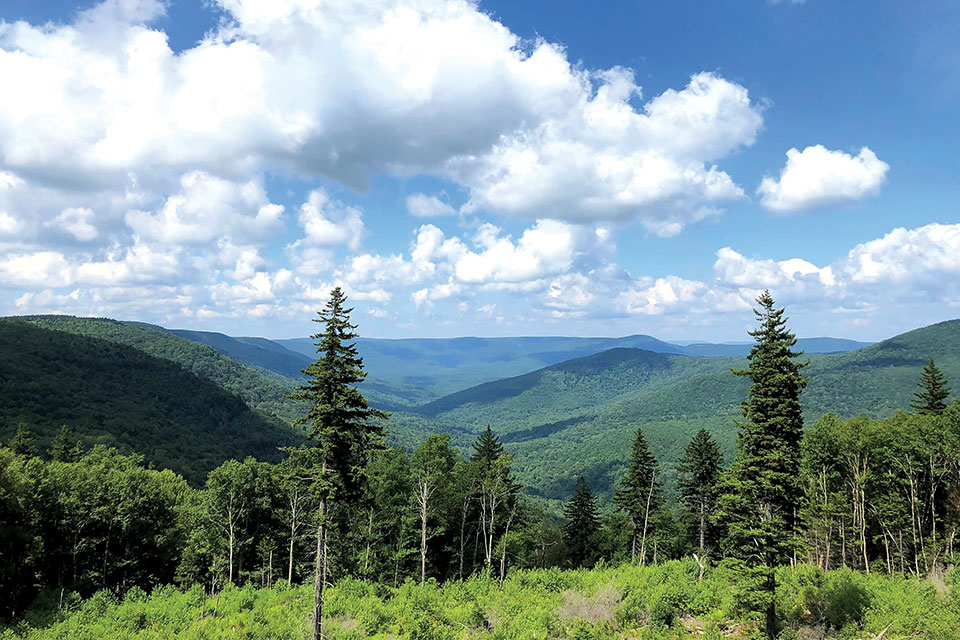 Highland Scenic Highway

Located in Pocahontas County, the Highland Scenic Highway runs 43 miles through Monongahela National Forest and serves as a gateway to biking adventure. The route offers amazing views of West Virginia's incredible natural scenery.

Mountain bikers head to this area of West Virginia to ride the popular Gauley Mountain Trail. Just more than 5 miles round trip, this epic ride has great downhill and climb experiences. Views through the valley look down over Tea Creek and the Williams River, and the trail benefits from the welcome shade of spruce trees. For beginners, biking the Cranberry Backcountry is a nice and gentle ride with a variety of branching trails.

"The Highland Scenic Highway is the gateway to so many of our trails and as you climb in elevation, the forest changes as well," says Matthew Edwards, South Zone recreation manager for Monongahela National Forest. "Spruce forests are beginning to retreat so this area is really unique." For more information about the Highland Scenic Highway and biking experiences in Monongahela National Forest, visit fs.usda.gov/mnf.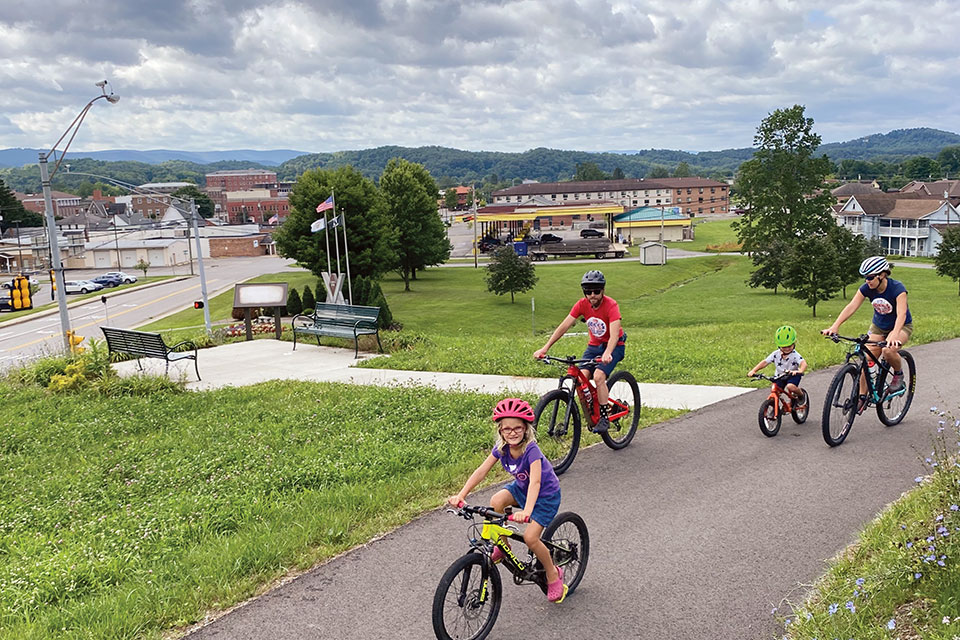 Allegheny Highlands Trail

The Allegheny Highlands Trail runs 31 miles with a trailhead in Elkin that follows the original route of the West Virginia Central and Pittsburgh Railway. A portion of the trail slightly ascends for 15 miles as bikers pass through the Pheasant and Polecat Knob mountains.

Along the way there are plenty of opportunities for bikers to snap photos of mountain scenery, rural landscapes and charming small towns, where you can stop off and learn a little about the history of the Mountain State.

Wildlife is frequently spotted along the Allegheny Highlands Trail and the Cheat and Black Fork rivers can be seen at times depending where one is along the route. The ride is also accessible to riders of different skill levels, according to Joey Riddle, owner of Joey's Bike Shop in Elkins.

"I take the trail almost every day. It's an easy ride," he says. "There's a ton of wildlife you can see — a lot of deer, squirrels, chipmunks." To learn more about the Allegheny Highlands Trail, visit wvrailtrails.org. For more information about Joey's Bike Shop, visit joeysbikeshop.com.

CLIMBING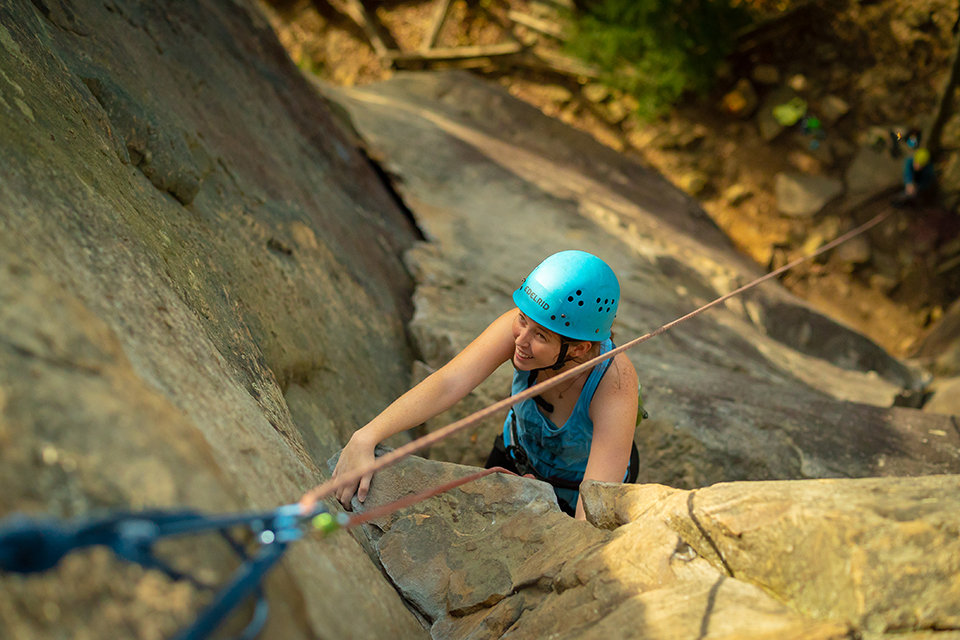 New River Gorge National Park and Preserve

America's newest national park is one of West Virginia's greatest treasures. Located near Fayetteville, New River Gorge National Park and Preserve was granted national park status in 2021. The area is home to hiking, biking, white water rafting, Bridge Day (an annual festival that allows the daring to BASE jump and rappel from the New River Gorge Bridge) and, of course, rock climbing.

A multitude of local outfitters run climbing trips throughout the area for those who are new to the sport. Bridge Buttress is an easily accessible, high-usage area that is perfect for novice climbers, according to Eray Haynie, manager of adventure operations at ACE Adventure Resort in Oak Hill, West Virginia.

" 'Easily is one of the best climbs at Bridge Buttress," he says. "It has some of the best bridge views. You get a view of the entire gorge and it's great during sunset hours. People often underestimate the size and height of the bridge, so it's an impressive experience." To learn more about New River Gorge National Park and Preserve, visit nps.gov/neri. For more information about ACE Adventure Resort, visit aceraft.com.

Seneca Rocks

This famous feature of West Virginia is also one of the best places to climb if you're a beginner, according to Tom Cecil, owner of Seneca Rocks Mountain Guides and a climber for nearly five decades.

"It's the perfect place for beginners because there's a lot of easy to moderate climbing areas," he says. "It's that classic climbing experience where you get to climb to the top of something. You get to climb the summit. You are so high up it provides dramatic and thrilling views while being very doable."

He says a good experience for novice climbers is tackling the south peak of Seneca Rocks. It consists of a short hike and then climbing up a vertical rock face. Once at the top, climbers may carefully sit on the rock (tethered) and bask in the panoramic views of the soaring Allegheny Mountains.

If hiking is more your speed, take the 1.5-mile trail to the north peak of Seneca Rocks — an experience that gives you a taste of the exhilaration without the technical climbing. Seneca Rocks is located within Monongahela National Forest. To learn more, visit fs.usda.gov/mnf. For more information about Seneca Rocks Mountain Guides, visit senecarocks.com.