Travel
| Long Weekends
8 Must-Visit West Virginia State Parks
If you want to see the Mountain State in all its rugged, natural glory, plan a trip to one of these state parks.
August 2017
BY Nathan Havenner | Photos courtesy of West Virginia Department of Commerce
August 2017
BY Nathan Havenner | Photos courtesy of West Virginia Department of Commerce
Blackwater Falls State Park

For well over 100 years, nature lovers have descended upon West Virginia's Tucker County to take in the beauty of a famous waterfall known for its unusual color. Tannins in the water created by falling red spruce and hemlock needles keep the water a dark coffee color year-round.
A 214-step boardwalk provides visitors a spot to take in Blackwater Falls, but those looking for an easier trek down can opt for the paved, quarter-mile Gentle Trail to a different observation deck.
"They are probably one of the most popular, photographed falls in West Virginia," says park superintendent Matthew Baker.
Located in the small town of Davis, Blackwater Falls State Park offers 2,358 acres of West Virginia wilderness. It is home to 20 miles of hiking and biking trails, including the popular Lindy Point Trail — a short, less-than-half-mile trek that ends with a magnificent view of Blackwater Canyon.
The park's 54-room lodge lets guests choose from standard, canyon view and deluxe suites. It has an indoor pool and fitness center, while the Smokehouse at Blackwater Falls restaurant serves breakfast, lunch and dinner and is known for its barbecue. There are also 39 cabins available for travelers to rent. Those looking for more modern accommodations can opt for one of the 13 deluxe cabins that come with a television, Wi-Fi, washer, dryer and dishwasher.
"We have classic cabins, which give you that more rustic feel — they don't have TVs or Wi-Fi," Baker says. "They have wood-burning fireplaces and that more traditional cabin-in-the-woods feel." 1584 Blackwater Lodge Rd., Davis, West Virginia 26260, 304/259-5216, blackwaterfalls.com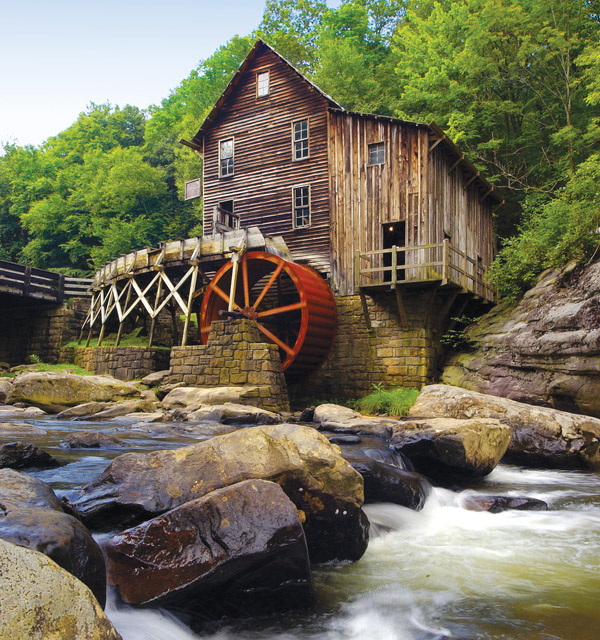 Babcock State Park

The gristmill that sits alongside Glade Creek looks as if it has seen many a mountain winter, but Babcock State Park superintendent Clinton Cochran says the wood-and-stone structure was added to the 4,127-acre park in 1976.
"It is arguably the most photographed structure in the state," he says. "They constructed [it] out of pieces and parts of three other gristmills."
Situated next to the New River in Clifftop, West Virginia, Babcock State Park is a favorite destination for hikers, campers and photographers. The Civilian Conservation Corps built 26 of the park's 28 rental cabins during the 1930s, while a 52-site campground provides both primitive and electric camping.
Those looking to explore can choose from 15 hiking trails. The 2.5-mile Narrow Gauge Trail follows the bed of the old Mann's Creek Railway, which closed in 1956. Although many of the trails are moderate in difficulty, Cochran says others require some steep climbs. North Slope Trail is one of the more strenuous hikes in the park.
The 19-acre Boley Lake accommodates human-powered boats ranging from rowboats to canoes, and Cochran adds that the lake is known for great fishing, with anglers catching trout and bluegill in its waters each summer. Maybe best of all, the plentiful shade provided by the thick tree canopy throughout the park means there is relief from even the hottest summer days.
"It will get warm through the day, but because of the leaf foliage even our cabins are not hot to stay in," Cochran says. 486 Babcock Rd., Clifftop, West Virginia 25831, 304/438-3004, babcocksp.com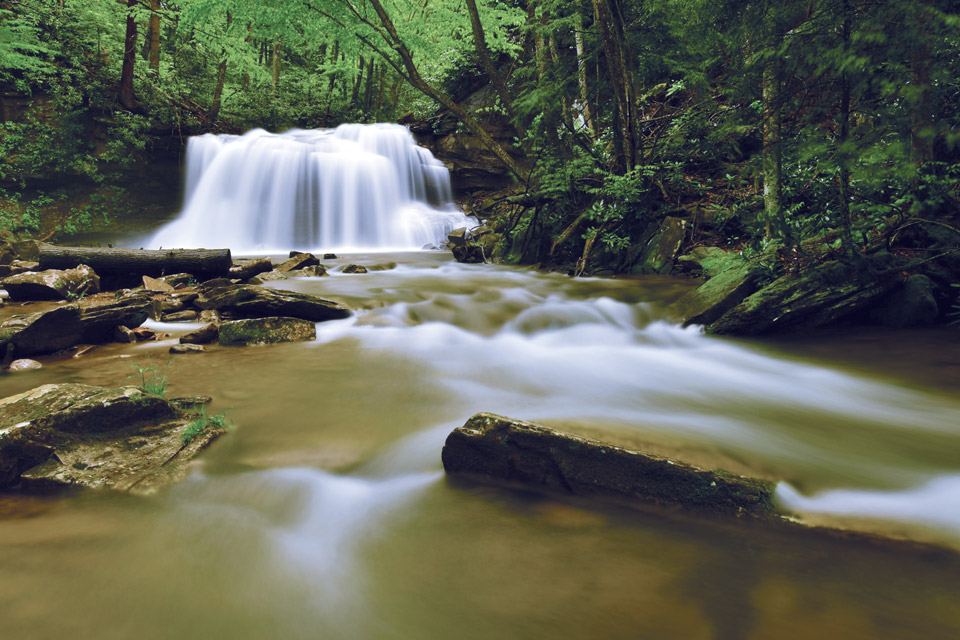 Holly River State Park

Spread out over 8,101 acres in West Virginia's rugged Hacker Valley, Holly River State Park is home to six scenic waterfalls. Johnny Molloy, author of Hiking Waterfalls in West Virginia, says the three most popular are Tecumseh Falls, Tenskwatawa Falls and Mystic Falls.
"Two of the three are easily accessible," he says, adding that Tecumseh Falls is the most accessible. Named after the Shawnee Indian leader, the waterfall can be viewed from an easy 2.2-mile round-trip hike.
"It's straight up a nice scenic creek, you've got a few creek crossings but it's straightforward, not difficult," Molloy adds. "If you are going to make your way to Holly River State Park you need to go to this waterfall, no doubt."
Molloy says the second must-see waterfall at Holly River State Park is Tenskwatawa Falls. Named after Tecumseh's brother, this 20-foot-high waterfall can be viewed from a 3.6-mile round-trip hike.
"You start out, and you kind of climb over the ridge and you start to wonder if this is the right way to the falls because you completely leave the sound of water," says Molloy.
The park's third major waterfall is Mystic Falls, but Molloy warns that it is a more difficult trek. "The problem is it's a steep drop off with real steep brush around it, and you really have to scramble off trail to get a view," Molloy says.
Those looking to stay at the park can make use of the 88-site campground that is available to tents, campers and RVs, or 10 original park cabins built in the 1930s. 680 State Park Rd., Hacker Valley, West Virginia 26222, 304/493-6353, hollyriver.com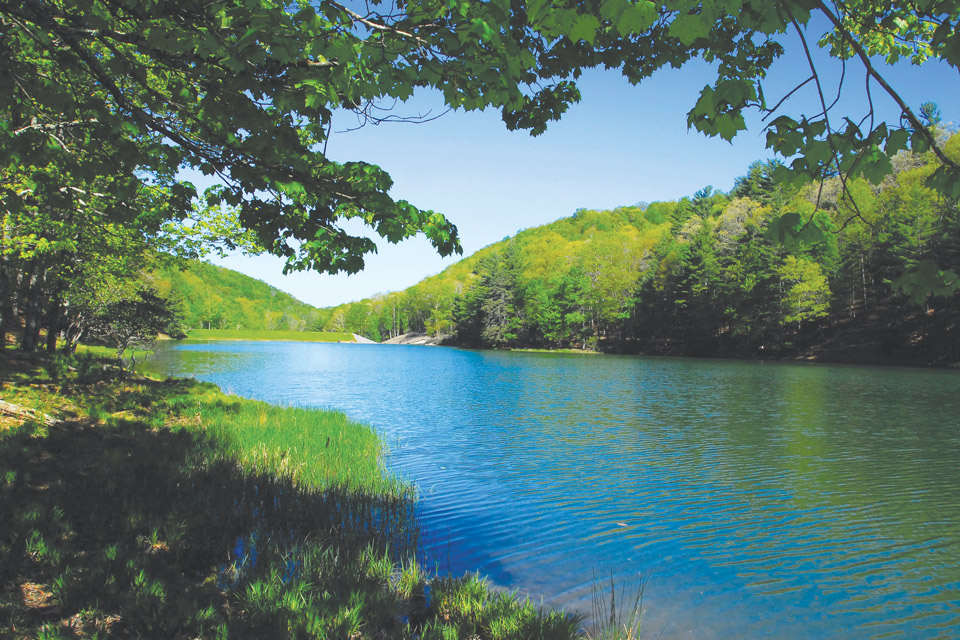 Watoga State Park

Covering a massive 10,100 acres in the mountains of Pocahontas County, Watoga State Park is the largest of all of West Virginia's state parks. Built by the Civilian Conservation Corps, it is one of the earliest examples of a West Virginia State Park and remains a cornerstone of the park system because of its history and size.
Located along the Greenbrier River, Watoga State Park is close to other West Virginia outdoor attractions such as the Greenbrier River Trail, Cranberry Glades and the Highland Scenic Highway.
Kayaks, canoes, paddleboards and rowboats are welcome on the 11-surface-acre lake, which park superintendent Jody Spencer says is a popular fishing spot. "The lake has a great population of bluegill and largemouth bass," he adds.
A solar-heated outdoor swimming pool is open through Labor Day, and the park has more than 40 miles of hiking trails. (Check out the Anne Bailey Lookout Tower, which provides a beautiful view of the Appalachian Mountains.)
The park has 10 modern cabins and 24 traditional cabins available for rent, while two campgrounds with a total of 88 sites can accommodate tents, campers and RVs. There's also a museum that pays tribute to the men employed by the Civilian Conservation Corps between 1933 and 1942. The program helped combat unemployment during the Depression by providing jobs that included building infrastructure for our nation's parks.

"The museum contains a lot of artifacts ... in general and also specifically to our park," says Spencer. 4800 Watoga Park Rd., Marlinton, West Virginia 24954, 304/799-4087, watoga.com

***

More to Explore

Tygart Lake State Park: Perhaps best known for its 1,750-surface-acre lake that draws boaters and swimmers, this state park also features secluded camping, vacation cabins, five hiking trails and a 20-room lodge. Tygart Shores Dining serves breakfast, lunch and dinner seven days a week and provides great views of Tygart Lake. 1240 Paul E. Malone Rd., Grafton, West Virginia 26354, 304/265-6144, tygartlake.com

Hawks Nest State Park: This 276-acre state park provides a rugged getaway in one of the state's famous whitewater rafting regions. Four hiking trails traverse the New River Gorge, while an aerial tram transports visitors from the 31-room lodge to the marina. In addition to rafting trips, jet boat rides are now available down the New River. 49 Hawks Nest Park Rd., Ansted, West Virginia 25812, 304/658-5212, hawksnestsp.com

Cacapon Resort State Park: Located in West Virginia's eastern panhandle, this 6,115-acre state park is nestled at the foot of Cacapon Mountain. Known as the tallest peak in eastern West Virginia, it provides spectacular views of the valley below. A 48-room lodge with restaurant is located on the mountain's south side. 818 Cacapon Lodge Dr., Berkeley Springs, West Virginia 25411, 304/258-1022, cacaponresort.com

Pipestem Resort State Park: This 4,050-acre park overlooking the Bluestone Gorge is home to two hotels. In addition to the main 113-room McKeever Lodge, guests can stay in the secluded Mountain Creek Lodge May through October. Accessible only by a 3,000-foot aerial tram that takes guests deep into the gorge, the 30-room lodge features a gourmet restaurant known as the Mountain Creek Dining Room. 3405 Pipestem Dr., Pipestem, West Virginia 25979, 304/466-1800, pipestemresort.com