Travel
| Lake Erie Islands
Island Finds
These six food-and-drink spots at Put-in-Bay and Kelleys Island will give you a taste of offshore living.
June 2014 Issue
BY Linda Feagler | Photo by Dan Troyka
June 2014 Issue
BY Linda Feagler | Photo by Dan Troyka
Oasis of Tranquility

Goat, Soup and Whiskey. You have to admit the restaurant's moniker is catchy. And that's just how owners Scott and Caroline Jackson intend it to be.

"No, we don't serve any giant dishes made of goat," Scott Jackson says with a laugh. He explains that the name comes from the appearance of a favorite canine named Pali Wali that was half sheepdog, half Dalmatian and bore a strong resemblance to a goat.

If you're looking to make a visit, you'll have to do a bit of island exploring. "We're about a third of a mile outside of town, which doesn't sound like it's very far, but to us it's a world away from Put-in-Bay's hustle and bustle," he says. "One of my favorite food blogs described [our restaurant] as having the ambience of a European hunting lodge."

Bennett and Sinatra play softly on the stereo as soup — as many as eight varieties a day — is concocted in the kitchen. Herbs and vegetables for each are gathered from the garden out back. The hands-down favorite: Green chili with chicken, a hardy mixture Jackson says has been heartily endorsed by actor Larry Thomas, best known as The Soup Nazi on "Seinfeld" and a frequent island visitor. 820 Catawba Ave., Put-in-Bay 43456, 419/285-4628, soupandwhiskey.com

***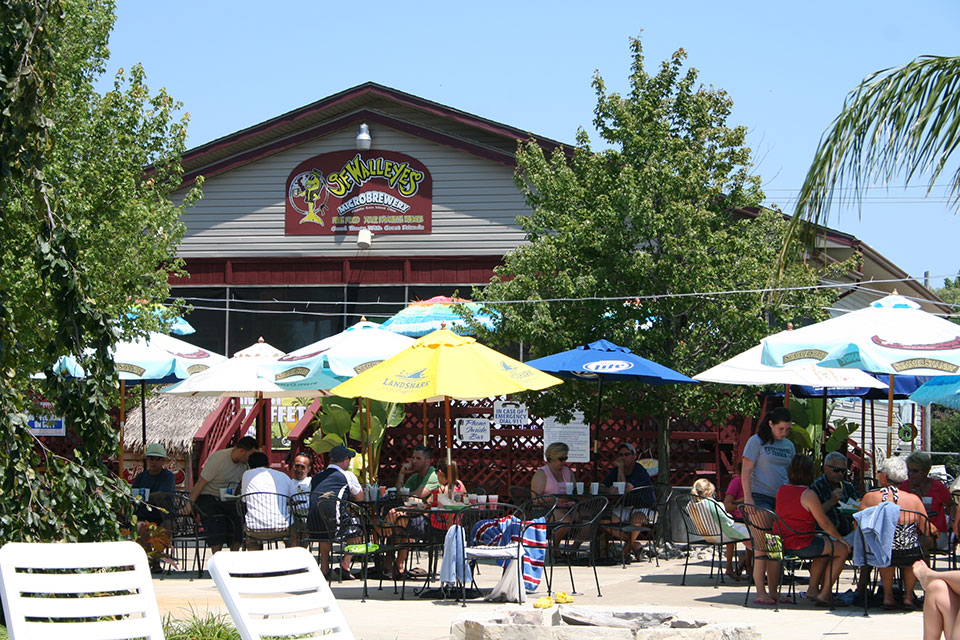 Cruising Along
Jimmy Buffet fans rejoice. Parrotheads are always welcome at
J. F. Walleye's Bar & Restaurant
on Middle Bass Island. The vibe is pure Key West. Sip the revered troubadour's favorite cocktail or one of a dozen other drinks Walleye's is famous for. (A favorite of those in the know: the Malibu Island Bucket, a 32-ounce pail filled with a concoction made from five flavored rums and five tropical juices.)
Cozy up to the bar and enjoy entertainment ranging from Top Dog, the house band that plays Top 40 dance music, to reggae artist Carlos Jones. Food options include the Island Sunset chicken sandwich, a boneless, skinless chicken breast smothered in roasted red peppers, mozzarella and provolone with balsamic glaze; a walleye sandwich served on a sub roll so big it takes two hands to eat; and an assortment of pizzas and flatbreads.
Relax on the screened-in porch overlooking the Blue Lagoon, an 18-inch-deep pool featuring a waterfall and fountain perfect for when temperatures soar.
"The ambience here is just like being on a cruise ship," says general manager Chris Zeitler. "We encourage guests to lie back on a chaise lounge and be waited on hand and foot."
1810 Fox Rd., Middle Bass Island 43446, 419/285-2739,
jfwalleyes.com

***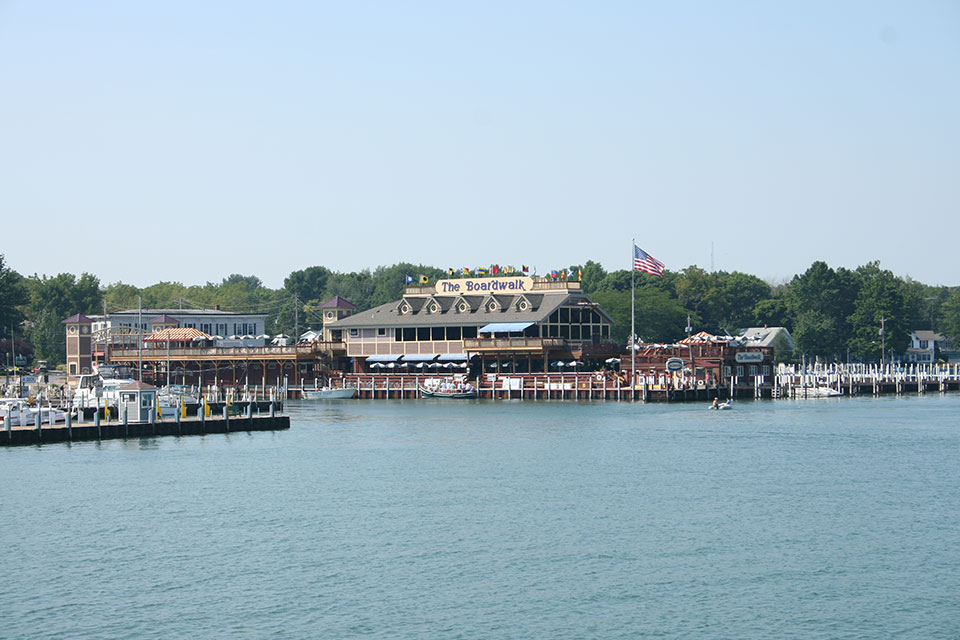 Catch of the Day

The panoramic view is breathtaking. But that's not the only tourist attraction at
The Boardwalk
, Put-in-Bay's popular dining and entertainment complex.
More than 90,000 bowls of lobster bisque are ladled out to legions of diners each season. "We have the meatiest lobster bisque around," says Boardwalk president Eric Booker. "Each batch contains the meat from 36 lobsters."
A host of dining options greets visitors. On the lower level of the two-story complex, Book's Seafood features grilled fish, yellowfin tuna, Maryland crab cakes and New Zealand mussels, served in a casual atmosphere.
"I'm a seafood lover," says Booker, "so we serve it all here — ranging from domestic fish to ocean fish and Alaskan king crab to shrimp from Key West. And of course, lobster."
Kid-friendly options, including burgers, fries and corn dogs, are the order of the day in The Little Galley, while The Fish Shack is all about Lake Erie perch and walleye.
"Upstairs, we fancy things up a bit," says Booker. "Our Upper Deck restaurant features tableside service. I like to say that a water view is served with every meal."
341 Bayview Ave., Put-in-Bay 43456, 419/285-3695,
the-boardwalk.com

**

Savory and Sweet
Step into Put-in-Bay's
Old Forge Café and Creperie
and take a trip through time. The structure, which dates back to the early 1900s, once served as the island's blacksmith shop.
"When we bought the building three years ago, we immediately recognized its importance," says restaurant co-owner Marc Wright. "There were ropes that once tethered horses, and the floorboards were original. We knew immediately that this link to the past had to be preserved."
An original anvil serves as the hostess station, and tools once used to shoe horses decorate the walls. But that's not all that sets the eatery apart from other island establishments. Old Forge's bill of fare is crepes, crepes and more crepes — each made in front of patrons.
"What I love about crepes, what really excites me about them, is that each one is an open palette that's not confined to one cuisine," says Wright. "You can put anything you want in a crepe. We've got salmon crepes and poached egg crepes and prosciutto crepes."
The creperito burrito crepe and the chocolate ganache and raspberry cake crepe quickly became favorites with locals and tourists alike when the place opened last July.
451 Catawba Ave., Put-in-Bay 43456, 419/285-0022,
theoldforgepib.com
***
Family Affair
The secret to successful wine making, says Kirt Zettler, is "good grapes and a good nose." He should know. For 32 years, his family has owned and operated
Kelley's Island Winery
(the apostrophe in the moniker dates back to the winery's founding in 1868).
More than 50,000 tourists visit each year to partake of the fruits of the Zettlers' French hybrid and vinifera vines, which include Robby Rose, a vivacious dry sangiovese, named after Kirt's wife; Inscription White, a delicate dry spicy Alsace; and Glacial White, a classic semi-dry German style wine with papaya and pear undertones. And nothing goes better with that vino than a homemade pizza. Specialty pies include the Margherita, featuring fresh mozzarella, tomato and basil, and pesto pine, filled with tomato, feta, mushrooms and pine nuts.
For Zettler, Kelleys Island is a captivating retreat that's proved irresistible to three generations of his family. "The lure of the island is magical," he says. "Once you get it in your blood, it doesn't go away."
418 Woodford Rd., Kelleys Island 43438, 419/746-2678,
kelleysislandwine.com
***
Out of the Ordinary
Lisa and Ted Klonaris, the owners of
Captain's Corner Grill and Bar
, love nothing more than making meals with Mediterranean flair. Lisa and the couple's 15-year-old daughter Danielle plan every aspect of the menu, which is based on Ted's Greek heritage.
The specialties of the house are gyros, a combination of beef and lamb cooked over a rotating spit, smothered with cucumber-yogurt sauce and served in a pita. Other popular fare includes a Mediterranean platter, heaping with dolmathes (grape leaves), feta cheese, kalamata olives, spanakopita (spinach pie), sliced gyro and hummus and accompanied by warm pita. Be sure to save room for dessert. Options include Key lime pie, chocolate cake and baklava. A $5.99 children's menu features macaroni and cheese, chicken fingers, spaghetti and meatballs and grilled cheese sandwiches.
"When we opened in 2006, our goal was to have good food that was fairly priced for families," says Lisa. "So, our emphasis is more on that than the bar scene. We want our guests to feel comfortable, as though they are in their own home."
101 W. Lakeshore Dr., Kelleys Island 43438, 419/746-2112, kicaptain.com