Travel
| Cities
Road Trips: Classic Cincinnati Tour
From landmark buildings to baseball history to amusement park thrills, these Cincinnati spots offer fun ways to revisit the past.
March/April 2022
BY Jim Vickers | Union Terminal photo courtesy of Cincinnati Museum Center
March/April 2022
BY Jim Vickers | Union Terminal photo courtesy of Cincinnati Museum Center
Cincinnati has been referred to as the Queen City since its 1819 incorporation, as locals hoped to frame it as a place of culture in the still relatively young state of Ohio. Today, visitors will find history everywhere, from the city's instantly recognizable architecture like Union Terminal and the Roebling Suspension Bridge to its food traditions such as Cincinnati chili and goetta.
Union Terminal: An art deco icon, Cincinnati's historic train station opened in 1933, accommodating 17,000 passengers a day. Today, Union Terminal draws daily travelers as the Cincinnati Museum Center, which houses the Cincinnati History Museum, the Children's Museum and the Museum of Natural History & Science. (A restoration of the landmark building was completed between 2016 and 2018.) With stunning Winold Reiss mosaics in its main rotunda, the awe-inspiring spot exudes history. Visit the art nouveau-style Rookwood Tea Room turned ice cream parlor, which serves up a local classic in the form of Graeter's ice cream. 1301 Western Ave., Cincinnati 45203, cincymuseum.org

Findlay Market: Ohio's oldest public market is a fixture of Cincinnati's Over-the-Rhine neighborhood. The market was originally built as an open-sided pavilion in 1852, and its iron frame construction still visible today hearkens that earlier era. (The market was enclosed soon after the turn of the 20th century and added to the National Register of Historic Places in 1972.) The more than 65 vendors that operate here every day except Monday are a mix of legacy merchants and food entrepreneurs. Renovations made in the early 2000s added a farmers market pavilion. 1801 Race St., Cincinnati 45202, 513/665-4839, findlaymarket.org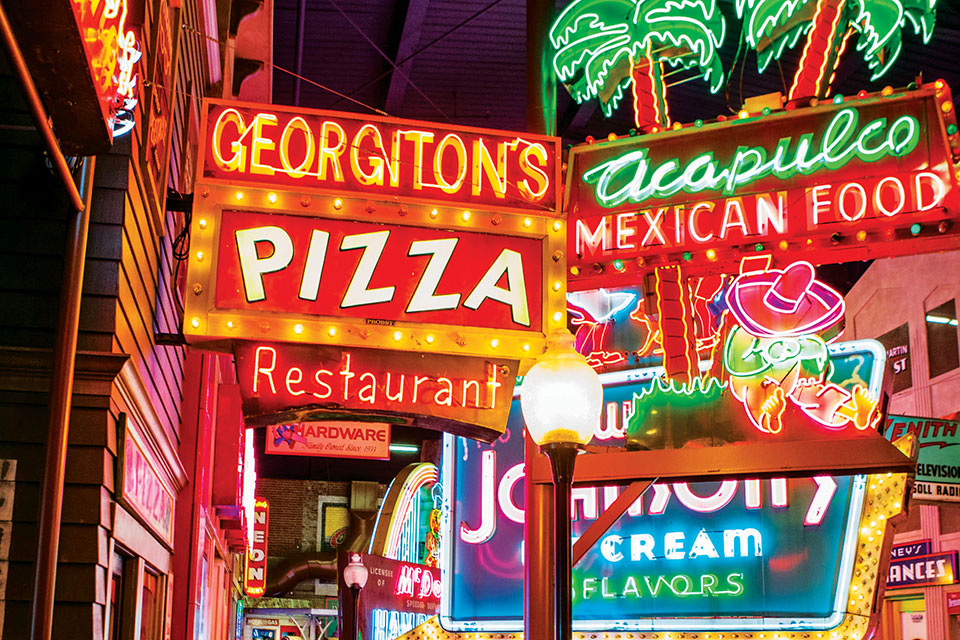 American Sign Museum: A former clothing factory now hosts a colorful collection that encompasses nearly 100 years of signs. See a 3,800-pound, single-arch McDonald's sign featuring the 1960s character "Speedee" and highlighting 15-cent hamburgers. Then, visit the museum's glowing "Main Street" room depicting a downtown of years past, when many businesses had electric or neon signs. An afternoon spent here offers a trip through advertising history, as the oldest treasures on display date back to before 1880. Visitors can choose to do a self-guided tour or reserve a private group tour. 1330 Monmouth Ave., Cincinnati 45225, 513/541-6366, americansignmuseum.org

Reds Hall of Fame & Museum: Those who remember the glory days of Cincinnati's "Big Red Machine" can relive those times at the Reds Hall of Fame & Museum near Great American Ball Park. World Series trophies, jerseys, autographed baseballs and other artifacts from throughout the ballclub's long history are displayed across the 16,000-square-foot space. Dozens of hall-of-fame plaques honor the players, managers and broadcasters who have been integral parts of the team's history. 100 Joe Nuxhall Way, Cincinnati 45202, 513/765-7923, mlb.com/reds/hall-of-fame

Kings Island: In 1972, Kings Island opened just north of the city, welcoming visitors to ascend the amusement park's one-third scale replica of the Eiffel Tower. (Among those early visitors was "The Brady Bunch," which filmed an episode here.) Revisiting the classics at this ever-evolving park also means taking on The Beast, a wooden roller coaster that opened in 1979, and driving one of Kings Mills Antique Autos, an original ride (known then as Les Taxis) that disappeared in 2004 before returning in 2019. 6300 Kings Island Dr., Mason 45040, 513/754-5700, visitkingsisland.com

Want more travel ideas? Click here for more Ohio Road Trips!