Travel
| Cities
Road Trips: Akron Arts Tour
Explore visual art, vintage finds, makers and more throughout the city of Akron's downtown.
March/April 2022
BY Jim Vickers | Akron Art Museum photo by Rachael Jirousek
March/April 2022
BY Jim Vickers | Akron Art Museum photo by Rachael Jirousek
Akron was built on tire production, but there is a lot of arts muscle covering the city's industrial skeleton. The place that gave us Goodyear (the company is still headquartered here) also brought us rock 'n' roll legends Devo and The Pretenders' Chrissie Hynde as well as the platinum-selling bluesy rock duo The Black Keys. Creativity runs deep here, and you can sample it at these spots throughout downtown.

Akron Art Museum: The city's art museum moved into downtown's 1899 post office building in the early 1980s. A 2007 expansion tripled the museum's size and remade the institution with a signature look and modern feel, thanks to a design by renowned Viennese architecture firm Coop Himmelblau. Inside, art lovers can browse a diverse collection that is focused on pieces from the 1850s to the present day. Special exhibitions are hosted throughout the year, and a garden added in 2016 offers a space for the public and art to meet. 1 S. High St., Akron 44308, 330/376-9186, akronartmuseum.org
Summit Artspace: Housed in the building the Akron Beacon Journal first called home and located a couple blocks east of the Akron Art Museum, this exhibition and studio space operates as a nonprofit that supports local artists by connecting them with resources to support their work. In addition to artist workspaces and offices for creative organizations, Summit Artspace also hosts multiple free exhibitions each season. Plan a visit during one of the city's Akron Artwalk events or stop in during the building's public visiting hours on Fridays and Saturdays. 140 E. Market St., Akron 44308, 330/376-8480,
summitartspace.org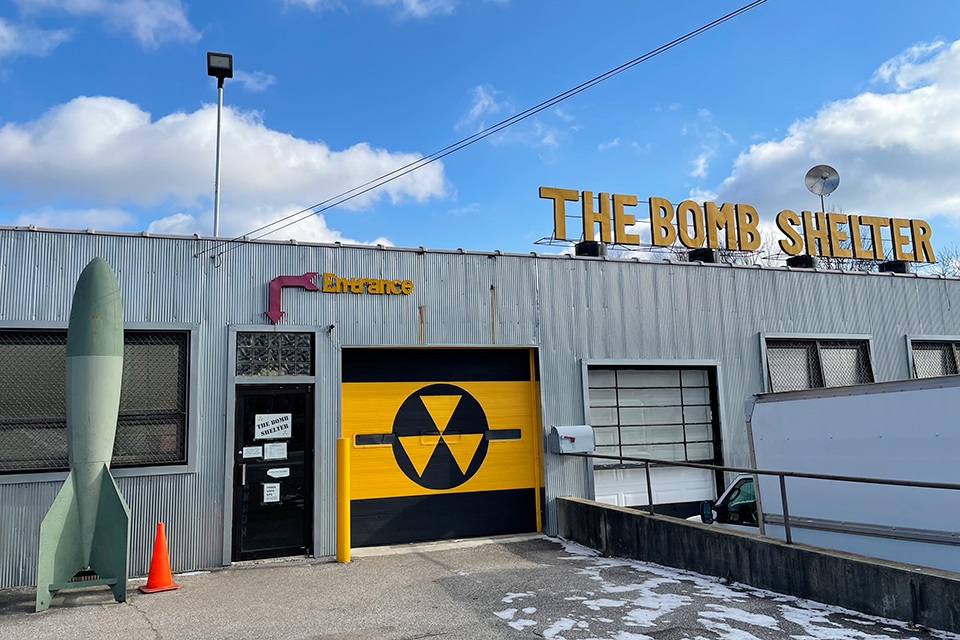 The Bomb Shelter: Just look for the huge letters sprouting from the roof and the black-and-yellow fallout shelter symbol painted on the garage door. Since 2011, this retro superstore has preserved and sold vintage and antique finds in a beautifully arranged space. From the array of early TVs flanked by era-appropriate living room furniture to a bivouac of army surplus items and footlockers to wonderfully old-school kitchen decor, searching is as fun as discovering here. Plus, an adjoining micro museum celebrates the Akron music scene of the mid-1970s to mid-1980s. 923 Bank St., Akron 44305, 330/258-0088, thebombshelterstore.com

Northside Marketplace: This space inside the Northside Lofts building supports startup businesses and grassroots artisans by providing them a place to sell their wares. Items for sale when we visited ranged from fun pillows and cute crocheted animals to one-of-a-kind ceramic pieces to artisanal food items such as honey and cookies. Pick up a fun, Akron-centric T-shirt at Rubber City Clothing (on weekends they'll put their designs on the shirt color and size of your choice as you wait) and then grab a seat for a bite in the lounge. 21 Furnace St., Akron 44308, 234/542-6627, northsidemarketplace.com

The Lockview: The former home of the Lime Spider concert club now houses a restaurant known for gourmet grilled cheese sandwiches, adorably served with a side of Goldfish crackers. Our favorites among the 15 artful options include The Number Eight (goat cheese, roasted red peppers and spinach on Tuscan herb bread) and The Number Six (cheddar cheese, grilled apples and applewood smoked bacon on country butter-top bread). If you want full-on comfort food, The Number Twelve stacks roasted garlic mashed potatoes and American cheese between Texas toast with a side of gravy. 207 S. Main St., Akron 44308, 330/252-5128, thelockview.com

Want more travel ideas? Click here for our other Ohio Road Trips!