Travel
| Cities
Modern Love
The Columbus Museum of Art's beautiful expansion creates a space for contemporary art that beckons visitors.
December 2015 Issue
BY Linda Feagler | Photo by Matthew Roharik
December 2015 Issue
BY Linda Feagler | Photo by Matthew Roharik
Lino Tagliapietra's luminous glass installation "Endeavor" sparkles in the afternoon sunlight dappling the Columbus Museum of Art's new atrium. The 35 colored glass boats hang in midair 30 feet above the floor, casting a rainbow of dazzling color on the tubular steel walkways that bridge the building's architectural past to the vibrant present that's just beginning.

Old and new converge in this expansive spot, which serves as an ideal location from which to compare the original 1931 Ross building with its modern counterpart. The bricks on the historic building are squat and staggered. Those on the new one are elongated and stacked edge to edge. Each is made of Indiana limestone. Each complements the other.

"I like both spaces," says Columbus Museum of Art executive director Nannette Maciejunes, "and the concept that we can move back and forth across the bridges to connect time."

Opened in 1931, the Columbus Museum of Art is known for its collections of European and American modernism. It also boasts the world's largest assemblage of paintings and lithographs by American realist George Bellows, a Columbus native known for his gritty early 20th-century depictions of urban life.

And while the museum's number of acquisitions grew over the decades, the space in which to exhibit them did not.

"When we started 74 years ago, we owned 500 pieces of art," Maciejunes says. "Today, our collection numbers 13,500, yet we've always been limited to the original 10 galleries we started with. But now, that's changed."

In October, the Columbus Museum of Art opened a new 50,000-square-foot, two-story wing designed to showcase its burgeoning collection of contemporary art. The $63.7 million, three-phase renovation and expansion — made possible by the successful execution of a 10-year, $93 million endowment and capital campaign — was initiated in 2006.

In addition to the construction of the new wing, the original 1931 Ross building received a complete facelift that included upgraded flooring and a pair of illuminated ceilings. A cafe operated by restaurateur Cameron Mitchell was constructed just inside the main entrance, and a new sculpture garden filled with birch trees was installed outside.

"As we talked about plans for the new wing, we thought about fresh approaches we could take with our collection," Maciejunes explains.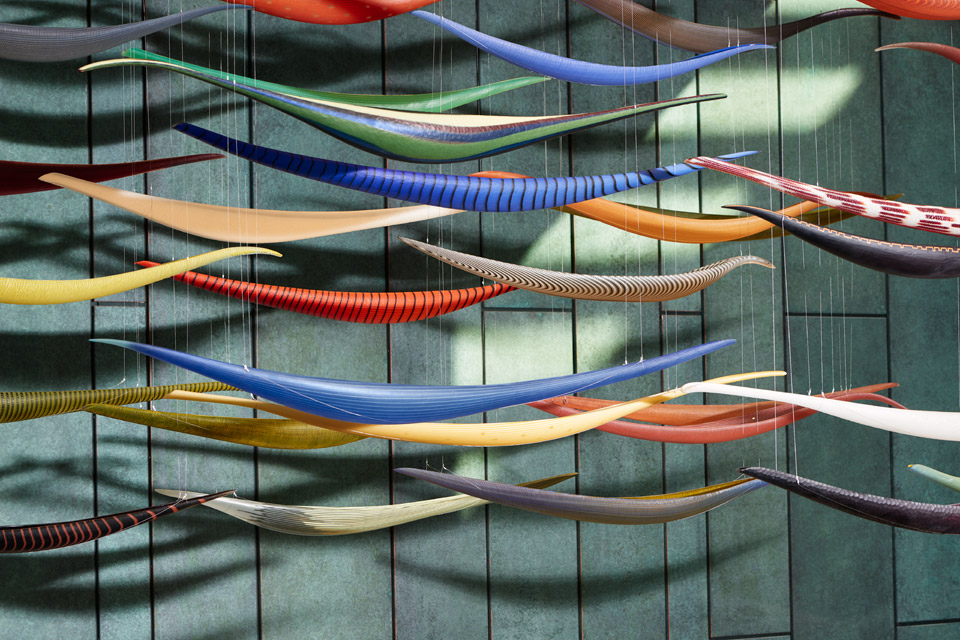 Acquired by the museum in 2002, Tagliapietra's "Endeavor" had been tucked away in a corner of the old wing. But now, it's in a place of prominence, catching the eyes of all who enter.

For visitors standing on one of the bridges along the northernmost or southernmost point of the atrium, the intricate piece resembles slivers of glass floating on air. But from below, the artist's meticulous placement of etchings and strategic use of hue are readily apparent.

For the executive director, the sculpture's location is a palpable representation of the museum's steadfast pledge to display works in ways that enhance and explain their relevance.

"You can see it from below, you can walk up the stairs to take a look, you can see it from across the bridges. It reflects our belief that we're here to not only take care of wonderful works of art, but help people connect to them on different levels," Maciejunes says.

The Columbus Museum of Art experience begins before visitors pull into the parking lot. Drive by the new wing, and you'll see Frank Stella's 1986 "La vecchia dell'orto" — a massive mixed-media relief made of etched magnesium, canvas and fiberglass — showcased in one of 20 floor-to-ceiling windows overlooking Broad Street.

Michael Bongiorno of Columbus' DesignGroup, the lead architect on the project, explains that the large glass panes were designed to exude a welcoming ambiance.

"Here, we have a historic building which is a beloved jewel for Columbus, and we're adding to it," he explains. "So the question is: How do you add to a community gem in a way that complements it? The safe but somewhat unflattering way is to copy it. What we chose to do instead is make a respectful but forward-looking, progressive statement about what the museum is today."

The second-story exterior and interior of the new wing are clad in vertical panels of green pre-patinated copper painstakingly chosen to mirror the neighborhood structures surrounding it, specifically the spire of the First Congregational Church and the brick edifice of the Broad Street United Methodist Church. The building also sits 30 feet closer to the street than its original counterpart. "In a way," Bongiorno says, "the museum is reaching out and inviting people in."

***

Viewed from inside the second floor of the new wing's permanent gallery space, the 13-foot-tall, 15-foot-wide Stella sculpture that entices passersby from its window overlooking Broad Street now commands them to linger. The 3-D, mixed-media piece takes on a life of its own, radiating energy through its riotous shapes and waves of brilliant color.

"La vecchia dell'orto" is No. 20 in the artist's Cones and Pillars series, which are named after Italian folktales. The English translation for the work is "The Garden Witch," reflecting the artist's desire to reintroduce narrative drama into his abstract paintings.

"La vecchia dell'orto" used to hang on a staircase," Maciejunes says. "But now we have the space to bring it out into the light for people to see. I really love the fact that there's enough room to back off from it a bit and take in the entire view. And, of course, when you see it from the street, it's like, 'Whoa.' The work helps build the excitement of what the museum has become."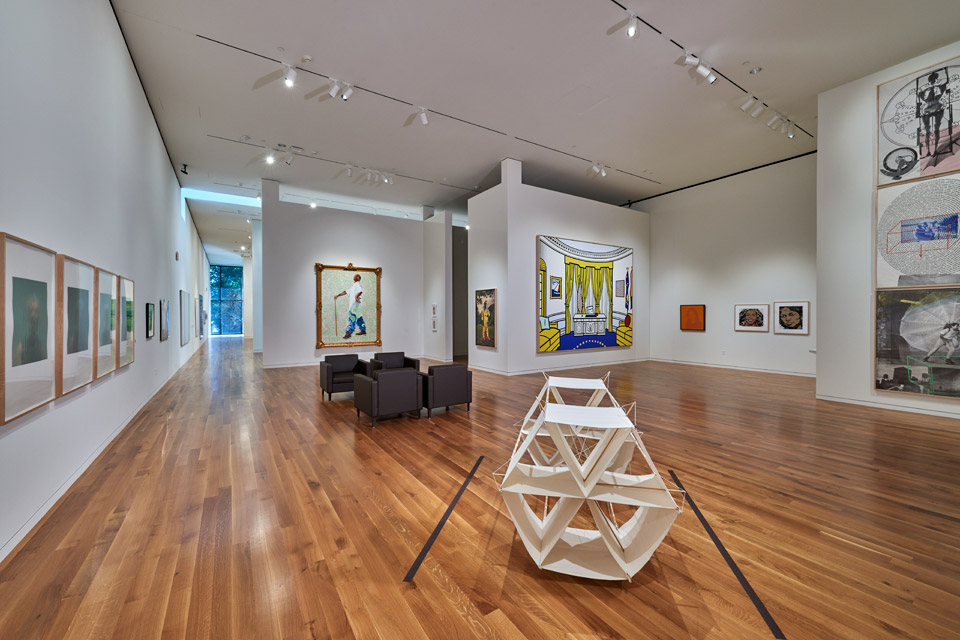 Adjacent to the Stella stands "Joseph," a 7-foot-tall horse made of welded steel created by Deborah Butterfield in 1988. The artist named the work after the biblical Joseph, who was sold into slavery by his brothers; and Chief Joseph, a Nez Perce tribal leader who, when faced with threats by white settlers in Oregon, led his followers on an ill-fated journey to safety in Canada during the 1870s.

"Early in my career, it took me a while to realize it's not just about the individual work of art, but also about the conversation that work of art has with the space it's in," Maciejunes explains. "Take a look at the twisted metal 'Joseph' is made of, then look at 'La vecchia dell'orto.' Both pieces are filled with similar forms that make a visual connection and start a conversation."

Other works that are now showcased in custom-made galleries in the new wing include "Nocturne Navigator," Alison Saar's 1998 copper, wood and neon sculpture depicting the journey slaves made along the Underground Railroad to freedom.

The cobalt figure wears a voluminous skirt dotted with tiny lights representing constellations in the night sky. Fondly dubbed "the blue lady" by its admirers, the work was displayed in a shadowy alcove for 17 years. As a result, Maciejunes says, its significance was often lost to visitors.

"Although it looked lovely in the spot in Derby Court, I knew it needed to be in a downlit space, because the whole point of the piece is that it should look like it is floating," she explains. "Now, people can really appreciate and connect to what she's all about."

Another example is Mel Chin's "Spirit," a 9-foot-wide barrel made of white oak, steel, sheetrock and paint. The conceptual artist created the piece in 1994 to pay homage to the American frontier landscape, which once stretched from Minnesota to Texas, and the wooden casks that were so essential to life during that time.

"Spirit," which had not been exhibited for 10 years, now has a dedicated space in a 1,400-square-foot gallery featuring custom walls that bow inward, offering a sense of the size of the piece, which is balanced on a rope made of prairie grass.

"Finally," Maciejunes says, " 'Spirit' has its own breathing space."

Columbus Museum of Art
480 E. Broad St., Columbus 43215, 614/221-6801, columbusmuseum.org;
Hours: Tues.–Sun. 10 a.m.–5 p.m., Thur. 10 a.m.–9 p.m.
Admission: Adults $14, students over 18 and seniors over 60 $8, students $5, free on Sun.