Travel
| Cities
Hall of Fame City Fun
The Pro Football Hall of Fame Enshrinement Festival is reason enough to visit Canton in August. While you're there, check out these other attractions.
BY Nicholas Adkins | Photo courtesy of Pro Football Hall of Fame
BY Nicholas Adkins | Photo courtesy of Pro Football Hall of Fame
Fashion Finds: Colette's Vintage Clothing Store
Colette Rice used her experience as a costumer for a Minnesota theater company to expand the downtown Canton sewing studio she opened in 2010. Originally focused on repurposing old clothing into new items, Rice has since evolved her business into a full-blown buy-and-sell vintage clothing store with more than 5,000 items in stock.
Her shop features wardrobe pieces ranging from the Victorian days of the 1880s to the grunge era of the 1990s. The store allows shoppers to travel through time as they browse the racks.
"In a very disposable time, it's fun to watch something I just bought from an 85-year-old woman walk out the door on a 14-year-old girl," says Rice.
The store offers style mavens the chance to locate that perfect floral dress from the '40s and helps partygoers find the parachute pants they need for their 1980s-themed dance night. Rice also will help take the shoulder pads out of grandma's old blouse so it can proudly be worn in daylight again.
"There's a fine line between vintage clothing and Mimi's polyester pants," says Rice. "Although, I still might like those polyester pants." 207 Sixth St. NW, Canton 44702, 330/280-0502, colettesvintage.com


Family Fun: Escape Room Downtown
Recent years have seen a boom in escape room attractions, but Chuck Duplain puts a historic spin on his. Escape Room Downtown plays on Canton's history as one of the cities across the Midwest where organized crime took up residence during the first half of the 20th century.
Escape Room Downtown invites teams of two to 15 people to enter a specially designed room and decipher clues in order to reach a final goal within a set amount of time. Duplain's escape room offers three experiences: The Missing Detective's Office, The Moonlight Gallery and The Bootlegger's Lair.
Teams can help notorious Canton mobster Jumbo Crowley locate his stash before his speakeasy is raided, play the part of detective by following a missing partner's clues to discover what has happened to him or help the notorious Black Hand gang discover the location of an art collector's cache of priceless gemstones.
"Sometimes you see the larger chains of escape rooms have the same or similar puzzles and riddles in different cities," says Duplain, adding that he wanted to do something distinct. Rooms are regularly available Thursday through Sunday and can be reserved for family gatherings, parties and even corporate events.
"The staff is rooting for the guest," Duplain adds. "We want people to have a good time and succeed at what they're doing." Call or visit website for hours and pricing; 203 Market Avenue S., Canton 44702, 330/844-1492, escaperoomdowntown.com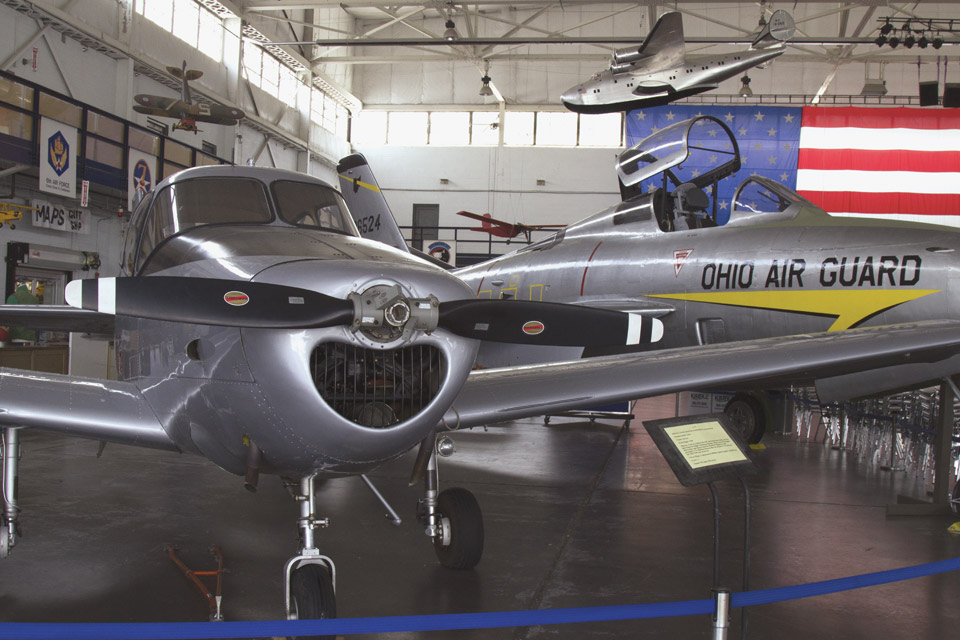 Military History: MAPS Air Museum
Operated by the Military Aviation Preservation Society, North Canton's MAPS Air Museum teaches guests about aviation history as well as the servicemen and women who made it. The museum's 47 aircraft range from a 1908 Martin Glider formerly housed in the Smithsonian to an A-4 Skyhawk dedicated to the memory of Stuart "Stu" Powrie, a graduate of Akron's Firestone High School and a Navy Blue Angels pilot.
"We have three main goals," says executive director Kim Kovesci, "to educate the public on the history of aviation, to provide a place for retired people to work and to honor the veterans."
The nonprofit museum sustains itself through admission fees, events, sales and memberships as well as more than 54,000 hours of volunteer work each year. It features exhibits dedicated to the history of women in aviation, the Tuskegee Airmen and Pearl Harbor. Memorials dedicated to Ohioans who lost their lives in the Vietnam War, Iraq and Afghanistan are particularly powerful.
"People ask me why we do stuff like this, and it's a simple answer," says Kovesci, "because it's the right thing to do." Call or visit website for admission and hours; 2260 International Pwy., North Canton 44720, 330/896-6332, mapsairmuseum.org


Famous Eats: Bender's Tavern

Billed as "Canton's oldest and finest restaurant," Bender's Tavern dates back to 1902 and shares a link with the city's most famous export: the National Football League. In 1920, automobile dealer Ralph E. Hay gathered with other big names in football to discuss the formation of the American Professional Football Association, which became the NFL two years later. Those meetings spilled over into Bender's Tavern. If you are lucky enough to visit during induction weekend, you may just see a football great for yourself.
"We do get the hall of famers who come back to Canton every year and have had a chance to take in more of the city and know about us," says fourth-generation co-owner John Jacob.
The restaurant is known for quality fish such as the broiled or a la Foley eastern halibut, the latter of which is dredged in crushed crackers and baked. If you prefer turf to surf, try the 12-ounce Hoover strip steak. Chef specials, appetizers, soups and salads round out the dinner menu. Lunch brings salads, soups, sandwiches and a handful of entrees. 137 Court Ave. SW, Canton 44702, 330/453-8424, bendersrestaurant.com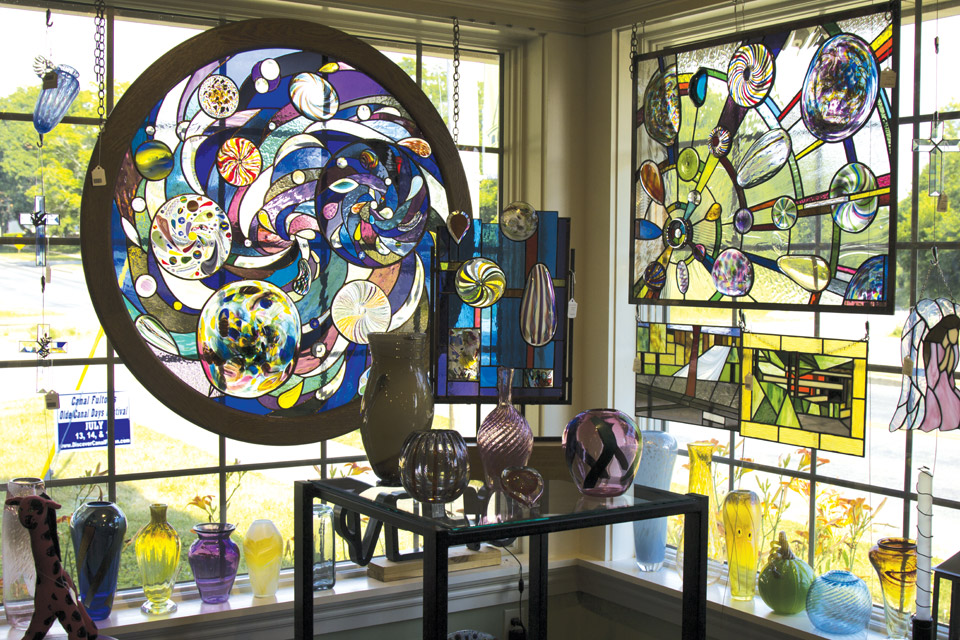 Artistic Experience: Canal Fulton Glassworks
This charming glass studio located in historic Canal Fulton, about 20 miles from downtown Canton, stocks over 3,000 works by more than 60 Ohio artists. The shop's offerings span blown glass, carved wood, ceramics, jewelry, stained glass, furniture, prints, weavings and pottery.
All of the studio's glass pieces are made on-site using a furnace that reaches 2,050 degrees Fahrenheit. Classes in hot glass and metal jewelry are offered by appointment. The gallery even has a glass-marble-making machine dating back to the early 1920s.
"It was the first machine built in the United States to automate the production of marbles," explains Bud Graham, who co-owns the shop with his wife, Sandy, and their son, Brian. "It was the original machine made for that first patent application."
The gallery overlooks Canal Fulton's Market Street stone arch bridge. After purchasing the shop in 2006, the Grahams learned that the building it calls home has a history dating back to 1814. They put the original doors back in place before opening in 2009, and you can still see the more than 200-year-old wood beam framing inside of the shop.
"We not only live here, but we rebuilt it," says Graham. "Part of living here is that journey." 215 Market St. W., Canal Fulton 44614, 330/854-2966, canalfultonglassworks.com

***

Pro Football Hall of Fame Enshrinement Festival Schedule of Events
The annual spectacle of gridiron greatness that is the Pro Football Hall of Fame Enshrinement Festival takes place each August. About 700,000 visitors are expected to attend the festival and partake in the many activities hosted by the Pro Football Hall of Fame and the city of Canton. Events include the Hall of Fame Game, the Canton Repository Grand Parade, the Enshrinement Ceremony and the Concert for Legends. For more information, visit profootballhof.com. *Note: These events were part of the 2017 schedule. Visit website for this year's schedule.
Photo credits: MAPS Air Museum and Canal Fulton Glassworks by Samantha Karam