Travel
| Cities
Fall Fun in Columbus
Whether you want to hit the trails, pick up some fresh produce or celebrate autumn among blooms and animals, our capital city is calling.
Sept./Oct. 2021
BY Rich Warren | Photo by Deb Platt
Sept./Oct. 2021
BY Rich Warren | Photo by Deb Platt
Fall Hikes

Leaf peepers in Ohio know all about the breathtaking fall foliage in southern Ohio. Fewer folks realize that the Columbus and Franklin County Metro Parks system offers prime hiking trails through colorful landscapes right inside the city or close by.

Peg Hanley, public information manager for the park system, suggests fall hikers head to Blendon Woods Metro Park, an urban forest in northeast Columbus with stands of oak, hickory, beech and maple trees situated along stream-cut ravines.

"The naturalists [at the visitor center] there can tell you where the colors are popping or where various critters have been spotted," Hanley says.

A loop made by the Overlook and Brookside trails meanders alongside a rocky brook and past exposed "ripple rock" sandstones. A shorter walk leads to Thoreau Lake, where two shelters provide views of waterfowl and songbirds passing through during the fall migration. Large flocks of wild turkeys inhabit the park all year long.

Even more seclusion can be found at Clear Creek Metro Park in Fairfield and Hocking counties, about 30 miles southeast of the city.

"There's a phenomenal diversity of plants and wildlife, not to mention trails so seldom hiked you may well have them all to yourself," Hanley says.

There's a flat walk along the Creekside Meadows Trail, but intrepid hikers up for a challenge might consider the Hemlock Trail with a series of short but steep switchbacks passing ravines and rock outcroppings that leads to a flat and easy trail at the top.

Other best bets for fall fun include the corn maze at Slate Run Metro Park in southeast Columbus and the adjacent Slate Run Living Historical Farm, especially busy during the harvest season as farmers bring in the crops and tend to livestock. Battelle Darby Creek Metro Park has trails alongside the Big and Little Darby creeks and also features two large pastures filled with grazing bison.

"You'll find lots of butterflies there in the fall," Hanley adds. For more information about these and other Columbus and Franklin County Metro Parks, visit metroparks.net.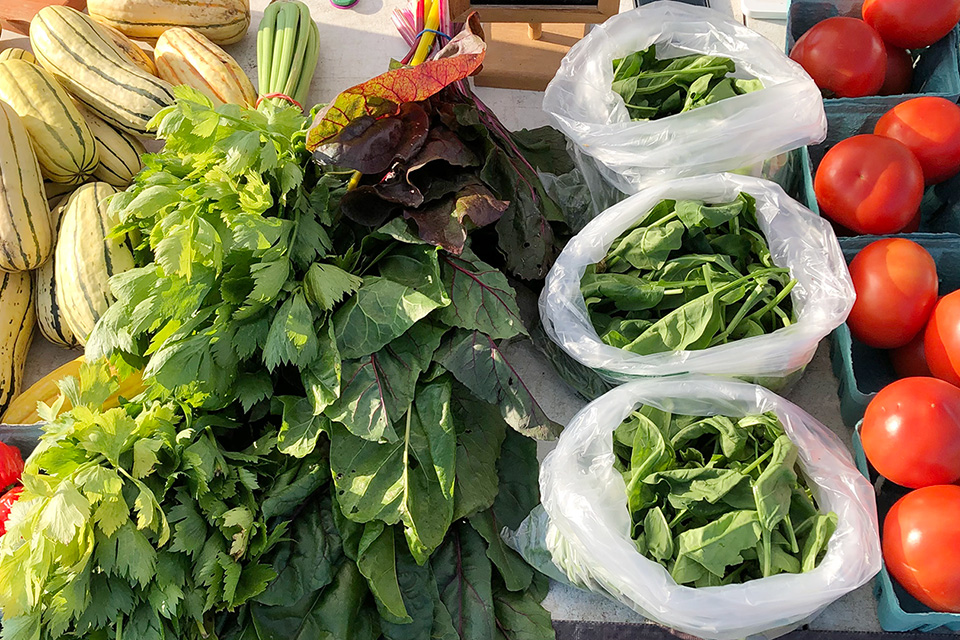 Farmers Markets

More than 25 farmers markets operate in the Columbus area, not at all surprising since the state's vast farmlands surround the city on every side. Shoppers love the opportunity for face-to-face encounters with the farmers who've grown the food they purchase as well as produce so fresh it may well have been picked that very morning.

Michelle White, executive director of Common Greens that operates farmers markets in Clintonville, Bexley and Upper Arlington, sees September and October as a sweet spot where the last of summer's bounty is still available, while crops associated with the fall (like apples, winter squash and pumpkins) begin to appear.

"It's my favorite season," she says. "I especially like root crops, like sweet potatoes, beets and turnips that can be stored and used throughout the winter."

Heirloom items at the markets in the fall include butterball potatoes or Long Island Cheese Pumpkins, which are great for pies. White recommends an apple variety, the Evercrisp — "even sweeter than Honeycrisp," she says — that was developed by Lynd Fruit Farm in Pataskala. One popular vendor from past years is Carletta's Sweet Potato Pies, only available for five weeks in the fall.

Of course, goods beyond farm-grown produce can be found at farmers markets, including meat, fish, cheese, eggs, honey, bread, baked goods and flowers. Nowhere is that diversity of fare more apparent than at the Worthington Farmers Market, the largest all-year market in central Ohio.

Seasonal items found up to 80 vendors lining the streets of downtown Worthington include cider, apple butter, decorative gourds and Indian corn. Then there's Darryl the Mum Guy, an Amish farmer whose chrysanthemums sell quickly.

"If you don't arrive early, you'll miss out on mums," says market manager Christine Hawks.

Also on hand are vendors selling global-inspired fare, including the Mochi Shop, which offers doughnuts made with Japanese rice flour. Urban farms like Walton Garlic Farm and Tiger Mushroom Farm are also part of the mix.

"We've got lots of established vendors who've been coming for years," Hawks says, "but I'm always looking to add sellers offering something new and exciting to the mix." To find farmers markets throughout Columbus, visit experiencecolumbus.com. To learn more about Common Greens' markets, visit commongreensohio.org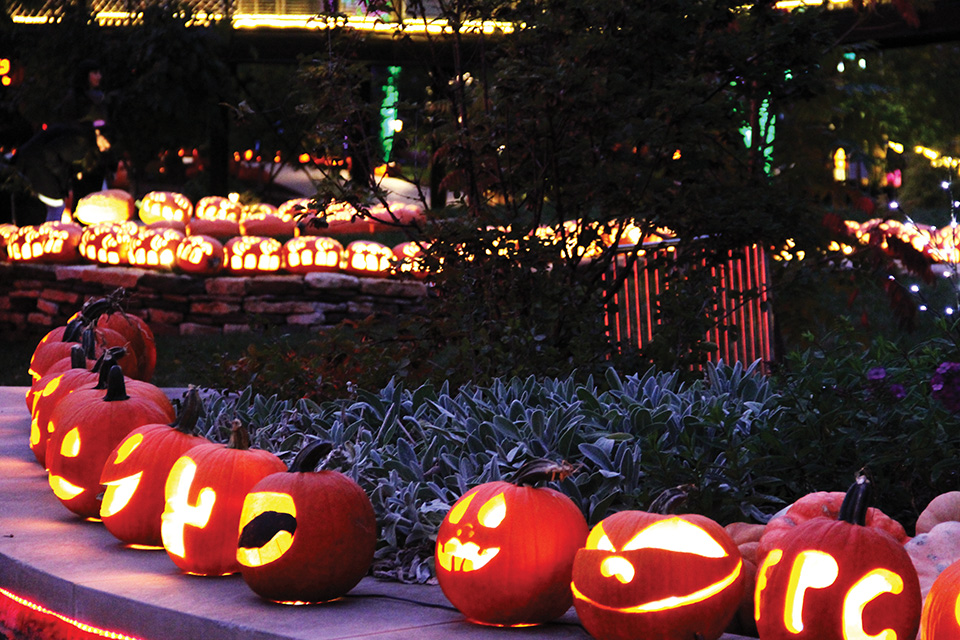 Fall Destinations

Two of the city's most popular visitor destinations embrace the fall season with a variety of unique experiences. The "Harvest Blooms" exhibition runs at Franklin Park Conservatory and Botanical Gardens from Sept. 25 through Oct. 31, filling the outdoor gardens and courtyards with thousands of pumpkins, gourds, chrysanthemums and decorative vegetables like cabbages and kale.

"It's a celebration of fall, artfully displayed and downright breathtaking," says Jennifer Wilson, the conservatory's director of marketing and communications.

In October, an outdoors after-dark experience called "Pumpkins Aglow" will feature hundreds of glowing carved pumpkins supplemented with fog machines, cackling witches, pirates and simulated graveyards.

"It's a family-friendly experience, but even teenagers will think it's cool," Wilson says.

Also returning this year is the spectacular Paul Busse Garden Railway with nine G-scale model trains traveling more than 1,000 feet of track, both at ground level and overhead. The model trains travel through four botanically themed areas with plantings that reflect the seasons.

At the Columbus Zoo and Aquarium, the family-friendly "Boo at the Zoo" experience takes place every weekend in October. Visitors age 13 and younger are invited to wear costumes and take part in a Jack-O-Lantern Journey Seek and Find or Zoo Boo Choo-Choo train ride, all while visiting treat stations and interacting with character ambassadors dressed in costume themselves.

"We like to call it a merry, not scary, event," says Jeff Glorioso, the zoo's director of experiential marketing.
The already-sold-out "Zooclue" for those 21 and older offers a musical mystery dinner theater experience where guests watch a show, then wander through the zoo looking for clues that they then piece together back at the theater. A new event this year recommended for ages 13 and older transforms the zoo's summertime water park Zoombezi Bay into "Zombiezi Bay" with three haunted houses, two scare zones and seven rides. Franklin Park Conservatory and Botanical Gardens: 1777 E. Broad St., Columbus 43203, 614/715-8000, fpconservatory.org; Columbus Zoo and Aquarium: 4850 W. Powell Rd., Powell 43065, 614/645-3400, columbuszoo.org