Travel
| Cities
Explore the Arts in Toledo
The Glass City is alive with creativity year-round, but spring and summer offer a perfect time to check out performing and visual art, from concert halls to public parks.
March/April 2023
BY Kristina Smith | Toledo Zoo Summer Concert Photo by Stephen Linsky
March/April 2023
BY Kristina Smith | Toledo Zoo Summer Concert Photo by Stephen Linsky
Home to jazz greats, the birthplace of the studio art glass movement and host of the longest-running ballet and orchestra production of "The Nutcracker" in North America, the city of Toledo has long had a rich arts tradition.

That heritage can be experienced by seeing the Toledo Symphony and attending productions of touring Broadway musicals. It's reflected in the live concerts and jazz festivals hosted at local parks and amphitheaters, as well as in the city's rich collection of public murals and sculptures.

"I always say we punch above our weight class when it comes to the arts," says Zak Vassar, president and chief executive officer of the Toledo Alliance for the Performing Arts, an organization that encompasses the Toledo Symphony and Toledo Ballet and partners with the Toledo Jazz Orchestra. "There aren't that many cities in Ohio or across the nation that have a really high-level professional orchestra, art museum, ballet, opera and performing arts centers. It's always been a special gem."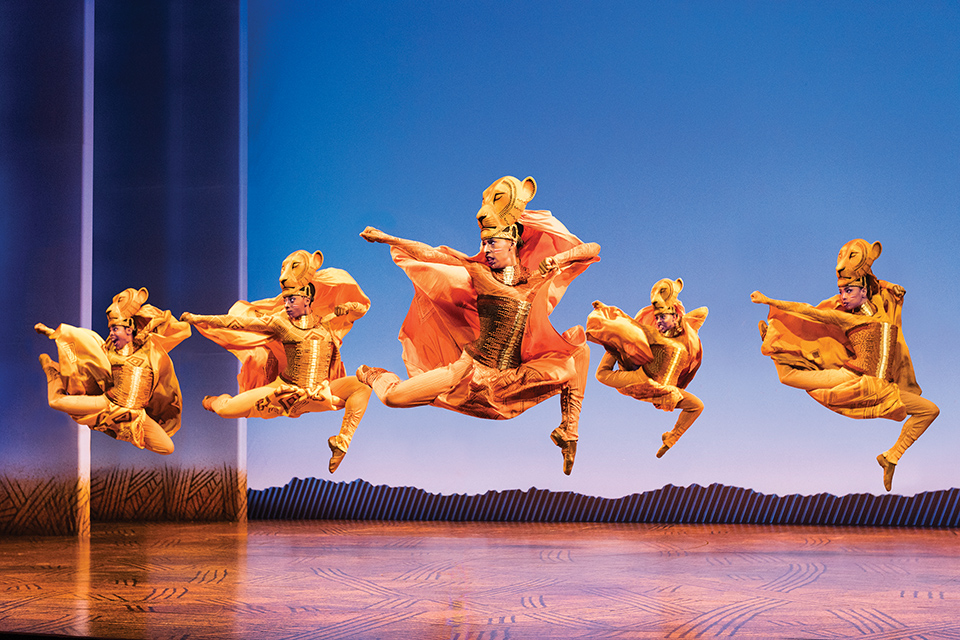 Theater Stages & Concert Halls

The pageantry of one of Disney's most spectacular Broadway productions comes to Toledo this spring, with the much-anticipated performances of "The Lion King" (April 19–May 7), which had been postponed from its original 2020 show date.

With its incredible puppetry featuring giraffes, gazelles and other animals paired with the music of Elton John and Tim Rice, "The Lion King" brings the Serengeti as seen and heard in the beloved animated Disney movie to life in an unforgettable live theater performance.

"The first five minutes of that show is awe inspiring," says Craig Aikman, director of programming for the American Theater Guild. "You see the artistry all around you and coming through the audience and coming up on stage. When you couple that with the music that was made for it, you kind of move outside of your body. It encompasses you."

Another Broadway favorite, "Dear Evan Hansen" will take the Stranahan Theater stage just before summer officially starts (June 13–18). The show tells the story of a high school student with social anxiety who longs to fit in — a contemporary and personal story that deeply resonates with audiences of all ages.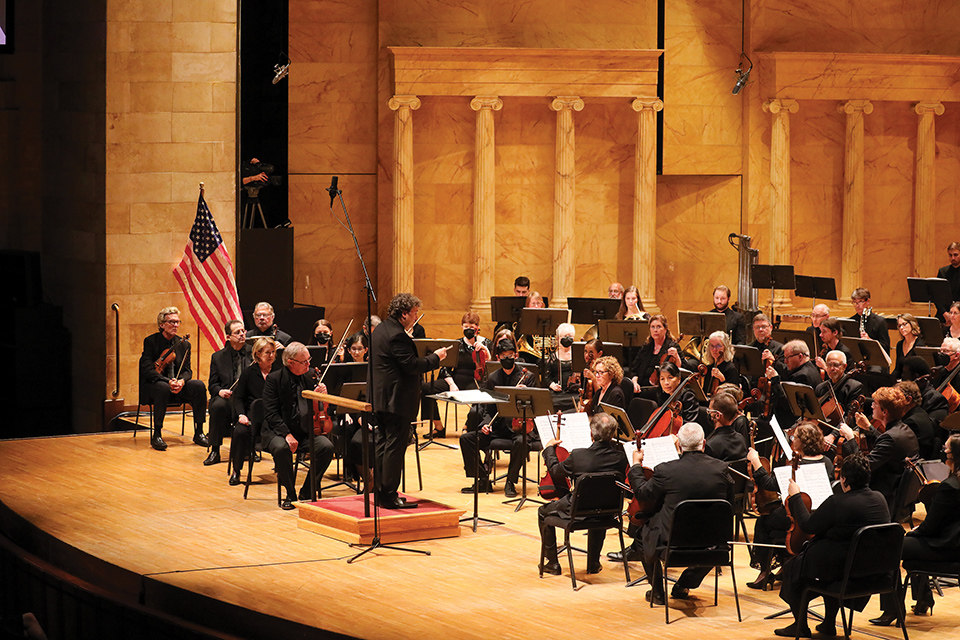 On stage at venues throughout the city, the Toledo Symphony, Toledo Jazz Orchestra and Toledo Ballet offer a variety of performances, from works of classical composers to the pop sounds of ABBA to the classic story of Cinderella.

World-renowned cellist Yo-Yo Ma will join the Toledo Symphony on May 5 to perform Edward Elgar's "Cello Concerto" and Johannes Brahms' Symphony No. 4. at the Toledo Museum of Art's Peristyle Theater.

Later that month, the symphony moves to the pop world with "Direct from Sweden: The Music of ABBA" on May 20, also at the Peristyle Theater.

The Toledo Jazz Orchestra pays tribute to Duke Ellington and Billy Strayhorn with "Take the A Train" on March 23 at the Valentine Theater. Pianist Larry Fuller joins the jazz orchestra at the Peristyle Theater on May 6 for "The Art of Art," a performance in the style of Toledo native and jazz piano legend Art Tatum.

The Toledo Ballet and Toledo Symphony join forces to perform "Cinderella" April 28 and 29 at the Valentine Theater, as well as for the 83rd annual production of "The Nutcracker" at the Stranahan Theater in December. The symphony and ballet have performed together since the 1940s. The partnership is special because it is becoming unusual in larger cities for ballets to dance to live music instead of recordings, according to Vassar.

"There's something electric about it," he says.

---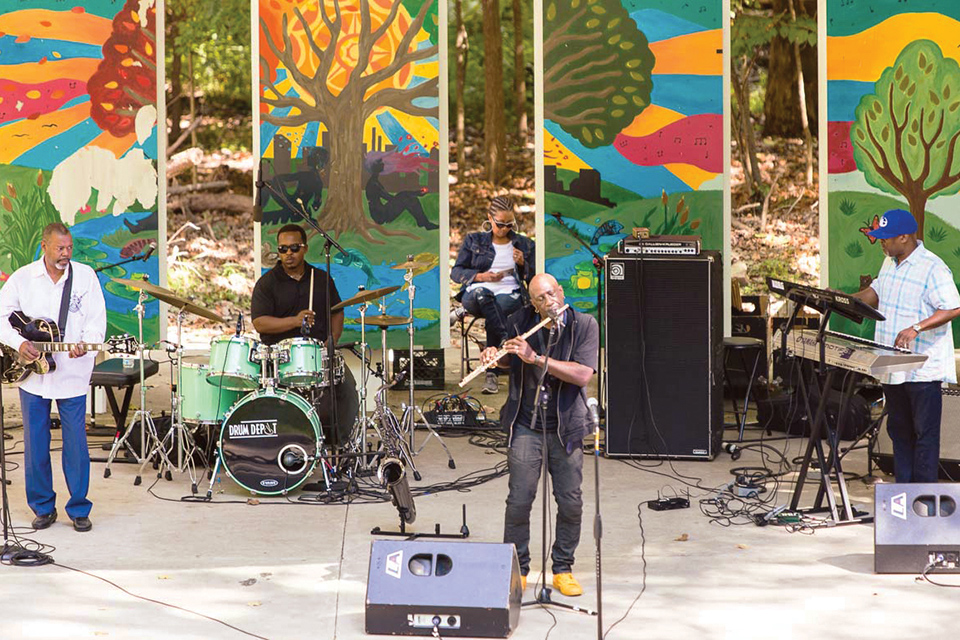 Outdoor Performances

The warmer months bring a variety of opportunities to enjoy outdoor concerts throughout the city. In celebration of Toledo's jazz history, the Great Lakes Jazz Society puts on two festivals each year. The Great Lakes Jazz Festival is set for Sept. 9 at the Ottawa Park Amphitheater and the Glass City JazzFest will take place on Aug. 12 at Glass City Metropark.

In addition to being the home of Art Tatum and other well-known jazz artists, Toledo has a history of offering live jazz at its nightclubs, says Cheryl Catlin, Great Lakes Jazz Society treasurer and one of the organizers of both festivals. Through its festivals, the organization aims to keep that history alive while increasing appreciation for the art form and showcasing Toledo and its concert venues.

"We like to let people know that jazz is bigger than they might think and expose them to different types of jazz," Catlin says. "It's international, and it's one of the most diverse art forms. There's Latin jazz. There's fusion. There's Asian."

In addition to music festivals, Toledo has several outdoor concert series that feature artists and groups performing in a variety of genres. ProMedica Live! offers music by a range of artists at Promenade Park along the Maumee River in downtown Toledo. Well-known performing artists that have taken the stage there in the past include Gwen Stefani, Diana Ross and Patti LaBelle. (The 2023 ProMedica Live! lineup will be announced in April.) The Toledo Zoo & Aquarium's summer concerts at its amphitheater also return this summer and will feature performances by country music artist Parker McCollum on May 18 and rockers Matchbox Twenty on Aug. 4.

---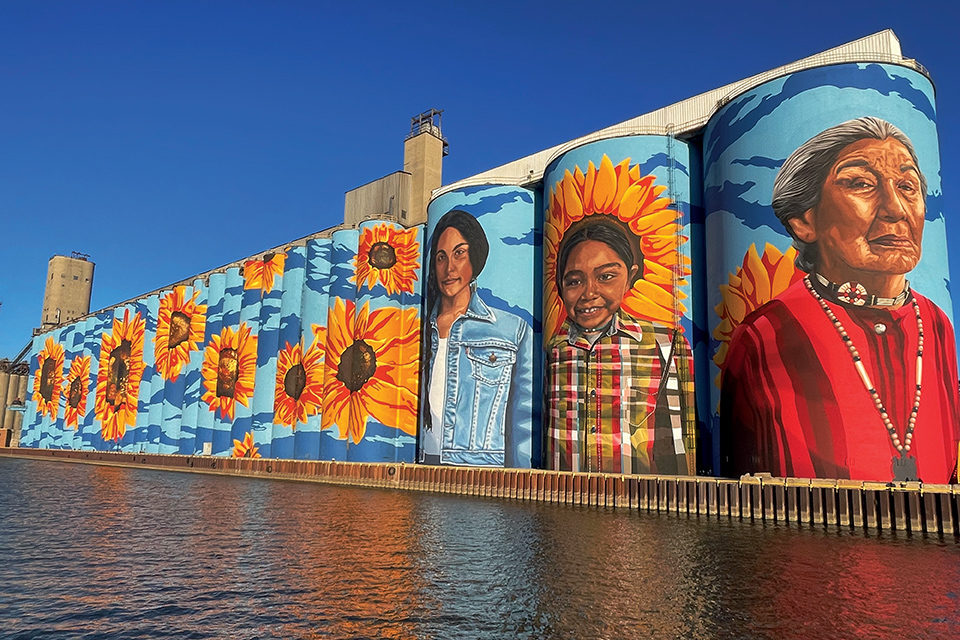 Public Art & Art Festivals

Public art such as murals and sculptures are a core piece of Toledo's identity, says Marc Folk, president and chief executive officer of The Arts Commission. Ever since Toledo became the first Ohio city to adopt a public-art program in 1977, it has regularly created and installed artwork that relates to the community and its neighborhoods.

One of the city's most recognizable pieces of art is its new Glass City River Wall, the largest mural in the United States. The monumental work, which was completed last year, spans 28 grain silos along the Maumee River and is visible from downtown Toledo and Interstate 75. It features bright yellow sunflowers as well as modern depictions of Native Americans — whose ancestors were this area's first farmers — on a sky-blue background.

More new public art is being installed in 2023. The Arts Commission is partnering with Metroparks Toledo on "Field of Histories," a project that will highlight the city's connection to industrial and art glass. Set to be completed at Glass City Metropark in October, the outdoor installation will feature 170 glass orbs laser etched with photos of objects that depict the city's history in glass, Folk says. To create this artwork, Toledoans shared items such as tools a family member used while working at Libbey Glass or a piece of art glass that had been in the family for generations.

"These are objects that share the connection of people to Toledo's identity," Folk explains.

Another new public-art project is near completion at the Glass City Center downtown. Six of seven works of art have been placed inside and outside the building and include a large outdoor floral sculpture titled "Blue Lupine," an installation called "Ladder of Light" and a series of murals and glass installations that celebrate the city's jazz history.

"We're elevating and celebrating histories and our collective identity in a way that outwardly conveys that to people visiting," Folk says. "You can learn about our history in glass or jazz or the natural world. It creates a sense of awe and wondering and creates a connection."
Toledo also offers art festivals that bring together a wide range of artists and showcases their work. Since 2017, The Arts Commission has put on the annual Momentum Festival, which usually takes place on the downtown riverfront each September and celebrates arts and culture. The festival has included live music, an arts competition and public art in Promenade Park. The Arts Commission is working on details for the 2023 festival.

One of the city's longer-running festivals, the Crosby Festival of the Arts returns to the Toledo Botanical Garden June 23 through 25 for its 57th annual show.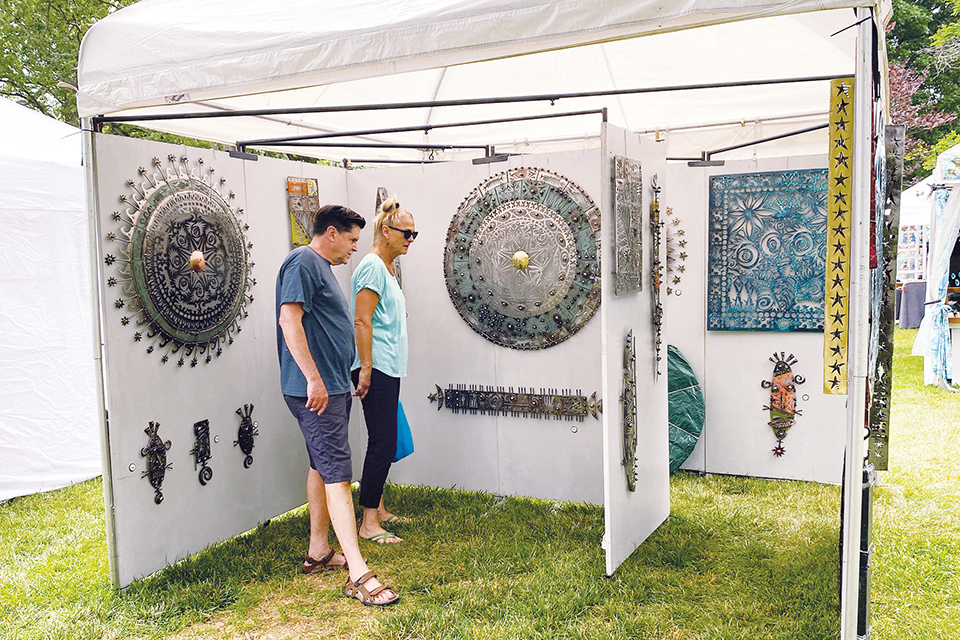 During this juried festival, 175 to 200 artists display and sell their handmade works in nine categories, including wood, jewelry, ceramics and glass. Art ranges from functional pottery to paintings to large outdoor sculptures, says Yvonne Dubielak, executive director of Toledo GROWs, the group that organizes the festival.

"There really is a price point for everybody," she says. "There are some pieces that are smaller and less expensive, and there are some massive paintings and sculptures that are more high-end. We have people streaming out with their arms full."

The festival also serves as a fundraiser for Toledo GROWs, an organization that works with 125 community gardens throughout the city. An estimated 6,000 people attend the Crosby Festival of the Arts each year, according to Dubielak.

"It really is a focal community tradition," she says. "There are fine artists who do top-notch work, and it's in a beautiful setting. People love to support the arts."


Learn More
To find out more about Toledo's arts organizations and events, visit these websites.

Toledo Symphony
toledosymphony.com

Toledo Jazz Orchestra
toledojazz.org

Toledo Ballet
toledoballet.com

Broadway in Toledo at the Stranahan Theater
"The Lion King" | April 19–May 7
"Dear Evan Hansen" | June 13–18
Visit broadwayintoledo.com, stranahantheater.com or call 419/381-8851 for tickets.

Glass City JazzFest
Aug. 12
Glass City Metropark
glasscityjazzfest.com

Great Lakes Jazz Festival
Sept. 9
Ottawa Park Amphitheater
greatlakesjazzfestival.net

ProMedica Live! Concert Series
Promenade Park
promedicalive.com

Toledo Zoo Summer Concerts
Parker McCollum | May 18
Matchbox Twenty | Aug. 4
toledozoo.org/concerts

Self-Guided Public Art Tours
The Arts Commission
theartscommission.org/public-art/collection

Crosby Festival of the Arts
June 23–25
Toledo Botanical Garden
crosbyfest.com

Momentum Festival
Date to be announced
Promenade and Festival Parks
theartscommission.org/events/momentum