Travel
| Cities
Cleveland Food Tour
From Old World dishes served cafeteria-style to Iron Chef Michael Symon's new spin on barbecue, here are eight spots that should make your list.
October 2016 Issue
BY Frances Killea | Photo by Heather Campbell
October 2016 Issue
BY Frances Killea | Photo by Heather Campbell
Sokolowski's University Inn
Old World delights such as stuffed cabbage and pierogies are served alongside hulking slices of meatloaf and Salisbury steak at this restaurant that originally opened as a candy store in 1923. It became what it is today after co-owner Mike Sokolowski's parents started catering to hungry construction workers in the 1950s.
"When they were building the first Innerbelt Bridge … that's when we became a full-fledged restaurant," he says. "My mom would feed all of the ironworkers."
Sokolowski's serves some of the city's tastiest Polish and Eastern European food, but it's also beloved for its cafeteria-style approach that lets guests glimpse the offerings before deciding what ends up on their plate.
"Cafeterias were a little more common back in the day," says Sokolowski. "We're the last of our breed. … My parents always said, 'serve quality food, and you can't go wrong.' " 1201 University Rd., Cleveland 44113, 216/771-9236, sokolowskis.com

***
Happy Dog
For Clevelanders, Happy Dog means tasty hot dogs and a long list of build-your-own toppings. But when Sean Watterson and Sean Kilbane opened the music club in 2008, neither of them had restaurant experience.
"We were coming from totally different careers and just wanted to give it a shot," recalls Watterson.
Within a year, Kilbane had developed a lively music lineup, but the menu faltered until the duo partnered with Cleveland chef and restaurateur Eric Williams. Today, Happy Dog serves both vegan and all-beef hot dogs that can be dressed in a list of more than 50 toppings, including Froot Loops and chunky peanut butter. In 2014, a second location opened on the city's east side, and there's a Happy Dog concession stand at the Cleveland Indians' Progressive Field.
"The idea was, let's give everyone ... a reason to come get a hot dog," says Watterson. 5801 Detroit Ave., Cleveland 44102, 216/651-9474; 11625 Euclid Ave., Cleveland 44106, 216/231-5400; happydogcleveland.com
***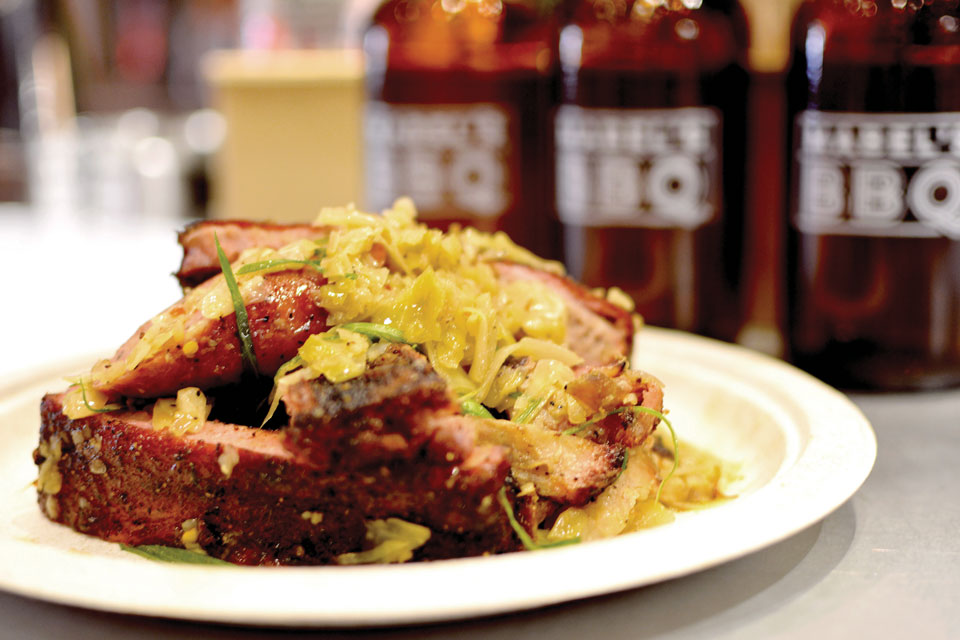 Mabel's BBQ
Michael Symon is the patron saint of Cleveland's dining scene, serving up dishes that reflect the city's immigrant influences and blue-collar background. Earlier this year, he opened the doors to Mabel's BBQ, an eatery fueled by Symon's distinctive approach.
"He's trying to develop his own style, with more European spices and this Bertman Ball Park Mustard barbecue sauce with apple cider vinaigrette," says Jude Feyedelem, director of fine dining for Michael Symon Restaurants.
From dishes such as the Polish Girl (kielbasa, chopped pork and coleslaw) to the smoked meats served with sauce on the side, Mabel's BBQ challenges our notions of both barbecue and Midwestern cuisine. Everything arrives at the table on quarter- or half-sheet trays.
"When that big tray comes out," says Feyedelem, "their eyes light up right away." 2050 E. Fourth St., Cleveland 44115, 216/417-8823, mabelsbbq.com

***
Great Lakes Brewing Co.
Its Christmas Ale may get the attention, but Great Lakes Brewing Co. was a brewpub long before it distributed beer throughout the Midwest and beyond.
"It was always important for [owners Pat and Dan Conway] to surround the beer with good food," says Jeff West, the brewery's retail operations manager.
The brewpub still serves what West refers to as Midwestern comfort foods, including dishes such as prosciutto grilled cheese and a smoked kielbasa Po' Man.
Great Lakes Brewing Co.'s beer appears in some of the dishes, too. The Stilton cheese soup features Dortmunder Gold lager, and a partnership with a local bakery makes use of Great Lakes' leftover brewing grains.
"He makes loaves of bread for us," says West. "But we also have a pretzel on the menu called the Brewer's Barley Pretzel. He takes the spent grains and makes those for us."
2516 Market Ave., Cleveland 44113, 216/771-4404, greatlakesbrewing.com
***

Heck's Cafe
Located in a brick townhouse a short walk from the city's landmark West Side Market, the modest outward appearance of Heck's Cafe belies a heady distinction: For many, it has long been the place to get the city's best burger.
Heck's uses different cuts of grass-fed Ohio beef in each patty, and the menu is full of interesting twists, including the Avon Burger (named after the restaurant's second location in one of Cleveland's western suburbs), which is topped with potato sticks, balsamic caramelized onions, blue cheese and baby arugula.
"A burger now is not like years ago," says Fadi Daoud, who took over ownership of the place in 2005. "It's become a whole world." 2927 Bridge Ave., Cleveland 44113, 216/861-5464, heckscafe.com

***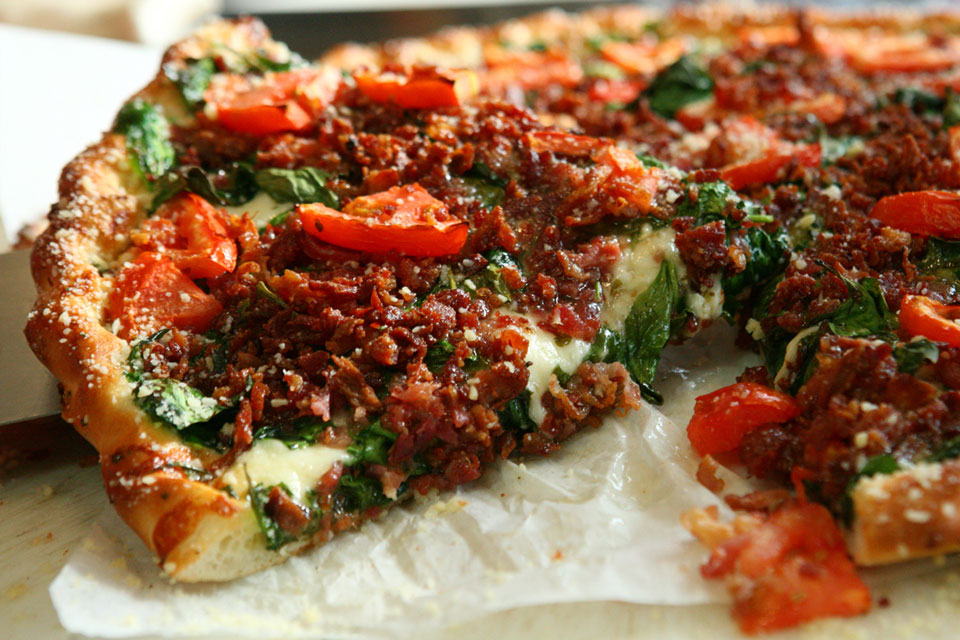 Edison's Pizza Kitchen
Connected to Edison's Pub, Edison's Pizza Kitchen offers walk-up and bar-patron service, and on weekends, it keeps its light on until 2:30 a.m. "We're not flashy or anything," says owner Karl Nickel, who opened the place eight years ago with help from his friend Jeff Lioce. "Neither one of us knew anything about pizza except that we liked it."
After a month of testing, during which they gave away free samples, Edison's Pizza Kitchen opened with a few core recipes that remain unchanged. In addition to the specialty pies such as the Hot Bacon Spinach Pizza, you can build your own from a list of toppings that includes chicken, housemade barbecue sauce and blue cheese. 2365 Professor Ave., Cleveland 44113, 216/298-4484

***
Johnny Mango World Cafe & Bar
With a reputation for tasty margaritas, Johnny Mango World Cafe & Bar began serving dishes inspired by cultures from around the globe in 1996.
"My partner at the time used to go to a bunch of warm climates and travel around," says owner Shelley Underwood. "He'd get recipes from street vendors in Thailand and Latin America. It's really just … street food, but inside."
On weekends, the restaurant dishes vegan waffles and breakfast quesadillas, while pad thai, fried rice, quesadillas and burritos are a few of the dinner favorites.
"I think a lot has to do with serving real food that's not expensive," says Underwood. Everything from the salsa to the juices used in the margaritas is made fresh in-house. "The food is simple. How we approach everything is simple." 3120 Bridge Ave., Cleveland 44113, 216/575-1919, jmango.com
***
Crop Bistro & Bar
The Ohio City neighborhood's United Banking & Trust building is studded with marble pillars and decorated with painted murals. The bank it once housed fell victim to the 1929 stock market crash, but in 2011 chef Steve Schimoler brought splendor back to the space by moving his Crop Bistro & Bar there.
"I'm a sucker for historic places," he says. "To me, it was the opportunity to bring that back to its original glory."
Creative dishes, such as the cheese-and-chorizo-stuffed tomato cherry bomb, are Schimoler's hallmark, but not every dish mirrors the setting's opulence. The balsamic and truffled popcorn, for example, is a popular bar snack.
"Our menu reflects a certain irreverence, yet offers a strong nod to tradition and technique," Schimoler says. "We've become well known for bringing great flavor to the plate with a level of whimsy that makes it fun." 2537 Lorain Ave., Cleveland 44113, 216/696-2767, cropbistro.com