Travel
| Cities
Canton: 3 Great Places to Stay
Heading to Stark County this summer? Book your overnight accommodations at one of these elegant and interesting locations.
August 2019
BY Tyler Haughn | All photos courtesy of the locations listed
August 2019
BY Tyler Haughn | All photos courtesy of the locations listed
The Casa at Gervasi Vineyard

Walking through Gervasi Vineyard's 55 acres, it is easy to forget you are still in Canton. The resort's beautiful landscape, fine dining options and Tuscan-inspired architecture are a perfect match for the vineyard's award-winning wines.

Gervasi Vineyard is also known for its relaxing and elegant overnight accommodations, whether you're part of a couple seeking a romantic getaway or a family that wants to spend time together. Already the home of The Villas and The Farmhouse, Gervasi Vineyard opened a new boutique hotel, The Casa, in May 2019 to provide 24 more guest rooms.

"We did not have enough hotel rooms," says Scott Swaldo, general manager of Gervasi Vineyard. "Whether it be tourism, corporate retreats, weddings or special events, we really were losing business with some of those groups and turning people away."

The Casa's individual suites offer a different experience than The Villas, where guests share a common living room with one another. Each of The Casa's rooms includes a veranda with views of the communal firepit and nearby pond.

"We wanted to have it be the same luxury level but create a more romantic, quiet and private option for people looking for that," Swaldo says. "We tried to take the best elements of The Villas and carry those over to The Casa."

All rooms in The Casa feature fireplaces, heated floors and other high-end amenities. Guests staying in The Casa can also look forward to enjoying an Italian-style continental breakfast delivered directly to their rooms each morning in a rustic wooden box. Guests have five different breakfast options.

"We tried to merge that special feeling you can get at a bed-and-breakfast with the fact that we are a winery," Swaldo says. "We came up with the idea of taking a wine box and using that as a way to deliver the breakfast." 1700 55th St. NE, Canton 44721, 330/497-1000, gervasivineyard.com

---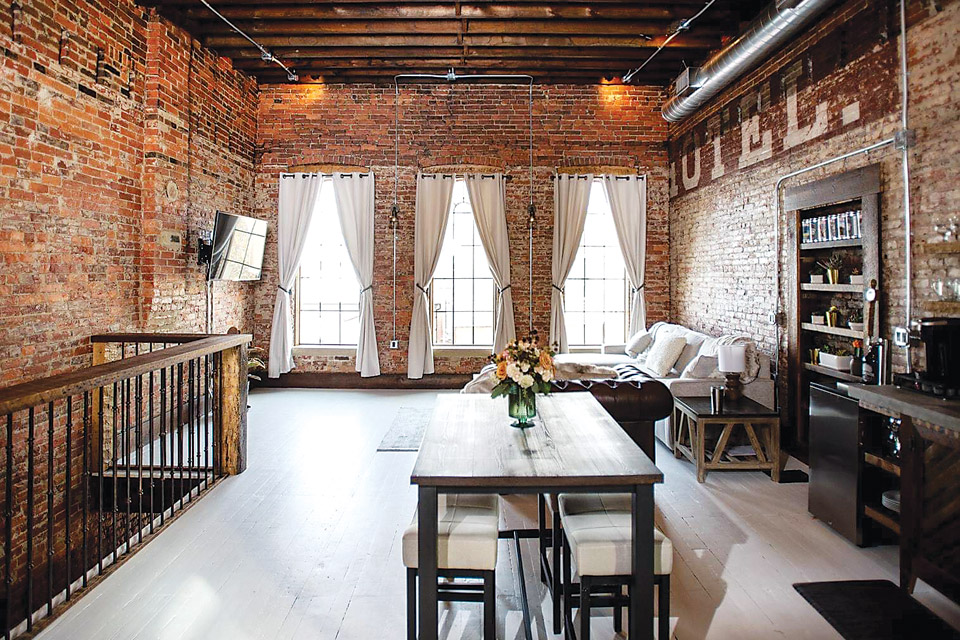 Brewers Quarters at Sandy Springs Brewing Co.

For craft beer fans, the thought of overnight accommodations with a built-in tap system, free Wi-Fi and a full kitchen is enough of a draw. Add to that a nearby brewery taproom with a choice of more than a dozen beers on tap and you begin to see the allure of what Minerva's Sandy Springs Brewing Co. has created with its Brewers Quarters.

"When we opened, we had a lot of people coming from out of town," says Andy Conrad, who launched Sandy Springs Brewing Co. with his wife, Amanda, in 2017. "So, we thought it would be nice to have a place for people to stay."

The couple spent more than six weeks renovating a two-bedroom apartment in the same block as their brewery that had sat vacant since 2001. Opening in early 2019, the Brewers Quarters features exposed brick that creates a rustic, warm and charming feel similar to the ambiance of the taproom.

The Conrads, who have lived in Oregon, New Mexico and California, were inspired to open their brewery during their travels throughout the western United States, where they worked as physical therapists for three years. They explored breweries of all sizes and styles, but quickly realized many didn't have places to stay nearby.

"We bounced around from city to city and saw some things in between," Andy says. "That is when we really started building our business plan for the brewery."

After moving back to their hometown of Minerva in 2013, the Conrads began laying the foundation for their brewery. The idea was to create a meeting place for locals and visitors alike while contributing to the development of Minerva's downtown. The brewery now routinely has more than a dozen different beers on tap and serves a small menu that spans sandwiches, flatbreads, salads and snacks.

"Slowly, one year at a time, things started to fall into place," Andy adds. "We thought our brewery would help Minerva and that it would survive in Minerva." 224 N. Market St., Minerva 44657, 330/522-4024, sandyspringsbrewery.com

---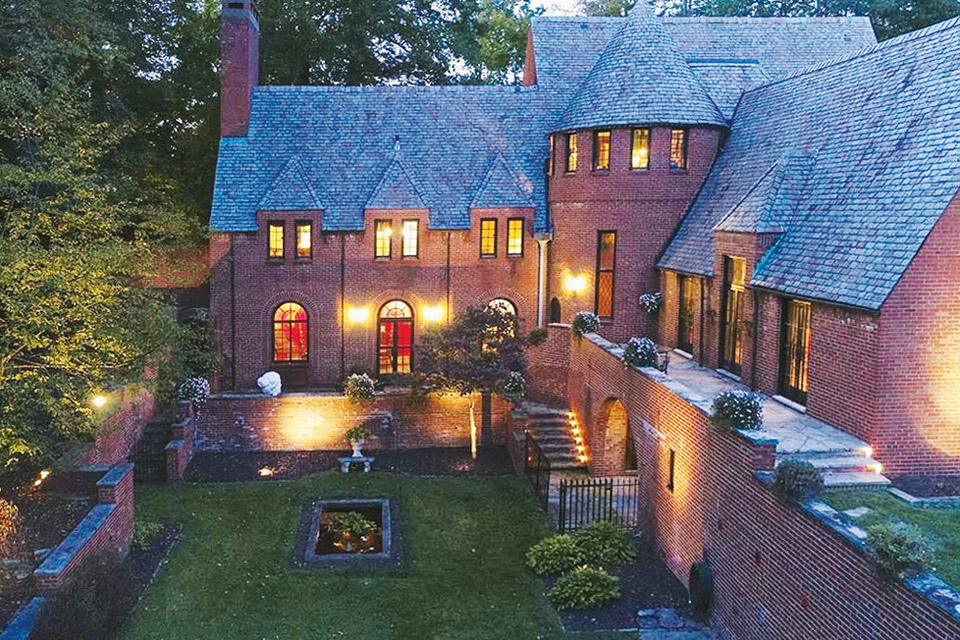 Purcell Mansion & Gardens

Steve and Deborah Okey's bed-and-breakfast appears as if it were plucked from the European countryside, with its French Norman architecture and sprawling estate covering 13 acres. The couple has owned Purcell Mansion & Gardens for the past 25 years, but they did not open their home to overnight visitors until August 2018.

"Guests come in who love historical architecture, but once they come in, they get enveloped by the atmosphere of it," Deborah Okey says. "For them, I get the sense that it is an oasis. They come, sit and relax."

Choose from the Princess Elizabeth Suite, the Medici Suite or the Wessex Suite. Each room features original woodwork and items that are part of the long history of the property, which was originally constructed in 1929.

The Princess Elizabeth Suite, named after Princess Elizabeth of Bavaria, features views of the Courtyard Garden and the Gothic Garden, where guests can take in a stone staircase, a tiered fountain and three gothic stone arches. The highlight of the room is a bed that is believed to come from the captain's quarters of a European sailing ship discovered by the estate's founder, Robert Purcell.

"Robert Purcell went to Europe and found a ship and brought back different parts from it," Okey says. "The house has many original built-in features, including the woodwork and carvings, so you see all of the owners through the years have kept the woodwork in place."

Purcell first spotted the property while flying his plane in search of a place to build his own French chateau. He found the perfect site while flying over Stark County, near Alliance. Today, Purcell Mansion & Gardens is listed on the National Register of Historic Places.

"Every year we undertake a project and restore the house," Okey says. "We always try to make sure we keep the house in its original spirit and architecture but also bring in more modern amenities." 2700 Fairway Lane, Alliance 44601, 330/283-7192, purcellmansion.com

---

Explore More
Stark County is packed with fun destinations and experiences. Here are a few to consider when visiting the Canton area.
For the Foodie: Canton Food Tours
Experience the city's culinary side with a three-hour tour featuring four restaurants and the chance to try a chef-selected dish at each stop along the way. The popular Hall of Fame City Tour treats guests to local fare with a serving of downtown Canton history on the side. Tours can also be customized based on what a group wants to see. Call or visit website for tour pricing, scheduling and availability. 330/495-0929, cantonfoodtours.com

For the Music Fan: Canton Music Block
Support the local music scene by checking out live performances every Friday and Saturday night at eight venues along Cleveland Avenue between Second and Fourth streets and the surrounding area. The Canton Music Block offers music lovers the opportunity to explore the city's various downtown venues and experience the diversity of musical acts they draw. For information about and directions to the Canton Music Block, visit cantonmusicblock.com.

For the Shopper: Moonlight Market
Begin a new family tradition by visiting Hartville Marketplace & Flea Market's Moonlight Market, hosted outdoors under the pavilion. Running from 6 to 10 p.m. and held periodically when the weather is warm, the event features live music, local food trucks and nearly 100 vendors selling locally crafted wares. The next Moonlight Markets are Aug. 23 and Oct. 11. 1289 Edison St. NW, Hartville 44632, 330/877-9860, hartvillemarketplace.com