Travel
| Cities
Akron Beer Sampler
The Summit Brew Path invites travelers to explore 14 area breweries that offer a flavor of our state's booming craft beer scene.
July 2017 Issue
BY Dillon Stewart | Photo courtesy of HiHo Brewing Co.
July 2017 Issue
BY Dillon Stewart | Photo courtesy of HiHo Brewing Co.
With Ohio's craft beer scene booming, you might be thirsty for a weekend brew-cation, and Summit County is more than happy to help you find your way. Launched this year, the Summit Brew Path offers a web of 14 breweries in and around the Akron area. Guests who get their brew-path passport stamped at all of the locations get a T-shirt to commemorate their efforts. "A rising tide lifts all boats," says Ronald Shea, owner of R.Shea Brewing in Akron. "The brew path has really raised the elevation of craft beer in the area." We visited five tasting rooms along the Summit Brew Path to offer a sampler of what you'll find.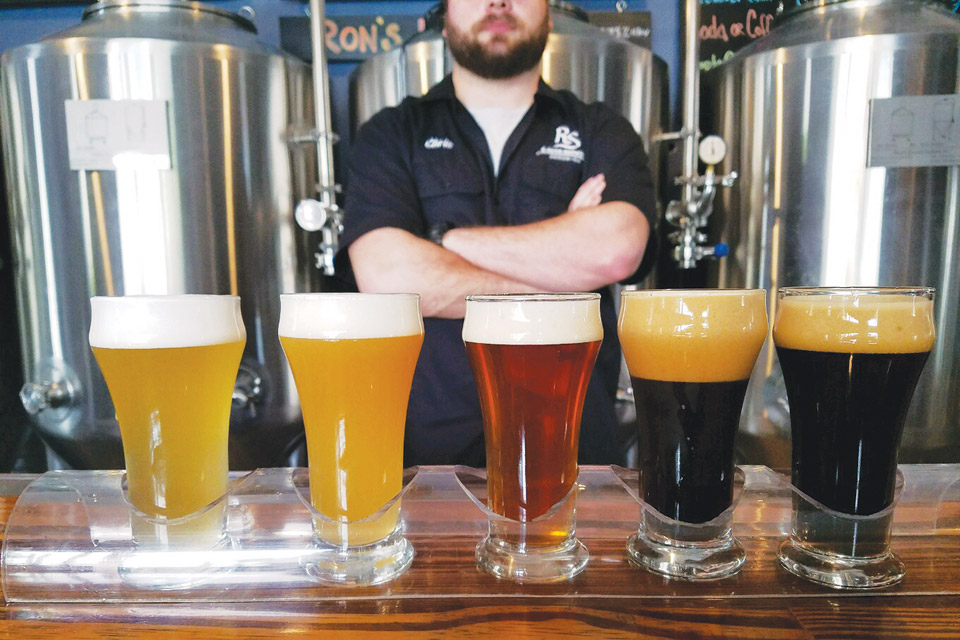 R.Shea Brewing | Akron

Homebrewer Ronald Shea's dream to open his own brewery remained just that until he found a tiny storefront on Merriman Road in 2014.
"The lease wasn't that expensive, and I had a little bit of money saved," he says of the location where his R.Shea Brewing opened on Labor Day weekend 2015. "I was like, 'If I'm going to do this, now is the time.' "
Out of necessity, Shea created a cozy-yet-comfortable taproom where craft beer fans and armchair brewmasters alike can peek in on the beer-making process. "I'm from a chemistry/engineering background," Shea says. "So, I feel like people want to see how it's done."
The chemistry lessons are interesting, but craft beer lovers will be impressed with the finished product. The caramel espresso stout, made with the assistance of Akron's Nervous Dog coffee shop, will appeal to those who usually avoid dark beers, while the peach and blueberry hefeweizens are a welcome departure from the lighter ales that usually populate the fruity beer category. "[It] has a fruit character from the wheat yeast, but it's a little malty and cloudy, too," says Shea.
While you're there, gobble down the brewery's boxty Reuben, which swaps bread for potato pancakes. "I want people to know they can get a great flight of beer and a Reuben at a decent price," says Shea. 1662 Merriman Rd., Akron 44313, rsheabrewing.com

Thirsty Dog Brewing Co. | Akron
Entering Thirsty Dog Brewing Co.'s tasting room feels like you're sneaking in through a back door. Kegs roll by, silver tanks tower high and the aroma of beer-making is pungent.
"This building is rehabbed from the old Brickheart Brewery, so we're a part of a brewing history that dates back over a century," explains John Najeway, co-founder of Thirsty Dog Brewing Co. "So, we carved out a space for a tasting room right in the middle of the brewery."
The taps at the wonderfully gritty, cash-only taproom pump out regional classics such as Labrador Lager. But Thirsty Dog isn't stuck in the past. It also serves up Raspberry Ale and fresh seasonal selections like the annual Pumpkin Ale made with pumpkins from Najeway's home farm.
Later this summer, the tasting room will move to a new 4,000-square-foot space at 587 Grant St. in Akronthat will have a kitchen and more plentiful parking. "[We'll] have flatbread pizzas, signature beer soups, spent-grain pretzels and even root beer floats for the kids," Najeway says.
But don't worry, the historic brewing facility, which Najeway says has one of the largest barrel-aging programs in the Midwest, will remain open on Saturdays. 529 Grant St. Suite B, Akron 44311, 330/252-2739, thirstydog.com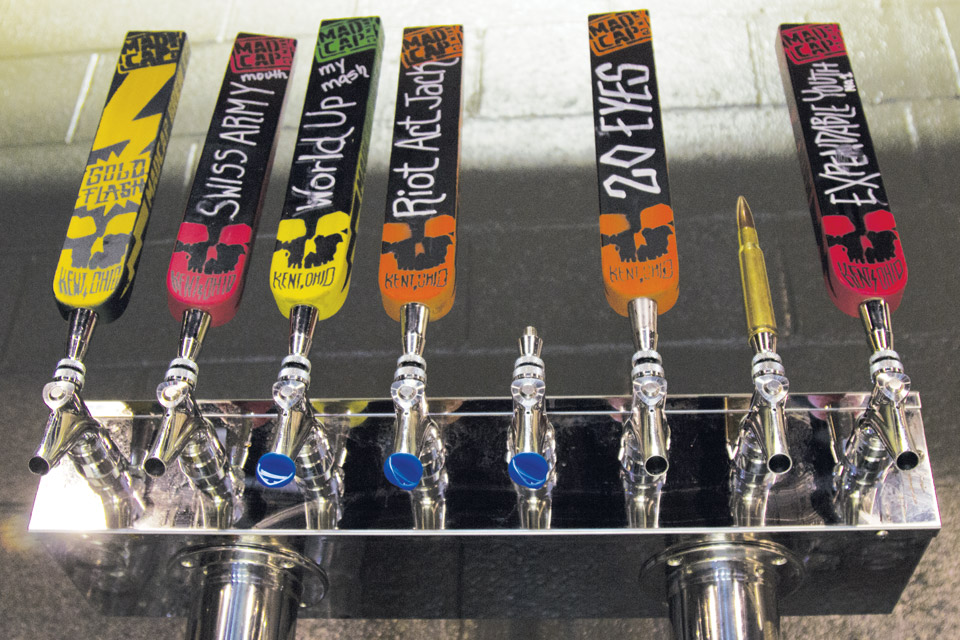 MadCap Brew Co. | Kent

With beers like the 20 Eyes American Pale Ale — named after a song by The Misfits — MadCap Brew Co. wears its punk-rock roots like a sleeve tattoo. After three years of operating as a one-man keg distributor, the brewery has expanded and opened a tasting room, yet it still retains the anarchic philosophy of the music to which it pays homage.
"We don't have a think tank," says co-founder Ryan Holmes. "We don't really have a plan. We just want to do what's comfortable."
Visit the taproom, located in a massive space along Mogadore Road, and you're likely to find Holmes' mom serving up the brewery's mildly hoppy flagship Bullet IPA. A ceiling crane from the warehouse's former inhabitants hangs like a chandelier above the bumper pool, pinball and Skee-Ball machines in the game room. Dishes from a rotating lineup of food trucks, including the punk-rock-meets-gourmet Square Scullery, provide hearty fare to help soak up some of that beer.
Aside from its rowdy nature, punk rock has a tradition of inclusiveness and open-mindedness and MadCap Brew Co is no different, as evidenced by the communal seating that brings strangers together.
"It starts as an uncomfortable situation," Holmes says. "But then they're playing cards and giant Jenga together." 1422 Mogadore Rd., Kent 44240, 330/548-9654, madcapbrewco.com


HiHO Brewing Co. | Cuyahoga Falls
After witnessing Denver's craft-beer boom firsthand, Ali and Jon Hovan opened HiHO Brewing Co. in January to bring a taste of Colorado's brewing culture back to their hometown of Cuyahoga Falls.
"When people go to breweries in Denver, it's not like they go get wasted all day," says Ali Hovan. "We wanted to bring what we learned out there back here … the craft culture."
Constructed in a learn-as-you-go fashion by the Hovans and their family, the industrial-style taproom is a labor of love. Jon's mother painted the walls and his father pitched in as a handyman. Ali's parents repurposed their fence and deck into the taproom's bar.
When it came to brewing, the pair had plenty of expertise. Jon leaned on the homebrew recipes he's been developing since he was 17 years old.The bar's flagship beer is the Bossy Lady IPA, a well-balanced, citrusy brew named after and made to the taste of Ali.On the more experimental side, the brewery's Touchdown Brown is sweet, malty and flavored by coffee from Akron Coffee Roasters.
"People heckle us because we close at 10 p.m. [on weekdays]," Ali says. "But we tell them we're not a bar, we're a brewery." 1707 Front St., Cuyahoga Falls 44221, 234/334-7564, hihobrewingco.com


Hoppin' Frog Brewery | Akron
When Akron beer lovers first fell in love with Thirsty Dog Brewing Co., they were likely sipping the efforts of Fred Karm, the company's first master brewer.
Since 2006, Karm's second act, Hoppin' Frog Brewery, has made an impression all its own while embracing the same approach he's instituted from the start. "From the beginning, I've felt like I'm making these beers for my friends and family," he says.

Located just off state Route 224, Karm says Hoppin' Frog's tasting room is a nod to the "living-room feel" of breweries in Holland — one of 36 countries where the beer-maker's creations are sold. The taproom offers a small-but-solid menu of food, which includes the Karminator Kuban — a Cuban sandwich featuring pulled pork, ham, Gouda cheese, pickle chips and house-made Karminator Dopplebock mustard.
Hoppin' Frog Brewery's most ardent fans come for the big beer flavors. The famous B.O.R.I.S. the Crusher Oatmeal Imperial Stout, a two-time gold medalist at the American Beer Festival, is packed with 10 types of grains and has a sweet, malty flavor. Other standouts include the Gangster Frog, a tasty IPA flavored by citra and two other kinds of hops, and the Fresh Frog, a spice-heavy, wet-hop beer made from fresh Ohio hops.
"Some of these higher-grade hops we're using are very expensive, but I've spared no expense because I wanted to be able to take my work home with me," Karm explains. "I'm proud of it." 1680 E. Waterloo Rd., Akron 44306, 330/352-4578, hoppinfrog.com
For more information and locations of the other Summit Brew Path breweries, visit summitbrewpath.com.

Photo credits: All photos courtesy of the breweries listed, except MadCap Brewing Co. by Samantha Karam