Travel
View Finders
From hot air ballooning to horseback riding, get a fresh perspective on autumn leaves.
October 2015 Issue
BY Frances Killea | Photo by Doyle Yoder
October 2015 Issue
BY Frances Killea | Photo by Doyle Yoder
Fly over the Hocking Hills
New Plymouth

Based at a tiny airport built atop a reclaimed southeast Ohio coal mine, pilot Harry Sowers' excursion-flight service has offered customers unparalleled views of Hocking Hills State Park, Wayne National Forest and beyond for the past six years.

"We start out with a 20-minute ride, and that's over to Old Man's Cave and Cedar Falls and back," says Sowers, adding that his Hocking Hills Scenic Air Tours also offers 30-, 45- and 60-minute rides. "[With] the one-hour tour … we can take a flight down toward the Ohio River and back," adds Sowers. "Everybody likes that — the boats and the barges. Once in a while, we see a sternwheeler."

While Sowers does indulge the occasional drop-in visitor with a last-minute flight, he recommends making a reservation in advance by phone or email, especially if you're looking for a trip in mid-October, his peak season.

"If you can imagine … every color you could think of," says Sowers. "That's what it looks like here in the hills." Vinton County Airport, 66285 Airport Rd., New Plymouth 45654, 740/380-2031, hockinghills.com/airtours


Saddle up at Triple T Ranch
Findlay

Whether this bed-and-breakfast's guests are experienced horseback riders or simply cowboys at heart, Triple T Ranch helps them saddle up and take in the autumn hues from a vantage point 15 hands high. Owners Matt and Sande Theis stable 12 horses — seven full-size and five miniature varieties — at their Findlay ranch and bed-and-breakfast, offering lessons and trail rides to both overnight guests and daytime visitors.

"We've got a little over 15 acres of trails," says Matt, describing the flat, family-friendly terrain throughout the property. "Everything is in the woods. When the fall colors hit, the trees are fantastic."

For beginners, there are wide trails that traverse a few easy creeks under a canopy of birch, hickory and ash trees. Triple T Ranch specializes in handing the reigns over to new riders and even brings miniature horses into the ring so Matt and Sande can teach pint-sized jockeys to ride. The miniature horses can go out on the trails, guaranteeing that everyone in the party has an opportunity to be part of the expedition.

"We specialize in first-time riders, small families," says Matt. "We have found a real need for that." 6717 Twp. Rd. 215, Findlay 45840, 419/672-9360, tripletbnb.com


Ride the Rails at Cuyahoga Valley National Park
Cuyahoga & Summit counties

Otters and eagles, livestock and deer can all be spotted from the windows of the train as it chugs through the wooded valley located midway between Cleveland and Akron. The landscape morphs from forest to farmland and back as riders take in views of the surrounding Cuyahoga Valley National Park.

Although the Cuyahoga Valley Scenic Railroad completes daily trips from the city of Independence to Akron and back, there's so much more to this trip than getting from point A to point B.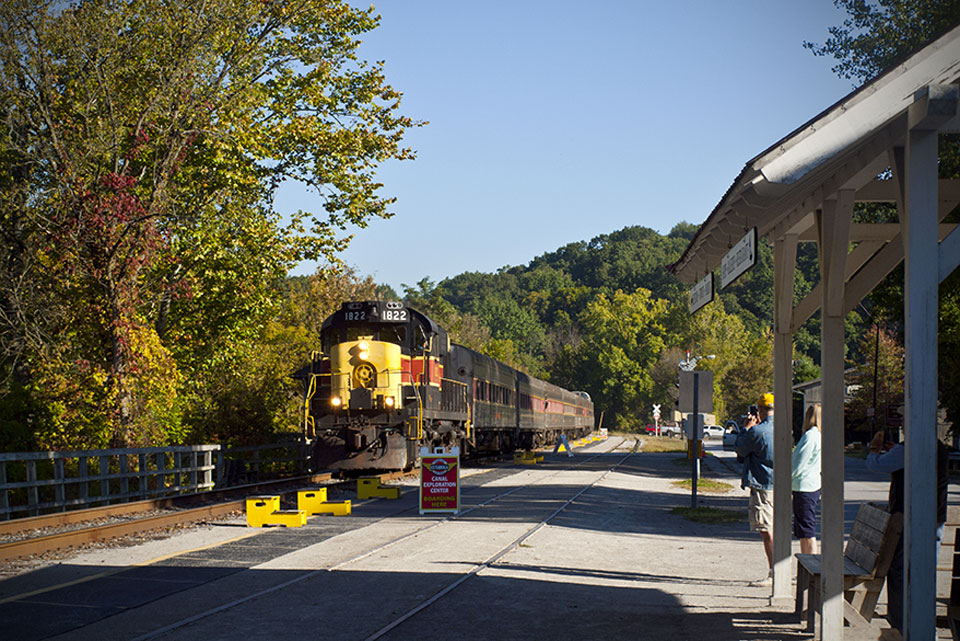 "The experience is no longer just about a train ride," says Kim Shafron, the railroad's director of customer experience. Special events on the train include beer and wine tastings and weekend brunches. But when autumn arrives, people hop aboard for the views. "During the fall, you cannot miss the color show."

In October, vivid hues decorate the valley like a patchwork quilt. During peak foliage season, the railroad adds cars to the train to accommodate additional riders and always offers three seating options: a basic coach ticket, a roomier first-class option and a prime spot in the upper dome of the train. An all-day pass allows riders to step off and reboard at any of the three full-service stations (Akron, Peninsula, and Independence) for a meal, shopping or a bike ride or hike in Ohio's only national park. Cyclists can board at any station along the line.

Taking in the scenery by rail car also supplies a hearty dose of serenity. Shafron says one woman regularly rides with her family as a way to connect. "She says, 'This is our three hours to have a train conversation uninterrupted,' " explains Shafron. "They're using the train as an opportunity to just step away from everything." 330/439-5708, cvsr.com


Bike the Wabash Cannonball Trail
Fulton, Henry, Lucas & Williams counties

The locomotive whistles are long gone from the former train line now known as the Wabash Cannonball Trail. These days, the sounds you're most likely to hear are the chatter of cyclists and hikers.

The Wabash Railroad served northwest Ohio communities from Maumee to Montpelier until the 1970s, when what is now Norfolk Southern Railway bought the line and the tracks went dormant. That all changed in 1994.

"A consortium of groups came together to acquire the rail line for the purpose of making it a trail," explains Jay Budde, president of the Northwestern Ohio Rails-to-Trails Association. Partners across four counties pitched in to create the 63-mile route. Starting in Liberty Center, the trail's South Fork runs northeast to where it meets its North Fork in Maumee. From there, it turns west, extending to Montpelier.

"It is a pretty fall ride," Budde says of the surrounding landscape, which flows from pastoral fields to wooded thickets, passing by and through small towns along the way. "You can see farm fields with corn, soybeans and wheat, but you'll have a buffer of woods in many sections." wabashcannonballtrail.org

OTHER BIKE OUTINGS
• Great Miami River Trail: Seventy-five miles of paved multipurpose trails run parallel to the Great Miami River, passing through parks and small towns along the way. miamivalleytrails.org
• Ohio & Erie Canal Towpath Trail: Built to follow the towpath that mules and horses trod as they pulled canal boats, this trail stretches more than 85 miles. ohioanderiecanalway.com


Zip Through the Treetops at Camp Kern
Oregonia

A mile of steel cable zigzags through the woodlands, connecting a network of launch platforms and footbridges that turn the Dayton YMCA's Camp Kern into a destination for thrill seekers.

Each autumn, visitors have the opportunity to get a fresh perspective on the landscape as Ozone Zipline Adventures takes them above and in between the multicolored treetops. "We have 485 acres out here — so there are quite a few trees," says Ozone Zipline Adventures director Andrew Wright.

Ozone offers four zip line packages, from a traditional canopy tour to a river run that crosses the Little Miami River. The Ultimate Tour sends guests down all 11 lines on the course.

If you go that route, be prepared to spend up to five hours in the treetops, depending on the size of your group, and get ready for some unparalleled views.

"With the traditional tour, you get to see the tops of trees and the river valley," says Wright. "On river line one, you're about 225 feet from the cable to the river."

Ozone Zipline Adventures requires reservations, and Wright recommends booking early for the busy fall foliage season. All participants must be at least 10 years old, and the required weight range runs from 80 to 260 pounds. Two guides lead every tour to not only oversee guests' safety but also teach them about the history and ecology of the region. The scenery speaks for itself.

"You can see for quite a while," says Wright. "You can look down either side of the river, you can see the Jeremiah Morrow Bridge … the views are always changing, always evolving." 5291 St. Rte. 350, Oregonia 45054, 513/932-3756, campkern.org/ozone

OTHER ZIP LINE OUTINGS
• Tree Frog Canopy Tours: Located near the Mohican River, Tree Frog offers seven zip lines covering more than 4,000 feet of wire. 21899 Wally Rd., Glenmont 44628, 740/599-2662, treefrogcanopytours.com
• Hocking Hills Canopy Tours: This spot offers six different experiences, including a specially tailored children's course. 10714 Jackson St., Rockbridge 43149, 740/385-9477, hockinghillscanopytours.com


Float Above Caesar Creek State Park
Warren County

Mike Gliatti quite literally goes where the wind takes him. He'll even bring you along for the ride as he sails over the forests of southwest Ohio.

"We've flown thousands of people since opening in 2007," says the owner of Lebanon-based Bella Balloons. October is one of his busiest months, as customers call hoping to catch a bird's-eye view of the autumn treetops.

"We fly this corridor in between Dayton and Cincinnati," he says, aiming for trips over the Little Miami River and Caesar Creek State Park. "You absolutely forget that you're in southern Ohio."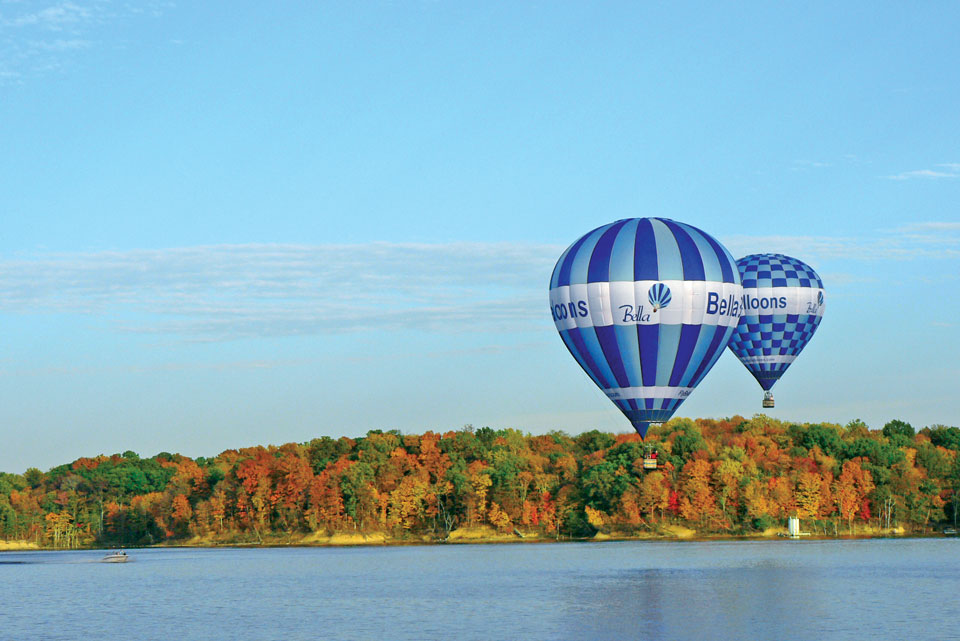 Flights are offered during the two-and-a-half hours after sunrise and the two-and-a-half hours before sunset and last around one hour. Safety is a top priority for Gliatti. He employs only FAA commercial pilots, and his tours never lift off in rough weather. Beyond those strict guidelines, the sightseeing trips are highly customizable. The baskets under each of Gliatti's five balloons vary in capacity, carrying up to six guests at a time plus the pilot.

Customers can opt for excursions ranging from a short group outing to a private tour for two. If space permits, Bella Balloons can even lift off from a customer's home.

Once in the air, the breeze carries the balloon along at a leisurely and relaxing pace that allows passengers to soak in the sights.

"We're going between 3 and 10 miles per hour," says Gliatti, who guides fall tours at about 1,000 feet of altitude — a bit lower than his normal 1,500 to 2,000 feet. At times he'll dip so closely over the area's forests and farmland that riders can smell, hear and nearly touch the fall landscape.

"We'll brush the baskets softly across the tops of trees … we'll bring the basket right down to the tassels of the corn," he says. 211 Walnut St., Lebanon 45036, 513/932-3552, flybellaballoons.com


Paddle the Black Fork or Mohican Rivers
Loudonville

One mile south of Loudonville, state Route 3 dips into the hills framing the Black Fork River, and the views swiftly turn from small town to vast woods.
It's where Patty and Doug Shannon opened Mohican Adventures — a multi-recreational center just outside Mohican State Park — in 1973. While activities range from go-karts to miniature golf to aerial climbing courses, Mohican Adventures is best known as a canoe livery. And this time of year, it's one of Ohio's best places to be up a creek.

"During the fall, [canoeists will] see an abundance of color," says co-owner Patty Shannon. "It's definitely quieter, especially if they come during the week."

Travelers can choose from two canoeing options: a roughly two-hour, 7-mile trip on the Mohican River and a longer 15-mile trip on the Black Fork River.

"I like the 7-mile trip, just because the hills are much steeper," says Shannon. "Right along Smith's Pleasant Valley Campground, on the left-hand side of the river, is a huge cliff. It's just beautiful when it blooms with color in the fall." 3045 St. Rte. 3, Loudonville 44842, 419/994-4097, mohicanadventures.com

OTHER CANOE OUTINGS
• Hocking Hills Canoe Livery: Guests can choose either a 5- or 7-mile trip on the Hocking River. 12789 St. Rte. 664 S., Logan 43138, 740/385-0523, hockingriver.com
• Loveland Canoe & Kayak: Take on the 10-mile Seven Bridges Tour from South Lebanon to Loveland, or the 5-mile tour that passes by the Loveland Castle. 174 Karl Brown Way, Loveland 45140, 513/683-4611, lovelandcanoe.com


Drive the Amish Country Byway
Holmes County

Thirteen state routes, knit loosely across the rolling landscape, make up Ohio's Amish Country Byway. Throughout the year, visitors traverse the 164 miles of road, passing horse-drawn buggies on their way to the quaint small towns that dapple the countryside — places like Millersburg and Walnut Creek.

Local food, crafts and furniture are some of the biggest year-round draws in this region of Ohio. But in the fall, the Amish Country Byway that crisscrosses Holmes County also offers visitors a vibrant tour of fall colors.

"We don't have one way we suggest traversing it," says Sharon Strouse, co-chair of the National Scenic Byway Foundation. "We want people to have an authentic experience."

There are some general guidelines for exploration. While the east side of the county is home to more Amish families and businesses, Strouse says there isn't as much tree cover. For leaf peeping, she suggests a loop that takes drivers through the tiny communities of Brinkhaven, Killbuck and Nashville.

Once in the heart of Ohio's Amish country, Strouse recommends visitors take more than just photographs home with them, although the trees and farmhouses do make for some truly pastoral autumn pictures.

"One of the favorite activities in the fall is coming to a vegetable auction," suggests Strouse, noting the Mount Hope produce auction, as well as individual farm stands located along the roads. "I'd also think about going home with cheese." dot.state.oh.us/ohiobyways