Travel
Summer Destinations
Our Best Hometowns 2013–2014 offer plenty of places to shop, eat and play.
July 2014 Issue
BY Staff & Contributors | Photo by Jerry Mann
July 2014 Issue
BY Staff & Contributors | Photo by Jerry Mann
Aurora
A romantic winery, sensational spa and outlet shopping are all found here.

Walking through the 7-acre ThornCreek Winery and Gardens property, one discovers whimsical flourishes amid the lush, sophisticated gardens: a flower-filled, silver paint can rests atop a lavender-colored stepladder, the weathered body of an old red scooter nestles in tall decorative grasses.

It helps that winery owner David Thorn is also owner of DTR Associates, a landscape firm known for elegant commercial and residential gardens. This year, the winery has added an organic vegetable garden to supply its restaurant. Also new is an organic flower garden, which features 200 kinds of annuals and perennials and welcomes winery visitors to make cuttings. "If someone is here as a winery guest and wants to cut flowers, we'll just hand them a jar," Thorn says.

Some tourists become so enchanted with the gardens they almost forget ThornCreek is a boutique winery, which ages, ferments and blends grapes sourced primarily from the West Coast. It holds special events several times a year in which locally sourced and fresh food is served in the meadow under tents. The next Harvest Farm to Table Dinner is Sept. 17, featuring a five-course meal with wine.

Those looking for a bottle to take home can grab ThornCreek's 11th wine — a pinot noir introduced this spring. "[It's] smooth, but complex," Thorn says, "full of black cherry and raspberry flavors and a finish that lingers on the palate." Open Tues.– Sun.; 155 Treat Rd., Aurora 44202, 330/562-9245, thorncreekwinery.com

FAMILY FUN: Wildwater Kingdom's lush landscaping, cabanas and chaise lounge chairs offer a taste of the tropics, while slides such as Liquid Lightning keep the kids entertained. 1100 Squires Rd., Aurora 44202, 330/562-8303, wildwaterfun.com

SHOP TALK: The country-like architecture is a nod to the area's agricultural roots, but Aurora Premium Outlets is packed with 70 designer and name-brand retailers, including Polo Ralph Lauren and Banana Republic factory stores. 549 S. Chillicothe Rd., Aurora 44202, 330/562-2000, premiumoutlets.com

LUXURY LOOK: The Inn Walden — a prestigious AAA Five Diamond Hotel — features marble countertops, Brunschwig & Fils fabrics and enough indulgent pampering via the on-site spa that you'll feel almost sinful. 1119 Aurora Hudson Rd., Aurora 44202, 330/562-5508, yourwalden.com


***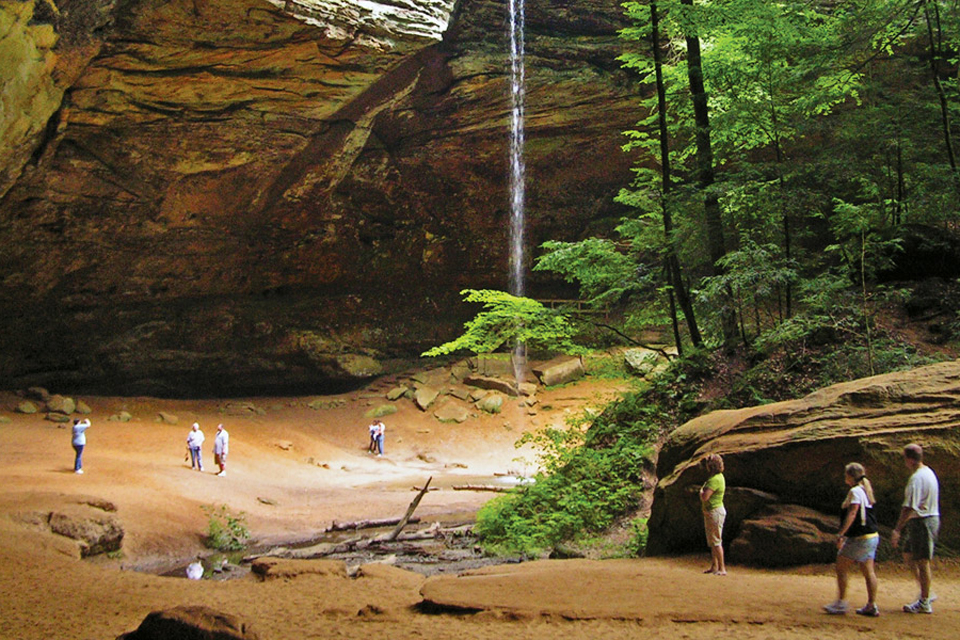 Logan
The "Gateway to Ohio's Scenic Wonderland" is your jumping-off point for adventure.
Ash Cave is located just 16 miles southwest of the Hocking Hills Regional Welcome Center in Logan, but it feels like it's a world away. The huge stone overhang, which creates a dramatic and impressive natural amphitheater is often surprising to first-time visitors, who are shocked to find a hulking rock formation measuring 700 feet end to end less than half a mile from where they parked their car.
The city of Logan is the last outpost of shopping-center civilization for travelers passing through on their way to the Hocking Hills. It's a place to buy supplies, grab a bite and pick up maps and advice before heading out to explore.
The awaiting adventures are plentiful and varied, ranging from leisurely walks to arduous-but-guided rock climbing. And, of course, there are zip lines, which promise a rush of adrenaline for those who want to embrace their daredevil side.
One of the newer spots is Soaring Cliffs, an operation that opened in nearby Rockbridge in April 2013. The course is built over a series of deep ravines rather than treetop platforms. Owner John Bentley explains that the approach calms jangled nerves in between zips and gives guests the chance to take in nature.
"I do tours every two hours," he says. "I want people to have the chance to see things, touch things and look at things. For people to appreciate the zip line and the beauty of the property, they need to have time."
Hocking Hills Regional Welcome Center, 13178 St. Rte. 664 Scenic, Logan 43138, 800/462-5464, explorehockinghills.com; Soaring Cliffs, 24719 Miller Rd., Rockbridge 43149, 750/385-6236, soaringcliffs.com

FAMILY FUN:
Adventure Golf at Rempel's Grove offers challenging mini golf in the shade of 100-year-old oak trees.
12775 St. Rte. 664 Scenic, Logan 43138, 740/385-0400
SHOP TALK:
Nostalgic surprises abound at Logan Antique Mall, a showcase of collectibles and fun finds.
12795 St. Rte. 664 Scenic, Logan 43138, 740/385-2061, loganantiquemall.net


PEACE & QUIET:
Lake Logan offers a perfect picnic spot.
30443 Lake Logan Rd., Logan 43138, parks.ohiodnr.gov/lakelogan
***
Loveland
The Little Miami River is a draw for exploration and introspection.
The school bus bumps and weaves through country roads. No one seems to mind the rough ride, the din of laughter and conversation blending together into a low roar. But this bus isn't filled with kids. It's packed with giddy grownups riding to their drop-off spot for a day of canoeing on the Little Miami River, taking on a 5-mile voyage that Loveland Canoe & Kayak calls "The Castle Adventure."
The banks of the river are wide, the current is slow and the route carries paddlers toward the Loveland Castle, a replica of a medieval castle that was built by hand more than 50 years ago by eccentric Loveland resident Harry Andrews.
On this stretch of the Little Miami, there are moments when it's possible to paddle in near silence as the river veers away from roads, homes and the Little Miami Bike Trail. The centerpiece of the adventure is a stop at the Loveland Castle for a tour. Andrews, a World War
I veteran, built it by hand, dragging rocks from the river and creating his own bricks from pouring concrete into milk cartons. After climbing the towers and exploring the dungeon, you're back on the water. Before long, you've reached the end of a fun 5 miles, with your adventurous spirit wishing for just a little more time on what is widely regarded as one of the state's most scenic rivers.
"The thing that always draws me back is that, once I'm on the river for 20 or 30 minutes, all of the stress is gone," says Mark Bersani, co-owner of Loveland Canoe & Kayak. "It just seems to calm me down."
200 Crutchfield Place, Loveland 45140, 513/683-4611, lovelandcanoe.com
SHOP TALK:
Bob Roncker's Running Spot can set you up with active gear. It even organizes a free 5K every summer Wednesday.
127 W. Loveland Ave., Loveland 45140, 513/831-2378, runningspot.com
LOCAL FLAVOR:
Goetta? Never heard of it. Hit Paxton's Grill for this German-American sausage containing pork and pinhead oats.
126 W. Loveland Ave., Loveland 45140, 513/583-1717, paxtonsgrill.com

PEACE & QUIET:
Grailville Retreat and Program Center hosts classes ranging from Zen meditation to poetry writing at its 315-acre preserve.
932 O'Bannonville Rd., Loveland 45140, 513/683-2340, grailville.org
***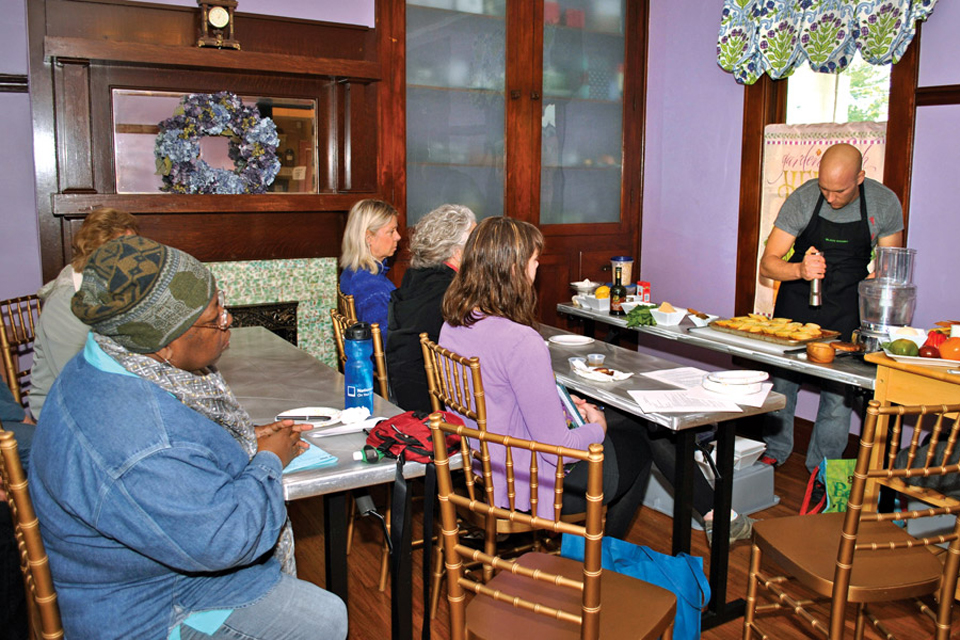 Gahanna
The Herb Capital offers knowledge and fun just outside of Columbus.
Using natural ingredients grown in a nearby garden — a pinch of dandelion root, a smidge of rosemary — Brooke Sackenheim concocts flavored vinegar chock full of vitamins and minerals that few store-bought versions can match.
The manager of the Ohio Herb Education Center's Saturday afternoon seminar on "Kitchen Herbalism" is one of 50 classes offered at the Gahanna complex each year. More than 4,000 visitors annually participate in workshops that include topics such as "Cleaning — The Herbal Way" and "Herbal Bath and Beauty."
"I love creating unique experiences for visitors," Sackenheim says. "People are naturally drawn to herbs so they're very intrigued by what we offer in Gahanna."
The central Ohio town's reputation as the place for all things herbal was cemented four decades ago, after resident Jane "Bunnie" Geroux led a fundraising campaign for the historical society by planting a garden filled with lemon balm, rosemary and lavender.
Plant-loving neighbors followed suit. In 1972, as word about Gahanna's horticultural abundance spread, visitors traveled there to purchase aromatic seasonings. The Ohio legislature responded by declaring Gahanna to be the Herb Capital of Ohio.
Businesses embrace that title, too. More than 45 have formed the Gahanna Herbal Trail, dedicated to offering food, spa treatments and walking tours infused with herbs. "Visitors have told me our town is a little jewel," Sackenheim says.
Open Tues.–Fri. noon–6 p.m., Sat. noon–4 p.m.; 110 Mill St., Gahanna 43230, 614/342-4380, ohioherbcenter.org

SHOP TALK:
Embrace your inner fashionista at Jewels & More, which specializes in affordable bling and accessories. Top labels include Pandora and Vera Bradley.
121 Mill St., Gahanna 43230, 614/414-7800, jewelsandmore.com

FAMILY FUN:
Teach your children to be good stewards of the environment with a visit to Story Trail in Friendship Park. The path features 16 oversize storybook pages that offer lessons on caring for our natural world.
150 Oklahoma Ave., Gahanna 43230, 614/342-4250, gahanna.gov
LOCAL FLAVOR:
Val Jorgensen, a registered nurse and owner of a 65-acre certified organic farm eight miles north of Gahanna, grows more than 100 varieties of herbs, which she uses to make salves, honey, vinegar, tea and pesto.
5851 E. Walnut St., Westerville 43081, 614/855-2697, jorgensen-farms.com
***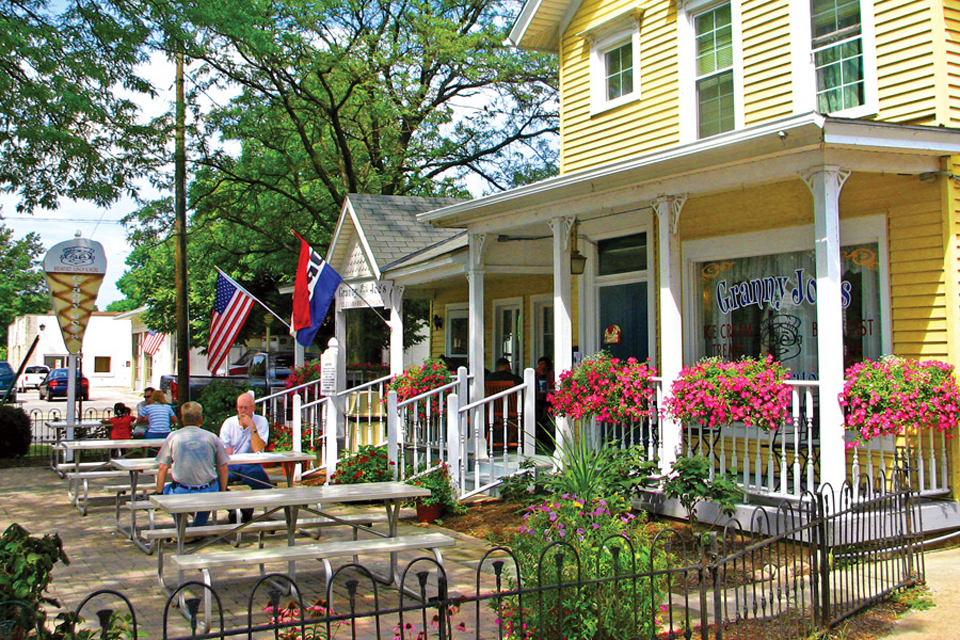 Vermilion
Enjoy a postcard-worthy Lake Erie beach and main-street shopping.
Eight root beer floats, four banana splits and 10 hot fudge sundaes — and it's 9 a.m. Although this time of day would seem best suited for bacon, eggs and a side of hash browns, Granny Joe's Ice Creamatorium has already sold almost two dozen sweet specialties since opening its doors an hour ago.
Dessert for breakfast? You bet. Vermilion is a summertime town tailor-made for people who want to break from the norm, which means dietary rules often drift away on the balmy breeze.
"Our customers appreciate the fact that we're a family business," says owner Natalie Baumann, who opened Granny Joe's in 2006. "They also love the quaint ambiance and the Toft's ice cream we feature, which is made locally in Sandusky."
The building has a rich history, too: In the 1850s, it was a funeral home. Hence, the tongue-in-cheek play on words in the shop's moniker. Walking along Main Street, it's easy to see why Vermilion, nestled along the Lake Erie shoreline, has been a draw since it was founded in 1837.
Today, more than 10,000 make an annual pilgrimage to the two miles of sandy beach that hug the northwest Ohio town. Some try their hand at jet skiing or sailing. Others opt for a more laid-back approach that includes a cruise down the Vermilion River aboard the Mystic Belle paddle wheeler. On summer nights, locals and vacationers alike congregate at Main Street Beach to enjoy spectacular views of the sunset.
"There's nothing like a quiet evening stroll," says Baumann. "In this family-friendly town, no one is a stranger."
5598 Liberty Ave., Vermilion 44089, 440/967-3663, papaandgrannyjoes.com
LOCAL FLAVOR:
The third generation of chocolatiers at Brummer's Chocolates takes pride in crafting confections by hand — the way their family members did.
672 Main St., Vermilion 44089, 440/967-2329, brummers.com

PEACE & QUIET:
Discover your inner light at the Swan Creek Candle outlet. There are more than 50 fragrances to choose from among the candles made in nearby Swanton.
681 Main St., Vermilion 44089, 440/963-0161, swancreekcandle.com/vermilionoh
SHOP TALK:
Warm up to winter early at Sunset Farms Alpaca Boutique. The shop carries sweaters, scarves, socks and stuffed animals made in Peru using fiber produced by some of the most docile — and softest — animals on Earth.
666 Main St., Vermilion 44089, 440/963-7023, sunsetalpacaclothing.com