Travel
3 Romantic Ohio Getaways
February is time to make a midwinter getaway. These inns and B&Bs offer accommodations you'll love.
February 2017 Issue
BY Staff & Contributors | Photo courtesy of Donna's Premier Lodging
February 2017 Issue
BY Staff & Contributors | Photo courtesy of Donna's Premier Lodging
Donna's Premier Lodging | Berlin

Donna Marie Golden found her niche 26 years ago when she turned a bedroom in the Amish home she had purchased into the Country Heart Room. That one room has since grown into an intimate, 17-unit resort that offers a mix of lodging styles and a focus on romance.

"I saw the need and the opportunity for a romantic oasis," says Golden, who eyed the Holmes County community of Berlin, with its antiques and craft shops, as a perfect fit for a couples' getaway. Thumbing through a guest book is a trip through relationships of just-married newbies to those who've been in love for decades. "One couple just celebrated their 69th wedding anniversary," Golden marvels.

Accommodations range from a luxurious cabin or a chalet tucked away in the woods to a one-room cottage or a split-level villa close to town. Regulars who celebrate birthdays and anniversaries often opt to stay in the same unit from year to year, even when Golden suggests switching it up.

Step into one of her creations and it is clear why Golden has such a loyal following. Her keen sense of detail serves up pampering with a plus. Textures of a brocade bedspread, the soft fleece of a throw and thick Egyptian combed cotton towels match the room's rich colors and soft tones — melding masculine with feminine, a romance must. Amish-crafted cathedral ceilings, plush carpeting and a gas fireplace with a toasty blaze set the mood for getting cozy on the couch.

Cabinets and nightstands are usually Amish made, unless a particular piece catches Golden's attention on a shopping spree. If she likes it, she buys it and figures out where to put it later. This mix-and-match approach keeps decor current. Often a piece from one unit is switched with another in an always-something-new approach.

Creating the proper ambiance is a focus here. CDs for mood music and soft lighting evoke relaxation, and a heart-shaped Jacuzzi for two is each unit's signature piece. Added extras include silk flower petals and candles. Toss in a picnic of champagne, chocolate-dipped strawberries and a meat-and-cheese platter in front of the fire, and there's really no reason to go outside.

For those who do venture out, the main building offers Amish-made baked goods and a hot cocoa bar during the winter. (Summer brings fresh fruit and vegetables with dip.) That's to enjoy after the hearty continental breakfast of country fare such as pancakes, eggs and sausage. Do-it-yourself, in-room dining is also an option thanks to a kitchenette area and outdoor grill. All units have a microwave, while others also have a stove.
Golden connects her visitors to nearby Amish country attractions such as buggy rides and says interacting with guests is her favorite part of the job. "I absolutely love it," she adds. "Everyone is in a good mood." 5523 East St., Berlin 44610, 330/893-3068, donnasofberlin.com — Jamie Rhein
***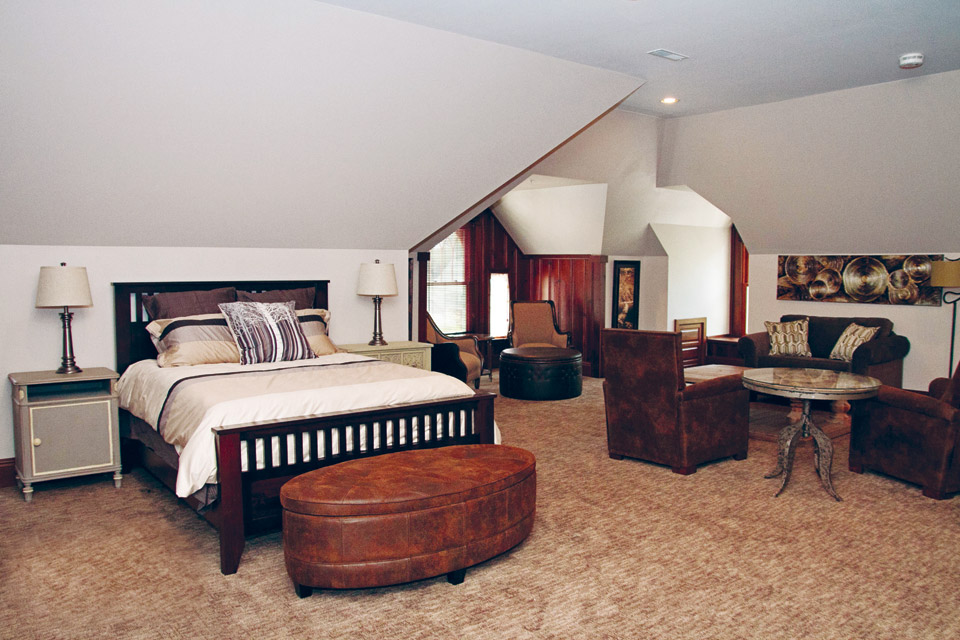 Wishmaker House | Bellville
Nesting comes naturally in the TreeTop Suite at Wishmaker House, a B&B housed in an opulent 1890s mansion near Bellville's town square. It is a place where everything old is new again — literally — following a three-year renovation prior to its opening in 2013. Originally a doctor's home and, for decades after that, an upscale furniture store, the structure was completely gutted so that its glistening interior now feels both contemporary and quaint.
"We're not a B&B that looks like your grandmother's house, filled with antiques and baby dolls and teddy bears," says Karen Smith, who owns and operates the business with her husband Brad, assisted by daughter Cassie and son-in-law Vic Swisher. "We were aiming for a more modern look, not cluttered."
Nevertheless, the Wishmaker House manages to be reminiscent of its roots. Many of its eight guest rooms are filled with Amish-made, Mission-style furniture, and some rooms have fireplaces with antique English tiles, as well as access to a wide second-floor balcony.
The inviting first-floor common area has hardwood floors, a magnificent oak staircase, gleaming white woodwork and crown molding, and a parlor with cozy armchairs, a fireplace and board games. The dining room's floor-to-ceiling windows offer picturesque views of the town square dominated by an intricately carved bandstand dating back to the Victorian era. A rustic bar area serves semisweet and fruit wines made on the premises, and during warmer months, an outside patio is a popular spot for dining al fresco.
But it's the TreeTop Suite that's suited perfectly to romance seekers. Located in the home's former attic, the 1,200-square-foot space offers the ultimate in privacy and quiet. Its open design features sitting areas, a kitchenette and a number of dormer windows with old-time window seats that look out over the couples skating on the town's ice rink.
Gourmet breakfasts beckon lovers downstairs with offerings ranging from sweet potato, sausage and apple hash to an open-faced sandwich bedecked with fig jam, ham, a fried egg, two cheeses and a mustard sauce.
Dinner is available for both guests and the public on Thursday through Saturday evenings with an ever-changing array of flatbreads and sandwiches along with comfort food specials like meatloaf, pork tenderloin or wild mushroom pasta. Be sure to save room for the homemade cheesecake.
For excursions, hiking trails at Mohican State Park lead to frozen waterfalls, and The Big House at nearby Malabar Farm has the room where Humphrey Bogart and Lauren Bacall once honeymooned. Skiers can check out Snow Trails near Mansfield with 17 trails and a tubing park.
But why leave Wishmaker House, especially if you're ensconced in the romantic TreeTop Suite? As Smith says, "We have guests tell us we're the destination they've come to see. A lot of people don't leave the building from the time they check in until they head for home." 116 Main St., Bellville 44813, 419/886-9463, wishmakerhouse.com — Rich Warren
***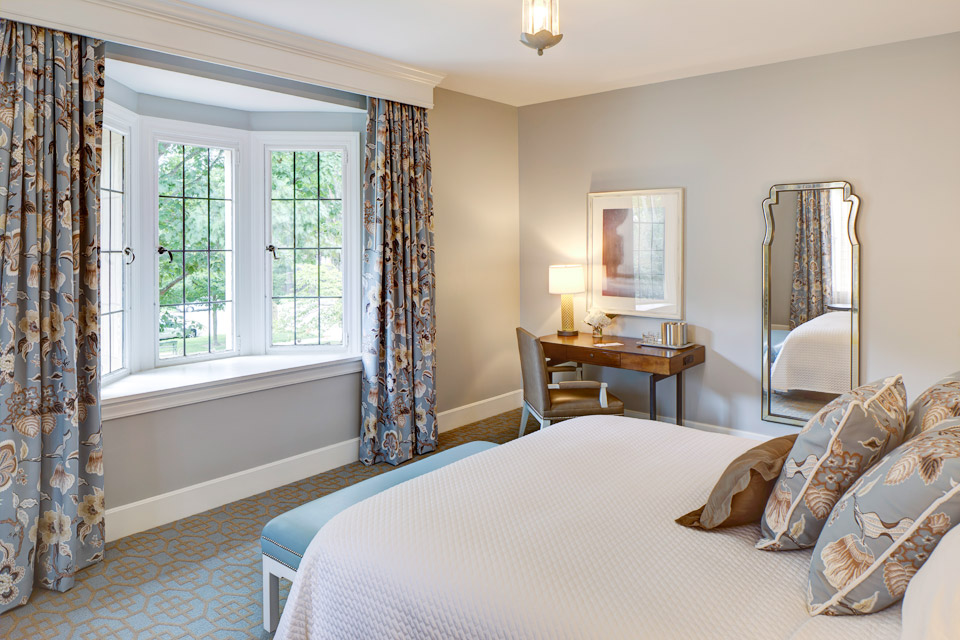 Granville Inn | Granville
After 92 years, the Granville Inn remains an ideal spot to escape the city or to enjoy the refinements that a typical small town might not offer. Nestled in Granville's charming downtown, the inn merges the past and the present, providing an ideal getaway no matter the season.
Opened in 1924, the building is an architectural jewel listed on the National Register of Historic Places. But it has a contemporary feel thanks to a $9 million renovation completed in 2015 by the inn's current owner, Denison University. Cozy rooms, great food, contemporary conveniences and a palpable sense of history add up to a modern masterpiece that offers a heartening glimpse of the past.
As the Roaring Twenties were booming, wealthy Ohio industrialist John Sutphin Jones commissioned prolific Ohio architect Frank Packard to design the inn. He chose the Jacobean revival style, with ornate fixtures and hand-finished oak paneling. Jones used sandstone from his nearby estate to build parts of the structure, and guests can still see many of these influences in the property today.
The estate's original carriage house is now used as a meeting space, and the inn has 39 guest rooms with various layouts and touches. Some have exposed brick; others have leaded glass windows or dormers.
"You can come here and get 39 experiences in room shapes and sizes," says general manager Sean Mulryan. "Each one offers something a little different."
The 2015 renovation brought many updates, including an elevator, in-house laundry and more restrooms. But the charm of yesteryear is still visible in a welcoming fireplace, a second-floor reading nook and the understated lobby.
One constant is the inn's reputation for food. For more than eight years, chef Chad Lavely has sourced local ingredients for the Oak Room restaurant's fine dining menu. It features classic dishes such as steak Diane, grilled lamb chops, seared scallops and filet mignon. The adjoining Granville Inn Tavern, which has chandeliers that date to the 1940s, offers sandwiches, salads and Midwest comfort food, including pasta, chicken and steak.
Much of the inn's appeal is its location in downtown Granville, one of those small Ohio college towns that offers more than meets the eye. Take a short walk, and you'll discover a street full of restaurants, boutiques and shops, as well as the free Robbins Hunter Museum, where you can tour a home built in 1842 and see its historic furnishings. There's more to do in the summer: Denison also owns the Denison Golf Club at Granville, a short drive away.
"There's a lot to do here for couples," Mulryan says. "It truly is a getaway." 314 E. Broadway, Granville 43023, 740/587-3333, granvilleinn.com — Mike Pramik
For a guide to more romantic getaway ideas, visit us at ohiomagazine.com/romance.