Travel
Road Trips in Ohio's 7 Wine Regions
PARTNER CONTENT WITH OHIO WINES LOVE AT FIRST SIP: A fun getaway is within reach in Ohio. Take these weekend excursions through Ohio's seven wine regions, which weave in stops at wineries and other destinations.
Sip 2022
BY Rich Warren | Laurentia Vineyard and Winery Photo by Laura Watilo Blake
Sip 2022
BY Rich Warren | Laurentia Vineyard and Winery Photo by Laura Watilo Blake
Grand River Valley

Explore more than 30 wineries in the Grand River Valley, where there are more wineries than any other region in the state. The unique microclimate created by the area's topography and the protective influence of Lake Erie allows winemakers to grow some of the best grapes in the country, including European vinifera varieties that are difficult to grow elsewhere in Ohio.

There's also much to do in this region in addition to winery hopping. Headlands Beach State Park in Lake County has a mile-long sandy beach, and neighboring Ashtabula County is Ohio's covered bridge capital — there are 19 of them, including the longest and shortest in the country. The frozen-in-time town of Geneva-on-the-Lake has been a family destination for decades with its famous "Strip" featuring arcades and vintage eateries like Eddie's Grill, where tunes from yesteryear perpetually play on the jukebox.

Stay at The Lodge at Geneva-on-the-Lake and take the shuttle to area wineries. Come back to take in views of Lake Erie and ride the zip line at Lake Erie Canopy Tours.

Among the places to try is M Cellars, a boutique winery specializing in fine, cool-climate wines. Sample unique varieties, like Rkatsiteli, a 3,000-year-old grape from the Republic of Georgia that produces a distinctive white wine.

Grand River Cellars produces Riesling, Chardonnay and Merlot, as well as specialty wines like a maple ice wine. Their lofty tasting room has a fireplace and hand-painted murals and is a good place to catch dinner — offerings include bourbon salmon.

Dine on pasta, paninis and pizza with a vista of 65 acres of manicured vineyards at Ferrante Winery & Ristorante. Its Vidal Blanc Ice Wine took medals at the prestigious San Francisco Wine Competition.

Stonegait Winery looks like a big red barn, and that's exactly what it once was. The beautifully restored structure sits on what was once a working horse farm, and the winery honors its heritage with horses on their wines' labels. Try its Tempranillo.

Customer favorites at nearby Laurello Vineyards include the Cosmo, a "Super Tuscan" red blend — there's also a version of it aged in bourbon barrels.

With its log cabin appearance and high-ceilinged tasting room dominated with a four-sided stone fireplace, Laurentia Vineyard and Winery has the look of a rustic lodge. Take home the Estate Cabernet Sauvignon Stoltz Block® — it was featured in Wine Enthusiast magazine.

Lake Erie Shores & Islands

In the late 19th century, German immigrants bringing their winemaking skills to the New World found the limestone-rich soil and mild climate of the Lake Erie islands and nearby shoreline ideal for the production of grapes. Nowadays, the winemaking business is enjoying a renewed resurgence in this popular destination.

For decades, fun-seekers have been drawn to the quaint town of Sandusky because of Cedar Point's array of world-class roller coasters offering sky-high adrenaline-spiking thrills. Wine lovers will want to stop at Sandusky's Firelands Winery. In its cozy knotty pine tasting room, Firelands offers samples from its own wines as well as other labels they produce, such as Mantey and Lonz. Enjoy a meal at Firelands' on-site restaurant or play a game of bocce outdoors.

Near Sandusky, The Winerie has taken residence inside a former barn. The new owners have kept the barn's rustic character while adding a covered outdoor patio and a tasting room complete with rough-hewn timbers and a wagon-wheel chandelier. Try any of the two-dozen estate-grown wines.

Frequent ferry crossings make the offshore islands as popular an attraction as the mainland. Travel to The Gideon Owen Wine Company on nearby Catawba Island. Owner Quintin Smith offers upscale casual fare, and with an eye to reviving Catawba Island's once-thriving wine industry, Smith has planted six acres of vineyards. The estate-grown wines produced there will be stored in the winery's magnificent European-style barrel-vaulted wine cellars.

Neighboring Kelleys Island is dominated by nature. At the island's state park, you'll find the famed Glacial Grooves National Natural Landmark with 400-foot-long grooves gouged into the limestone bedrock by the vast glacier that once covered the region. Rest a while at Kelleys Island Wine Company, where winemaker Kirt Zettler produces dry and semi-dry wines as well as sweeter wines made from grape varieties like Niagara and Concord. Zettler's daughter Abbey and her husband, Rodney Rosado, opened the nearby Monarch Winery in 2020 producing a variety of fruit wines, including Apple Pie Wine and Grown on the Vine Strawberry Wine. On the island's southeast corner, Crooked Tree Vineyard is known for bold reds like Raccoon Red, named for the pesky raccoons fond of the winery's grapes, and Eagle's Eyrie, a Chambourcin named for the bald eagles who make daily flyovers.

Vino

Art and history are interwoven in Northwest Ohio. Toledo is known as the Glass City, and you can see why at the Toledo Museum of Art, which offers free admission and glassblowing workshops. Learn more history as you travel from prehistoric times to the 1920s at Sauder Village in Archbold, where you'll even find a speakeasy hidden in the 1920s Main Street. Their restaurant even serves locally made wine from Knotty Vines Winery. Nearby in Wauseon, Knotty Vines offers a homey tasting room surrounded by hundreds of vines on what was once part of the farm where owner Steve Nofziger grew up.

Near downtown Napoleon and overlooking the Maumee River, the Lumberyard Winery offers wines like its Two by Four Riesling and Weathered Wood Viognier in what was once an actual lumberyard.

When Stoney Ridge Winery opened in 2002 outside Bryan, it was a pioneer in the region. Nowadays, it produces mostly estate-grown wines using cold-hardy French-American hybrid grapes to make its best-selling "Barn Dance" wines, as well as a line of fruit wines and its popular Slap Happy Cider.

In the countryside outside Napoleon, Leisure Time Winery offers wines like Wine O'Clock and Stress Reliever in a tranquil wooded setting. Their outdoor patio is especially popular in the summertime. Majestic Oak Winery, on a country road six miles out of Grand Rapids, is named for a towering white oak tree, estimated to be at least 175 years old. Majestic Oaks' onsite Neon Groundhog Brewery produces a variety of small-batch beers. An expansion to include hard cider is planned for this year.

Canal Country

Make Gervasi Vineyard home base as you explore Canton. Honor football legends at the Pro Football Hall of Fame. Try sky diving at Canton Air Sports and go hiking at the nearby Cuyahoga Valley National Park — Ohio's only national park. Be sure to stop for a selfie in the colorful Umbrella Alley in nearby Louisville. Not only is Gervasi one of the largest wineries in the state, but it also has a variety of overnight accommodations, including rooms in Tuscan-style villas or in a new boutique hotel overlooking the 55-acre property's lake.
Nearby are several wineries within a short drive. Maize Valley Winery outside of Hartville is inside a 160-year-old restored barn where a large deli and bakery are housed in addition to the tasting room. The playfully named wines here include Mad Cow Wine and Hanky Panky, named for two mischievous goats.

In Massillon, Newman Creek Cellars is in the historic downtown area and sells 18 Camelot-themed wines with names like Round Table Malbec and Chivalry Chardonnay. The medieval decor includes a suit of armor and crossed swords adorning the walls. At nearby Cherry Road Winery, fans of the Ohio State Buckeyes will want to sample either the OH or the IO wine, which the winemakers proclaim stands for "Only Happy in Ohio."

In Canal Fulton, stop by Dragonfly Winery attached to the Dragonfly Tea Room, which is housed inside a historic train station. Enjoy warm-weather entertainment on their large patio stage overlooking the banks of the Tuscarawas River.

South of Canton, Creekside Cottage Winery looks like a homey bungalow in a wooded setting. In fact, it once was an actual bungalow where nine children grew up, including a friend of owners Steve and Jennifer Miller. The unique wines made here include three made with hops and flavored wines like Kiwi Pear Sauvignon Blanc.

A turn-of-the-century flour mill is now home to Baltic Mill Winery. Check out the workings of the mill that are still in place, and sip on a glass of Little Daisy, a white wine named after the flour once milled here.

At Bent Ladder Cider and Wine outside Doylestown, all the apples and grapes used in the cider and wine are grown, pressed, and fermented on site. The wine is award-winning — Bent White took double gold medals while the Vidal Blanc was awarded a gold medal in last year's Ohio Wine Competition. Eight different varieties of hard cider are available, as well as four Heritage Varieties, made primarily with specialty and heirloom apples.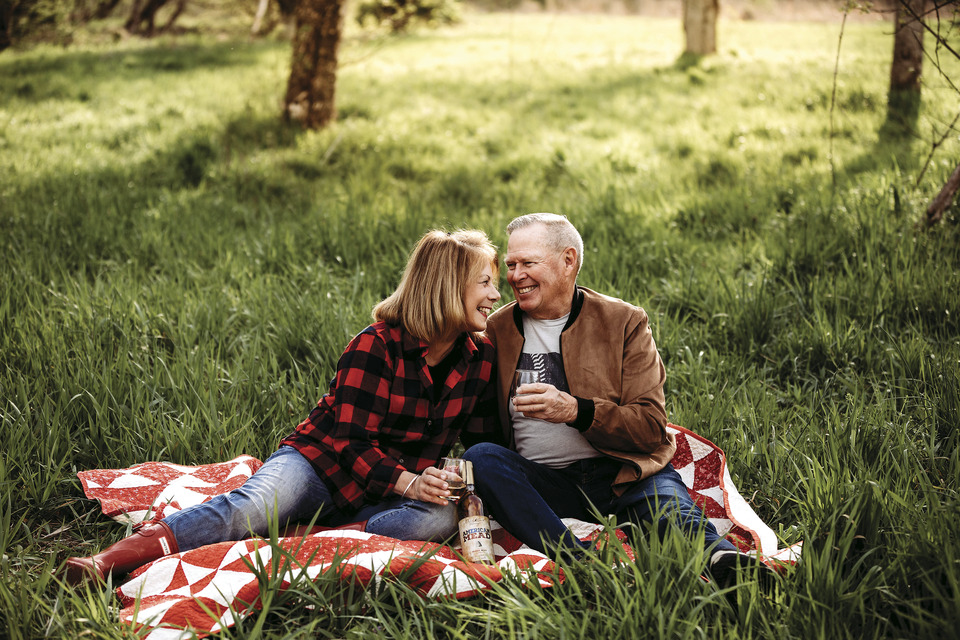 Appalachian
Wineries are tucked along the rolling hills and winding roads in Ohio's Appalachian region. Explore the gorgeous parks, like Hocking Hills State Park in Logan and Burr Oak State Park in Glouster. Count the stars at John Glenn Astronomy Park in Logan, and ride a zip line through the treetops or fly over the Hocking River Superman-style at Hocking Hills Canopy Tours.

At Hocking Hills Winery just outside of Logan, employees are accustomed to guests arriving in hiking gear — CEO Blaine Davidson estimates 90 percent of their winery's business comes from Hocking Hills tourists. The most-requested wines include Rockhouse Rouge, Chardonnay and Honeysuckle white blend.

Pleasant Hills Vineyards, set on a ridge outside Athens, has one of the most panoramic views in the entire state. An estimated 14 miles of southeast Ohio's rolling hills can be seen from the winery's back deck, where guests have been known to burst into applause and toast particularly magnificent sunsets.

The tasting room of Shade Winery looks like a rustic lodge with a wrap-around porch and ample patio seating beside the nearby vineyards. Their full-service restaurant offers gourmet fare such as scallops, aged sirloin and calamari to pair with their estate-grown Cabernet Sauvignon.

Try a wide range of spirits along with ciders at the West End Ciderhouse in Athens. Sip unfiltered, preservative-free hard cider made from Ohio-grown apples, pears, plums and pawpaws. In the rolling hills outside of town, Dutch Creek Winery's husband and wife owners Paul and Cindy Freedman make meads, hard cider and fruit wine using honey from beehives and fruit from the orchard located on their adjacent farm. Winemaker Bradley Meek at Wolftree Winery in Millfield makes a variety of meads, fruit meads, spiced meads, fruit wines, cider and other unusual wines like pyment, a thick wine made by fermenting grapes and honey together.

Central
Stroll through the locally owned shops in Delaware's vibrant downtown like The Greater Gouda Cheese and Fine Foods and Sandusky Street Antiques. Restaurants range from the Hamburger Inn Diner to the 1808 American Bistro with classics running the gamut from filet medallions to a bologna sandwich. Stop in Oak and Brazen Wine Company's rustic tasting room for several kinds of sangria along with take-home flights.

Ten miles to the south, Powell's highly walkable downtown is lined with boutiques selling handcrafted gifts, like Cute as a Button. The downtown restaurant Local Roots has an abundance of locally sourced foods, much of it grown on the owners' nearby family farm. The Powell Village Winery is just a short walk from Local Roots. Sample their wines — served from a tap — in a bright, cheerful tasting room with oak barrels as tables.

En route from Delaware to Powell, stop at Highbanks Metropark to search for eagles nesting or soaring above the Olentangy River. Nearby, at the world-famous Columbus Zoo and Aquarium, watch cheetahs sprinting across a simulated African savanna, walk next to kangaroos and feed giraffes.

Wineries can be found in the countryside outside Delaware and Powell including Soine Vineyards, located at the end of a long gravel drive flanked by grapevines. Try its Cayuga White and Traminette — both won gold at the 2021 Ohio Wine Competition.

The Blend of Seven Winery outside Delaware is named for the blended family of owners Steve and Sandi Weddington, with wine names like Rosie or Lil' Sassy. Popular wines here include Tosha's Chaos, a unique blend of raspberry and cotton candy aroma.

Close by in Worthington, Zen Bee Meadery produces meads made from mixing flavor combinations like peaches and pears or tart cherry and hops into its fermented honey.
Ohio River Valley
Explore the shops in Cincinnati's hip Over-the-Rhine district and stop in Findlay Market for pastries and ethnic foods to take back home or to your room during a weekend exploring the Cincinnati region's many wineries. The happening Over-the-Rhine neighborhood is chockfull of restaurants and boutiques selling locally made art and jewelry like MiCA 12/v.

Take home a vintage wine poster from Jack Wood Gallery. Stop in the area's Skeleton Root Wine Makers to sip on dry-focused wines from American heritage grape varieties.

Nearby, the American Sign Museum explores the history of signage inside a sprawling former factory. Highlights include an iconic Big Boy, an eye-catching spinning globe with huge spikes and an entire room filled with neon signs.

Out in Cincinnati's hilly neighborhoods, Henke Winery in the Westwood area was named by the Wine Enthusiast in 2019 as one of the country's top 10 urban wineries.

In the Deer Park neighborhood, guests at Mio Vino Microwinery can lounge on comfy couches, play board games and enjoy blended fruit wines like Strawberry Wine Merlot. Mio Vino also offers classes in winemaking. When completed, you'll have 26 to 28 bottles of your own vintage to take home.

In North College Hill, winemaker Chip Emmerich specializes in dry table wines at Burnet Ridge Winery. It's clear he's learned to make wines of high quality — seven of Emmerich's wines received awards in the 2021 Ohio Wine Competition.

At Woodstone Creek Winery, winemaker Donald Outterson specializes in meads with flavors like pomegranate and raspberry. His Chocolate Casanova blends Riesling ice wine with milk chocolate.

Meier's Wine Cellars in suburban Silverton has been making wines for more than 120 years, specializing in sparkling, fruit and dessert wines.

By contrast, Fulton Grove Winery is located in a semi-rural setting where you might spot a deer or wild turkey roaming the forest behind their back porch. Partners Brian St. Clair and Bruce Murch specialize in dry red wines.