Travel
Hometown Tour 2015
From outdoor adventure to can't-miss food spots, here's what our Best Hometowns 2014-2015 have to offer.
July 2015 Issue
BY Staff & Contributors | Photo by Kevin Kopanski
July 2015 Issue
BY Staff & Contributors | Photo by Kevin Kopanski
Outdoor Escapes
If you're looking for fun in the sun, St. Clairsville and Belmont County have plenty of open-air options.

It's called The Spider Man for a reason. The complex configuration of zip lines and nets is the closest most of us will ever get to feeling like the famous web slinger himself. It is one of six tree-trekking obstacle courses at the 14-acre Adventure Creek.

"When I opened seven years ago, there wasn't anything really like this around here," says owner and operator Xavier Biancarelli, who also works as an emergency room nurse. "This started as a side business. Now I have to decide if I want to expand. I may make it a little bigger, but I don't want to get so big that it would never be the same."

Right now the facility, open from April through mid-October (except for June 23 through July 7), offers plenty of options for a three-hour adventure. Courses range from The Bobcat, a challenge designed for children that serves as an initiation into the activity, to The Grizzly, the most difficult course and created for adults looking for a workout.

Other courses include The Wolf, which presents various levels of difficulty and is good for families; The Coyote, a tree-trekking course that also works well for a mixed group; and The Bear Cub, for those who want to admire the view without becoming exhausted. "We are different from other courses, because we are really in the trees. Some other places really aren't set up that way," says Biancarelli.

Reservations are necessary. Both individuals and groups, including families, schools, businesses, rescue workers and law enforcement who wish to learn confidence and team building, are welcome, and scout troops can camp for free at the facility. Participants must be between 70 and 280 pounds, 8 years old and up and have some upper body strength. (The oldest person who has taken part was an 83-year-old woman who did quite well, says Biancarelli.) All tours are guided by a staff member.

"If some family members don't want to do any of the courses, in many cases they can just walk underneath and enjoy the woods," says Biancarelli. Open Thur.–Sun.; 46426 Crabapple Rd., St. Clairsville 43950, 740/310-7277, ropetrekking.com

Rail Ride: A restored 522-foot-long railway tunnel with a 42-foot-high ceiling is the highlight for many who traverse the National Road Bikeway. The 4-mile asphalt trail that runs through St. Clairsville includes a comfort station and a gazebo for taking a rest after your ride. Follow North Market Street to the ball fields to enter the bikeway. St. Clairsville 43950, 740/695-0156, stclairsville.com/bike.shtml

Into the Woods: Barkcamp State Park is among Ohio's most comprehensive state parks with recreational opportunities that span archery, boating, mini golf, fishing, camping, bridle trails and more. The rolling hills and valleys of rural Belmont County provide plenty of nature to explore. 65330 Barkcamp Rd., Belmont 43718, 740/484-4064, parks.ohiodnr.gov/barkcamp

Forest Giants: Dysart Woods' 51 acres of old-growth forest is the largest-remaining tract in southeast Ohio. Tulip poplar, white oak and beech trees, some 300 to 400 years old, can be seen along two foot trails. The area is a nature lab owned by Ohio University, but it is open to the public. 61961 Dysart Woods Rd., Belmont 43718, 740/593-1125, plantbio.ohiou.edu


***
Center Stage
From Irish dance to theater to visual arts, Westerville showcases performance and creativity

As the opening strains of "The Glasgow Reel" begin, two dozen teen girls clad in traditional Irish costumes of pleated skirts and embroidered blouses begin stepping in time to a dance that dates back to the 16th century.
The students, who attend The Academy Irish Dance Co. in Westerville, will be competing this month in the North American Irish Dance Championships in Providence, Rhode Island. Since the academy's 2011 opening in the U.S., more than 50 pupils have received top honors in contests around the world.
Closer to home, academy students will perform at the 42nd Annual Westerville Area Chamber Music & Arts Festival July 11 through 12, the Dublin Irish Festival July 31 through Aug. 2 and the Galena Summerfest on Aug. 22.
"It's so rewarding to see these kids reach their full potential on the way to being confident, aspiring young adults," says their teacher Byron Tuttle, 32, who founded the school with his life partner, Edward Searle. Tuttle, a Columbus native, has been dancing since age 17. He toured the globe in "Lord of the Dance" and performed with the Irish musical group The Chieftans. Born in Birmingham, England, Searle, 28, won the World Irish Dancing Championship in 2005.
Following their retirement, the couple founded a school of Irish dance in England.
"We were happy in the United Kingdom," Tuttle says. "But I always knew we would end up in the States close to my family."
Four years ago, the couple made the move to the U.S. and finalized plans to open a new school in central Ohio. Both say Westerville was a natural choice.
"The town is so welcoming," Searle says. "Its charm can be seen in the quaint historic district, lovely parks with walking and running trails, gorgeous restaurants celebrating all different kinds of ethnicity — and the thriving arts scene. In short, you've got everything here."
6061 Chandler Ct., Westerville 43082, 614/600-8551, theacademy-irishdance.com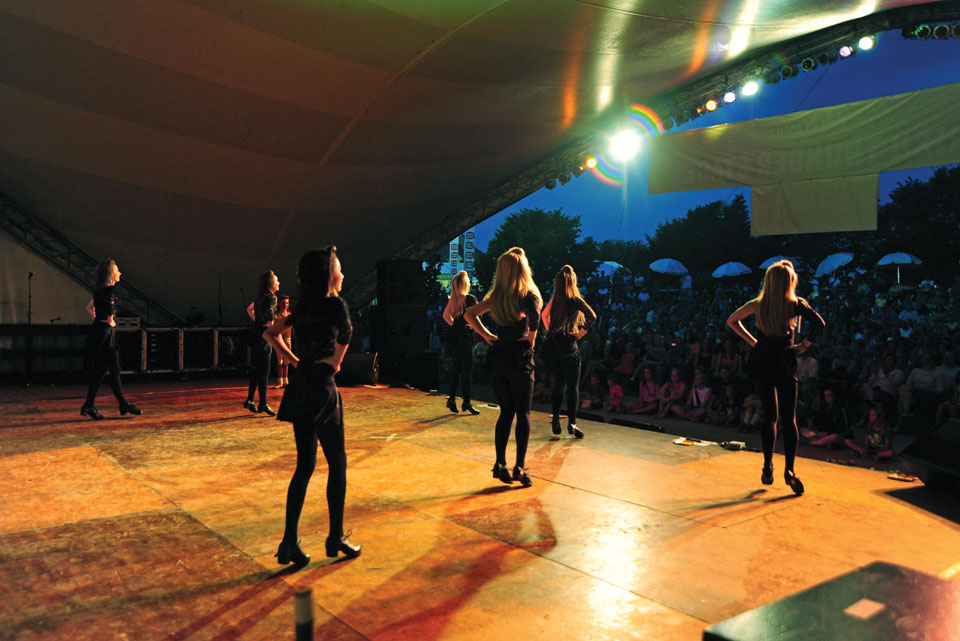 Love Story:
Spend an evening celebrating the most famous star-crossed lovers of all time on Aug. 9. The 80-member Westerville Symphony will perform music written by Peter Tchaikovsky, Hector Berlioz, Sergei Prokofiev and Leonard Bernstein for Shakespeare's celebrated twosome, Romeo and Juliet.
Alum Creek Park North Amphitheater, 221 W. Main St., Westerville 43081, 614/899-9000, westervillesymphony.org
Swing Time:
The joint will be jumping when Otterbein University presents "The All Night Strut" July 9 through 12, 16 through 18 and 23 through 25. A theatrical celebration of jazz, blues and bebop from the 1930s and '40s, the show is filled with hits such as "In the Mood" and "Chattanooga Choo Choo."
Fritsche Theatre in Cowan Hall, 30 S. Grove St., Westerville 43081, 614/823-1657, otterbein.edu
Art Show:
More than 140 artisans from across the U.S. will gather in Westerville July 11 and 12 for the 42nd Annual Westerville Area Chamber Music & Arts Festival. The juried fete, which features mediums including watercolor, fiber art, jewelry and woodworking, draws 20,000 visitors each year. There's also a silent auction, and music on two stages.
Heritage Park, 60 N. Cleveland Ave., Westerville 43081, 614/882-8917, westervillechamber.com
***
Taste Makers
From inventive modern Mexican to superior seafood, the city of Lakewood has become a destination for food lovers.
Chef Eric Williams' El Carnicero is wrapped neatly into the west end of Lakewood like the cornhusks of his restaurant's signature tamales. The eatery occupies three storefronts, offers a trio of dining areas and features a display of 175 authentic Mexican wrestling masks that help set the mood at this lively spot.
"There is more to [Mexican] culture than Americans have gotten to know," says Williams, as he nods toward the wall of colorful wrestling headgear. "They come right from a guy in Mexico who makes them for the luchadores."
El Carnicero turns 2 years old this month, and since its opening, it has served as a beacon to diners who know Williams' reputation for great modern Mexican cuisine. The restaurant is just 7 miles from Momocho, another Williams spot that has been serving tasty tacos and creative margaritas since 2006. But El Carnicero is hardly playing second flauta to its sister establishment.
"It's not cool anymore to say no to your guests," says Williams, referring to Momocho, which frequently has to turn walk-up customers away due to its cozy confines. It's not just the seating that's in short supply, either. "[The] kitchen is very small. So, it's very limited."
Williams brought some customer favorites to El Carnicero's larger space, but the bigger kitchen meant he could finally explore the time-consuming art of folding cornhusks. Diners can unwrap tamale combinations such as coffee-and-ancho-chili-braised brisket, cumin-and-coriander-braised goat, even a vegetarian curried cauliflower.
Not long ago, Lakewood's dining scene was defined by a handful of landmark restaurants, but that has changed. "Detroit Avenue in Lakewood is slowly becoming a food-destination strip," Williams says. "I wanted to be part of that."
He and his team built El Carnicero's booths, installed the light fixtures and painted the walls of the former Irish pub, which is now adorned with local art depicting scenes from Mexican culture in a comic-book style.
"It's not meant to be a $2 million restaurant," says Williams. "It's supposed to be lived in."
16918 Detroit Ave., Lakewood 44107, 216/226-3415, elcarnicerolakewood.com
Say Cheese:
Matt Fish now has seven Melt Bar & Grilled locations across the state, but his Detroit Avenue spot was the blueprint. The place hums with hungry customers who stop by to take on one of his mega grilled-cheese sandwiches that include menu classics such as the Mighty Macaroni and Parmageddon.
14718 Detroit Ave., Lakewood 44107, 216/226-3699, meltbarandgrilled.com


Seafood Icon:
Nestled along a Lake Erie bluff, Pier W is known for its top-notch seafood dishes and a view of downtown Cleveland unlike any other. Chef Regan Reik's menu is filled with fresh and wild fare, ranging from Prince Edward Island mussels to Copper River salmon to Maine lobster.
12700 Lake Ave., Lakewood 44107, 216/228-2250, pierw.com


Brew Heaven:
With a menu of nearly 20 gourmet burgers and more than two dozen beers on tap, Buckeye Beer Engine satisfies the all-American palate. (It also caters to vegetarians with a popular spicy black bean burger). Those who can't find a beer they like on draft can browse the list of more than 100 bottles and cans.
15315 Madison Ave., Lakewood 44107, 216/226-2337, buckeyebeerengine.com

***
Living History
From its War of 1812 sites to its historic library and downtown, Defiance offers a welcoming and intriguing glimpse into the past.

Cross the Clinton Street Bridge spanning the Maumee River, and Defiance's historic downtown meets you on the other side — a neat row of buildings plotted in 1822 that seldom exceed three stories high. These six blocks are home to a revived business district featuring shops and restaurants, as well as the 1873 Italianate-style Defiance County Courthouse.
Hang a left on Fort Street and follow the river, and you'll find the Defiance Public Library. Built in 1904 with financing from industrialist Andrew Carnegie, the Tudor revival building features a stained-glass window in the ceiling of the lobby and quiet, armchair-filled rooms that offer views out over the confluence of the Maumee and Auglaize rivers. The red sandstone structure is a piece of history all its own, but it is also located on the grounds where Fort Defiance once stood.
It was one of the nation's western-most outposts when Revolutionary War hero Anthony Wayne began construction on it in 1794.
"It's important to the city of Defiance, it's important to the development of the state of Ohio and certainly to our nation," explains town historian Randall Buchman. "It's from there Anthony Wayne really made his decision of what he was going to do, which brought about the Battle of Fallen Timbers."
Defiance was Wayne's last stop as he made up his mind to confront the Native Americans who lived in the area and took control of land vital for the nation's westward expansion. By 1812, Gen. William Henry Harrison ordered a new fort be built less than 100 yards to the south. Fort Winchester became a supply distribution center for the general's northern campaigns during the War of 1812.
The land where Fort Defiance once stood was set aside when the city was first plotted and has since been developed into a park. A mounded outline of the fort's walls can still be seen, and two cannons overlook the rivers.
"There is this very evident presence in our community of preservation and perpetuation of [our] history and the culture," Buchman says.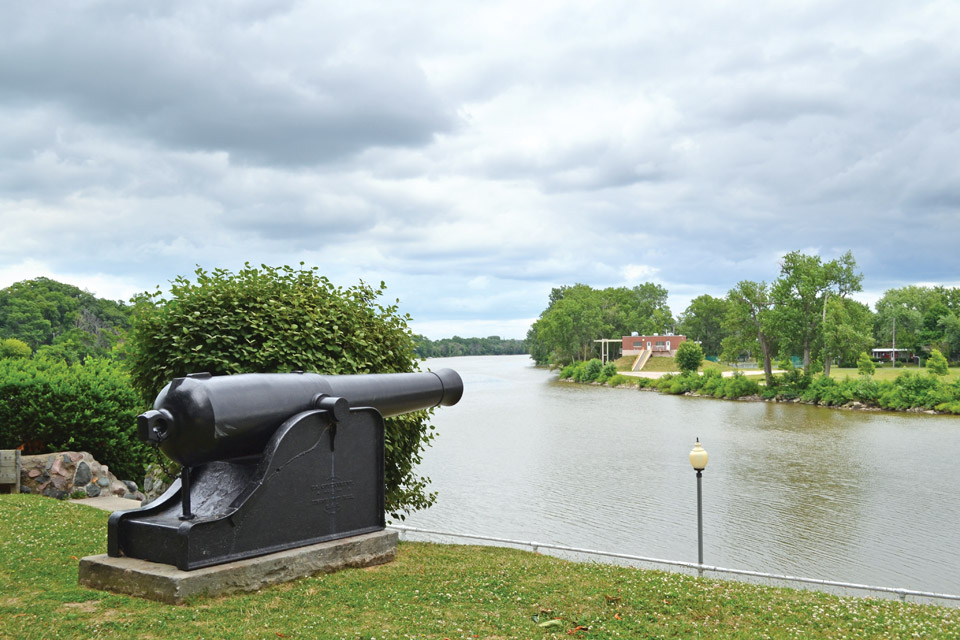 Vintage Finds:
A walk through the aisles of Fort Defiance Antiques (above) is a journey in itself. The 4,000-square-foot space is stocked with costume jewelry, glassware, military memorabilia, toys and more. Antique furniture is plentiful, including vanity sets and, when we visited, an 1830s butler's chest as well as a turn-of-the-century National Cash Register machine.
402 Clinton St., Defiance 43512, 419/782-6003
Local Landmark:
Most days, owner Karl Kissner can be found behind the mahogany bar that stretches half the length of his establishment. Kissner's, which claims to be the oldest tavern in Ohio owned by one family, opened in 1928. The antique feel has been preserved, and the menu features burgers and breakfast all day.
524 Clinton St., Defiance 43512, 419/782-1116, kissnersrestaurant.com
Historic Stop:
Pontiac Park along the Maumee River is the birthplace of Chief Pontiac of the Ottawa Tribe. Today, the green space, which stretches nearly half a mile along the Maumee River, features walkways, benches, a fountain and a gazebo. It makes for a peaceful place to take in local events such as fireworks and boat shows.
315 E. River Rd., Defiance 43512, 419/784-2745, cityofdefiance.com
***
Specialty Shop
From engraving to tailoring to the flavors of France, downtown Madeira offers a wealth of niche shops, services and destinations.
Sunlight beams through the large windows of Gilson's Engraving and Elegant Gifts, reflecting off beautiful picture frames, Waterford crystal clocks, jewelry and more on display throughout the 2,300-square-foot showroom.
Customers marvel at the meticulous care put into Tony Gilson's hand engravings — a career that was set in motion at age 21 when he won first prize for his talent at England's Birmingham School of Jewellery and Silversmithing.
In 1964, Gilson left his native England for Ohio, where he first managed a tool and die shop before opening Pewter Place Engraving in downtown Cincinnati 10 years later. In 2007, Gilson moved his business to downtown Madeira, a place that has become known for its collection of specialty shops and skilled craftspeople.
"We've had so much interesting work over the years," says Gilson, a master hand engraver. "Recently, we hand engraved trumpets for Don Cheadle's new Miles Davis movie, 'Miles Ahead.' Apparently, Miles Davis always had his name engraved in large letters on his trumpets. Our work will be featured in the film."
Several years ago, Gilson received an order for an engraved, 32-inch solid pewter trophy on a mahogany base that appeared in the 2007 film "The Great Debaters," starring Denzel Washington.
"This is our eighth year in Madeira, and we've been very happy here," says Gilson. "The city has really developed since we first arrived."
The Cincinnati suburb now boasts a host of independent specialty shops in its downtown, ranging from Designs by Dawson Paper Boutique to Silly Bean Fashion and Gifts for Tots and Tweens.
"The business district really does have a lot of rare, one-of-a-kind offerings," says Madeira Mayor Mike Steur. "Our downtown is very small, compact, and a lot of these shops are in older buildings that give the town some real character."
7116 Miami Ave., Madeira 45243, 513/891-0730, gilsonsonline.com
Imported Style:
Isle of Skye Cashmere president Rita Jones opened her shop in Madeira, but her fine cashmere sweaters now ship to customers all over the world. Every sweater is knitted in Scotland from wispy, gentle 100 percent pure cashmere. The store also sells other elegant clothing.
7801 Laurel Ave., Madeira 45243, 888/343-6771, isleofskyecashmere.com


Luxury Look:
Romualdo was founded in 1968 as a specialized Italian tailoring shop and has since become known as one of the Cincinnati area's go-to custom tailors. The shop offers custom clothing, alterations, formal wear and more. Romualdo touts the famous Oscar Wilde quote: "One should either be a work of art or wear a work of art."
7121 Miami Ave., Madeira 45243, 512/561-9010, romualdo.com

French Flair:
La Petite Pierre is named for owner Michele Adrian's father. Pierre was the head chef at the Maisonette in Cincinnati, leading the celebrated restaurant to its first 5-star rating. Inspired by her father, Adrian took the lessons she learned and opened this French bistro in 1989.
7800 Camargo Rd., Madeira 45243, 513/527-4909, lapetitepierre.com