Travel
Holiday Fun in Ohio
Create new family traditions this season at these cities across Ohio that offer plenty of holiday cheer. Here are 12 experiences to put on your wishlist.
Nov./Dec. 2022
BY Elise von Gunten | BalletMet "The Nutcracker" Photo by Jennifer Zmuda
Nov./Dec. 2022
BY Elise von Gunten | BalletMet "The Nutcracker" Photo by Jennifer Zmuda
Columbus

Immerse yourself in lights and horticultural displays at Franklin Park Conservatory and Botanical Gardens' "Holiday Blooms" and "Conservatory Aglow" (Nov. 19–Jan. 8). Take in hundreds of vibrant poinsettias and explore the Franklin Park grounds at "Holiday Blooms" during the day (10 a.m.–4 p.m.). Evening brings a separate ticketed outdoor-lights experience with "Conservatory Aglow" (5–9 p.m.). (The interior portions of the conservatory open during the day are also open during the evening event.) The glowing Rainbow Tunnel is a perennial favorite, as are the illuminated topiaries displayed throughout the grounds. Don't forget to stop by the gift shop and, of course, the cafe for treats.

From there, head to the Ohio Theatre in the city's Uptown District to hear the holiday sounds of the Columbus Symphony's annual "Holiday Pops" performances (Dec. 2–4). These shows have become a seasonal favorite in Columbus for the symphony's jazzy takes on holiday classics. The ambiance of the Ohio Theatre, with its 21-foot chandelier and Spanish-Baroque architecture, adds to the experience. After the show, be sure to take a few photos. You may even catch a visit from Santa if you're attending one of the two matinees.

For another classic holiday show at the Ohio Theatre, get dressed up and experience the beauty of BalletMet's performance of Gerard Charles' rendition of the holiday favorite "The Nutcracker" (Dec. 8–24). Charles unveiled his take on the tale on BalletMet's stage in 2004 while serving as the company's artistic director. This version of "The Nutcracker" marries the most iconic and beloved aspects of previous versions with innovations that include vibrant costumes, comedic details and slight changes to Tchaikovsky's overtures.

"I really appreciate how unique BalletMet's 'Nutcracker' is, especially in pacing of the story, the humor and showing the joy of dance," says Edwaard Liang, BalletMet's artistic director. He says his favorite moment is at the end when the Nutcracker bows to Clara. "It's so simple, yet it makes me teary every time."

Franklin Park Conservatory and Botanical Gardens
1777 E. Broad St., Columbus 43203
614/715-8000, fpconservatory.org

Columbus Symphony
39 E. State St., Columbus 43215
614/469-0939, columbussymphony.com

BalletMet
39 E. State St., Columbus 43215
614/469-0939, balletmet.org

---

Cincinnati

Since 1946, the Duke Energy Trains have been a cherished part of Cincinnati's holiday season. Stop by the Cincinnati Museum Center to see it transformed into the North Pole during the annual Holiday Junction featuring the Duke Energy Holiday Trains (Nov. 11–Jan. 2). Over 1,000 feet of model railroad run throughout the historic train station, as 50 miniature locomotives chug past scenes of crowded city streets, rail yards and homes. Visitors can also take in Brickopolis, a metropolis built with Legos that depicts a colorful cityscape featuring favorite characters. Holiday Junction also includes a visit from Santa and a scavenger hunt.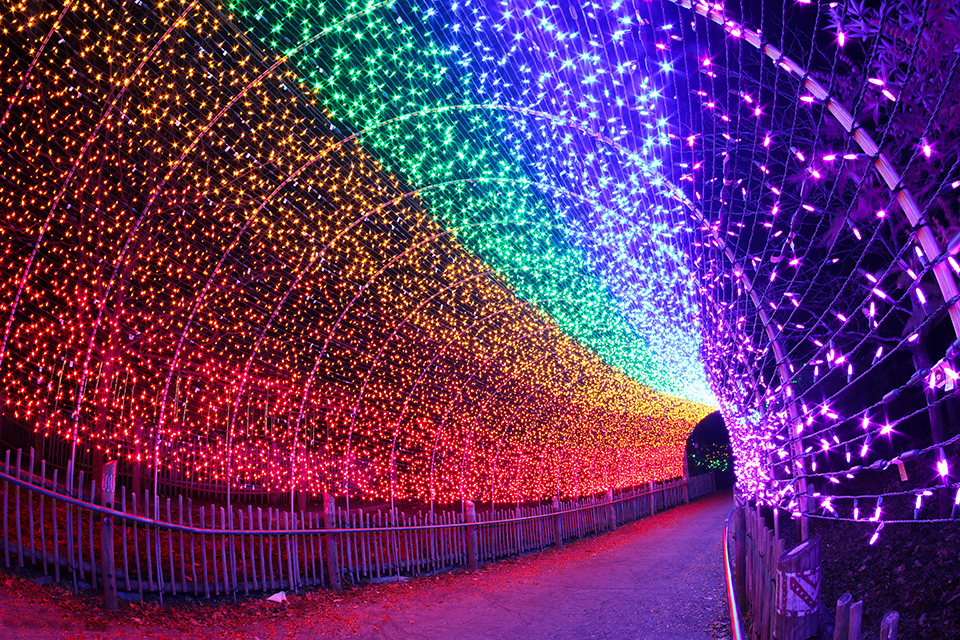 Head north from the riverfront to experience one of the city's illuminating annual traditions. Featuring more than 4 million individual LED bulbs, the PNC Festival of Lights (Nov. 18–Jan. 8) at the Cincinnati Zoo & Botanical Garden brightens each holiday season. Activities begin each day at 4 p.m. and the evening attractions include stations to roast s'mores, black-light puppet performances, the North Polar Express Train, a fairy search inside Fiona's Fairyland, Santa's Village and life-size animal lanterns displayed throughout the zoo. Wildlife enthusiasts can step inside multiple heated buildings to see their favorite animals, and a "Happy Zoo Year" celebration takes place on New Year's Eve.

Krohn Conservatory's "Celestial Holiday" (Nov. 5–Jan. 8) began in 1982 as an Ohio State Fair entry by landscape architect Paul Busse. The creative mashup of his passions for architecture, gardens and trains has become a beloved and annually anticipated tradition for residents throughout Greater Cincinnati. The annual event at the conservatory, which is located in Cincinnati's Eden Park in the Mount Adams neighborhood, features an array of colorful poinsettias, garden railways, botanical architecture and mini versions of Cincinnati landmarks. Busse's Applied Imagination team and local artisans craft the displays that visitors see during this holiday-season favorite.

Cincinnati Museum Center
1301 Western Ave., Cincinnati 45203
513/287-7000, cincymuseum.org/holiday-junction

Cincinnati Zoo & Botanical Garden
3400 Vine St., Cincinnati 45220
513/281-4700, cincinnatizoo.org

Krohn Conservatory
1501 Eden Park Dr., Cincinnati 45202
513/421-4086, cincinnati-oh.gov

---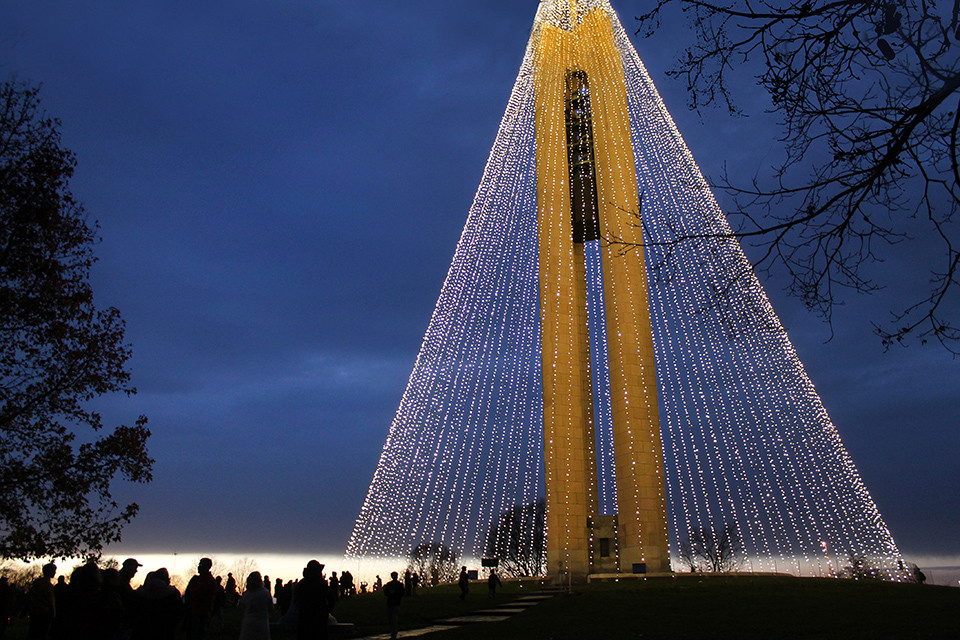 Dayton

Carillon Historical Park, the home of Dayton History, transforms into a holiday wonderland during "A Carillon Christmas." Enjoy lights, shopping for gifts made by local artisans and delicious seasonal treats.

The 65 acres of holiday cheer span model-train displays, rides on the Midnight Express miniature train and the centerpiece of the event: the 200-foot-tall Carillon Tree of Light, descending from the top of the historic Deeds Carillon.

History is part of the experience as well. A station inside Newcom Tavern — Dayton's oldest standing structure — invites the little ones to write letters to Santa, while costumed interpreters at the Morris & Hetzel Bakery offer demonstrations on historic hearth cooking. Visitors can even pick up a snack of gingerbread cookies and a cone of roasted chestnuts. Nov. 22–Dec. 30; 1000 Carillon Blvd., Dayton 45409, 937/293-2841, carillonchristmas.org

---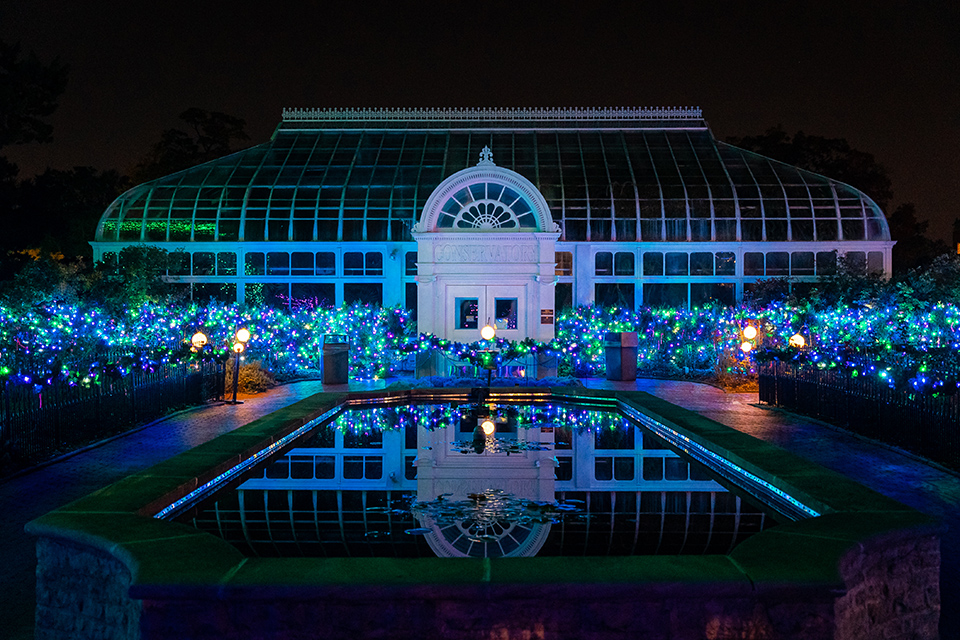 Toledo

With lights that dance along to holiday hits and a decorated 85-foot Norway spruce greeting guests in the Main Plaza, Toledo Zoo & Aquarium's "Lights Before Christmas" dazzles visitors each holiday season. The more than 1 million lights and over 200 illuminated displays depicting animals are just the start of what has made this event a hit since 1986. (Zoo workers begin the five-month process of setting up in June, and it's clear why.) The side of the zoo that features the attraction's historic buildings offers a Yuletide Food & Spirits tent, where visitors can grab freshly prepared seasonal sandwiches, soups, appetizers and desserts. Holiday cocktails and seasonal beers are available for the grown-ups.

Thursday nights during the month of December feature ice-carving demonstrations, but every evening of "Lights Before Christmas" is full of holiday sights, sounds and activities, from the Holly Jolly Express Train to the amphitheater ice slide to carolers strolling the grounds. Nov. 18–Dec. 31; 2 Hippo Way, Toledo 43609, 419/385-5721, toledozoo.org/lights
---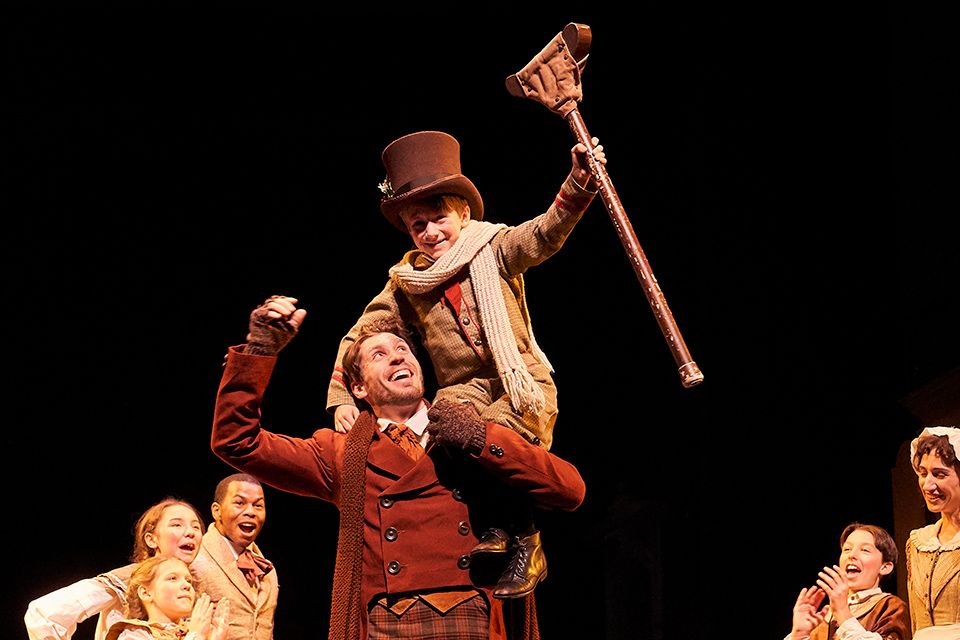 Cleveland

Charles Dickens' timeless tale of redemption comes to life on the Mimi Ohio Theatre stage as Great Lakes Theater presents its production of "A Christmas Carol" (Nov. 25–Dec. 23). George Freeman, who adapted and originally directed this version of the classic, frames the story as one told from mother to child. The exceptional set design, wardrobe and special effects honed over the past three decades deliver an immersive experience for audiences that has made the production a holiday tradition.

"It's a story that stays relevant forever," says Great Lakes Theater artistic director Sara Bruner. "It always resonates with audiences, every single year."

From Playhouse Square, head east to Cleveland's University Circle neighborhood and its collection of cultural institutions. The Cleveland Botanical Garden's annual holiday event (Nov. 19–Dec. 31) features thousands of lights inside and outside, illuminated trails and a 16-foot tree decorated by local artisans. For 2022, the outdoor gardens are decorated to reflect the history and people of Cleveland's historic neighborhoods. When it's time to warm up, head inside to explore the biomes depicting Madagascar and Costa Rica. Kids can enjoy slides, crafts and music in a play garden decorated to feel like the North Pole.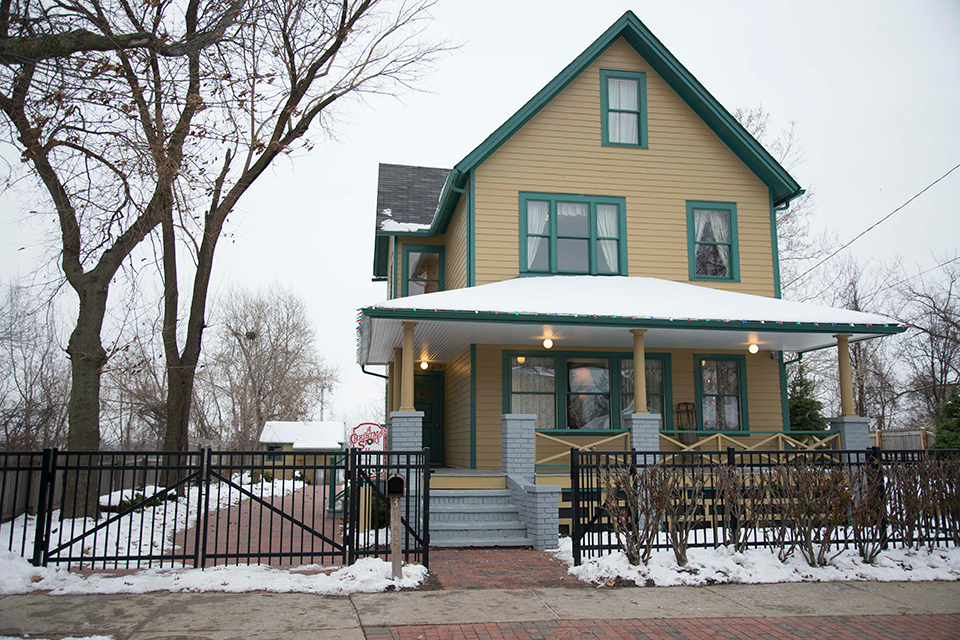 Next, embrace holiday magic and a film favorite at the A Christmas Story House & Museum in the city's Tremont neighborhood. (This residential home and street are where exterior scenes for the classic 1983 movie were filmed.) Brian Jones, who assembled and sold leg lamps like the ones in the movie, bought the home after it went up for sale on eBay in 2004. From there, he renovated the home to match what it looked like on screen and began offering tours. A gift shop across the street is filled with souvenirs and memorabilia, ranging from pink bunny suits to the movie's famous leg lamp.

Great Lakes Theater
11511 Euclid Ave., Cleveland 44115
216/241-6000, greatlakestheater.org

Cleveland Botanical Garden
11030 East Blvd., Cleveland 44106
216/721-1600, holdenfg.org

A Christmas Story House & Museum
3159 W. 11th St., Cleveland 44109
216/298-4919, achristmasstoryhouse.com

---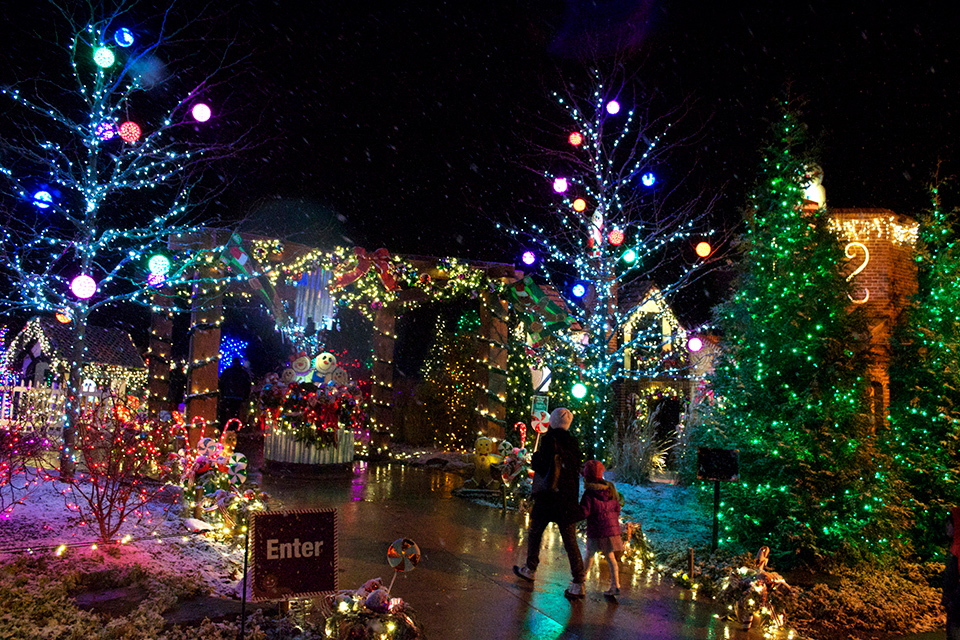 Akron

Stan Hywet Hall & Gardens' annual "Deck the Hall" celebration features more than a million lights set against the backdrop of the former estate of The Goodyear Tire & Rubber Co. co-founder F.A. Seiberling and his family, who resided here for 40 years. Each year, the 65-room home is decorated around a particular theme, alternating between modern and traditional presentations.

This year's traditional theme, "Gracious Gatherings," focuses on a return to togetherness during the holidays. Visitors touring the home can take in the variety of decorations, from exquisite pieces from the Seiberling family's era to a room of childlike imagination filled with stuffed animals, gnomes and Santa Claus.

After seeing the home, walk the estate's grounds filled with dazzling light displays and visit the play garden, transformed for the occasion into Gingerbread Land. Don't forget to stop by the carriage house courtyard to buy hot cocoa and cookies. Nov. 25–27, Dec. 1–4, 8–23, 26–30; 714 N. Portage Path, Akron 44303, 330/315-3287, stanhywet.org