Travel
Famous Ohio Markets
Shop fresh and local produce, foodie finds and great prepared meals at these destinations across the state.
July/August 2022
BY Staff & Contributors | Photo by Matthew Allen
July/August 2022
BY Staff & Contributors | Photo by Matthew Allen
Findlay Market | Cincinnati

It's early Saturday morning and as the rest of Cincinnati's storied Over-the-Rhine neighborhood sleeps off last night's excitement, the historic Findlay Market sounds its reveille with metal gates and push brooms. Merchants selling handcrafted jewelry, soaps and sweets erect pop-up tents and farmers unpack colorful crates as bright-eyed shoppers meander in.

By mid-morning, this place will be buzzing, buskers strumming out acoustic tunes and shop owners merrily greeting customers as they pass. Some patrons are deep into their weekend routine, gathering a week's supply of fresh fruits and vegetables and stopping by their go-to butcher for homemade bratwursts. Others are meeting friends for coffee and a pastry, picking out a raisin loaf or simply passing through while walking the dog.

Findlay Market isn't just a place to shop. It's a place to gather, to share a meal, to enjoy a local beer on the shaded esplanade while listening to live music or simply taking in the sights and sounds of the city. Visitors come for the food (German, Italian, Greek, Latin American, Vietnamese, Southern soul, the list goes on) and stay for the atmosphere. It's a vibe, and it's 100 percent authentic.

"There's an energy you can immediately feel," says Joe Hansbauer, president and CEO of the Corporation for Findlay Market. "It's undeniable and unlike the energy you'll feel almost anywhere else."

That vibrancy is part of why Findlay Market consistently ranks as one of the best public markets around, and the story of how it arrived here is 170 years in the making.

Findlay Market was Cincinnati's ninth public market when it opened, after three years of construction and hoop jumping, in 1855 and is the only one to have survived. Since then, it has grown to include the enclosed market house (supported by its original and distinctive wrought-iron structure) as well as rows of storefronts and tents that line the surrounding streets. It's the longest continuously operated market within 500 miles and remains a Cincinnati institution, as iconic as the Roebling Bridge or goetta (more on this local delicacy later).

Though it's thriving now with 60 full-time merchants, a food-business incubator and a storefront accelerator, advances such as in-home refrigeration, the introduction of big-box stores and urban decline all took their shot at the market over the years. Findlay Market's sweeping renovation in the early 2000s was a precursor to the dramatic revitalization of the city's Over-the-Rhine neighborhood, which had for decades fallen into disinvestment and disrepair.

"There has never really been a period of time in its entire history where the market didn't have to face off against difficulties," Hansbauer says. But the factors that contributed to Findlay Market's resilience — a fierce commitment to community, a spirit of perseverance and opportunity — continue to define it. As Hansbauer puts it, "there's an authenticity you can't replicate."

1801 Race St., Cincinnati 45202, 513/665-4839, findlaymarket.org — Michelle Sullivan Hopkins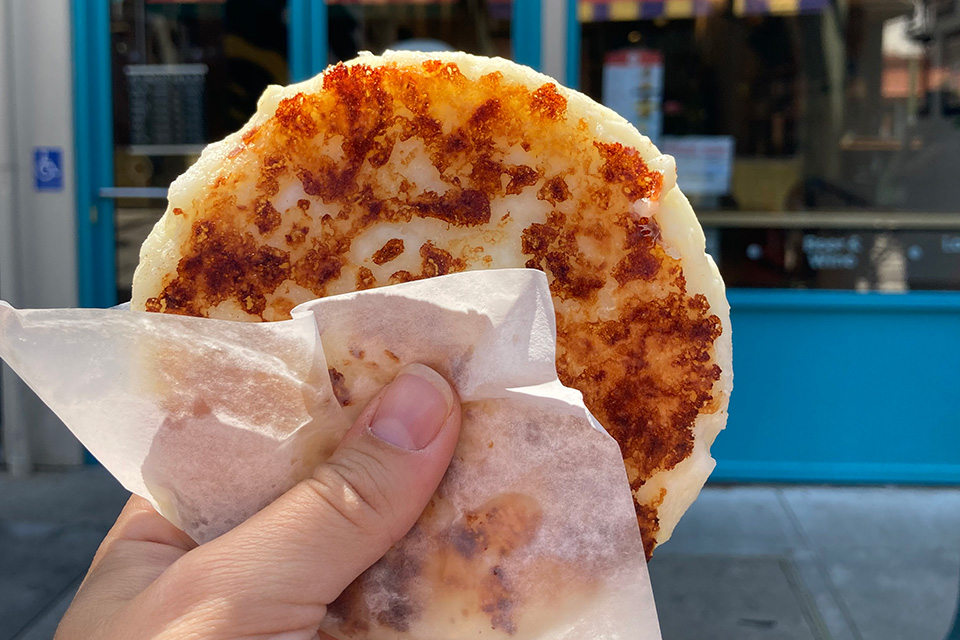 Three Stands to Try:
The Arepa Place:
Isis Arrieta-Dennis developed the recipes for her traditional arepas alongside her mother, who owned a restaurant in their native Colombia. The grilled corn pockets are stuffed with cheese, beans and a choice of mouthwatering chicken, beef or chorizo. Wash it all down with a refreshing housemade aguapanela, sugarcane water with lime.
Eckerlin Meats:
Eckerlin Meats has been selling homemade sausages, bratwursts and fresh cuts of meat at Findlay Market since its opening in 1855. Stop in for a breakfast sandwich featuring the business' claim to fame: goetta made daily from an original family recipe and widely considered to be the best in the city.
Dojo Gelato:
Michael Christner's decision to open a small-batch gelato shop in a city devoted to a particular ice cream empire was as bold as the flavors he scoops. Cardi B, featuring cardamom brownies and rum gelato, and the turmeric-and-ginger Shiva's Headband mingle with more classically inspired varieties like Vietnamese Coffee and Peanut Butter Stracciatella. Flavors change weekly, though, so try them while you can.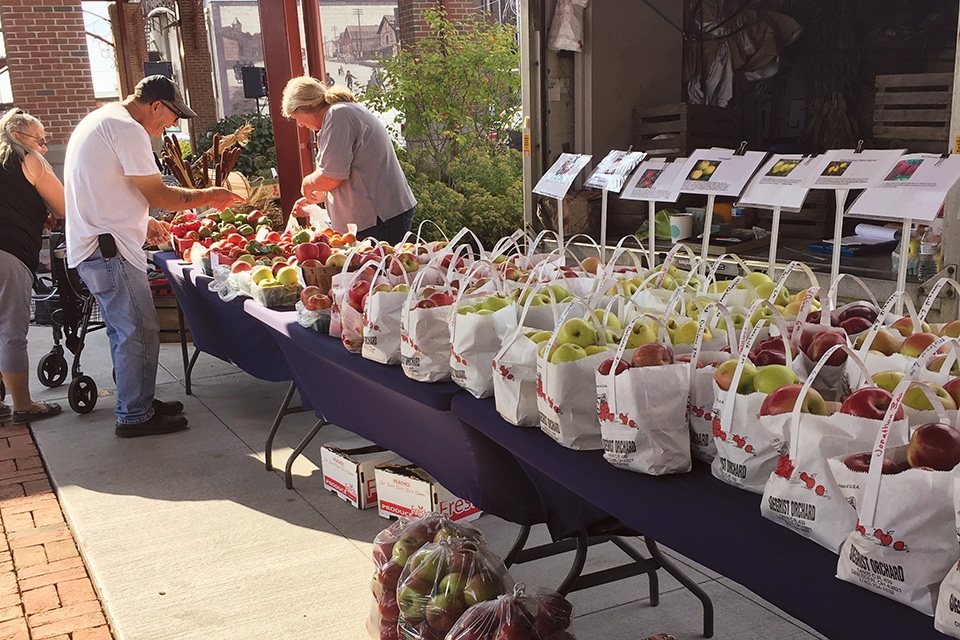 Canal Market District

Although it's only been around since 2016, the farmers market at the city of Newark's Canal Market District has already grown into a well-loved event. Held at a pavilion built between East Market and Canal streets, about a block south of the Licking County Courthouse, two market days are hosted here each week during the summer: one on Fridays from 4 to 7 p.m. and a smaller one on Tuesdays from 4 to 6 p.m.
On Fridays, around 40 local vendors set up shop, selling goods ranging from local produce and cheeses to fresh-cut flowers. Live music and a food truck at Friday's market encourage patrons to stick around and socialize. "It's not just a place where people are coming to shop for food," says Bailey McCoy executive director of Canal Market District. "It's also a place where people are coming to gather." Friday markets run May through October and Tuesday markets run June through September.
36 E. Canal St., Newark 43055, canalmarketdistrict.org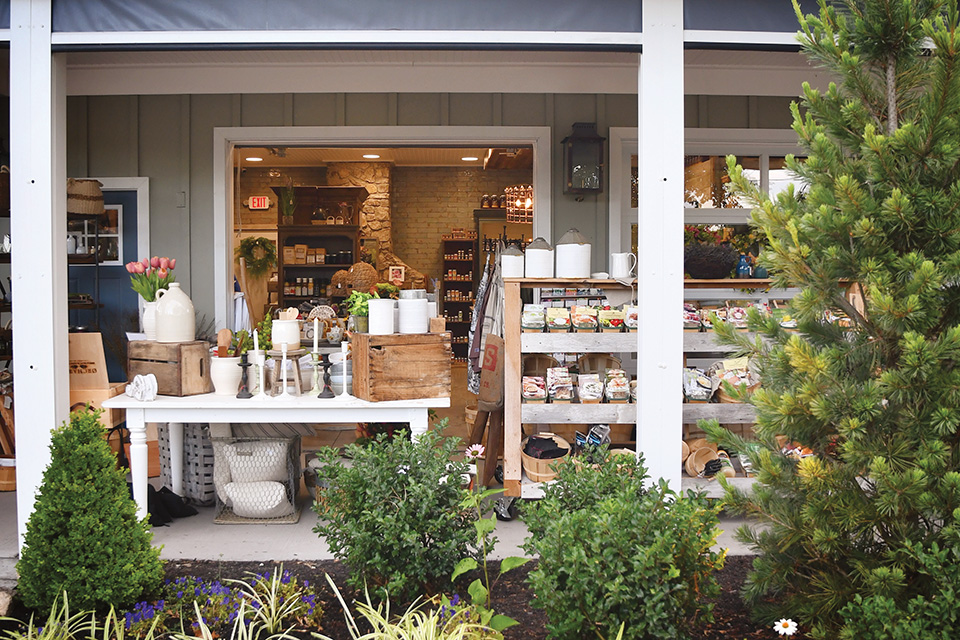 Three Ohio Orchard Markets
: Peaches and apples are part of northwest Ohio's agricultural heritage. Visit this trio of markets to sample some of that local flavor.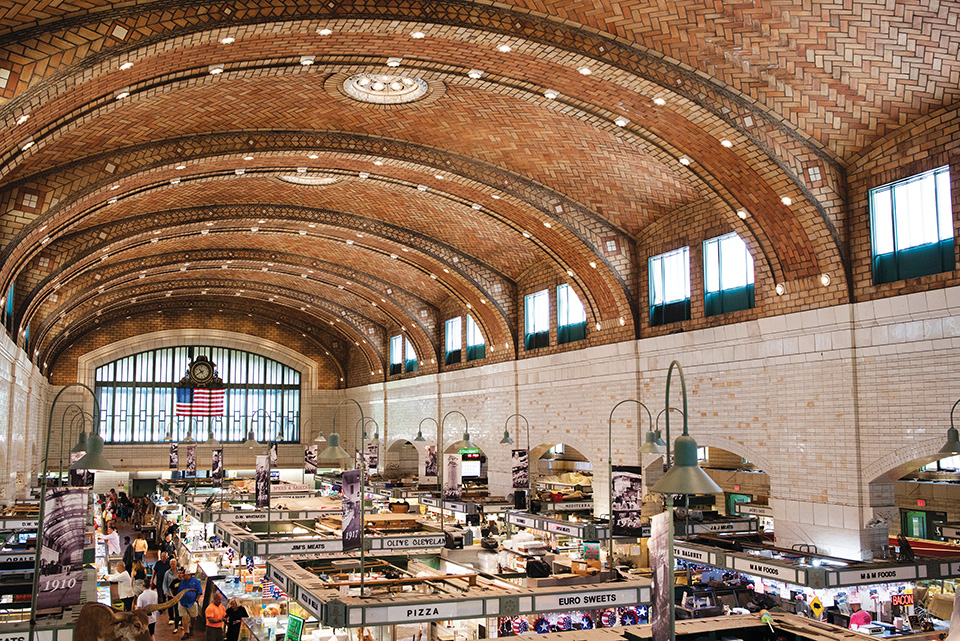 West Side Market | Cleveland
Can you even call yourself a foodie without visiting the West Side Market? The 110-year-old landmark has been a shopping hub for generations of Clevelanders, and it's a must-visit destination for out-of-towners seeking a delicious and authentic taste of the city.
Located in the Ohio City neighborhood, just across the Cuyahoga River from downtown, the West Side Market is still housed in its original 1912 structure, and the market hall's striking neoclassical architecture captures visitors' attention almost as much as the foods found there. The market is home to businesses owned by men and women from Cambodia, Mexico and the Middle East, showing how immigrants have shaped the city over the years.
"One way Cleveland secures its diversity and charm is with its food offerings," explains market manager Felicia Hall. "Cleveland's food scene encourages embracing heritage, respecting history, identifying the next up-and-coming talent, trying something new …"
Adventurous eaters, ambitious home cooks and local restaurant owners shop the array of meats, seafood, spices and produce available here, tapping the expertise of butchers, bakers and artisan producers. Food is obviously the main attraction, but dig deeper, and one realizes the market's real treasure is its people. Behind each counter are entrepreneurs, and it is not unusual to see different generations of families working side by side.
Sophie Heng of Kim Se shares her Cambodian heritage through prepared Asian foods, happy to offer tips on wrapping homemade spring rolls. At Jim's Meats, owner Minnie Zarefoss is eager to recommend preparations for her Ohio-raised beef and pork. Tom McIntyre directs shoppers to the day's fresh catch at Kate's Fish and loves talking about sustainable seafood. In the adjacent produce arcade, Ehab Rizk waves a bag of pre-cut mixed vegetables, inviting shoppers to browse his bountiful stand.
Shoppers should arrive hungry, because eating your way through the maze of 70 vendor stands is part of the fun. Start the day at City Roast coffee with a Parisian treat from Crepes Deluxe right next door, before heading upstairs to the balcony to appreciate the beauty and scale of the market hall.
Serious snackers will prefer portable treats like candied bacon from Toney's Baloney or a cannoli or macaron from Theresa's Bakery. Try a Frank's Bratwurst signature sandwich (popular with the lunch crowd here for 40 years) or sit down at the West Side Market Cafe for a hearty burger, pierogi platter or salad.
The West Side Market offers a glimpse into the city's history and embraces an exciting food evolution that is increasingly diverse.
"The people connection is our niche," says Don Whitaker, owner of D.W. Whitaker Meats, a market tenant since 1991. "Everyone and everything is so modernized, but here we still have the one-on-one connection. Try a little bit of everything. Talk to everyone and ask questions. They're not shy."
1979 W. 25th St., Cleveland 44113, 216/664-3387, ohiocity.org/west-side-market — Lisa Sands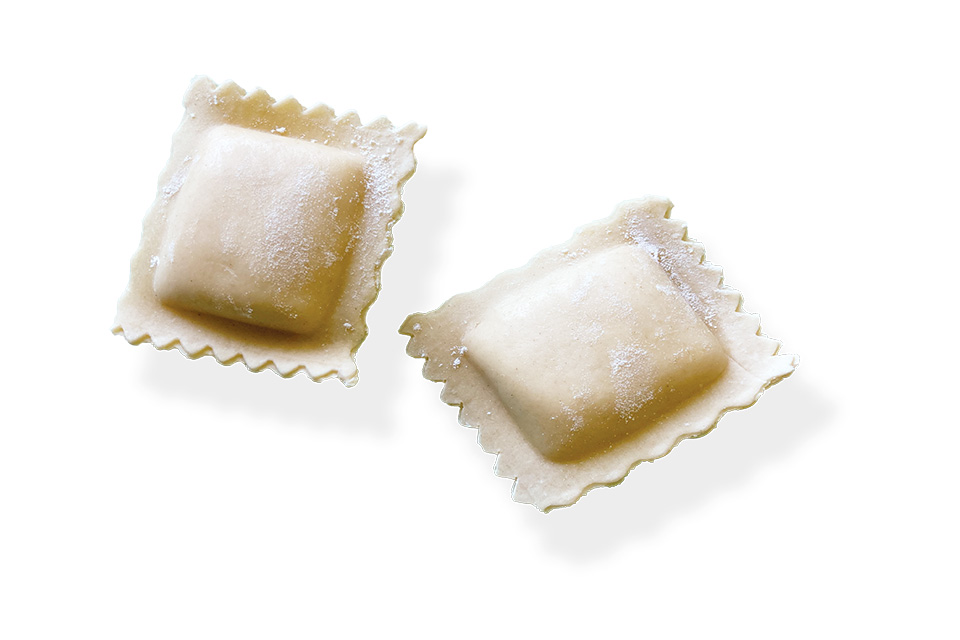 Three Stands to Try:

Ohio City Pasta:
Their colorful case features specialties like garlic basil linguine, red pepper ravioli stuffed with smoked mozzarella, spinach pappardelle and seasonal favorites such as pumpkin sage gnocchi. Grab a few sauces and dinner is made. The chunky pomodoro is fresh and bright, and the puttanesca sauce packs a savory punch.


J&J Czuchraj Meats:
Smoked meats have been the specialty here for more than 60 years. Stock up on Hungarian and Slovenian sausages, Polish kielbasa and a wide variety of house-made brats for home grilling. Try the white bratwurst and grab a selection of smokies and scratch-made jerky for the ride home.
The Import Store:
This little corner market is a haven for cooking enthusiasts seeking high-quality, globally sourced ingredients. Stocking European pantry staples like olive oil, tea, coffee, spices, pastas and chocolate, they also carry bulk grains, dried beans and baking needs. Don't miss shopping the carefully curated imported charcuterie, cheese and olives.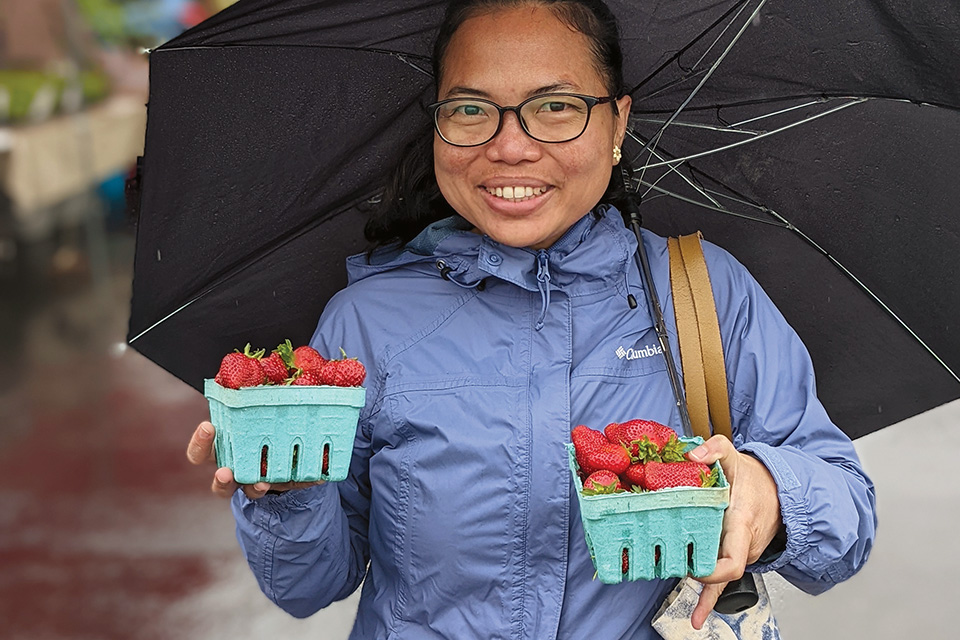 Athens Farmers Market

About 60 vendors set up each week for the Athens Farmers Market, a tradition that began in 1972 and has become a fixture of this college-town community that has long embraced knowing where its food comes from. Customers can browse a wide range of products, from seasonal vegetables and farm-raised meats to homemade jams and preserves.
The Athens Farmers Market has evolved over the years, including adding a second day of operation, extending hours and partnering with outside organizations that support the community.
One of those groups found at the market is Community Food Initiatives, which collects donations of fresh fruits and vegetables from customers and farmers and helps distribute them to outlying communities that lack access to fresh produce. Reggie Morrow, the organization's donation station manager at the market, says there is a value in making a personal connection with the producers and growers.
"Getting to know the people who are providing the produce makes it much better," he says. "That's food with love in it." The market runs Saturdays 9 a.m. to noon, year-round, and Wednesdays 9 a.m. to noon, from late April to late November.
1002 E. State St., Athens 45701, 740/593-6763, athensfarmersmarket.org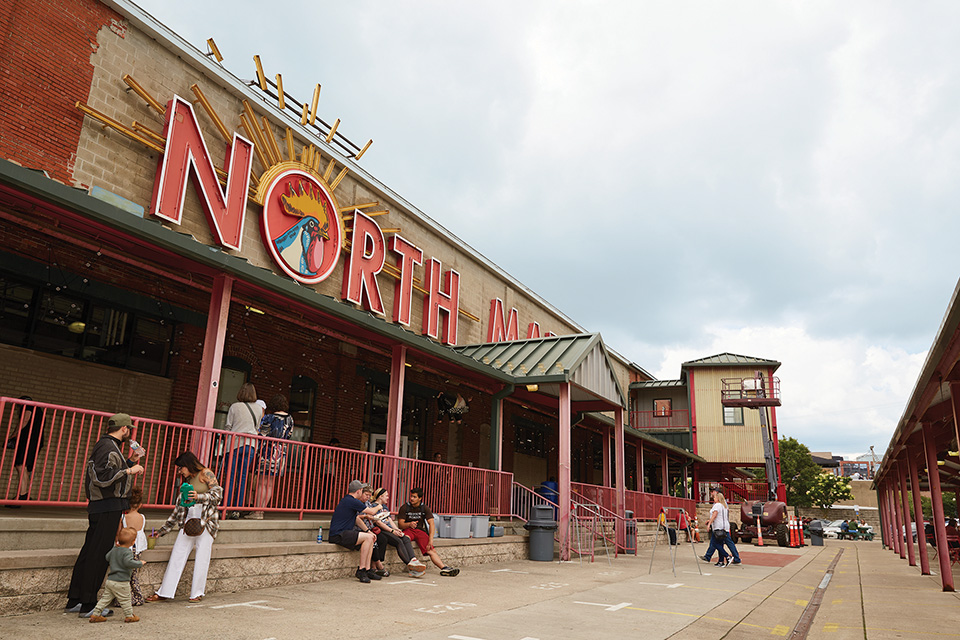 North Market | Columbus
North Market often tops the lists of places for visitors to explore in Columbus. Over its 146-year history, the market building has become a centerpiece of the city's culinary scene, serving as an incubator for a variety of small businesses. Jeni Britton first got her start slinging ice cream at the market. Hot Chicken Takeover made its first permanent location here. Merchants like Bubbles Tea & Juice, Barrel & Boar and Dos Hermanos used it as a stepping-off point to open more locations.
The market began in 1876 as a companion to Columbus' Central, West and East markets — all of which are gone today. Vendors set up in a warehouse just north of downtown, where they sold everything from farm-raised meats to baked goods to flowers, until the building burned down in 1948. The merchants banded together to purchase a Quonset hut for the site, where they continued until moving into the Advance Thresher Co. warehouse next door and reopening there in 1995. As interest grew in preserving the market, the nonprofit North Market Development Authority was formed, and a long-term lease was set with the city.
Today, the North Market has a full slate of 35 merchants that feature flowers, breads, meats, fish and other groceries, plus a global collection of prepared foods ranging from Polish to Somali, Mediterranean to Vietnamese, Italian to Thai. Stepping through its doors brings a waft of wonderful foods and the buzz of a busy market — the sight of bustling crowds and bright signs. First timers are best advised to take a lap before choosing where to shop and what to eat. After browsing or picking up a meal, head to the second-floor balcony to dine while watching the market activity below.
Executive director and CEO Rick Harrison Wolfe, who has led the market since 2013, made it a goal to better showcase Columbus' diverse food scene.
"We have an unbelievable international food scene here that most people don't venture out to discover," he says. "What I've tried to do is bring those things here."
The market has added Somali fare from Hoyo's Kitchen, Nepalese dumplings from Momo Ghar and Moroccan dishes at Tagine House. It offers sip and stroll, so patrons can purchase beer or wine at The Barrel & Bottle and take their drinks with them while they shop and eat.
And the market continues to grow. A second location was added in 2020 in Dublin's growing Bridge Park development, while the downtown market's parking lot will transform into the 32-story The Merchant Building, set to begin construction in late 2022.
"Pre-pandemic, we had a million and half people through the doors every year," Wolfe says. "Maybe the zoo gets that many. We're right up there with the biggest destinations."
59 Spruce St., Columbus 43215, 614/463-9664, northmarket.org — Nicholas Dekker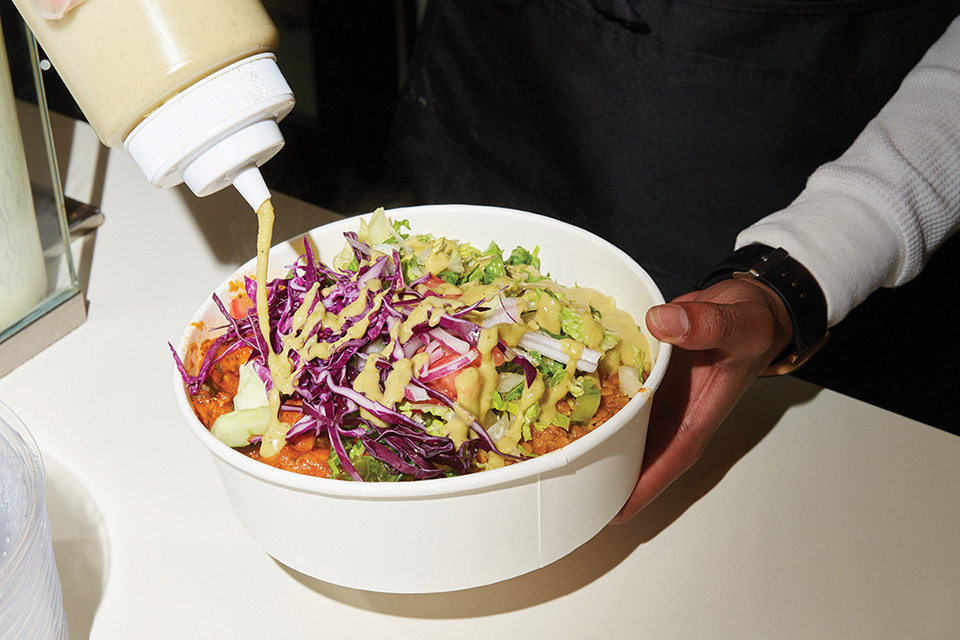 Three Stands to Try:
Hoyo's Kitchen:
"Hoyo" means "mother" in Somali, and the family-run Hoyo's Kitchen serves a delicious mix of Somali fare in a fast-casual format. Customers can build their own bowls layered with rice, tender chicken or goat, chickpeas, lentils and cabbage, all scooped up with spongy and slightly sour injera bread.
Omega Artisan Baking:
This long-running bakery fills the southwest corner of the market, where a busy crew crafts buttery croissants, scones, cinnamon twists, muffins and galettes. Their cinnamon roll was once lauded as the best breakfast in Ohio by the Food Network. Cooking at home? Pick up a loaf of fresh sourdough, challah, baguettes or rustic French bread.
Firdous Express:
Firdous Express is another long timer at the market, welcoming visitors at the northeast entrance. If you can make it past the case laden with baklava, step around the corner and peruse the steaming trays of Mediterranean delights: Tunisian chicken, roasted leg of lamb, baked salmon and roasted eggplant. Start with falafel and a gyro!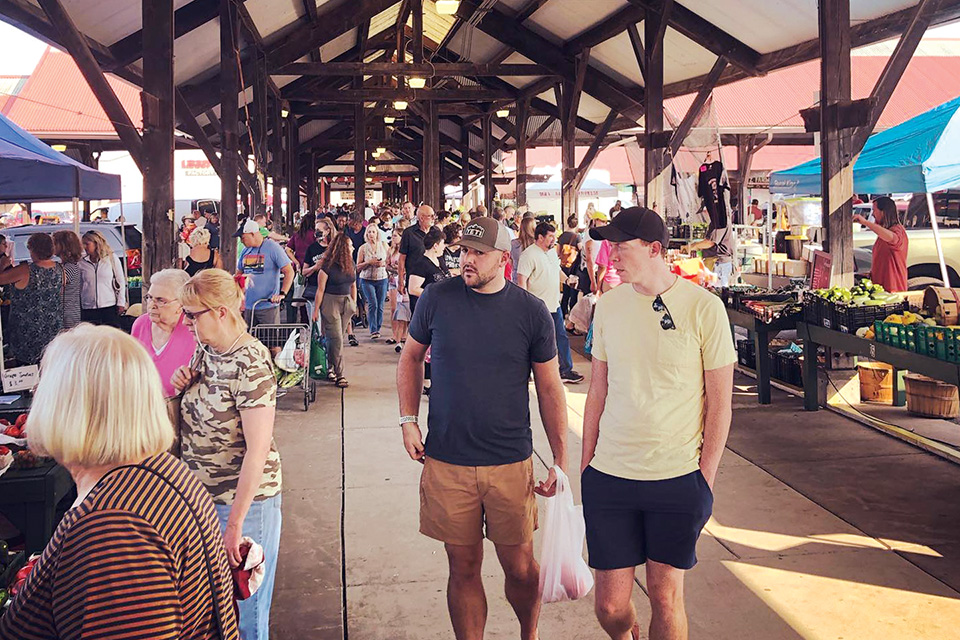 Historic Ohio Farmers Markets
: These three spots with long histories have served their communities for generations. Here's what you'll find there on Saturday mornings.