Travel
Fall Drives: Nelsonville to Prattsville | Ohio Route 278
This 22-mile drive takes travelers through Wayne National Forest and some of southeast Ohio's most scenic areas.
October 2016 Issue
BY Leo DeLuca | Photos by Nate Knobel
October 2016 Issue
BY Leo DeLuca | Photos by Nate Knobel
Like many Appalachian communities, Nelsonville built its reputation on coal, earning the nickname "Little City of Black Diamonds" following its founding in 1814. Today, the small town of 5,392 is home to Hocking College and Stuart's Opera House, a small-but-lively concert venue listed on the National Register of Historic Places.
Travelers heading out of town on state Route 278 pass Brick Kiln Park, the former site of the Nelsonville Brick Co., manufacturer of the world-famous Star Brick. The company closed in 1937, and its kilns were abandoned. But nearly four decades later, the site was revamped as a public green space. A placard at the site bears the words, "Nelsonville Brick Park. Originated 1880. Preserved 1980."
The Hocking River runs alongside Route 278 as the road passes by Zion Ridge and Asbury Ridge before reaching Asbury Cemetery — a peaceful place with gravestones dating back to the early 1800s.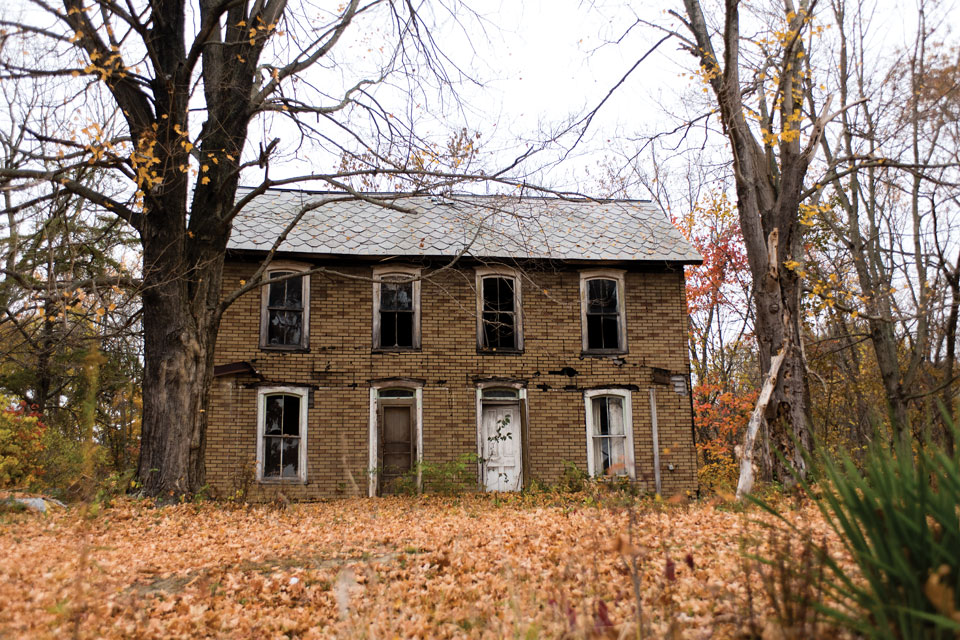 Heading through a series of hollows with names such as Penrod, Honeycomb, Hull, Walter, Mizner and Harbarger, the country roads rise and fall, providing a few stomach-drop moments along the way. And, as Route 278 leaves Hocking County and passes into Vinton County, signs for Lake Hope appear along the roadside. Nearby, industrious beavers build lodges in swampy lowlands.
After the route crosses over Little Sandy Run, the Moonville Rail Trail is accessible along the side of the road. Running deep into the hills of Zaleski State Forest, the 16-mile trail leads to the Moonville Tunnel. (Legend has it that the ghost of a railroad brakeman sometimes swings his lantern near the old train tunnel late at night.
From there, Route 278 rolls through another series of hollows — Black, Coalmont and Mine — before continuing on to the tiny Appalachian town of Zaleski, which was established in 1856. The 278-resident village is home to the Zaleski Mound Group — three earthworks built by the ancient Adena culture.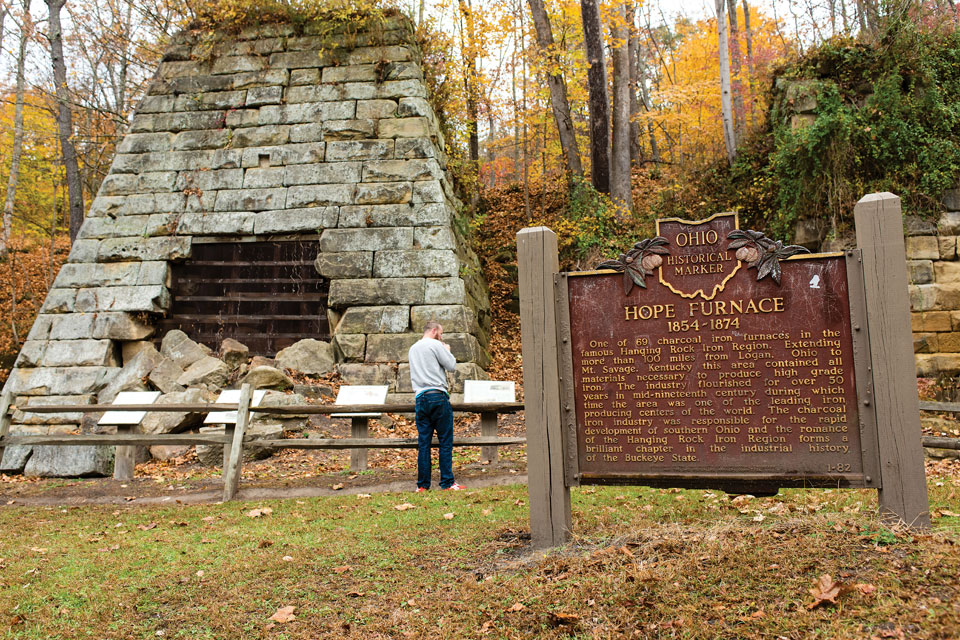 Heading out from Zaleski, a pine tree farm stands along the side of the road and Wheelabout Creek zigzags back and forth underneath the route before travelers arrive in Prattsville — a tiny enclave located about five miles east of McArthur.

***
Stops & Side Trips
FullBrooks Cafe: Nestle in for fair-trade coffee and baked goods at this cozy cafe in the historic 1839 Dew House. In 1912, Theodore Roosevelt campaigned for the presidency from the home's balcony (a picture of the moment hangs on the wall). 6 1/2 Public Square, Nelsonville 45764, 740/753-3391, facebook.com/fullbrookscafe

Hope Iron Furnace: Gaze up at this huge iron blast furnace — a relic that was once part of the famous Hanging Rock Iron Region. The Hope Furnace operated from 1854 to 1874 and serves as a reminder of southeast Ohio's rich industrial past. St. Rte. 278, between Furnace Ridge Road and Park Road 1, New Plymouth 45654
Lake Hope State Park: Traverse gorges and trek across bridges as you hike the forests of southeast Ohio. Deer, wild turkeys, beavers and many native bird species can be spotted throughout the 2,983-acre landscape that serves as a paradise for nature lovers. Anglers can find bluegill, catfish, crappie and largemouth bass. 27331 St. Rte. 278, McArthur 45651, 740/596-4938, parks.ohiodnr.gov/lakehope
Zaleski State Forest: Grab your camera and explore this sprawling forest. Home to 25 miles of hiking trails, 45 miles of bridle trails and 26 miles of backpacking trails, the nearly 27,000-acre forest is the second-largest in the Ohio Department of Natural Resources Division of Forestry's system. McArthur 45651, 877/247-8733, forestry.ohiodnr.gov/zaleski