Travel
Fall Drives: Hinckley to Shalersville | Ohio Route 303
This 28-mile drive takes you through Cuyahoga Valley National Park and the historic town of Hudson.
October 2016 Issue
BY Jim Vickers | Photos by Thom Sivo
October 2016 Issue
BY Jim Vickers | Photos by Thom Sivo
Hinckley Township's main crossroads looks as if it could be from another era — one much closer to 1831, when Massachusetts resident John Hinckley arrived in what is today Medina County to see the property he had purchased years earlier from the Connecticut Land Co. for 23 cents an acre.
On one corner of the intersection sits the tiny Hinckley Township hall. A doughnut shop occupies the other. Aside from that, there's not a whole lot, and that's just the way people like it.
Heading east on state Route 303, one immediately notices the rolling, heavily wooded landscape. Soon, state Route 606 comes in from the south. (Make a brief detour here to visit the Cleveland Metroparks' Hinckley Reservation, one of the regional park system's 18 sites.)
After passing through the town of Richfield, Route 303 crosses into Peninsula and offers the chance to visit Cuyahoga Valley National Park. (Turn left at the Riverview Road stoplight to cruise up to the historic Boston Store, which now houses a museum, or make a right to head south toward the Beaver Marsh boardwalk.)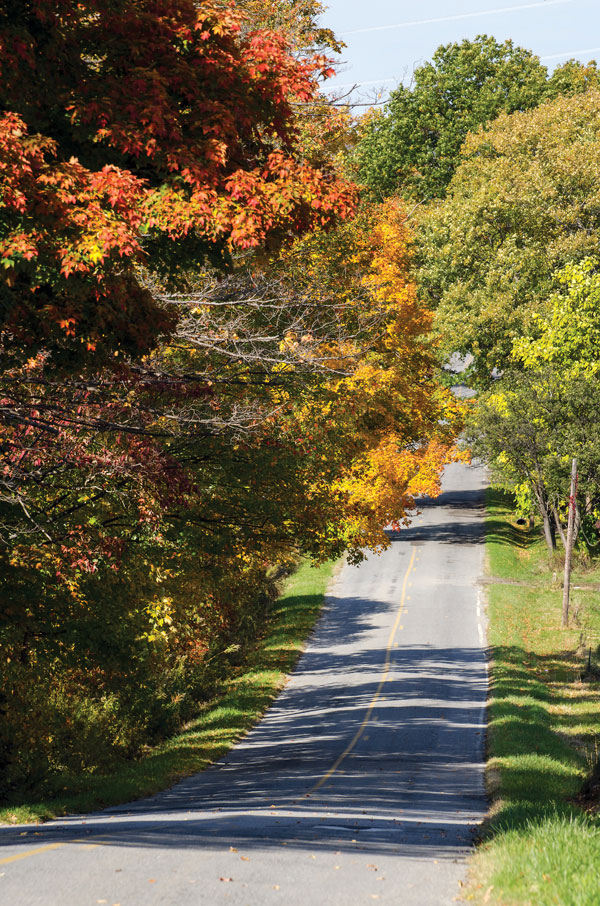 Settled in 1818, Peninsula's historic wooden churches and G.A.R. Hall are reminders of the tiny community's long history. Even the town's Winking Lizard Tavern is housed in the former Peninsula Nite Club, which once hosted big-band acts.
As Route 303 leaves downtown Peninsula, it passes the parking lot for Happy Days Lodge. The wooden structure, which was built by the Civilian Conservation Corps during the Great Depression, is open only for special events, but a trail connects it to Ritchie Ledges, a popular park area where visitors can explore towering sandstone formations.
Heading farther east, Route 303 enters the town of Hudson, which has embraced new retail development while preserving the New England influence of the town's founders. Just off the village green, Hudson's historic town hall now occupies the site of the church where renowned abolitionist John Brown, who attended school in Hudson, gave his first public speech denouncing slavery in 1837.
From there, travelers pass through Streetsboro before the scenery turns rural again, leading to Shalersville. There, travelers can visit a home built in the 1840s that today houses a small historical society and museum that tells the township's story.

***

Stops & Side Trips
Hinckley Lake: The centerpiece of the Cleveland Metroparks' Hinckley Reservation, this 87-surface-acre lake is the second largest in the park system. It offers boat rentals during warm weather but also provides great scenery in the fall when the
surrounding trees burst with color. 1 West Dr., Hinckley 44233, 330/278-2160, clevelandmetroparks.com
Country Maid Ice Cream: This ice cream shop along state Route 303 dates back to 1948. In addition to a scoop of your favorite flavor, pick up a pumpkin and buy a bag of apples at the on-site farm store. 3252 W. Streetsboro Rd., Richfield 44286, 330/659-6830,
countrymaidicecream.com
Cuyahoga Valley Scenic Railroad: This excursion railroad offers day trips from Akron to Independence through the heart of Cuyahoga Valley National Park, and the Peninsula station is a popular place to hop aboard to take in autumn views that you can't get any other way. 1630 W. Mill St., Peninsula 44264, 330/439-5708, cvsr.com
Ritchie Ledges: The Ledges Trail offers an easy 2.2-mile loop around the base of large sandstone rock formations, and the Ledges Overlook is one of the most photographed sites in Cuyahoga Valley National Park. Access it by way of a connector trail from Happy Days Lodge. 500 W. Streetsboro Rd., Peninsula 44264, nps.gov/cuva